Unlike other hobbies, you don't need to spend a lot when it comes to gardening with Gardening tools. You can start with great weather, some organic soil, and seeds of your choice. Nonetheless, gardening may be a laborious activity, which is why we have the equipment to make things simpler. Having the necessary tools available in the garage or shed when you need to cultivate a space in your yard will be advantageous for both you and your garden.
The sheer number of planting tools on the market, meanwhile, might be overwhelming for a beginning gardener. You need to choose the best ones that are worth your money from the large variety available to add to your collection. Yet if you're just starting, the sheer number of gardening tools available can be bewildering. We've created this list to aid you in identifying only those gardening tools that are necessary for your gardening work.
Essential gardening tools needed for gardening
Listed below are some of the best gardening tools needed for gardening: 
Hand Tools
1. Hand Trowel
A hand trowel is one of the best gardening tool you shouldn't overlook including in your collection. This gadget is essential, especially for novices and city gardeners. It will be easier to access if you use a hand trowel to dig soil or transport plants from your vegetable garden. This is perfect for transferring dirt into pots and planting seedlings with a bench grinder, they are simple to sharpen. Investing in a trowel with an ergonomic handle will prevent blisters from forming and prevent your hands from cramping up while using the tool.
Check out some of the good Hand Trowels. 
2. Hand Fork
These enormous forks have four extremely sturdy tines that easily pierce the earth. The tines won't break because they are typically constructed from a single piece of steel. When you need to turn over dirt, break it up, or incorporate compost into your garden, use a garden fork.
Check out some of the good Hand forks needed for gardening. 
3. Hand Cultivator
The "Hand cultivator" is a different type of gardening tool. Both in the garden and in a container, it helps scrape the soil to remove small weeds and roughen it up. Don't cut corners with this tool! A cheap cultivator could fail after just one use. The handle, shaft, and union where the shaft and head join must all be extremely sturdy.
Check out some of the good Hand cultivators. 
4. Hand Weeder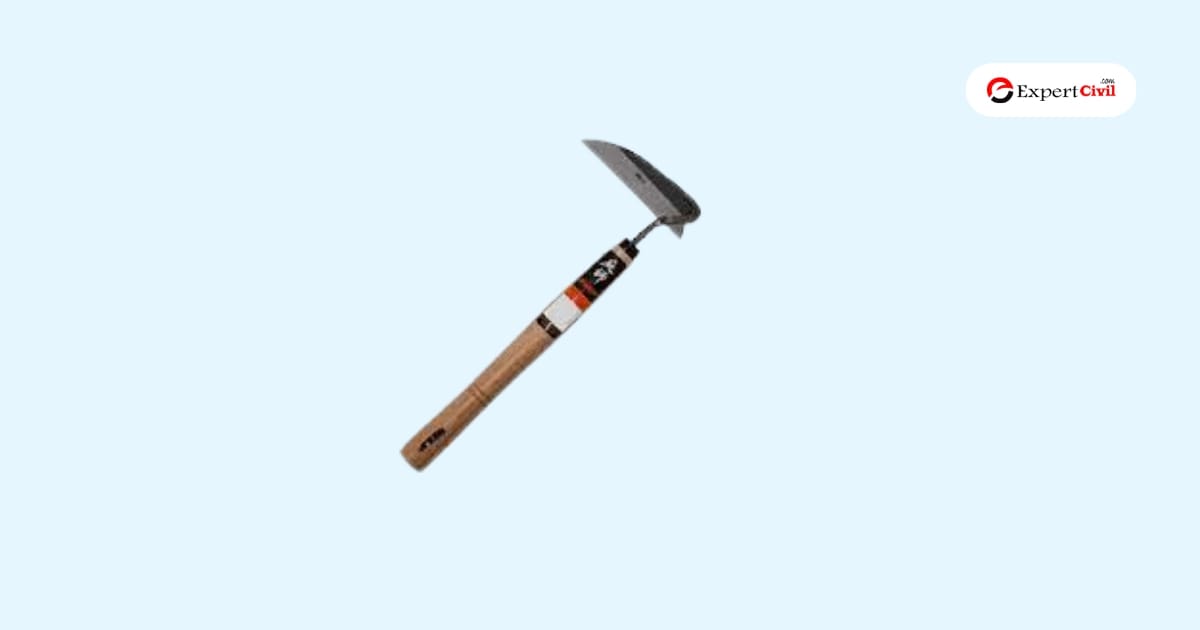 This is a gardening tool that is specifically made for weeding and getting rid of smaller roots that get in the way of planting. Roots are easily chopped through by the powerful head, which is driven into the earth. The tool's shaft has a small bend to it, making it simple to lever it back and forth and lift obstructions in your path when planting.
Look for a hand weeder with a comfortable grip and sharp blades.
5. Pruning Shears
Pruning shears are a vital item of gardening tool for keeping your plants healthy. These implements are used to remove deadwood, overgrown branches, and other undesirable growth. A comfortable grip and sharp blades are qualities to look for in pruning shears. Secateurs also referred to as hand pruners, are useful for controlling invasive and out-of-control plants.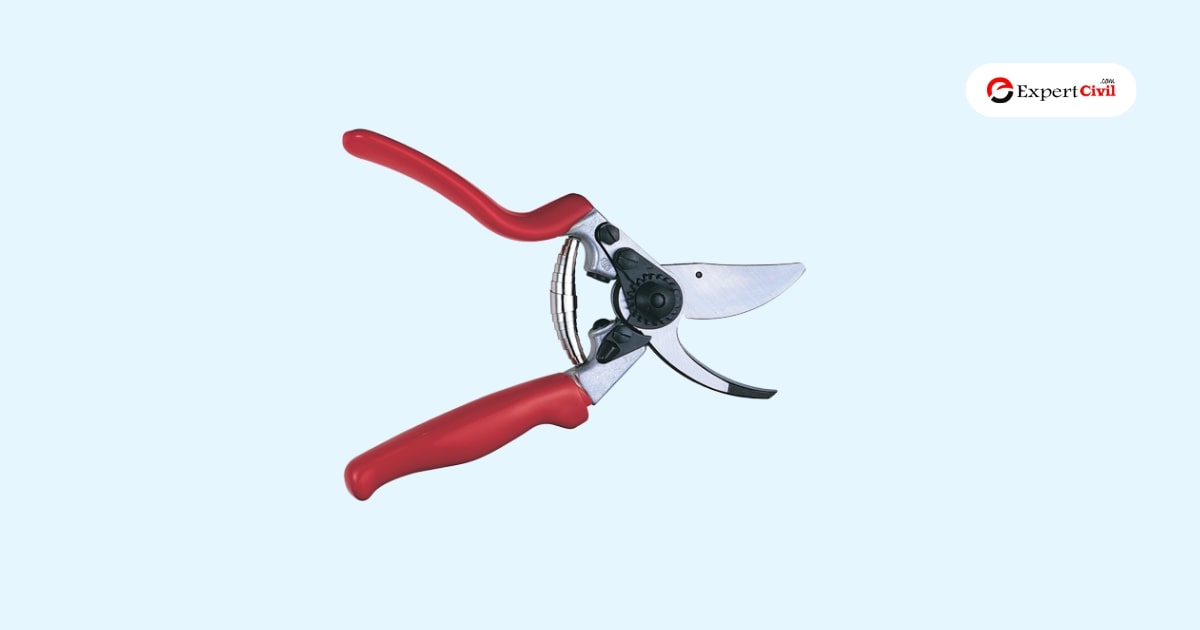 Anvil-style pruners make cuts by bringing a sharp edge into touch with a flat plane, much like a knife on a board. Bypass pruners cut more like scissors because they have a sharp blade that glides through a flat, highly-edged surface.
Look for pruning shears with a comfortable grip and sharp blades.
Digging Tools
1. Garden Spade
Square shovels with short handles are one of the needed of equipment during gardening. They are skilled in edging, lifting sod, moving small dirt mounds from one place to another, and digging holes for plants. Even though this tool can be more expensive, a good spade will last you the rest of your gardening career. The grips on them are frequently either long or short. Although heavier, longer grips provide additional leverage. Stainless steel heads are sturdy and rust-proof.
Look for a garden spade with sturdy tines and a comfortable grip.
2. Garden Fork
A garden fork is a multifunctional piece of equipment and one of the most required gardening tools in any gardener's toolbox. To aerate lawns, it can be used to soften the hard ground, break up compacted soil, make holes for seeds, mix in soil treatment, remove stones and weeds, and remove soil treatment. It can pierce tough terrain more readily than a spade thanks to its powerful, pointed tines.
Look for a garden fork with sturdy tines and a comfortable grip.
3. Post Hole Digger
A post-hole digger is a tool with two long handles that may be used to move the blades into either an "open" or "closed" configuration. The blades are two articulated, shovel-like blades that form an unfinished hollow cylinder approximately a foot long and a few inches wide. For placing fences and signposts or planting saplings, the tool is used to dig holes in the earth that are normally between a few inches and about a foot in diameter.
Look for a posthole digger with sturdy tines and a comfortable grip.
4. Auger
Get an auger whether you need to dig a hole for a fence post, plant some shrubs or trees, or any other time. Instead of requiring the user to force them into the ground, these tools drill through the surface. 
The final result is a hole that has been prepared for planting after the interior material has been removed.
Cutting Tools
1. Hedge Shears
Hedge shears have a lengthy pair of straight blades that resemble big scissors are one of essential gardening items.  Their design makes it easy to remove as much of a plant as possible in a single pass. When you trim your shrubs with hedge shears, everything you cut will have long, sharp edges. They are therefore ideal for managing hedges with a rectangular shape. Yet, shaping bushes and plants with sturdy wooden branches is difficult using hedge shears.
Look for Hedge Shears with a comfortable grip and sharp blades.
2. Pruning Saw
When looking for a gardening tool to shape trees and plants both indoors and outdoors then pruning saw can be put to good use. Different types of the folding saw can be used for a particular kind of branch or stem. All pruning saws should have spikes that are heat resistant and are available in different shapes and sizes. With the use of this equipment, larger shrubs, and smaller tree branches can be pruned easily.
Look for a pruning saw with a comfortable grip and sharp blades.
3. Grass Shears
Trimming of trees and shrubs can be done with gardening tools like grass shears. Grass shears have a handle that is angled at a right angle to the blades, giving them the appearance of a huge pair of scissor blades. Due to their unique design, pruning shears and lawn shears can easily be distinguished from one another. Blades of pruning shears are aligned to the handle.
Look for Grass shears with a comfortable grip and sharp blades.
Watering Tools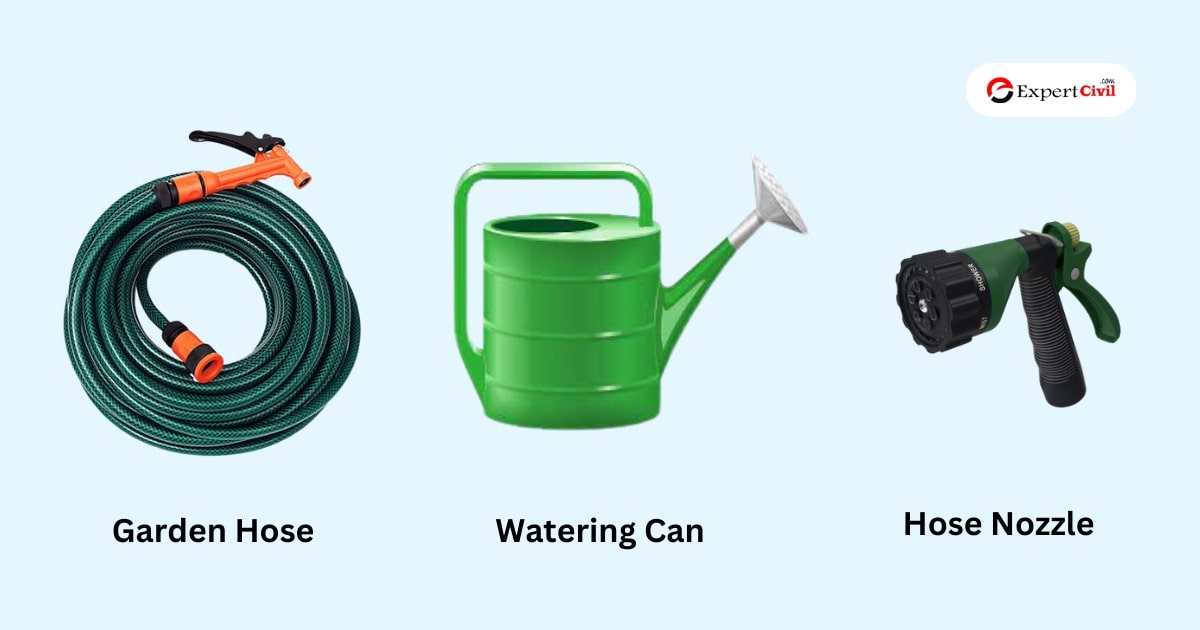 1. Garden Hose
A garden hose or hose pipe is a  tube used to simply sprinkle water. There are several known attachments for the hose's end, which include sprinklers and sprayers (which are used to concentrate water at one point and to spread over a large area). 
2. Hose Nozzle
Hose nozzles are much needed gardening equipment for garden or yard maintenance, whether you're cleaning up your gardening or just watering your yard. Instead of having to walk back and forth from your faucet, you may change the water pressure with the touch of a hose nozzle. You may easily switch from watering your plants to washing your vehicle because you have control over the spray setting.
3. Watering Can
When watering plants by hand, a watering can is a handheld container with a spout. While larger sizes are typically used for plants in gardens outside, smaller ones are used for houseplants inside. There are several different styles of watering cans, some of which are more useful than others.
Miscellaneous Tools
1. Garden Rake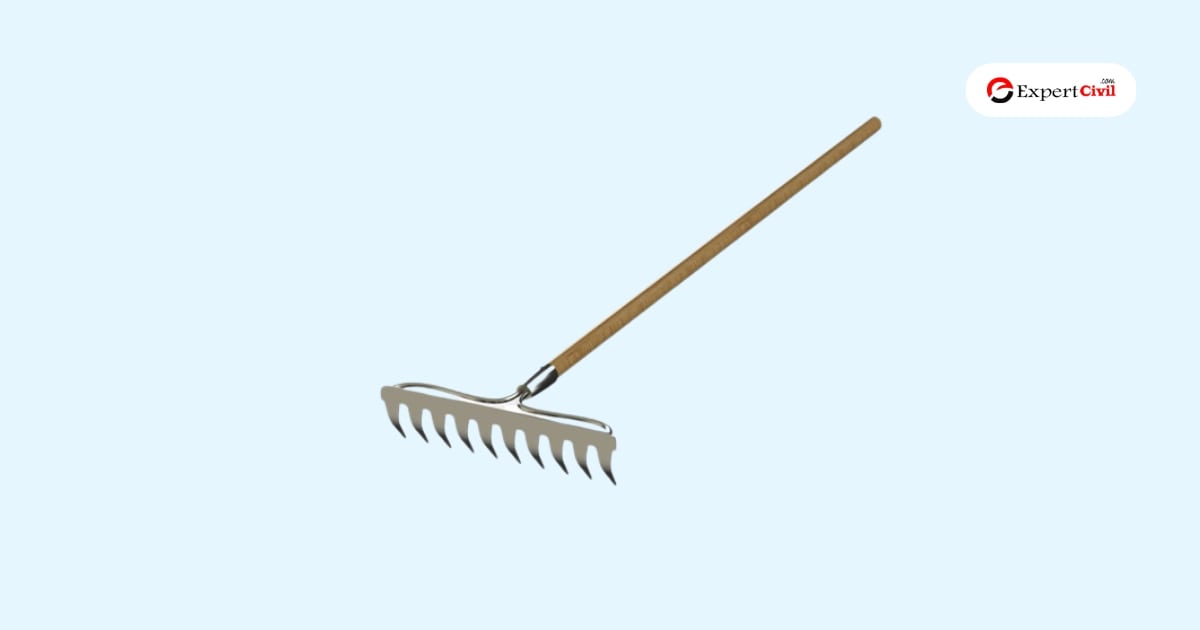 A rake is a gardening or landscaping tool with a handle that culminates in a head. A garden rake typically has a large head and a long handle made of metal. Due to the hard times, it can be used to level dirt or sand or break up soil for a garden bed. Garden rakes are also referred to as level-head rakes, ground rakes, soil rakes, and bow rakes.
Look for a garden rake with sturdy tines and a comfortable grip.
2. Leaf Rake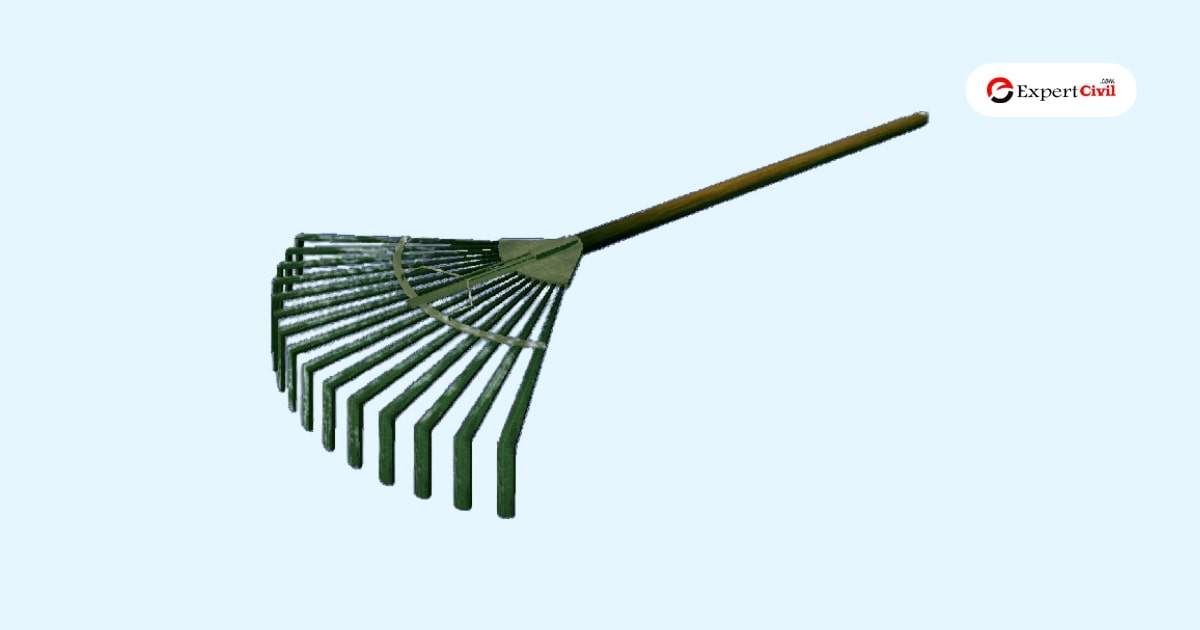 A leaf rake has thin, fan-shaped tines that radiate outward and are flat and springy. This particular kind of rake is made to be lightweight enough to glide over grass without tearing it up or hurting the lawn. Lawn rakes and leaf rakes are both commonly used terms. Leaf rakes come in steel, polypropylene, and bamboo varieties making them one of the needed gardening essentials. 
Look for a leaf rake with sturdy tines and a comfortable grip.
3. Wheelbarrow
Wheelbarrows and garden carts are frequently used by homeowners and gardeners to transport things around their properties. Wheelbarrows and carts come in particularly handy for moving bulk materials like dirt, sand, gravel, or compost as well as bags of mulch or fertiliser, plants, tools, and rubbish.
Check out some great wheelbarrows. 
Conclusion
Adhere to the tried-and-true designs of classic gardening tools made by reputable companies when selecting tools for your gardening needs. Although buying a less expensive tool may allow you to save a few dollars, you'll soon be adding to landfill waste because you'll need to replace it after a few years. A gardening Tools should last you a very long time with the right choice, upkeep, and care.
Also read: Sprinkler Irrigation System – Its Working, Types, Advantages & Disadvantage
Also read: 14 Methods of Solid Waste Disposal and Management