Sardar Sarovar Dam (Kevadia-Gujrat)
The Sardar Sarovar Dam is a concrete gravity dam built on the Narmada River in Kevadiya near Navagam, Gujarat, India. The four states of India, Gujarat, Madhya Pradesh, Maharashtra, and Rajasthan receive water and electricity from the dam.
The dam will be the third tallest concrete dam in India (163 meters), with the first two being Bhakra (226 meters) in Himal Pradesh and Lakhwar (192 meters) in Uttar Pradesh. In terms of the amount of concrete involved in a gravity dam, the dam will rank second in the world with a total volume of 6.82 million cubic meters.
---
Height of Sardar Sarovar Dam
The length of the concrete gravity dam across the Narmada River is 1,210 meters (3,970 feet) and the maximum height is 163 meters higher than the deepest height of the foundation.
Sardar Sarovar Dam Water Level
On 15 September 2019, the Sarovar dam at kevadiya in the Narmada district reached its full capacity of 138.68 meters.
Hence the highest water level of Sardar Sarovar dam is 138.68 meters.
---
Sardar Sarovar dam is built on which river?
Sardar Sarovar Dam is built on the Indian Narmada river, and it is located in the village of Kevadia in the state of Gujarat.
The dam irrigates 17,920 km2 (6,920 sq mi) of land in Gujarat, which is spread across 12 districts, 62 talukas, and 3,393 villages (75 percent of which is in drought-prone areas) and 730 km2 (280 sq mi) in Rajasthan's arid areas of Barmer and Jalore districts.
The dam also protects 30,000 hectares (74,000 acres) of riverine reaches, which cover 210 villages and Bharuch district, with a population of 400 people.
---
Sardar Sarovar Dam Visit Permission
So finally do you want to visit Sardar Sarovar dam? if yes then you need visiting permission from the high authority.
Please follow the below steps to visit the Sardar Sarivar Dam.
Go and visit the official website of  Sardar Sarovar Dam
Please fill the form (you need to enter some personal details like visitor name, phone number, email address, and visiting date.
---
Sardar Sarovar Dam on the Political Map of India
---
Sardar Sarovar Dam Details
Here is the table of SSD complete details. 
1
Length of main concrete gravity dam
1210.00 m
2
Maximum height above deepest foundation level
163.00 m
3
Top R.L. of the dam.
146.50 m
4
Catchments area of river above the dam site
88,000 Sq. km
5
Gross storage capacity : 0.95 M.Ha.m

Live storage capacity: 0.58 M.Ha.m

Dead storage capacity: 0.37 M.Ha.m

(7.70 MAF)

(4.73 MAF)

(2.97 MAF)

6
Length of reservoir
Maximum width
Average Width
214.00 km
16.10 km
1.77 km
7
Spillway gates
Auxiliary Spillway
Service Spillway
7 Nos. 18.30 m X 18.30 m (60′ x 60′)
23 Nos. 18.30 m X 16.76 m  (60′ x 55′)
8
Spillway Capacity
84949.25 cumecs
(30 lakh cusecs)
---
Advantages of  Sardar Sarovar Dam
Here are the main advantages of SS Dam:
Irrigation: The Sardar Sarovar Project will provide irrigation to 18.45 million acres of land in 15 Gujarat districts, covering 3112 villages in 73 talukas. It will also use the lift to irrigate 2,46,000 hectares of land in Rajasthan's strategic desert districts of Barmer and Jallore, as well as 37,500 hectares in Maharashtra's tribal hilly tract. Drought affects approximately 75% of Gujarat's command area in Gujrat.
Drinking-Water Supply: A special water allocation of 0.86 MAF has been made to provide drinking water to 173 urban centers and 9490 villages within and outside Gujarat's command for a current population of 28 million and a projected population of over 40 million by 2021.
Electricity Power Supply: River Bed Power House and Canal Head Power House, with built capacities of 1200 MW and 250 MW, respectively, are the two power plants. Madhya Pradesh will hold 57 percent of the power, Maharashtra will hold 27 percent, and Gujarat will hold 16 percent.
Flood Protection: It will also protect 30,000 hectares of riverine reaches in Gujarat, which cover 210 villages, the Bharuch area, and a population of 4.0 million people.
Wild Life: The "Shoolpaneshewar wildlife sanctuary" on the left bank, the "Wild Ass Sanctuary" in Kachchh's Little Rann, the "Black Buck National Park" at Velavadar, the "Great Indian Bustard Sanctuary" in Kachchh, the "Nal Sarovar Bird Sanctuary," and the "Alia Bet" at the river's mouth would all benefit.
---
Sardar Sarovar Dam PPT
Preview-1 
Preview-2 
Preview-3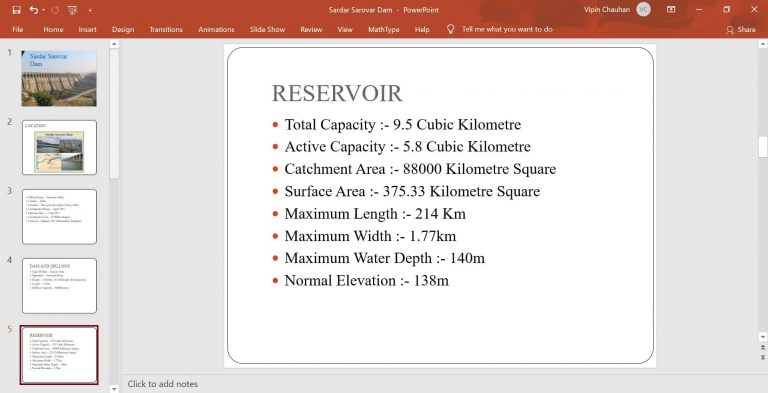 Download Sardar Sarovar Dam PPT
---
Sardar Sarovar Dam Videos
Here is a documentary on Sarovar Dam watch and enjoy.