Brick manufacturing continues to be a cornerstone of modern construction practices. The industry has witnessed profound transformations over the centuries, moving from manual techniques to automated processes. Despite these leaps in technology, the timeless debate between manual and machine methods in brick-making persists, each showcasing unique strengths and challenges.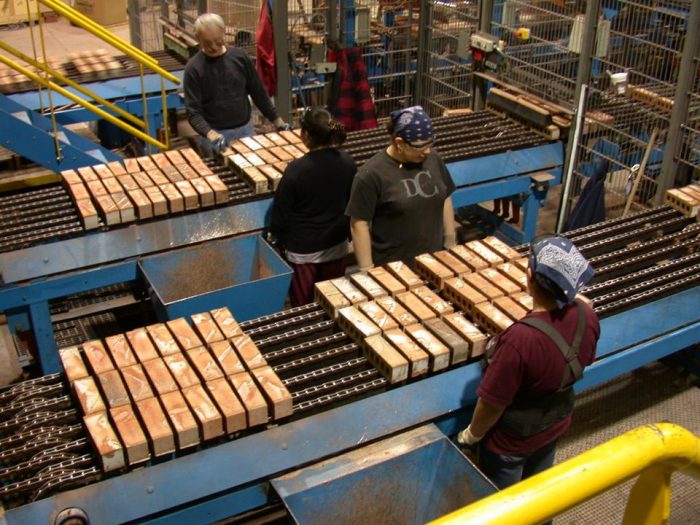 This blog aims to dissect this intriguing battle. As we navigate this comparison, we'll explore the myriad facets that shape these methods, from historical roots and modern implications to the role of technology and the factors that influence the choice between manual and machine manufacturing.
So let's get started!
1. Understanding Brick Manufacturing
Brick manufacturing has stood the test of time, evolving alongside human progress. Here we dive into the history and significance of this vital industry and give an overview of what brick manufacturing is.
What is Brick Manufacturing?
Brick manufacturing is the process of transforming raw materials, typically clay or shale, into solid building units known as bricks. It involves a series of steps, each carefully executed to produce bricks that are strong, durable, and suitable for construction purposes.
History of Brick Making
Brick manufacturing traces its roots back to ancient civilizations. Initially, bricks were sun-dried, a process replaced by firing as technology advanced, significantly enhancing their durability and resistance. As civilizations grew, so did the demand for bricks. The most recent development is the shift towards automated machines, which contrast starkly with manual methods still prevalent in many regions.
The Significance of Bricks in Modern Construction
Bricks continue to be an essential material in construction, owing to their versatility, aesthetic appeal, and durability. Whether in residential buildings, commercial infrastructure, or historical monuments, bricks are ubiquitous. Their sustainability, energy efficiency, and low maintenance have kept them relevant in the face of modern construction materials.
2. Manual Bricklaying: The Art of Precision
Manual bricklaying is a time-honored craft that requires skilled craftsmen to meticulously place each brick by hand. These craftsmen possess years of experience and expertise, allowing them to create intricate patterns, angles, and designs. Let's explore the benefits of manual bricklaying.
Skill and Craftsmanship
Manual bricklayers undergo extensive training and apprenticeships to refine their skills. They develop a deep understanding of the materials, tools, and techniques required for precise brick placement. Their expertise allows them to tackle complex projects that require careful planning and execution.
Attention to Detail
One of the primary advantages of manual bricklaying is the attention to detail. Craftsmen can ensure that each brick is perfectly aligned, resulting in a visually appealing and structurally sound construction. They can adjust the mortar thickness and joint size to accommodate any variations in brick dimensions, ensuring a seamless finish.
Flexibility and Adaptability
Manual bricklaying offers a high level of flexibility and adaptability. Skilled bricklayers can easily adjust their approach to meet the specific needs of a project. They can navigate tight corners, irregular shapes, and other challenging aspects of construction, providing tailored solutions that machines might struggle with.
3. Machine Bricklaying: The Power of Automation
Machine bricklaying, also known as robotic bricklaying, has gained traction in recent years. These automated systems utilize advanced technology to lay bricks quickly and efficiently. Let's explore the advantages of machine bricklaying.
Speed and Efficiency
One of the key advantages of machine bricklaying is its speed and efficiency. Bricklaying robots can lay bricks at a significantly faster pace compared to manual labor. They follow a pre-programmed pattern, eliminating the need for repetitive measurements and adjustments, thereby reducing the overall construction time.
Consistency and Precision
Machine bricklaying ensures consistent brick placement and alignment. The robotic arms or conveyor systems used in these machines can precisely position each brick with minimal deviation. This level of precision contributes to the structural integrity of the building and reduces the chances of human errors.
Reduced Labor Costs
One significant advantage of machine bricklaying is the potential for reduced labor costs. As automation takes over the labor-intensive aspects of bricklaying, the need for a large workforce diminishes. This reduction in labor expenses can make machine bricklaying a cost-effective solution for construction projects, especially those with tight budgetary constraints.
4. Comparing Manual and Machine Bricklaying
When the battle lines are drawn, how do these two methods stack up against each other? Let's break it down.
Strength and Durability
When it comes to resilience and durability, both manual and machine-made bricks prove their worth. Yet, many argue that the human touch adds a certain robustness that machines can't replicate.
Speed and Productivity
Manual bricklaying, although highly skilled, is a time-consuming process. Skilled bricklayers can lay around 300 to 500 bricks per day, depending on the complexity of the project. In contrast, machine bricklaying can lay up to 1,000 bricks per hour, significantly surpassing the productivity of manual labor.
Adaptability to Complex Designs
Manual bricklaying remains the preferred choice for complex designs that require adaptability and problem-solving skills. Skilled craftsmen can navigate intricate patterns, curves, and irregular surfaces with ease, ensuring a visually striking end result. Machine bricklaying is better suited for projects with simpler designs and repetitive patterns.
Quality of Workmanship
Manual bricklaying often excels in terms of showcasing the artistry and craftsmanship of the bricklayer. Each brick is carefully placed, ensuring a personalized touch and attention to detail. Machine bricklaying, on the other hand, offers consistency and precision, ensuring a uniform finish. The choice between the two methods depends on the desired aesthetic and the project's specific requirements.
Time and Cost Considerations
Machine bricklaying outshines manual bricklaying in terms of speed and labor cost savings. Projects with tight timelines or limited budgets may benefit from the efficiency and reduced labor costs offered by automated systems. However, manual bricklaying allows for greater flexibility and customization, albeit at a potentially slower pace and higher labor costs.
Environmental Impact
When it comes to the environment, the picture gets a bit murkier. Manual brick making has lower energy consumption but often leads to soil degradation. Machine production, meanwhile, has higher energy demands but uses more sustainable materials and methods.
5. Factors to Consider When Choosing Between Manual or Machine
When deciding between manual bricklaying and machine bricklaying, several factors should be considered:
Project Size and Complexity
For smaller projects or those with intricate designs, manual bricklaying may be the preferred choice. Skilled bricklayers can handle the intricacies and deliver exceptional craftsmanship. Machine bricklaying, on the other hand, is more suitable for large-scale projects with repetitive patterns or straightforward designs.
Time Constraints
If time is a critical factor, machine bricklaying offers a clear advantage. The automation and increased speed can significantly expedite the construction process, allowing projects to be completed within shorter timeframes.
Budget Allocation
Consider your budget carefully. Manual bricklaying can be more costly due to the higher labor requirements, especially for complex projects. Machine bricklaying, although expensive initially, can result in long-term cost savings through increased productivity and reduced labor expenses.
Skilled Labor Availability
The availability of skilled bricklayers should also be taken into account. In some regions, it may be challenging to find experienced bricklayers, leading to delays in the construction process. In such cases, machine bricklaying provides a reliable alternative.
Quality Standards
If your project demands meticulous attention to detail and intricate designs, manual bricklaying may be the best choice. Skilled bricklayers can achieve the highest levels of craftsmanship, ensuring the desired quality standards are met.
Conclusion
So, who wins the brick battle – manual or machine? The answer isn't straightforward. It depends on various factors, from project size and budget to aesthetic preferences and environmental concerns. However, one thing is certain – as technology advances, the brick-making industry will continue to evolve, aiming for a balance between tradition and innovation, manual labor and automation, art and science.
Ready to embark on your next bricklaying project? Contact us to discuss your needs and let us explore the best approach for your construction goals.