A house gives the feeling of completeness when it matches the aesthetic standards both inside and outside. While the home interior is critical for your comfort, the exterior theme contributes to your satisfaction with the project.
Benefits of Exterior Wall Cladding Tiles in India
Outdoor wall tiles not only make the task of beautifying the building exterior easy, but they also offer several other benefits typically not available with other exterior finishes. For instance:
Quick installation
Freedom from annual or regular rehaul of the exterior finish
Easy maintenance
Safety from wall seepage
Designer outlook
Helps in temperature and noise control
Apart from these benefits, you can also use the outdoor wall tiles in decorating seating areas, gardens, patios, entryways, and more. Even high-rise apartments can use outdoor tiles for decorating seating areas on the balcony.
So, if you are already thinking of the most suitable tile design for the outdoor areas in your home, here's a list of seven tile designs to get you started.
Also Read: Types of Tiles in Building Construction
Plain Natural Stone Looks
Plain natural stone appearance has the power to satisfy the most demanding design needs for a home exterior. The sheer number of options you have and the type of architecture these options can help you recreate is just mind boggling. Consider, for example, the following:
Grey Limestone Tiles
Vitrified tiles that mimic the white limestone texture and colour patterns can turn your house into a place of antiquity. Limestone-lookalike tiles provide a distinct white texture to your walls, and the sturdiness of vitrified tiles can keep the appearance for ages with nominal maintenance.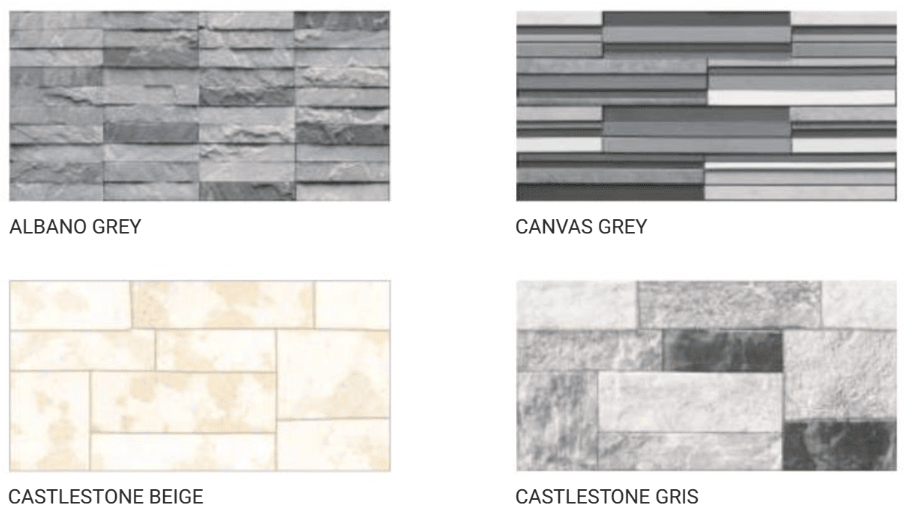 Replicating Sandstone Architecture
Sandstone architecture has been a classical piece of Indian history. Even now many government and public infrastructures (including the New Parliament) use sandstone extensively. However, you don't have to spend as much time and money searching for sandstone.
Instead, use vitrified tiles. Vitrified tiles also take away the need for onsite cutting and polishing, as you can buy pre-polished tiles with desired surface finishes.
Heritage Walls
Heritage walls are a simple addition of plain solid colour glossy tiles in different patterns. Heritage tiles are usually small, i.e., 10.8×10.8cm, 10x30cm. Thus, their installation can be more tedious than larger tiles. However, the appeal of solid colour patterns, such as chessboards, and fading mosaics can help you with unique décor styles.
The rectangular tiles from this portfolio can be installed in different patterns – herringbone, subway style, geometric look, diagonal, vertical alternating and 90-degree classic, etc.
Terracotta Walls
Terracotta walls have a special place in modern architecture reserved only for the strongly rooted. Terracotta tiles are most closely related to earthly materials and can be challenging for designers to bring about a modern look in a building.
However, terracotta lookalike tiles can create mesmerising and cool exterior walls when mixed with white marble or pure white tiles. Additionally, these glazed vitrified tiles can provide terracotta exterior wall cladding with minor deviations in texture and added design features such as carved flowers.
Mosaic Designs
Mosaic is perhaps the most ancient building décor tiling used in construction. Nowadays, mosaic tiles are generally associated with places like kitchens, bathrooms, and swimming pools. However, they work perfectly as wall tiles for the outer walls of the building.
That's not the only idea for using mosaic tiles in outdoor settings. You can install the mosaics on walls behind a seating area, in the garden, or simply cover your home's front elevation.
Mosaic tiles will work perfectly with both worn-out cement and natural stone appearance like sandstone or marble.
Brick Wall Designs
Brick wall patterns are perhaps the least exploited for Indian homes. However, these 3D elevation tiles can single handedly beautify your home, without any external help. Cover the house with plant vines, and suddenly you can sink back into the classic architecture.
The best part of using red brick exterior wall cladding tiles in India is that you can be sure to be the exclusive user of this design. At least until new home builders start to find your secret.
Wood Covered Walls
Wooden tiles are also one of the attractive options for exterior wall cladding tiles in India and remain under-utilised. Wood tiles are available in both glossy and wood textures. So, whether you want to get a perfectly natural look or simply a classy appearance with wooden patterns, tiles are a better choice. Vitrified tiles with wooden texture are free from the hiccups of managing exposed wood.
Wooden tiles are available in several sizes like 60x120cm, 60x60cm, 30x60cm, and 20x120cm planks. The plank format is more popular for wood-look alike tiles because of how closely it mimics the real wood.
Wood planks fit perfectly as wall tiles for the outer walls of the house such as the boundary, and the front porch. The best part with wood-look-like tiles is that you can source any type of wood including Sepia, oak, birchwood, maple, cedar, and so on.
Mix & Match for Unique Outer Wall Cladding
You can see the possibilities of using wall tiles for outdoor spaces with the seven unique tile designs discussed above. If you can spend some time mixing these designs for the full house cladding, you can create a unique exterior décor for your home.
You can also connect with tile experts to understand which tiles can be installed together and other features to take care of while purchasing the tiles. Also, visit the nearest experience centre to understand how different tiles can appear in reality.
Also Read: What is Skirting Tiles?