What is mortar
Mortar is a bonding compound created from a mixture of water, a cementing or binding substance (lime or cement), and fine gravel (sand, surkhi, sawdust, etc.). It is used to bind different building materials together, such as bricks, tiles, and stones. In brick or stone masonry, it can also be used to create a decorative pattern. Mortar has been used since the start of time.
Different types of mortar
Cement Mortar
Lime Mortar
Surkhi Mortar
Gauged Mortar
Mud Mortar
Cement Mortar
Cement mortar is a form of mortar in which the fine aggregate is sand and the binding material is cement. Depending on the desired strength, the cement to sand proportion in cement mortar ranges from 1:2 to 1:6.
Uses of cement mortar
In brick or stone masonry, mortar holds the bricks or stones together.
Pressure is distributed evenly.
It is used to fill gaps between bricks or stones to make walls more solid.
It is utilized in concrete as a matrix.
It is used to hide joints and improve the appearance of plastering projects.
It's utilized for ornamentation and moulding.
Lime Mortar
Lime mortar is a form of mortar in which the binding element is lime (fat lime or hydraulic lime) and the fine aggregate is sand. Lime/sand ratio in cement mortar is 1:2.
Gauged Mortar
sand (fine aggregate), cement +lime (binding material). It's essentially lime mortar with the addition of cement for enhanced strength. Gauging is the term for this procedure. Cement/lime ratio range from min 1:6 to max 1:9. Gauged mortar is less expensive than cement concrete and more durable than lime mortar.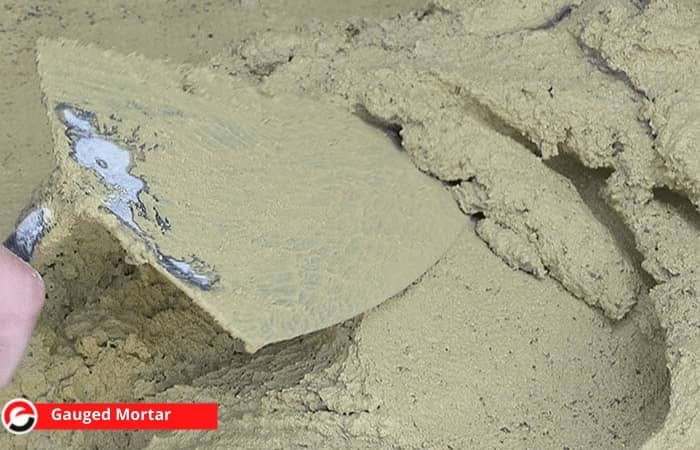 Surkhi Mortar
Surkhi mortar is a form of mortar in which Surkhi is used as the fine aggregate and lime is utilized as the binding element. Surkhi mortar is cost-effective.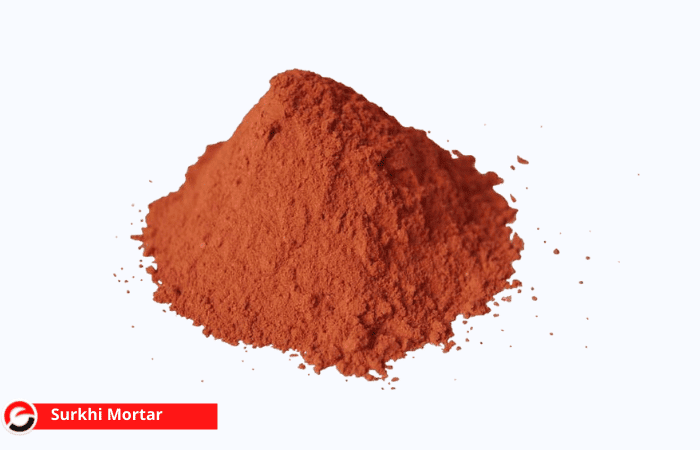 Mud Mortar
The binding material is mud, and the fine aggregate is sawdust/ rice husk/cow dung. When lime or cement isn't accessible, mud mortar is preferable.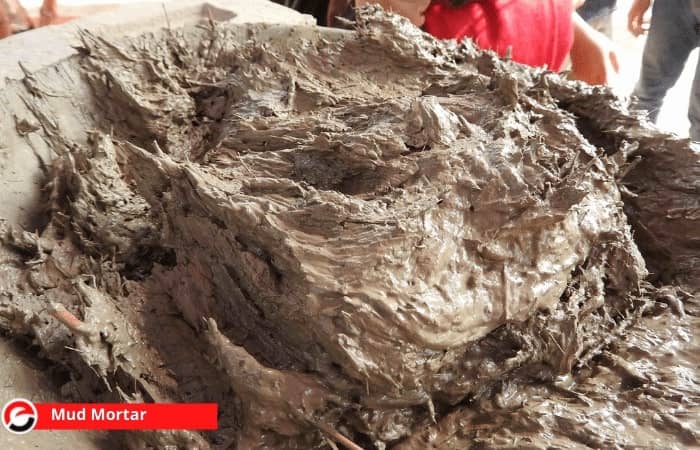 What is Grout?
Grout is a semi-liquid that is usually to require fill gaps in existing constructions or to reinforce them. Grout is a mixture of water +cement+ sand that is used for pressure grouting, embedding rebar in masonry walls, connecting pre-cast concrete sections, filling gaps, and sealing joints between tiles.
Types of Grouting
Based on the types of materials the following types of grouting are used. 
Cement Grouting
The injection of cement or grout under pressure into voids or fractures in the soil, rock unit, or concrete structure is known as cement grouting. Cement grouting is a method of filling cracks and spaces in concrete structures by injecting cement under pressure.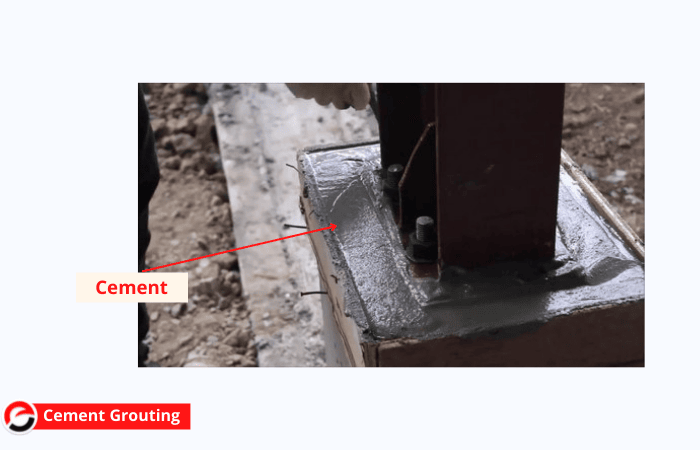 Chemical Grouting
By filling the spaces with low viscosity, non-particulate grout, chemical grouting turns granular soils into sandstone-like masses. Chemical grout is applied using a machine through the perforations under pressure. The grout absorbs water and hardens in no time.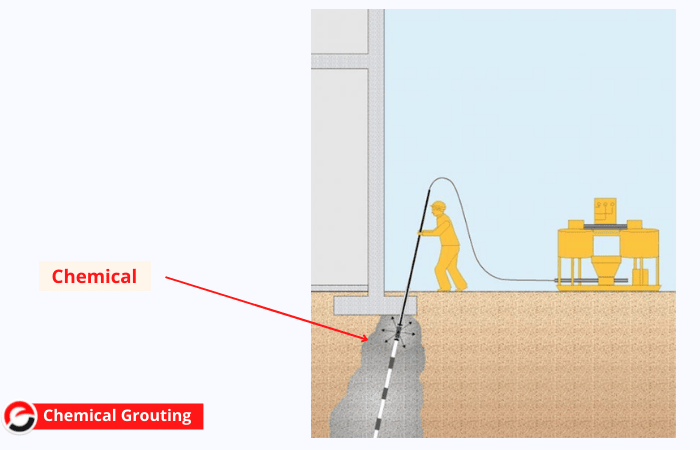 Bentonite Grouting
Bentonite Grout is prepared by using sodium bentonite. Drilled hole abandonment, water well grout, monitoring well casing sealing, and geothermal grouting are all possibilities.
Resin Grouting
Traditional grout is made from a cement-based mixture. When it gets wet, instead of repelling water, it absorbs it. Anyone who has cleaned grout knows how quickly it absorbs stains.
Bituminous Grouting
The grouting ingredient is melted bitumen. When hot bitumen is injected into saturated media, it cools quickly at the interface and changes from a fluid to a highly viscous, tenaciously sticky, elastoplastic condition.
G1 Grouting: Steel Structures
This type of grout is commonly used in steel structures, towers, ships, small pumps, and other non-vibrating machinery, though the precise application of the grout type to any location will be established by the relevant drawing.
G2 Grouting: Concrete Structures
Concrete foundations, footings, etc., will all need this sort of grout. The minimum compressive strength (7days & 28 days) of the grout will be 50 N/mm2, and 60 N/mm2 respectively.
Also Read: Grout vs. white cement
Ceramic Tile Grouting types
Unsanded Grout
This is for wall tiles with grout joints that are less than 1/8″ broad.
Fine Sand Grout
This is for floor tiles with 1/8″ to 3/8″ broad joints.
Quarry Type Grout
This is similar to finely sanded grout for ceramic tiles, but with a coarser sand grade. For 3/8″ to 1/2″ wide joints, such as those used with Saltillo tiles, quarry-type grout is employed.
Epoxy Grout
Epoxy ceramic tile grout is stain and chemical-resistant, with exceptional bonding strength. It's ideal for stain-prone surfaces like countertops.
Pros of Grouting
This can be done on nearly any type of surface.
It has no vibrations and can be controlled to avoid structural damage.
In-ground structure improvements can be measured.
Ideal for applications with limited space and headroom.
It can be placed next to existing walls.
Process and its types can be utilized to regulate seepage, groundwater flow, and hazardous waste materials.
Applications of Grouting
Stopping large amounts of water from entering mines, tunnels, parkades, dams, and other underground constructions.
Grouting of soil and rock.
Chemical-resistant steel, concrete reservoirs, floor coatings, gels, and mortars (chemical factories, pharmaceutical industry, mills).
Environmentally friendly uses.
Mortar vs Grout
There is the following difference between mortar and grout
Characteristics

Mortar

Grout

Material
Cement + Sand + Lime + Water
Cement + Water + Sand + epoxy/acrylic polymer
Water-Cement Ratio
Less
More
Function
Cement mortar's principal role is to act as a binder in brick or stone masonry.
The grout's principal duty is to act as a filler material in tilling and cracks.
Stiffness
Stiffer than Grout
Less stiff than mortar
Workability
It adheres well to a trowel and has more workability.
It is more difficult to handle with a trowel or other equipment as the water content increases.
Viscosity
Less
Highly viscous
Color
It is usually the colour of cement.
As required, several colours are available.
Types

Cement Mortar
Lime Mortar
Surkhi Mortar
Gauged Mortar
Mud Mortar

Sanded grout
Un-sanded or wall grout
Epoxy grout
Furan grout
Acrylic grout

Porosity
Non-porous
It is quite porous and retains water even after hardening.
Curing
Curing is required for the hardening process of mortar.
Curing grout does not necessitate extra water; the initial amount is sufficient.
Setting Time
Longer
Shorter
Application
In stone, concrete, and brick masonry, it is used as a bonding agent. Used for joint sealing.
Used as a crack and tile filler. It will prevent cracks, make soil stabilize, and correct bedding planes.
Grouting Process
The following steps are used during grouting:
Grout colour
Put the Grout on
Maintain a perpendicular with the grout float
Use a damp sponge to wipe the tile
Remove the Haze with a Damp Cloth
Seal the surface
Apply
FAQs
Mortar is a mixture of?
Usually, Mortar is a mixture of Cement+Sand+Water+Additives.
Lime mortar is generally made with
Hydraulic / Non-hydraulic Lime + Sand+ Water
Additives that are used in the mortar to improve
• Hydroxyethyl Cellulose (HEC)
• Polycarboxylate Superplasticizer
• Calcium Formate
• Polyvinyl Alcohol Powder
• Gypsum Retarder
• Defoamer (Powder)
• Defoamer (Powder)
• Defoamer (Powder)
The test used for measuring the flow properties of grout is
What color grout to use with gray tile
White Grout
Light Gray Grout
Chemical grouting is generally used for
Chemical grouting can be used to support excavations, stabilize soils for tunneling, and limit water seepage.
Gypsum is used as an admixture in cement grouts for
Gypsum retarder is a high-performance, eco-friendly protein-based retarder that can reduce the time it takes for gypsum plaster to set. Our high-efficiency gypsum retarder offers good retardation effects with minimum gypsum strength loss even when used in small amounts.
We are sorry that this post was not useful for you!
Let us improve this post!
Tell us how we can improve this post?