What is grouting?
Grouting is the process in which materials are injected into cavities or cracks in concrete, masonry structure, soil, and rock mass to increase the structure's load-bearing capacity refer to grouting, and the material used for this process is called grout.
Grout that is used to fill the cavities is a high-slump concrete consisting of Portland cement, sand, fine gravel, water, and sometimes lime.
Types of grouting
There are different types of grouting 
Cement Grouting
Chemical Grouting
Compaction Grouting
Jet Grouting
Pressure Grouting
Bituminous Grouting
Cement Grouting
Cement grouting is the process of injection of cement or grout under pressure to fill voids or fractures in the soil, rock unit, or concrete structure. This helps in preconstruction site improvement, arrest foundation settlement, arrest foundation settlements, etc.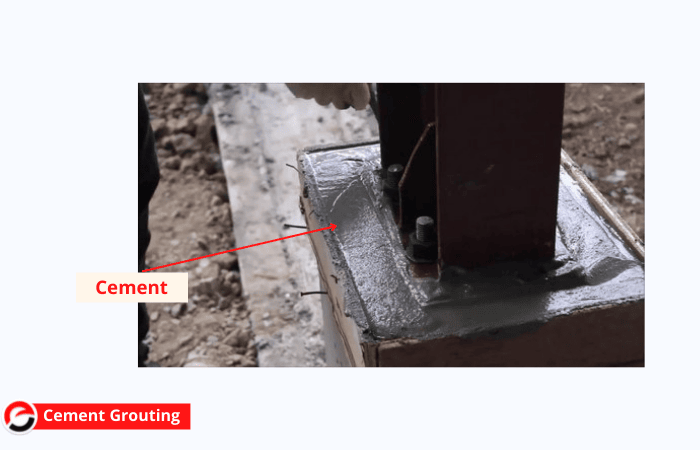 Chemical Grouting
Chemical grouting is a form of permeation grouting in which the solutions used in the grouts are acrylamides, polyurethanes, acrylates, epoxies, and sodium silicates. The two types of chemical grouting are structural and water control grouting.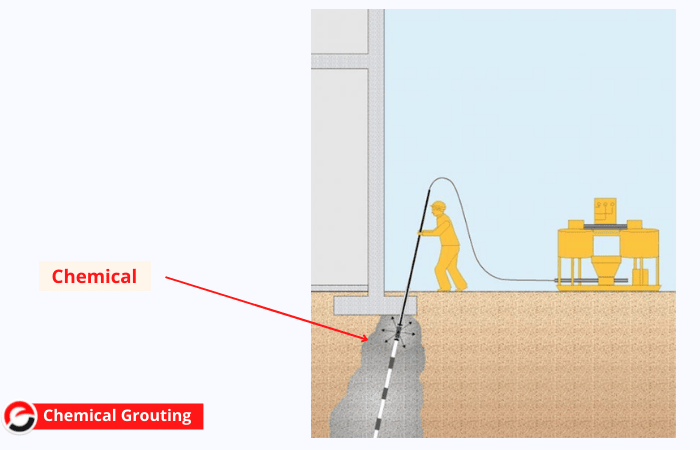 When the soil's bearing capacity is improved by the binding particles that permeate the space between the soil particles in granular soils, it's called structural chemical grouting. This type of grouting is also used to repair fractures in concrete and rock.
Compaction Grouting
Compaction grouting is a cost-effective technique for re-compaction and stabilization of sub-soils to greater depths. This type of compaction grouting is used to reduce the damage of liquefaction of soils during seismic events.
Jet Grouting
Jet grouting is an in-situ construction technique that is used to improve the mechanical characteristics of soil, with the help of a grouting monitor which is attached to the end of a drill stem. This type of grouting is used in places where increased stability and bearing capacity or decreased permeability is required.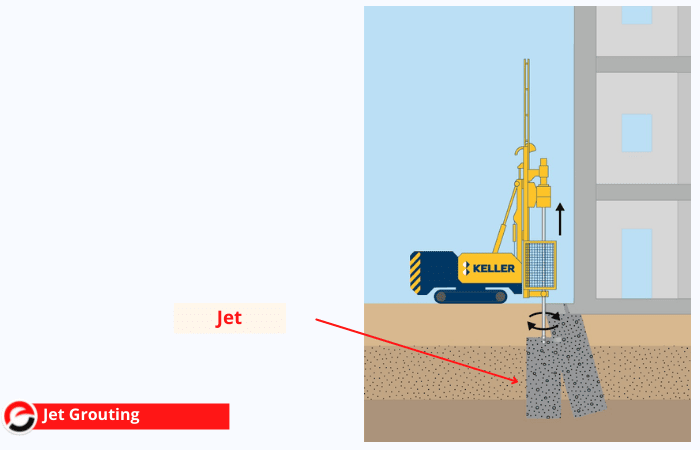 Pressure Grouting
Under pressure, a combination of cement, sand, and water is injected into cracks, cavities, or fissures in the structural component or the ground. The foundations are given this treatment to avoid moisture penetration. These techniques are also used for repairing structures, consolidating ground to improve bearing capacity, forming water cut-offs to prevent seepage, etc.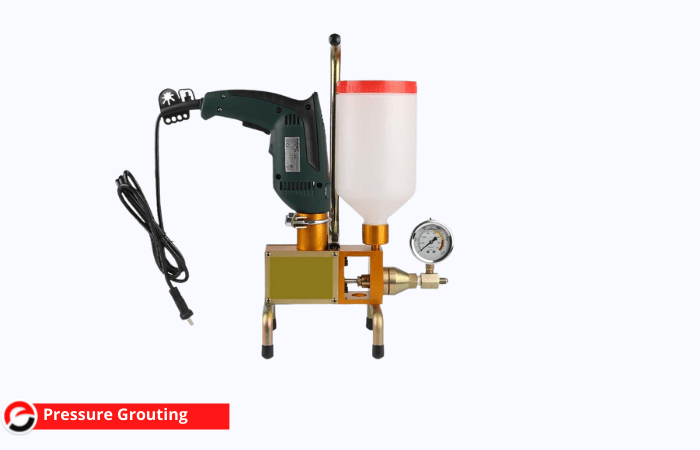 Bituminous Grouting
Bituminous grouting is suitable for waterproofing above or below ground level as protective coatings. They also can be used for membrane waterproofing or bedding and filling the joints of brickwork. Either asphaltic or coal-tar pitch materials of damp proofing and waterproofing grade are used, together with mineral aggregates as coarse as sand.
Applications of grouting
There are many applications using grouting. Some of them are the production of mass concrete structures and piles. If there is a formation or cracks the ground underneath is repaired using grouting. The masonry or pavement defects on buildings are cleared using grouting. The ground anchors for sheet pile walls, concrete pile walls, retaining walls, etc. can be fixed. The tendons in prestressed and post-tensioned concrete can also be fixed using grouting.
What is PU injection grouting?
PU injection grouting is also known as High-Pressure Polyurethane injection grouting is a process in which polyurethane is injected into the substrate with high pressure so that the cracks and voids in the substrate will be filled with waterproofing slurry to stop any potential water seepage. Commonly used waterproofing method to repair water leakages, generally through concrete substrates.
Grout vs. white cement
Grout is a high slump concrete. It consists of Portland cement, sand, fine gravel, water, and lime. The cores or voids in hollow masonry units are filled with grout. It is used as a filling to bond the masonry units, bond the reinforcing steel to the White cement is used for architectural beauty, interior, and exterior decorations, floorings, etc.
It ensures clean, bright, consistent color, including pastels, is applied which allows a wide range of color options for producing structural and architectural concrete as well as cementations building products.
Guniting and grouting
Guniting is a mixture of Portland cement, sand, and water, shot into a place by compressed air. In the construction of swimming pools, dams, tanks, etc., this method of guniting is used. This can be applied vertically, overhead, and on horizontal surfaces, and is especially excellent for recovering surfaces that have spalled owing to reinforcement corrosion.
Grouting, on the other hand, is the process of injecting materials into cavities or fractures in concrete, masonry structures, soil, and rock mass in order to increase the structure's load-bearing capacity, and the material utilised for this purpose is grout.
Also Read: Roofing Sheets
Injection grouting waterproofing procedure
The following steps give the procedure of injection grouting waterproofing:-
Drilling holes on the surface

Holes are drilled onto the surface at regular intervals
The distance between the holes depends on the types of cracks
The minimum diameter and depth of the holes are 2.5cm and 5cm respectively

Sealing the cracks between the holes

Using epoxy, polyester, or any other cementitious materials the cracks between the holes are filled properly.

Cleaning the holes and cracks

The holes and cracks are cleaned properly before the grouting is done
Clean water or a vacuum can be used to clean the cracks

Grouting the Hose Connection

A cone-shaped fitting on the grout hose is sufficient for smaller grout pressure
Short pipe nipples are connected to the holes to obtain grout hose connections for larger grout pressures.

Injection Grouting on the cracks

Using the grouting machine the grout material is injected into the crack
Skilled labor is required for this process
The temperature on the site must be considered during the process.
FAQ
What color grout to use with gray tile?
White or any shades of gray like light gray, dark gray, charcoal gray, or blue-gray will work well with gray tiles.
How long should grout last?
Grout can last for eight to sixteen years. The lifespan of grout depends upon how it is treated and maintained.
How long does grout need to dry?
It takes about 24 to 72 hours for the grout to dry properly.
How to apply epoxy tile grout?
1. The area where the epoxy is to be applied should be cleaned and be well prepared.
2. The epoxy grout should be mixed till it becomes a soft and smooth consistency.
3. Using a Hard rubber float the epoxy grout can be applied to the joints and the excess products are removed.
4. The grout work is then cleaned and finished while the product is still wet.
5. A clean scrub or cloth is used to lean the surface after sprinkling clean water.
What is the purpose of grout?
The grout is used mainly to fill the voids but it also helps to get a stronger bond between the tiles or floors and prevents the chipping of the edges of tiles.
What color grout to use with white tile?
White color gives a blended look or any contrasting color can be given to get a bold look.
Can cement grout be used for a brick joint?
Yes, cement grout should be dry enough so that can be used for a brick joint.
Can epoxy grout fix loose vitrified tiles?
Yes, epoxy grout can fix loose vitrified tiles.
Can grout be used to set tile?
Grouts are used as filler for joints between the tiles after it is installed and set and grouts can also be used to set tiles.
Can I use grout instead of mortar?
Both grout and mortar are made of equivalent building components with just a change in the amount of water, sand, and cement so the grout can be used in place of mortar.
Can you use tile adhesive as a grout?
No, tile adhesive is not as durable as grout so it is not used as grout.