Do you face any challenges while you design the interior or floor of your new house? Now looking for free home designing software or  Apps? Many people around the world find confusion during the décor of their new house. In the middle of all difficulties, there are many options available to do this work just in a blink. Now, you can visualize your ideas with the help of this amazing software.
Various professional home design programs are available and simple to use. Each type of software has a unique set of capabilities. You can get your idea into reality no matter what type of home improvement project it is. This article explains the best free home design tools available in 2023. It also includes a brief description of each tool. So, let's get started.
Best Free Interior Designing Software of 2023
There is the best home design software is compiled. Each software has different features based on distinctive criteria.  
Following is a list of some of the top free home design tools.
Floorplanner – Online editor for 2D & 3D floor plans

Planner 5D – 2D/3D home designing for your dream home

SketchUp – 3D modelling & rendering software

Sweet Home 3D – 3D floor planning & furniture addition

HomeByMe – For 3D space planning online

SmartDraw – Trendy home designing

Roomstyler 3D home planner – 3D designing of home

Homestyler –  Home designing & 3D rendering

DFS room planner – 2D or 3D room plans

Carpetright visualizer – floor designs
SketchUp is absolute software. It can offer free 3D design tools online.  This tool is immersive. That's why; you get an impression of the real-life impression. You just feel that you are walking into the design while using a pen. 
The free version is ideal for all of you. In the field of Professional engineering, you can use its pro version. The thoroughness of this software realizes every element of design to you. This software gives a whole vibe to its users.
Pros:
High magnified images

A wide-range models of library

10GB cloud storage
Cons:
Maybe beginners find it difficult to use

Need some 3D modelling proficiency

Highly charged pro-version.
Also check: Download House Plan with Car Parking
This type of software has specially designed for floors. It can decorate your floors in 2D or 3D perspectives. The power of this tool is in its capability of interior decorating components. Once you did your floor design, you can go for your 3D room design.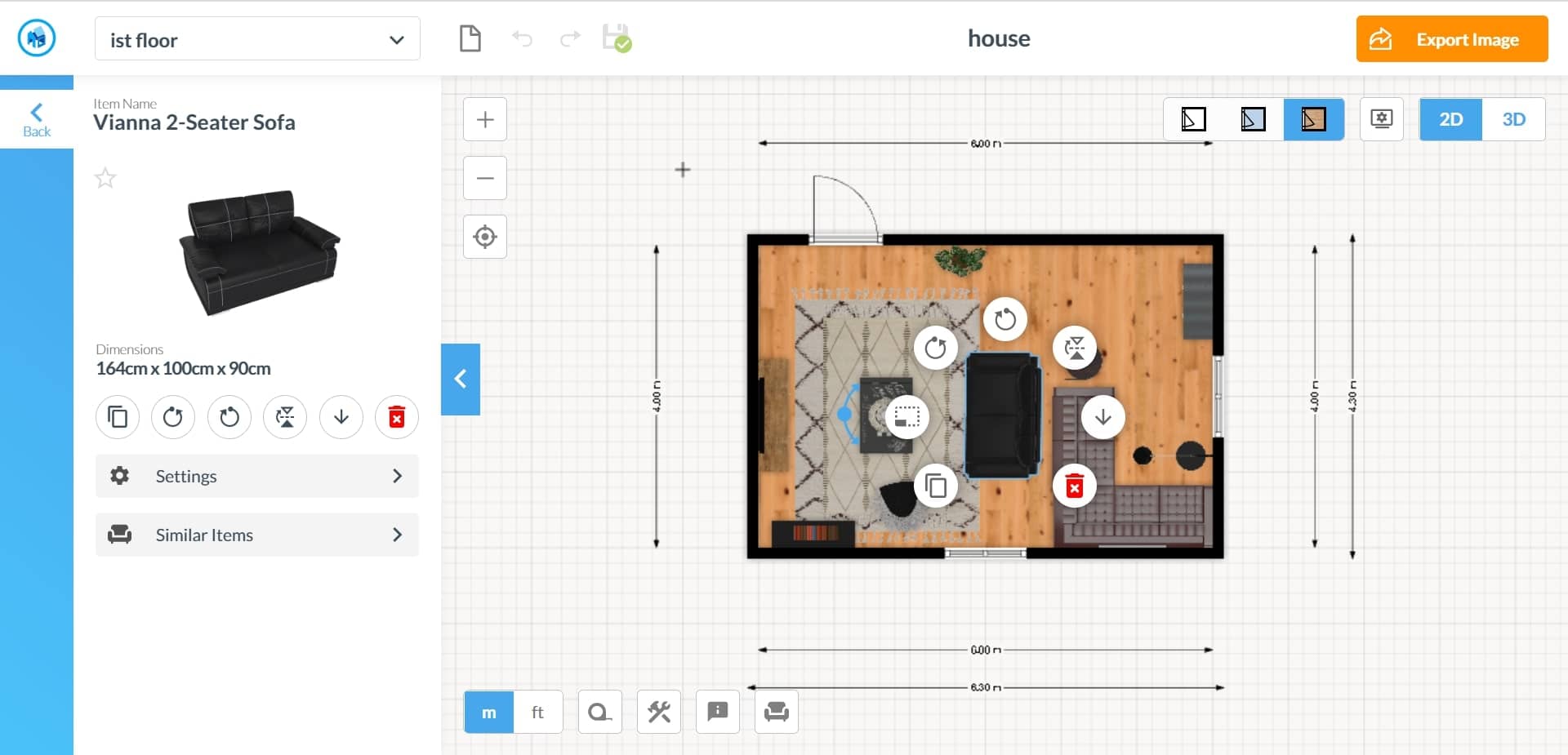 It can perform dual functions very efficiently. If you want something ordinary in your home design, you can go for it. It always remains the best option to use and understand.
Pros:
No need of downloading

Simple to use

3D designing of home
Cons:
Pro-version is not cost-effective.
Another best tool in the field of home planning is SmartDraw. Every person can enjoy its understandable features. It supports complicated designs for more experienced people. This software has an endless range of templates and design plans.
Thus, you can explore an infinite number of designs and layouts for your new area. This tool offers a trial of a week. After that, you should buy its subscription for a longer time. The upgrading version might be worth it for you.
Pros:
Nice Collection of models, including charts and graphs

Connection with Google

Influential CAD capabilities
Cons:
Not an easy option for beginners

3D renderings are not possible

A few free trials.
Planner 5D is included in the best-looking house design tool.  This application is immersive similar to SketchUp. It allows you to enjoy real-life impressions while using it. If you don't have the time or desire to create a complex design, it gives you the option to start from scratch. You can use a template to put together a floor plan.
You can use it even on your phone or iPad. This is the reason; compatibility with iOS makes it useful. Its starting is as simple as it gets. You can get a print layout of your home design from this software.  So, you get the desire changing in your home design.
You can get a 3D visualization by adjusting the size, shape, or color of the floor.  Add furniture, windows, and doors to complete its 3D instructions. The furnishings of the house may be pricy which is suggested by this software!
Pros:
Understanding features

Access to a virtual community
Cons:
 Free version for a week

The Freemium version has a limited number of features.
This software has a unique set of templates. It will give you nice ideas according to your taste of interests. The free features are introduced in this application. You can use actual things to furnish and decorate your home.  This app is known for its excellent functions. It can suggest furniture for your area according to its location. It can plan your home design thoroughly. So, you don't worry about your planning of an area! 
It has a similar feature to planner 5D. You may get the transition from 2D to 3D. After that, you can select "summary," to create a full detailed floor plan. This plan can include the furniture and other accessories of the room.
Pros:
Straightforward usage

Easy Access to furnishing items and branded tools

Online designing of community
Cons:
A few HD photorealistic images

Offer 3 projects on its free version.
Roomstyler has many positive aspects. It is simple to use. It's so simple to use. This application recommends a tutorial video for newbies. It has a detailed video of instructions for your every query. This feature is beneficial to point to its users.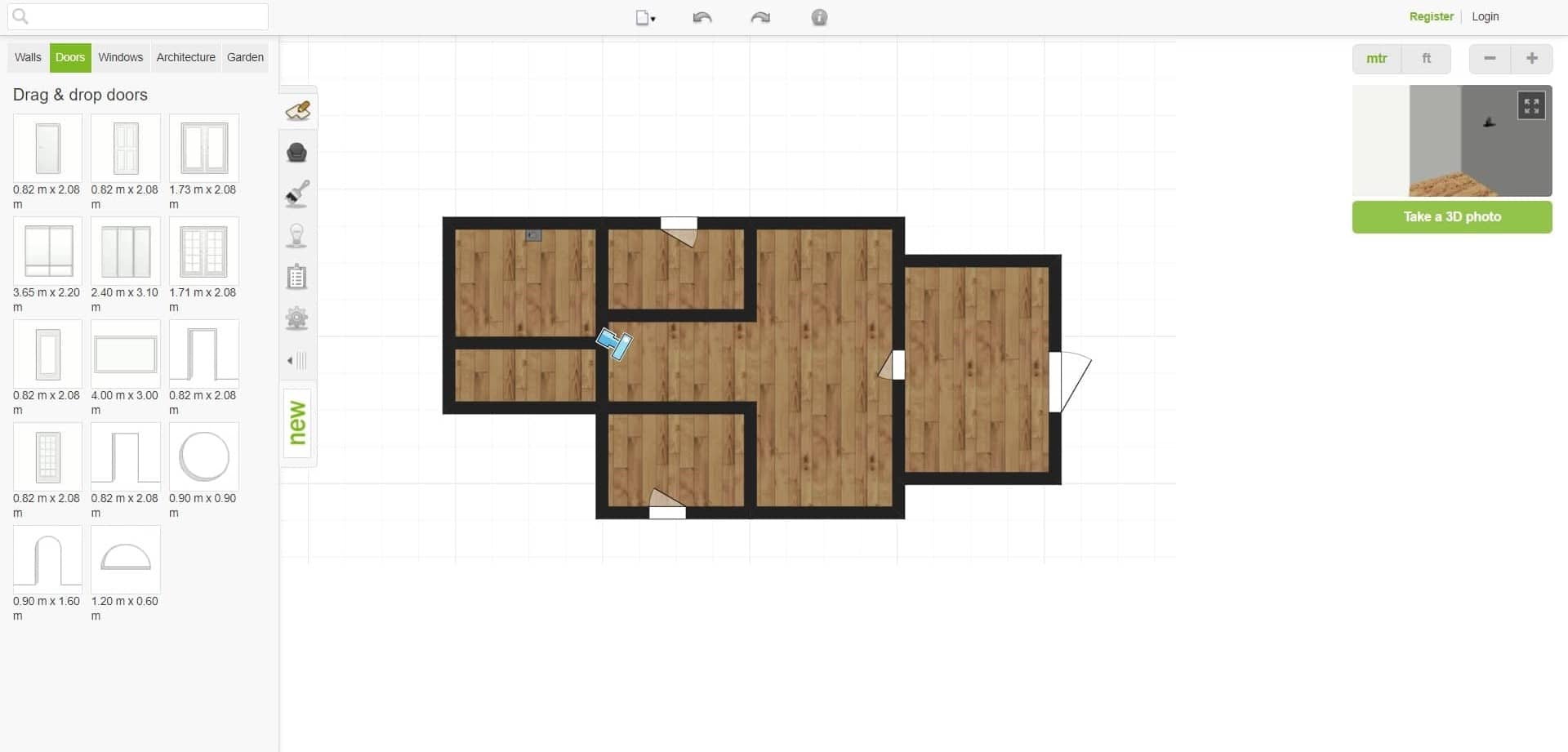 The best element of this software is that you can quickly design a personalized area. Also, this program enables you to equip your room with goods. So, you may decorate your plans accordingly with things you can buy.
Pros:
Large options for decoration

Real branded furniture

Easily useable
Cons:
 Real-time 3D mode is not available

Once you select branded items, there is no option to edit them.
This room planner software is an amazing package for all of its users. It has several features to decorate your space. You can also go for renovation of your home with this application. It has remarkable ideas for renovating a home. It sets the complete home with amazing furniture with other accessories. 
This is the perfect option whether you're redesigning or moving into a new house. You can choose each and everything of a room with a 2D or 3D perspective. Also, you can improve the ambience of the room with its décor and especially the sofa by adding other furnishings.
Pros:
Ideas for both new home or renovation of home

Give 2D or 3D perspectives of the image
Cons:
Limited availability for a free trial
The Carpetright flooring visualizer will give you different templates for your imagination. It gives a real-life expression of how your space will look with given features.
These features include:
Carpet

Vinyl, wood, or laminate flooring

Branded accessories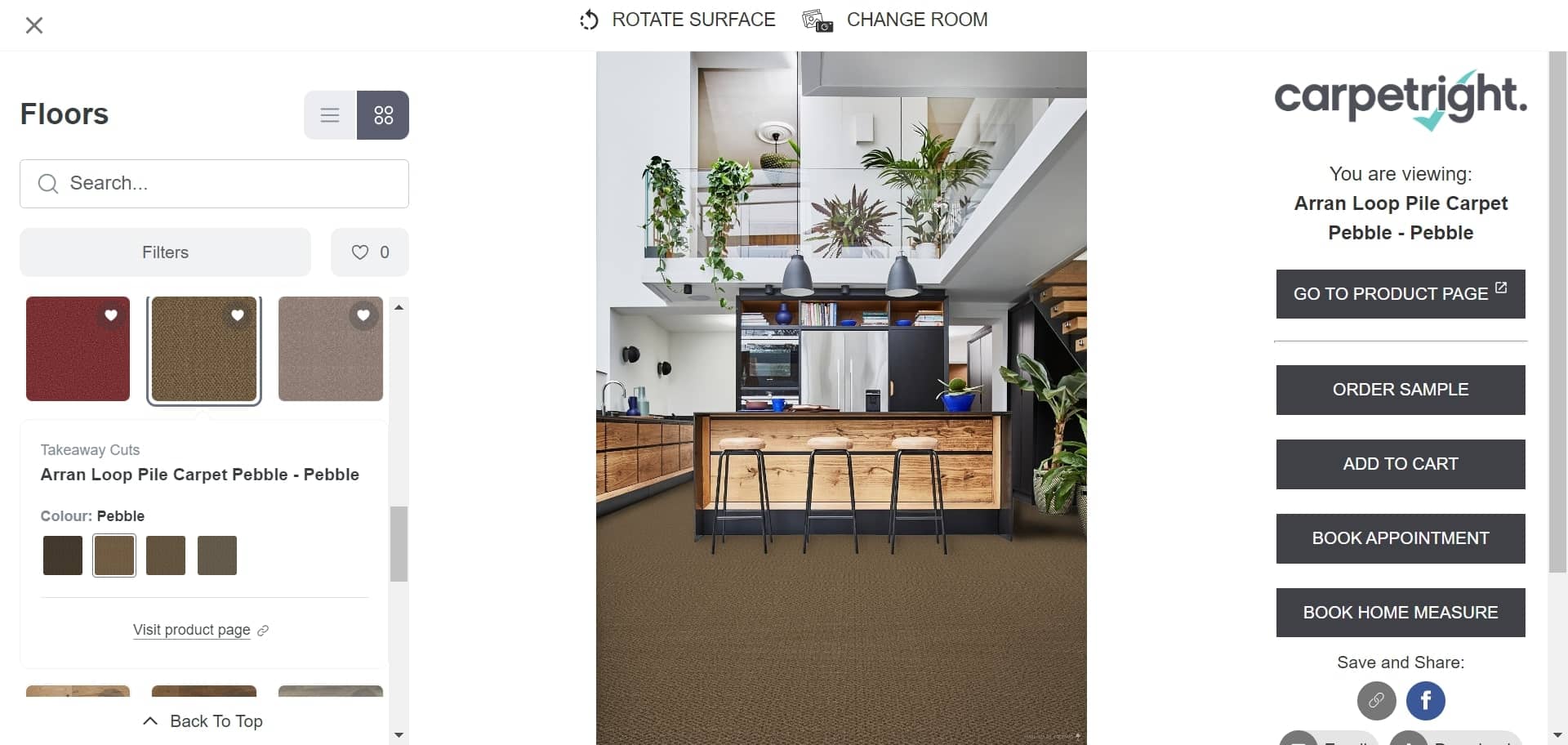 If you are interested in new flooring, then upload a picture of your room. After that, the visualization suggests a whole decor.  The type of flooring and the color of the walls can also be customized. You just order samples and save your rooms from there. So, this app moves you one step closer to your ideal space.
Pros:
Specifically designed for floor makeovers

Have several options for floor designing
Cons:
Focus only on floors

Limited availability of the application. Only found in the UK.
The home styler is a cloud-based online 3D home design application. This application is made for home design needs. This application has several features:
Create floor plans

 Alter paint hues and flooring options

Furnish rooms with a huge product catalogue.
It can start fresh or make use of pre-made templates. So, you can scan the area and upload it on the app. It will redecorate your space area on its own. Also, you can do a virtual walkthrough. If modifications are needed, you can do it before submitting a proposal.
Pros:
Availability of  basic plan

Broad range compatibility

Large library of furniture
Cons:
No realistic image view

Free trials available with a watermark
Sweet Home 3D is open-source software, This type of software has a large library of models. You can simply choose your favourite template for your space.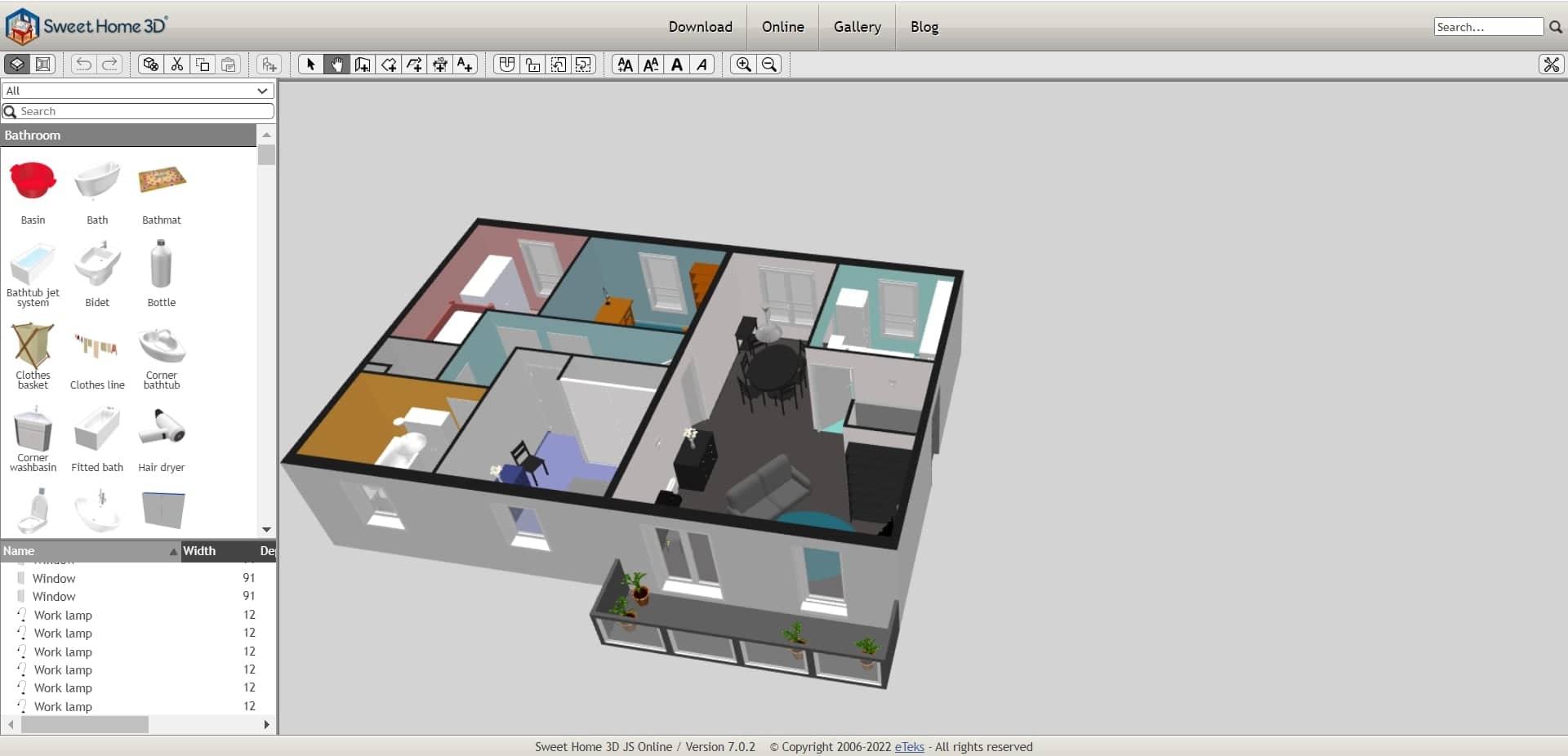 This application has an important purpose in home design. It has 2D or 3D image visualization. You can get a real-life expression by using its different templates. 
Pros:
Large library of templates

2Dor 3D  visualization

Easy access for everyone
Cons:
What is a Home Design Software?
Interior designing is the main work in construction projects. The software help to design a home is called home designing software. This software can build your visualization into reality.
Software for home design has the following features:
1. Ability to make models
2. Generate reports
3. Sketch out ideas
4. Export in different formats like; PDF, DWG, Etc.
These tools are excellent for using 2D and 3D modes. Before the beginning of any actual work, you can make virtual modifications. You can switch different attributes to make a finalized template for your room.
What is the best interior design app?
The best interior design app is Homestyler. This design app is available on the play store & IOS store. This software has all features that you need to create an amazing design.
What are the best home design apps of 2023?
There is a list of the top 5 software used by interior designers. Their recognition is based on their features and ratings.
So, the best home designing apps of 2023 are:
1. Home Styler
2. Room Planner
3. Planner 5D
4. Homebyme
5. Housecraft
How can I plan an online room design for free?
Today, there are many options available for the online design of a room. You can simply decorate your area with the help of multiple apps. For example, Homestyler, Home Design 3D, & Planner 5D. By using such applications, you can decorate your room like a pro without any cost.
Conclusion
In this article, you can find the best home designing tools of 2023. This list will be useful for your home design.
Now, you know how to design and impress everyone with your works of art. Hoping you get information about home designing software and applications.
Also Read: What is 1 BHK, 2 BHK, 3 BHK in Apartment