Maintaining your house is a difficult task. But it requires continuous efforts. These tasks grow annoying because you are not used to doing them on a daily basis. There could be many tasks related to cleaning, fixing different things, and maintaining household things in good condition.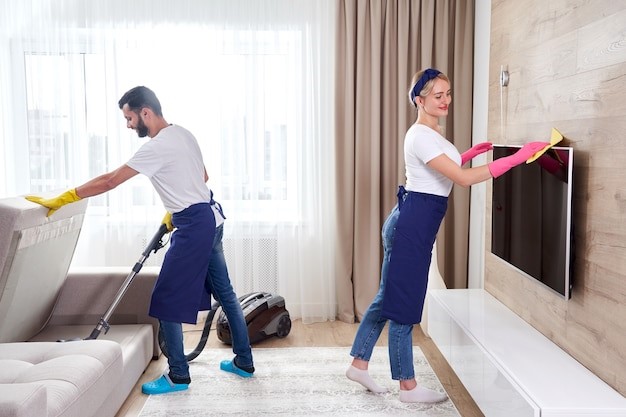 Whether you like it or not, taking care of your house is compulsory. So pick a day in a month that you dedicate to house maintenance. But luckily, you can do it smartly by following the tactics mentioned below.
1. Acquire Useful Gadgets
Before you start anything, you must get all the unique tools for daily use. Because it is understandable that you are not a pro in doing these home chores, therefore it is better to equip yourself with useful gadgets that can make your task easy.
These tools will be with you in the task and save a lot of your time. Hence it is essential to have such types of equipment.
2. Start With Your Personal Space
As you are much more familiar with your room, why not start there? Look to clean everything thoroughly, including the attached bathroom, vanity, floor, furniture, and wardrobe.
The bathroom and vanity might need extra cleaning as you use them daily, so keeping them clean will give you extra pleasure. Moreover, it is essential to stay hygienic, so keeping it clean is necessary.
Another important thing is you should look to maintain your wardrobe because it also comes in daily use, but you won't be taking care of it regularly.
Take your clothes and belongings from your wardrobe and clean them first, then rearrange everything there. Not only will it give you the ease of having everything in your grasp, but it will also look good as everything will be organized.
3. Refresh All The Bins
It is essential to refresh all the bins in your house, most importantly the bin in your kitchen. If you don't clean them, there is a high chance that your house will be filled with bad odour. Cleaning the inside and outside of the bin can be done outside using a large bucket filled with hot water and soap.
You want to eliminate all the bacteria and germs that may have been accumulating there, so make sure you're using soap and warm water. While it is undoubtedly a highly tedious duty, it is essential to maintain things clean and hygienic.
4. Clean Kitchen Essentials
The kitchen and bathroom's cleanliness reflects your house's overall sanitation. So after, every month, the time is right to clean the small details of your kitchen, including kitchen cabinets, fridge, and kitchen ventilation, as it gets dirty with the smoke while cooking.
These things don't get cleaned every day. So while cleaning the fridge, you must ensure you take everything out, get a wet cloth and remove the stains from inside. The odour of different foods stored inside combines to give a very filthy feeling.
The same goes for the kitchen cabinets. You must take out everything and clean them with a wet cloth, but before you put everything back, leave them open for a while to dry and then put everything back. It is essential to do it every month because small insects tend to hide in such places.
Also Read: How To Buy Kitchen Flooring?
5. Reset Your House
When you are done with other details, you should look to reset the house. Resetting your home after a while can help you keep organized and streamline domestic duties. Resetting involves changing the position of different things in your house.
Eventually, it helps in swiftly cleaning, picking up, and organizing a space to get it back to the baseline or your chosen degree of orderliness. It takes only a few minutes to return a place to how you prefer to maintain it; there is no thorough cleaning involved. The nice part is that resets will typically be quicker and more straightforward.
6. Involve All House Members
While you do the home chores, you should involve all the home members.
Doing this will become less tiring and less time-consuming. Moreover, everyone will take ownership of the house and try to keep it clean on random days. Other individuals will also learn to manage different things on their own and will be able to fix any damages.
If you're attempting to simplify household tasks, it could seem contradictory to do some cleaning daily. However, if you do a small cleaning every day, you'll never have to work on housework for hours. Or dedicate an entire weekend to cleaning.
Bottom Line
You can't escape the house chores. So it is better to learn how to fix small things on your own as it saves you a lot of money. Additionally, paying attention to everything will assist you in avoiding more serious damages.
Also read: 12 Types of Rugs for Your home