The ideal kitchen flooring plays a dual role – it is great to look at while playing a functional role seamlessly. While the ask may seem a lot, a variety of flooring fulfills both the requirements and complements most design and colour schemes.
There are various types of flooring materials available for the kitchen. Some of the most popular choices are listed below:
Hardwood
Hardwood flooring not only has a comfortable underfoot but also has a timelessness that adds to the beauty and warmth of a space. It makes for an excellent choice in homes that have an open floor plan and you want to maintain the continuity of wood throughout the space.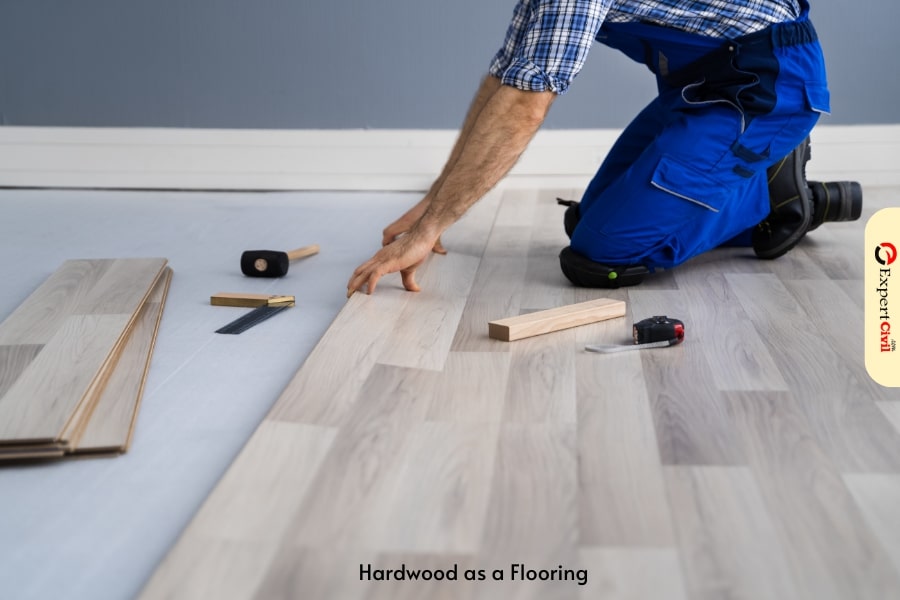 While hardwood is durable, it also has low water resistance, making it highly important to wipe spills immediately to avoid damage. You can either opt for solid wood or engineered wood planks that offer more resistance to moisture.
Kitchen Floor Tiles
Kitchen floor tiles are a great flooring option for those who wish for an attractive, durable, and easy-to-clean floor for their kitchens. While there are a number of materials used to manufacture tiles, here are the most popular choices:
1. Porcelain Tile
Available in a wide variety of designs and colours, a porcelain tile can have the look of natural stone or wood. Since the tiles are easy to maintain, durable, stain resistant, scratch resistant and affordable, they make a great choice for the kitchen.
2. Ceramic Tile
Ceramic tiles are even cheaper than porcelain tiles and are available in a wide array of colours and designs. They are also available in multiple finishes, offering you a wide selection to choose from. Ceramic tiles are highly durable, since they are fired in kilns at high temperatures, and are very easy to clean – making for a great choice in kitchens that often see a lot of spills.
3. Natural Stone Tile
Natural stone tiles make for a very stylish kitchen flooring option. You can choose from a variety of stones such as marble, granite, travertine, limestone, and slate. Each stone has its own unique characteristics and veining, giving your floor a unique look.
While the flooring is easy to keep clean, it requires more maintenance than manmade tiles such as ceramic or porcelain. Since the porosity of stone is higher, it needs to be sealed on a regular basis to prevent water damage and staining.
Also Read: Types of Tiles in Building Construction
Laminate Flooring
Laminate has often been considered to be a cheaper alternative to hardwood flooring since it effectively mimics the look of wood. Laminate flooring is easy to install and can be installed without the help of a professional.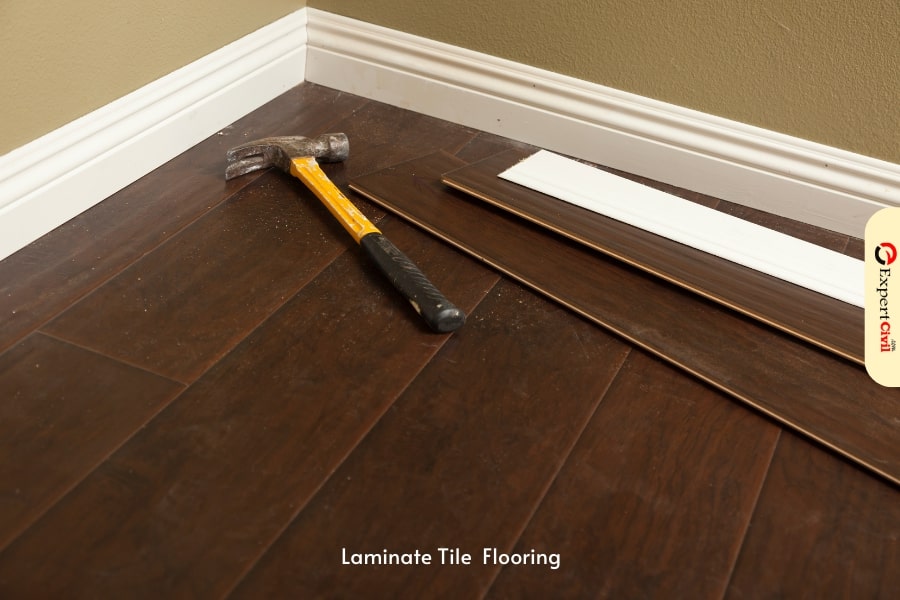 While it isn't as durable as some of the other flooring options, it can withstand heavy foot traffic without showing easily showing signs of wear and tear.
Cork Flooring
Cork is another kitchen flooring option that is not only budget-friendly but can also be DIY-ed. Available in varieties such as snap together, glue down or peel and stick, cork flooring looks like tiles or planks. Cork is not cold to touch and has sound-absorbing properties.
While it does resist stains to an extent, it is not waterproof and should be immediately cleaned in case of spills. Even if cork gets a stain, you can sand it down and retouch it with a sealer – it will be as good as new!
Vinyl Floors
Manufactured using PVC, vinyl flooring is water-resistant, low maintenance, easy to clean, and durable kitchen flooring option. Vinyl flooring is available in a variety of designs, some of them mimicking natural surfaces such as natural stone or wood, offering you a wide variety to choose from.
Luxury Vinyl Tiles (LVT) are plank-sized pieces of vinyl that can be used in the kitchen. If one plank were to get damaged, it is easy to replace a single plank, making them a great choice for the kitchen.
Now that you know the different kinds of flooring available, it is also important to know the characteristics of those flooring.
Also Read: What is Grouting – Its Types, Applications and Procedure
Characteristics Of A Good Kitchen Floor
As mentioned earlier, an ideal kitchen flooring is functional as well as provides you with your required aesthetic. Here are some characteristics of an ideal kitchen flooring
1. Low Maintenance
A kitchen is a space that sees a lot of spills and stains. No one wants to spend their time crouched on all fours cleaning out stains with a toothbrush.
While there are several tricks to clean your kitchen floor tiles with minimal effort, the method will completely depend upon the types of floor. The ideal flooring is easy to clean and requires minimal maintenance from your end.
2. Affordability
While designing your kitchen staying within budget is crucial; overspending in one area can result in having to make cuts in other areas. Despite popular belief, you do not need to spend a great deal on your kitchen flooring. There are a variety of options available that can give you your desired look without having to break the bank.
3. Look
Along with being functional, you do want your kitchen floor to look good. With the variety of choices available you can find the colour, design, and pattern from your vision in the material of your choice.
3. Durability
Well, we all know that once the renovation is done you will not look back for years. This is why it is important to choose the flooring that will last you for years without requiring regular replacement.
Now that you have read in detail about the different types of kitchen flooring and the characteristics of an ideal kitchen flooring, which one will you choose for your kitchen? The best way to make a choice is to first set a budget since that will help you narrow down the material you should opt for.
Then you can look for the colour/design/pattern that will work well with the rest of your space. Remember, don't just consider the aesthetics of the flooring, keep its functionality in mind too!
Also Read: Different Types of Windows for Home
We are sorry that this post was not useful for you!
Let us improve this post!
Tell us how we can improve this post?