What do symbols on blueprint mean?
Blueprint Symbols are generally used to indicate function, objects, or systems in the floor plan or any kind of engineering drawing. It could be present in structural drawing, architectural drawing, electrical drawing, machine, etc.
Types of Blueprint Symbols
There are different types of blueprint or graphic symbols, I'm listing out some useful categories of blueprint symbols.
Architectural blueprint symbols
Electrical blueprint symbols
Plumbing blueprint symbols

Welding blueprint symbols

Structural steel blueprint symbols
Blueprint furniture symbols
Let us discuss the above blueprints one by one.
Architectural blueprint symbols
Let's start with architectural symbols, which are typically larger and will be drawn into floor plans first. Doors, windows, stairwells, walls, cabinets, and sinks are examples of these. Reading blueprints generally requires a strong understanding of line types.
The architectural symbols listed below are divided into the following categories:
Services symbols
Lighting symbols
Electrical symbols
Plan, elevation, and section symbols
A. Services Symbols
The mechanics of a building are represented by service symbols, which help identify elements such as mechanical ventilation, soil pipes, and incoming power, etc.
B. Lighting Symbols
Since architectural lighting is such a wide topic with so many variations, lighting symbols provide a quick and easy way to identify positions, types, amounts, and power outputs without cluttering a drawing with labels.
C. Electrical Symbols
These electrical symbols are the same as lightning symbols. electrical symbols show the precise location and type of power switches outputs and other technical details.
D. Plan, elevation, and section symbols
As the name indicates these symbols are usually associated with floor levels and section lines, and they are used to improve the readability of a drawing.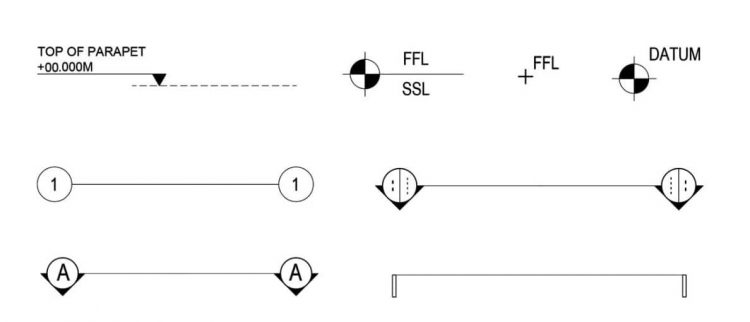 image courtesy: archisoup
Also Read: Tallest and Longest glass bridges in the world
---
Electrical blueprint symbols
Electrical drawings are prepared by competent electrical drafters in a specific time frame to avoid unnecessary delays. In an electrical blueprint, symbols are used on electrical drawings to make drafting easier for both drafters and workers interpreting the drawings.
Let us check all the electrical symbols in the below images.
Electrical Symbols Chart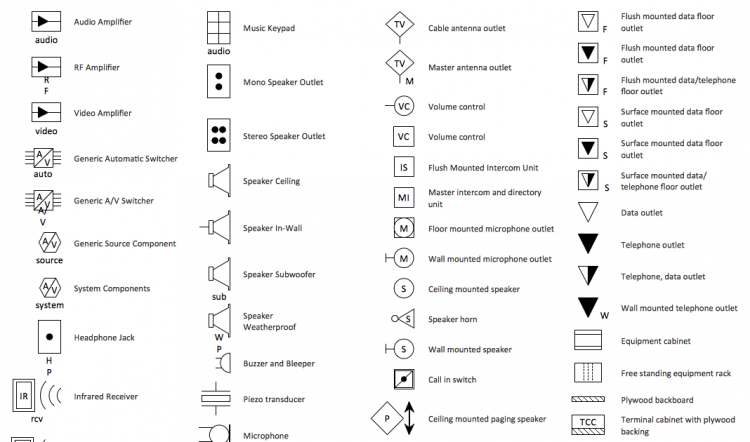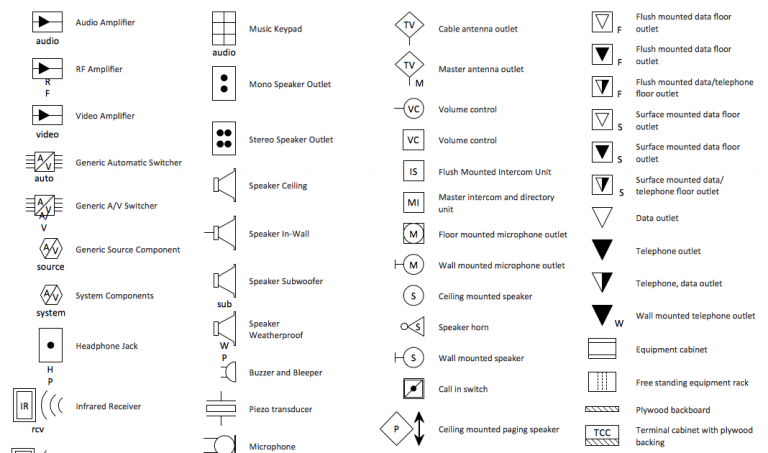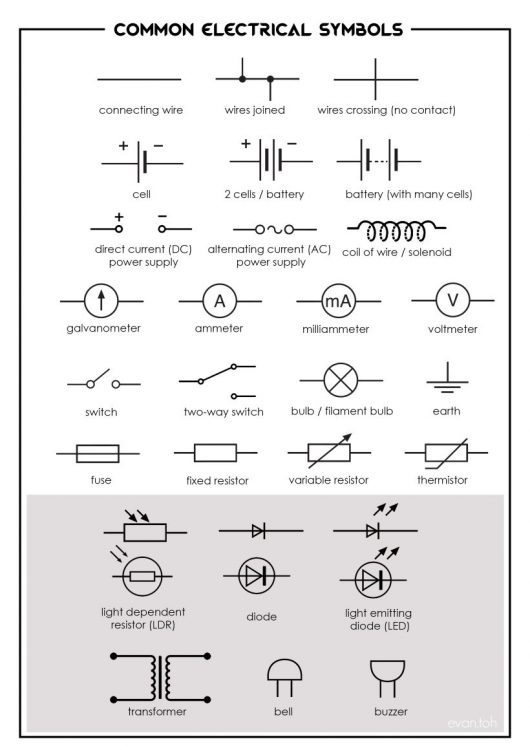 Plumbing blueprint symbols
Plumbing is one of the most important departments in any kind of construction project, if we are talking about piping, there are different types of piping work like industrial, residential, and commercial piping, we can categories it as per the nature of projects.
The majority of industrial piping is designed to transfer liquids and gases used in manufacturing processes.  The piping is used in all kinds of applications in commercial and residential buildings and generally is known as "plumbing" and it is designed to carry freshwater, liquid and solid wastes, and gas. All pipe fittings, fixtures, valves, and other components are represented by symbols in a plumbing drawing.
let us know about different types of plumbing symbols: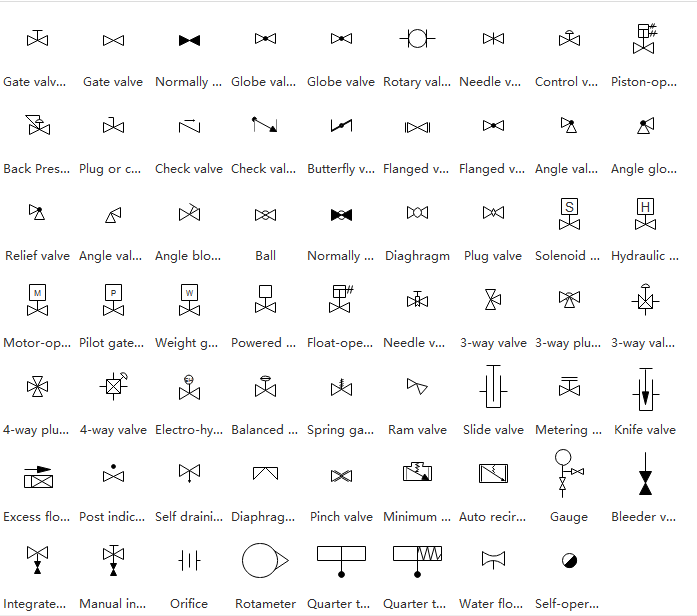 Welding blueprint symbols
Welding symbols are used to represent all the details about welding, connections, joints for the machine, machine parts, or other building parts like windows, doors, railing, etc.  Usually, these symbols are used by designers, such as a shop foreman, welding engineer, or supervisor, and welder. They mentioned all these symbols on engineering and fabrication drawings in order to create their weld, the welder will refer to this drawing.
Before starting their welding work, welders will usually look at a Welding Procedure Specification (WPS), this is a document that directs the welder by providing information such as material thickness, the general position in which the part must be welded, the electrodes to use, and so on.
image courtesy: AWS A2.4
Structural steel blueprint symbols
Here are the symbols which are used in structural steel:
Blueprint furniture symbols
Common symbols used for furniture.
Also Read: 11 Steps in Construction of multi-story Buildings
How to read blueprints and floor plans (Video)
Please watch the complete video on how to read blueprints
Get all your industrial equipment from Ejawda.