Openings in the wall are always necessary in any construction. An arc or arch utilizes for the supply of doors, windows and cupboards.  These openings form an arch or an arc in your home.
The structural elements i.e. arch and arc are both proposed to uphold loads of the wall. So, you keep reading to learn more about the difference between arc and arch.
What Is An Arc?
The arc is defined as a straight line that joins two points together. An arc is often one of a circle's component sections. In general, it is a part of a circle's circumference.
A curve contains an arc. A segment of several other curved shapes can form an arc. While it often refers to a circle, its form resembles an ellipse.
Symbol of Arc
The arc is indicated by '⌒' or '⌢'. Arc AB is the name of the arc in the image below. It doesn't matter how the points are set. That is the reason, it is also known as BA. The letter AB has a curve line on it. So, it can be used to represent an arc.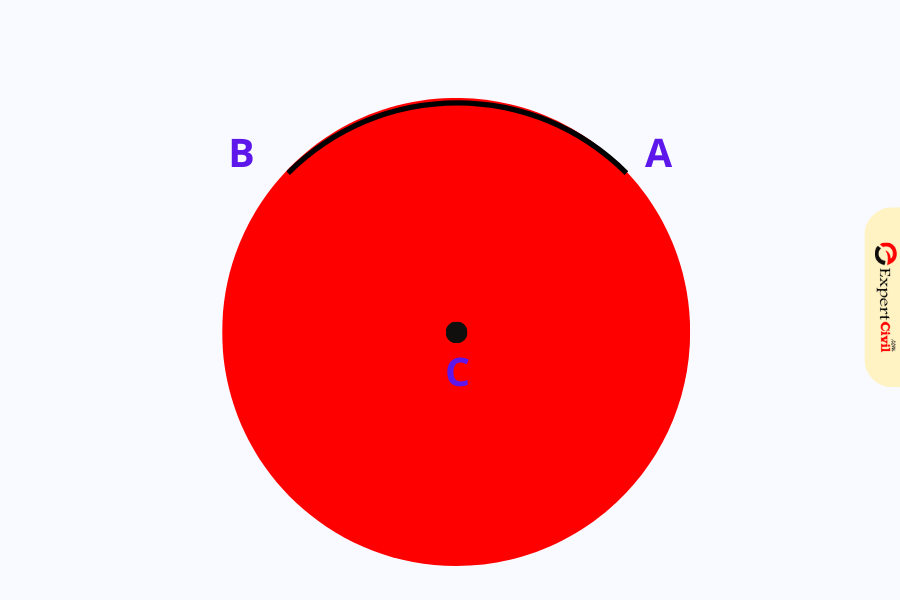 What Is An Arch?
A mechanical arrangement of bricks in the shape of blocks is referred to as an arch. The bricks provide mutual support for one another. Piers or abutments support the entire arch at its ends.
In general, arch construction depends on wedges.  Along a curved line, the wedge-shaped components are stacked next to one another. These elements press against one another. So, it helps them to balance their own weight.
What Is the Difference Between Arc And Arch?
| | |
| --- | --- |
| Arc | Arch |
| 1. An arc is a particular component of a circle's circumference. | 1. A symmetrical and curved structure that covers an opening is called an arch. An Arch bears the weight of the wall, roof, or bridge above it. |
| 2. The term "arc" is a geometric expression. | 2. Arch is a term used in architecture. |
|  3. An arc is an imaginary mathematical shape defined by a section of a circle. | 3. An arch is an architectural solid. |
| 4. An arc is a 2D geometric object in the circumference of a circle. | 4. An arch is a 3D-shaped architectural solid. An arch is employed in curved or symmetrical structures. |
| 5. A mathematical feature is an arc. | 5. A geological or architectural feature is an arch. |
| 6. A curved line has the shape of an arc. When discussing motion, algebra, or sketching, you might use the word "arc." | 6. A building with an inverted U shape represents an arch. For instance, a freestanding monument. |
| 7. Arc is a three-point line. | 7. Arch is based on one or more arcs.  These form into an arch shape. |
| 8. Arc is weaker than an arch in construction. | 8. The strongest constructions are arches. In the past, arches were developed to build steps. Arches always support the weight of structures above them. |
| 9. Sectors including major and minor are examples of Arc. | 9. For example, think back to India Gate and the vast 'openings' on all four sides. All those are arch openings. |
Conclusion
In short, this article explains the terms arc and arch. The primary benefit of an arch or an arc is its support. They provide balance to the curved buildings in construction.
In this modern era, people always prefer vast openings. Vast openings in your home give an aesthetic feel. So, arc and arch play a key part in construction to assure customer desire.
Also Read: Difference between Architecture drawing and engineering drawing
We are sorry that this post was not useful for you!
Let us improve this post!
Tell us how we can improve this post?