Decorating a bedroom can be a challenging task, but with the right approach, it can be done perfectly. One of the most important things to consider when decorating a bedroom is creating a cozy and homely atmosphere. There are many different ideas to decorate a bedroom, whether you prefer a traditional or modern style. In this article, we will be discussing the topic of "How To Decorate A Bedroom" and providing some helpful tips for creating the perfect bedroom design.
This article got some decorating advice here for your bedroom. Also, the ideas are not expensive or time-consuming. This little favor is just for you! And, we are sure it might even be more enjoyable. So, browse your favorite bedroom ideas of 2023 to create an ultimate heaven for yourself at your place.
How Do You Begin Decorating A Bedroom?
During designing a bedroom, always make a decision about the general style. Once you have a decision, all arrangements become easy for you. Then, the choice of color schemes, furniture, decor, and accessories will be much simpler for you.
Thus, some components might also make a start for you. You might be drawn to a statement bed frame. This point will serve as the starting point. It will go well with a particular style. As there is no best place to start, we will go over everything you can think of. So, feel free during organizing your bedroom decor.
Key Steps to Consider During Bedroom Decoration
1. Selection Of Room Interior
Now, the first question is how to pick your style. You have a look over on pin bedrooms you like the look of or flick through magazines. Today, people are so influenced by Instagram accounts. You can also make an idea whose home you want the style of.
 Then, you'll quickly start to see some themes arising. Even, if you notice you love more than one style, mix them accordingly. In fact, there are no rules against mixing styles. So, that's what is going to make your bedroom decor feel personal to you. 
2. Pick Your Room Furnishings
It's time to choose furniture for your space after creating a style in your head. It brings you to the topic of how to select furniture for your bedroom. Then, the next thing to consider is a selection of furniture type. Also, make a list of everything you want to include and sketch out a floor plan. Choose the size and shape of your bed carefully. The selection of your furniture will be the most prominent thing in your room.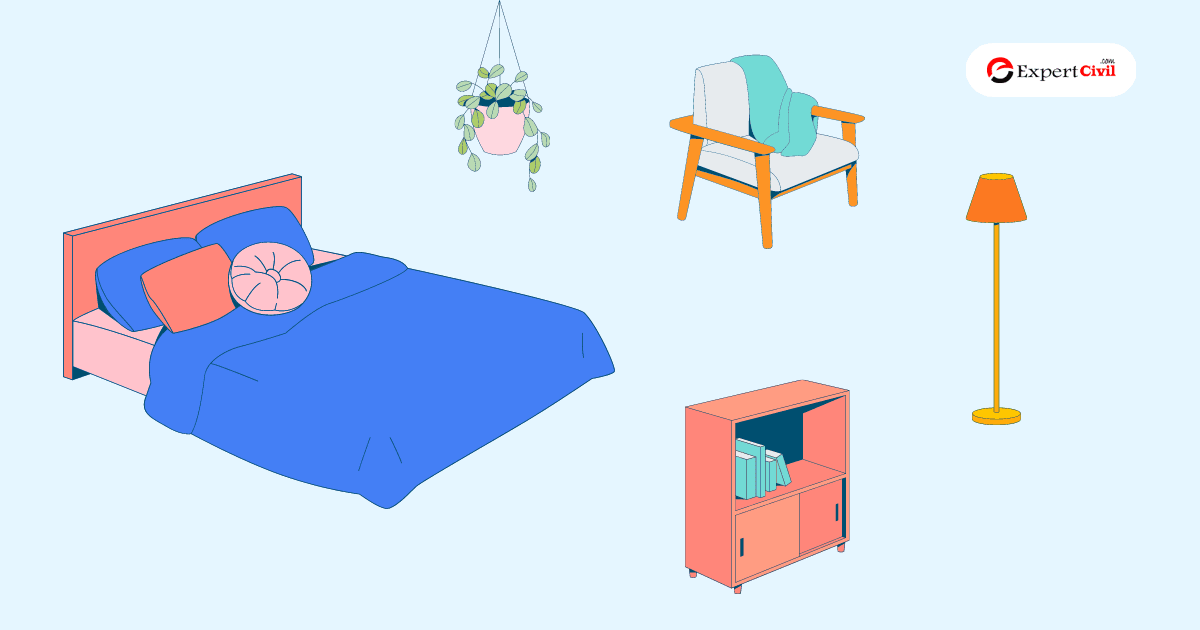 During the decoration of a smaller space: 
Add neutral color to walls

Simple texture to your bedroom

An upholstered headboard
You can also introduce soft velvets in rich earthy tones for an opulent look. This type of theme goes well with a neutral background. It can give a look of light and airy room. Any regular headboard may be given a twist. It can add modern piping in a contrasting color to the edge of it. You will surely love the theme of your bedroom with decided furniture.
3. Go for an Overall Scheme Of Colors
With the selection of the design of a bedroom, go for overall color schemes. These color schemes will give you a complete vibe according to your idea. Before doing other tasks, you will have to paint your room first. Then, place the other accessories regarding the main color theme of your bedroom.
First, think about the atmosphere you want to create and what would work best. Should it be dramatic, cozy, and bright? If you agree, then evaluate the direction of your bedroom. 
Also, consider the other factors:
How much sunlight does it receive? 

How will the colors you are considering seem in both natural and artificial light?

What is the size of your room?

Do you want your small bedroom to appear larger?

Do you don't care about space in a bedroom?
These above questions will be solved by the selection of the overall color scheme. So, go for this tip. You will definitely like it!
4. Addition Of Pattern With Wallpaper
For bedroom decoration, paint may be the simplest option to consider. And, if you add wallpaper, it will add aesthetics to your room. It is also a great way to bring patterns into your room. Now, how you go about it, depends on the look you want to go for. At the start, you need to select a pattern for your choice. 
Consider the pattern even for your ceilings. you can work on it beyond your comfort zone. A large floral design in deep tones can add depth to your room. For a subtle approach, try a vintage-inspired wall in a soft neutral. So, go for a pattern according to your taste in style.
Also Read: Innovative Wall Painting Decors  Ideas
5.  Get Some Texture with Panelling
As we all know, wallpaper is another excellent method to add design to your room. You can also go for paint. It may be the easiest and most cost-effective option to decorate a bedroom. You can achieve your favorite room appearance by the setting of prints you use.
 Also, you must understand the situation in which you approach room paneling. Choose the theme color wisely. It can add features to your bedroom accordingly. For example, neutral colors represent vintage inspiration. And, dark color offers the impression of drama or entertainment. So, consider these facts before selecting colors.
6. Select Art for the Decoration of your Bedroom
Artwork is a terrific way to add personality to your bedroom décor. You can add art to your room according to your age and interests. These artworks may give a very aesthetic concept to your room. You will get high compliments after artwork implementation. The gallery wall concept has endured and it never fails to look lovely. It will add value when hung above a bed or to liven up a plain wall. 
You can customize them to your tastes. For example, if you want a minimal appearance, choose a symmetrical pattern and a simple color scheme. If you want a relaxed appearance, don't adhere to a rigid format. You must avoid mixing up frames for a relaxed texture. You can also display a single and big print on your main wall. You could even use it as the inspiration for your entire bedroom. The artwork with the same colors will be the main attraction of your bedroom.
7. Add a Rug Mat
If you want to give color, texture, pattern, and warmth to your room, add a rug. You can choose a rug mat according to the color scheme of your room. So, don't be scared to maximize. In our opinion, a larger rug is better. For optimal comfort, it will add warmth and texture to wooden floors. 
Thus, go for a big rug. The rug should be positioned beneath your furniture. This arrangement will bind furniture together. Place the rug enough space from the wall. Always making sure the edges of the floor are exposed. So, it prevents the space from feeling crowded.
8. Set Your Bedroom Lighting
As you will spend your time in your bedroom, lighting is an essential factor. It's crucial to consider your lighting while decorating. And lighting fixtures don't have to be functional. They can also be decorative elements. So, they enhance the design of the space.
Before choosing light patterns, you must consider your usage patterns. Most people need a bedside lamp for reading. For this purpose, a general overhead light can be used. A few accent lamps add a soft glow to your bedroom. Choose warm bulbs and light-diffusing shades for a cozy texture of your bedroom.
You will surely like these warm and soothing lights in your room. If money is an issue, dimmer switches are great in bedrooms as well. In terms of design, consider focus lights or subdued wall lights. It can add an expensive look to your bedroom.
9. Spend In The Finest Bedding And Throw Pillows
As you know, the bed always seems to be the focal point of the bedroom. That's why bedding and accent pillows are essential. Your sheets should be painted in layers. It can be starting with a simple base color like white, cream, grey, or even black. Add throw cushions to your bed. You can replace them as the seasons or your taste evolves. 
And, don't forget to include a blanket for additional texture. The best bedding in your bedroom gives an expensive look. If you want a cozy vibe in your own bed, then pick this tip right away! It will help you to enjoy a pleasant night's sleep. So, don't skip this trick to add to your bedroom.
Also Read: How to Make Your Living Room Look More Luxurious
10. Add Coverings On the Window
Window coverings are something we forget about. But, in reality, these coverings should not be forgettable. There are multiple benefits to adding covers on windows. You can pull over the covers on your windows at night. In short, what you decide to use to decorate your windows is both a design and a choice. If you don't want for letting in the lights, you need some attractive stuff.  Before choosing curtains, remember your room color scheme and theme as well.
We would always advise you to add curtains in a bedroom. You may add a blind underneath to filter even additional light. It can provide a fine look to your room. Also, curtains work so well in bedrooms because of their gentleness. If you prefer a casual look, choose a floaty and gauzy fabric. If you prefer a more lavish look, choose something weighty like velvet. 
Consider the length of a curtain as well. If there is space, go from floor to ceiling. This pattern will give the room greater height and a classy appearance. Shorter curtains may seem archaic. It also might make a window appear cramped. Instead, choose floor-to-ceiling curtains to prevent gaps. This look maintains a clean and minimalist design of your bedroom.
FAQ
What should be kept in mind when making the bedroom?
The following are the main elements to keep in mind during bedroom decoration:
1. Color
2. Light
3. Bed
4. Storage
5. Seating
6. Closet
7. Décor
Why is designing your bedroom important?
The bedroom is one of the private areas in your house. It must strike a balance between calmness and style. After work, a bedroom should be a place to unwind.
Thus, having a nicely arranged bedroom is crucial for your comfort. It will make sure a sound sleep for you.
Conclusion
In short, furnishing a bedroom is one of the most challenging rooms in the house. If you want a safe and cozy vibe, you must choose the perfect decoration. 
You can choose bedroom designs according to your own mood and taste. So, decorate your room after taking ideas from this read. Hoping you find it informative for you.
Also read: Top 10 Best Color Combinations for Hall Walls
We are sorry that this post was not useful for you!
Let us improve this post!
Tell us how we can improve this post?