What is IS 10262 code?
IS 10262-2019 is a comprehensive code for standard and high-performance concrete mix designs.
Guidelines for proportioning raw materials for concrete to achieve the desired strength are provided in this IS Code. This code also specifies how ordinary concrete, standard concrete, and high-strength concrete should be mixed. IS 10262 (2019) is the second revision of the Concrete Mix Proportioning – Guidelines.
Do you know:  IS 10262 (2009): Guidelines for concrete mix design proportioning [CED 2: Cement and Concrete] was first revision.
Why we used IS 10262:2019 Code?
This standard specifies how to proportion concrete mixes according to specifications, using concrete-making materials as well as other supplementary materials identified for this purpose.
The first edition of this standard was published in 1982, and it was revised in 2009. The standard's title was changed from "Recommended guidelines for concrete mix design" to "Concrete mix proportioning – Guidelines" in the first revision.
The standard's applicability was limited to ordinary and standard concrete grades in the first revision. Review and modification of the requirements for selecting the water-cement ratio, water content, and estimating coarse and fine aggregate content; addition of an additional concrete mix design illustrative example, and so on.
The following major changes have been made in this second revision:
a) The standard has been split into 5 sections, as follows:
1) Section 1 General
2) Section 2 Ordinary and standard grades of concrete
3) Section 3 High strength grades of concrete
4) Section 4 Self-compacting concrete
5) Section 5 Mass concrete
b) A proportioning procedure for high-strength concrete has been included for M 65 or higher (up to a target strength of M 100).
c) The initial data required for mix proportioning has been expanded to include the provisions of revised IS 383: 2016 'Coarse and fine aggregates for concrete (third revision)', as well as the use of admixtures and other ingredients.
d) The target mean strength for mix proportioning has been improved by adding a new factor based on concrete grade. This was done to ensure that the characteristic compressive strength and the target mean compressive strength are separated by as little as possible.
e) The standard deviation calculations have been thoroughly explained.
f) As an alternative to assuming the initial water-cement ratio, a graph of water-cement ratio versus 28-day concrete strength has been introduced for various grades and types of cement.
g) Air content has been reintroduced into the design of normal (non-air entrained) concrete mix proportions.
IS 10262 latest version
IS 10262-2019 [PDF] Guidelines to Concrete mix design is the latest version of (Indian Standard) IS 10262.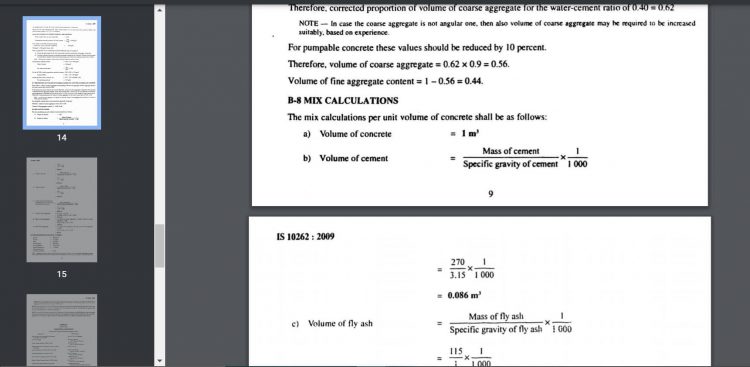 IS 10262 mix design 2009 [PDF] Download
To download IS 10262 mix design 2009 please click on the below link.
Excel Sheet for Concrete Mix Design as per is 10262 Download [xls]
Click here to download Excel Sheet for Concrete Mix Design as per is 10262
IS 10262 code 2019 pdf download
Please use the below download button to download IS 10262 code 2019 in PDF format.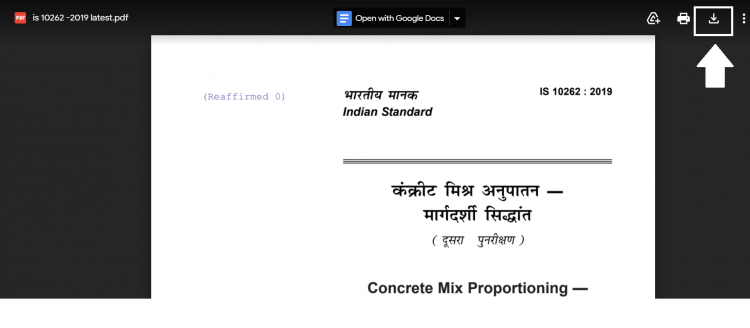 You may also download