M Sand is a mineral that occurs naturally in the environment. Also, M Sand or processed fine aggregates are examples of m sand. It is used in building as a replacement for river sand. In a manufacturing plant, rocks, quarry stone, or larger aggregate chunks are compressed into sand size particles.
However, the cubical and angular shape of m sand is peculiar. It's just 4.75 mm in length. M sand is also known as Manufactured Sand.
Why do we use M Sand?
River sand mining is harmful to the ecosystem because it decreases groundwater levels and dries up river water.
Owing to the dragging of sand from the river, the water table level drops, and tree roots may be unable to obtain water in the absence of sand. In the absence of sand, river water evaporates due to direct sunlight.
It is suggested that m sand should be used. M Sand is a cost-effective and environmentally friendly substitute for natural sand. Except for plaster and waterproofing work, it can be used in construction for anything except bedding under the stone.
For better results, 50 percent m sand and 50 percent rivers should be used for hardscape work.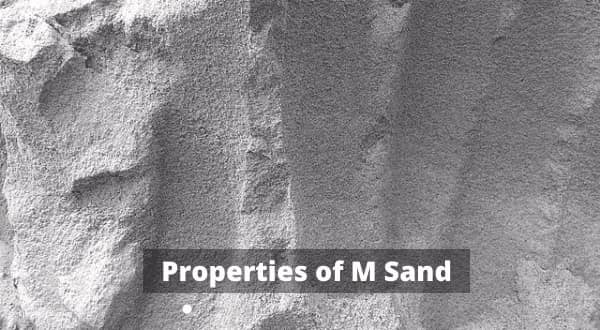 Also Read: Complete Guide on Grades of Concrete
Properties of M Sand
It has a cubicle and angular form, as well as a rugged texture, making it suitable for concrete.
M Sand does not contain silt because it is produced by grinding aggregate, but it may contain dust if screening is not done properly.
It doesn't have any moisture in it.
When used in concrete, M Sand reduces the time it takes for the concrete to dry.
Concrete made from m sand has higher compressive and flexural strengths than natural sand.
As compared to river sand, it has a very low permeability when used in concrete.
There are no big products because it is artificial.
M Sand absorbs 2 to 4% of its weight in water.
And opposed to reverse sand, crushed sand has a lower slump.
There are no aquatic items in it.
M Sand has a bulk density of 1.75 gm/cm3.
It has a specific gravity of 2.5 to 2.9, depending on the parent rock.
While using M Sand in concrete, no bulkage correction is needed during mix design.
M Sand can hold up to 10% of its initial moisture.
It is less contaminated than river sand.
When compared to real sand, it has a lower environmental impact.
Since it is processed in a regulated setting, it has a higher consistency than natural sand.
M Sand can be made in a location that is closer to the construction site. Bringing shipping costs down and ensuring a consistent supply.
For RCC work, brickwork, and blockwork, it is highly recommended.
It's less expensive than river sand. Crushed sand is sold at a cost of around 1000 cubic meters per cubic meter.
Also Read: Complete Information about River Sand
Advantages of M sand
It is well graded in the proportions required for construction.
M Sand doesn't contain any organic or soluble compounds that influence the time it takes for cement to set.
It is generated artificially to obtain the desired property.
Since it is free of impurities including clay and silt, it enhances the consistency and toughness of concrete.
It's less expensive than river sand.
However, M Sand is a cost-effective and environmentally friendly material.
Disadvantages of M Sand
The workability of concrete made with it is lower than that of natural sand concrete. However, by using a water-reducing admixture, this can be achieved (Superplastsizer).
The river sand has a rounded form and a smooth surface. Apart from its cubicle and angular form, it has a rough texture, which means that less cement paste is needed to fill gaps in concrete prepared with river sand. As a result, m sand needs more water and cement to achieve the desired workability, resulting in higher costs.
Other drawbacks of M sand include the fact that it produces more micro-fine particles than natural sand during the manufacturing process. This, too, can affect the concrete's strength and workability.
The manufacturing process of M-sand
The preparation of M sand includes some basic processes like:
Geological issues
Extracting and blasting
Aggregate crushing
Screening and sorting
Air classifying
Storage and handling
Geological issues
The basic raw materials used for the production of manufactured sand are the parent's masses of rocks.
Extracting and blasting
Blasting of rock shells can be regarded as the initial stage of aggregates. Blasting should accordingly be developed as a part of an intermix size reduction process in the method of production.
Aggregate crushing
M Sand is achieved by feeding hard stones of various sizes to primary and secondary crushers. This is executed for decreasing the size of stones that are further downtrodden in vertical shaft impact (VSI) crusher to diminish the particle size to that of sand.
The VSI crusher by its extraordinary design and procedure of attrition produced well-shaped fine aggregate particles that are cubical and angular. The procedure of attrition also facilitates the reduction of surface roughness of the aggregate particles.
Capture crushing mine
Aggregate crushing
Screening and sorting
M Sand plants ensure proper grading for acceptable particle size distribution. By scrubbing the percentage of micro fines is regulated below 15 percent by weight. The washing facility also maintains the manufactured sand in wet or somewhat wet conditions. This benefits in reducing the water absorption rate for better workability.
In the processing factory, the incoming material is first blended with water it is not already mixed as part of a slurry and is expelled through large screening in the feeder to segregate out of the rock.
Various screens are plated with various hole diameters or openings to segregate the particles according to size. The screen of plates is taken up to 10ft. to 28ft.
Air classifying 
Dry processing NW acquiring into a cost-effective and value-adding choice. The sourcing of water to regulate these plants is becoming increasingly complicated. The treatment and recrimination cast of Sedimentation ponds have prevailed a broad but necessary action.
The air screen was manufactured to use a draught of air as a category medium enabling large particles of fall first and be disseminated and consecutively finer material to lower further along with the screen chamber.
Storage and handling
The aggregate attains the most critical part of the production of the procedure when it is regulated and stocked.
Contamination
Degradation
Segregation
Moisture contains
Composition of sand
The composition of mineral sand is extremely uneven, being sure of the local rock sources and conditions.
Limestone, granite, feldspar, chlorite, gypsum, magnetite, basalt, quartz, etc.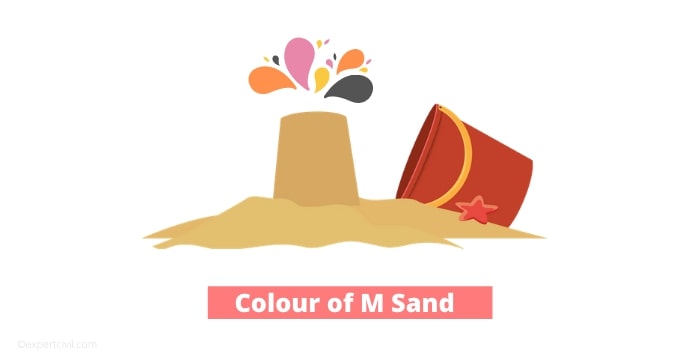 Colour of sand
White sand
It's rendered of eroded limestone and may comprise coral and sell fragments.
Black sand
Black sand comprises volcanic minerals and lava fragments coral deposits.
Pink sand
A microscopic organism that retains a reddish-pink shell. It is responsible for all this color. You can also get a Color shell and calcium in this mix.
Red-orange color
This color appears due to the coating of iron oxide.
White grey color
This sand comprises finely ground grains and it's well graded.
Light brown color
It comprises round grains.
Conclusion
We discussed all the important things you should know about M sand. If you have any concerns regarding this blog post, then please share your concerns in the comment section.
We will be glad to answer your questions. Also, please don't forget to share this post with your friends and relatives.