What Is PPC Cement?
PPC stands for Portland Pozzolana cement. Portland pozzolana cement is a type of ordinary Portland cement.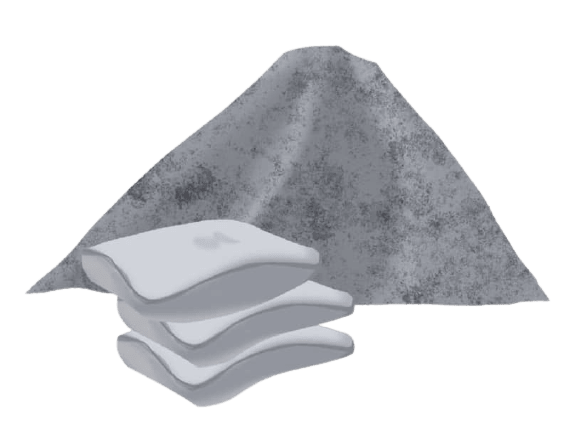 It is prepared by the inter grinding of the OPC clinker along with the pozzolanic material and gypsum in proper ratio. It is used for building construction. It is properly blended and consists of 30-35% pozzolanic material and 4% gypsum and the rest material is clinkers.
PPC full form
The full form of PPC is Portland pozzolana cement
What is Portland cement?
Portland cement is the most common type of cement which is a composition of an extremely fine-grained material obtained by the burning material(calcareous and argillaceous) together at high temperature, Gypsum is also added in raw material.
The basic raw materials of the Portland cement are Calcareous (calcium carbonate) and argillaceous (clay). All cement contains alumina, iron oxide, magnesium oxide, and calcium sulphate.
All the raw materials of the cement undergo reaction during the burning stages in the manufacturing process. The burnt products that come out as the kilns are called clinkers. The clinker is converted into fine powder by the pulverizing process.
Types of Pozzolana Materials:
The Pozzolana materials are divided into two groups
Natural materials
Artificial material
Use of portland pozzolana cement
PPC is used for constructing hydraulic structures like dams, bridges over a river, underwater structures and areas near the sea, etc.
It is used in prestressed and pre-tensioned concrete structures.
It is used for the construction of precast sewage pipes.
It is used in masonry mortar and for plastering.
It is also used in harsh concrete construction.
It also gives a better finishing that's why it is used for the construction of the decorative and art structure.
Also Read: Complete Guide on White Cement
Properties of portland pozzolana cement
The properties of the Portland Pozzolana cement is quite similar to the normal cement which is given below:
The initial setting time is 30min approx and the final setting time of PPC is 60 min.
The compressive strength is as follows:-

At 3 days 13Mpa ( minimum)
At 7 days 22Mpa (minimum)
At 28 days 33Mpa (minimum)
Drying shrinkage of the PPC should not be more than 0.15%.
Fineness of the PPC should not be less than 300 m²/kg.
It has a lower strength of development than the OPC.
Advantages of portland pozzolana cement
It is an eco-friendly material because it is made up of natural clay which doesn't affect our environment.
The grain of this cement is fine, that's why it is used for plastering, art, and decorative construction.
As we know it is eco-friendly and it also reduces the emissions of carbon monoxide.
It is used in our concrete structures.
Pozzolana cement is quite strong to resist sulphate that's why it is used in hydraulic structures.
It is economical to use.
It is also used to fill gaps in reinforcement, aggregate and concrete structures as it is very fine-grained, reduces shrinkage, and increases its strength and durability.
It has a low heat of hydration.
Workability is quite good.
Also Read: Composition of Cement Clinker
Disadvantages of portland pozzolana cement
Initial setting time is less as compared to OPC.
Due to lack of alkaline, it cannot resist the corrosion to the steel of reinforcement.
Handling should be done very carefully because of its fine-grained size.
Difference between portland pozzolana cement and ordinary portland cement
The initial setting time of the PPC is less as compared to the OPC.
PPC is the constitution of the OPC, but OPC is not.
It is a grade of the OPC.
OPC is the origin of the PPC.
PPC is more economical than OPC.
PPC is a variant of the OPC.
Both the cement are eco-friendly which doesn't affect the environment.
There are 3 grades in OPC but the PPC is a variant of the 33grade of OPC which is obtained after the curing of the PPC.
OPC is used widely for residential construction, road construction but PPC is used for hydraulic structures and for plastering.
Also Read: Different varieties of cement