Having a swimming pool in your yard where you can relax and have fun, whether alone or with your loved ones, is a huge investment that will certainly pay off over time. But the key to making an excellent investment decision is to do your homework.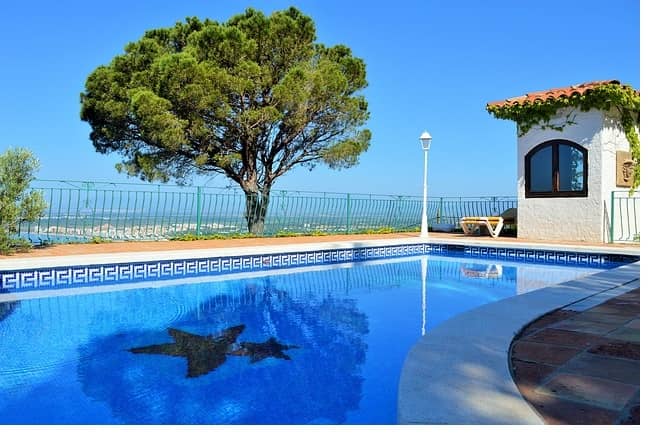 Swimming pools come in various options, with each having different preparation requirements, costs, and other considerations. If you are ready to build a swimming pool in your yard, here's everything you should know before you get in touch with pool contractors in Dubai.
---
Above-ground or in-ground
When deciding on your pool's construction, the first thing to consider is whether you want to install it above the ground or below it.
Soil excavation and removal may entail additional costs, but in-ground pools generally have a more permanent feel than above-ground options. But if you have a steep site, an above-ground pool can be a much easier, faster, and affordable option.
---
Location
After deciding on the type of swimming pool you want, the next thing to consider is where to put it.
First, you need to look into the laws and regulations about swimming pool construction in your area.
In Dubai, for instance, you need to follow certain guidelines imposed by the government so you can get a swimming pool construction permit. Besides complying with all the documentary requirements, you also need to know about all the guiding principles related to all the necessary equipment used for maintenance and functional purposes.
Other essential considerations when deciding on the pool's location will include:
Circulation routes or how pool users will enter and exit the swimming pool
Wind or sun exposure
Poolside relaxation and entertainment
Storage area for pool essentials, such as filtration equipment, toys, cleaners, and umbrellas
---
Material
The question about the type of swimming pool material to use will be among the toughest decisions you have to make as there are certain variables to consider.
Here are your options:
---
1. Concrete
Concrete is considered the best swimming pool material in the sense that it is customizable and durable. You can design almost all elements of your concrete swimming pool, including the steps and landscape features.
Concrete can also support tile work, and you can get creative with your swimming pool design.
However, it may take weeks or even months to build a concrete swimming pool. You'll have to excavate and build a foundation and block walls. After that, you have to install a lining. So even if you have the knowledge and skills, it's work you can't do alone. In fact, it would be crucial to have all the work done by professional pool builders.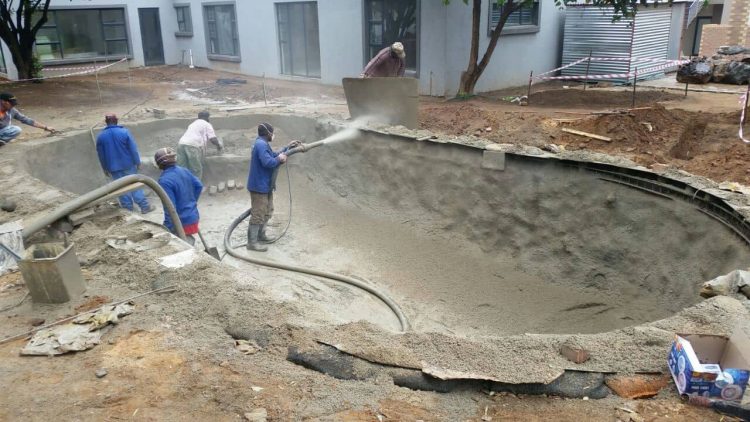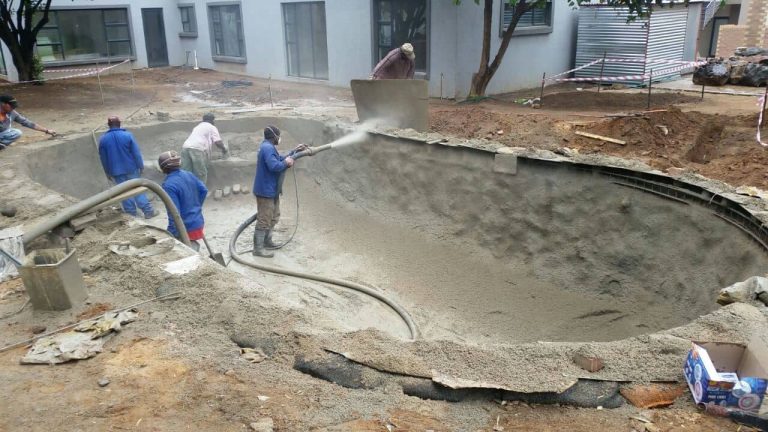 ---
2. Fiberglass
If you want a relatively easy and quick installation with a smooth finish, a fiberglass pool is a great option.
Fiberglass offers a non-porous gel coat that is not just charming but also helps to prevent algae formation. This means you'll have a non-slippery pool surface that won't require frequent scrubbing and maintenance.
Fiberglass pools are best for upper-level installation because they are lighter than other pool base materials. Their only downside is that they come in limited designs because they are pre-made in factories.
---
3. Ceramic
Ceramic pools involve adding a carbon fiber mat and a ceramic layer to fiberglass or composite design. This technology makes the whole structure very durable and more resistant to damages and leaks.
Ceramic offers the most visually appealing pools because the top layer has some glitter and color, so the water appears to sparkle. It also delivers a smooth finish, making it resistant to bacteria and dirt. The floor can be made slightly rough to prevent slips.
But like fiberglass pools, ceramic pools come in one-piece shells.
---
4. Vinyl liner
Vinyl liner pools are budget-friendly and flexible. Besides being smooth to the touch, they also allow for unlimited customization. They come in different sizes, shapes, and colors. Moreover, they are non-porous materials, making them much easier to clean.
---
5. Stone
If you want to integrate your pool and its accessories into its natural surroundings, stone is an excellent material to use. There's no limit to the types of stones you can combine to construct your own backyard oasis. You can use stones for the floors, walls, decks, pergolas, and fountains.
---
6. Resin
A resin pool can be made entirely of the material, but usually, the resin is just a major component of the plastic material or used on certain pool parts. It doesn't have oxidization, rust, or erosion problems, making it a more expensive option.
If you choose to get a resin pool, make sure it has a proper UV coating to make it less susceptible to flaking and cracking.
---
7. Steel
Steel is the heaviest and most solid yet the least expensive of all materials. It is also more resistant to deformation. Though rust was a common problem in the past, the latest steel pools feature a hot-dipped galvanized or vinyl coating that resists rust.
---
8. Aluminum
Aluminum is great for handling water movement and is easier to move and disassemble. However, it can get oxidized and corroded.
When this happens, the surface can become too rough and even have holes in the bottom section's liner. But like steel, the latest aluminum pools have special coats that prevent this kind of damage.
---
Fence
Pools are a great source of exercise, relaxation, bonding time, and fun. But they also come with hazards. That is why installing a pool fence is a must, whether you choose an above-ground or in-ground pool.
A fence will ensure that your kids don't go swimming unsupervised. It will also protect your swimming pool from intruders, be they neighborhood children or animals not allowed in.
You can choose from different pool fencing materials, including glass, mesh, chain link, wood, and wrought iron. Moreover, opt for a fence that is at least 4 feet high and with self-latching and self-closing gates.
---
Landscape features
Apart from focusing on the pool itself, you also need to consider the surrounding area for an ultimately relaxing and fun experience. Beautify your pool section further with these landscape features.
Shade
Shade structures like umbrellas, covered patio areas, and pergolas can extend the time you spend in the pool area without being directly under the sun. You can even use these shade features to introduce greenery to your oasis.
Outdoor lighting
Strategically placed outdoor lighting is also a must. It offers protection against falls and slips once the sun sets and dusk falls. Opt for LED lighting that does not only provides adequate lighting but also creates a comfortable ambiance.
Pool house or cabana
Having a pool house or cabana gives you the necessary storage space for all the items you'll need within reach whenever you are at the pool. It can also serve as a guest house or include an outdoor kitchen for drinks, snacks, or meals to be enjoyed poolside.
---
Enjoy your own backyard oasis
A backyard pool is undoubtedly a great place to cool off, relax, and have fun with your cute summer blouses or favorite swimwear on, especially during the summer.
However, the pool construction process can be complex for an average homeowner.
If you are unsure whether you should have an in-ground or above-ground pool, where to install it or what material to opt for, don't hesitate to contact pool construction experts. They can help you from start to finish – even with pool maintenance.
Also Read: Complete Guide on Grades of Concrete
We are sorry that this post was not useful for you!
Let us improve this post!
Tell us how we can improve this post?