Nowadays, there are many types of chains and tapes available in the local market. In this article, you are going to read many things about the types of chains and tapes in detail.
Different Types of Surveying Chains
Following are the different types of chain in common use:
Metric chain

Steel band or Band chain

Gunter's chain or Surveyors chain

Engineer's chain

Revenue chain
Metric Chain
Metric chain is made up of galvanized mild steel. this chain consists of 100 to 150 galvanized mild steel wire parts of 4 mm in diameter called links. The ends of each connection are bent into a circle and connected by three oval rings together.
Handles for pulling the chain on the ground are placed at the ends of the chain, each wire with a swivel joint so that the chain can be turned without twisting. 
The lengths around 20meter and 30meter are made of metric chains.
Tallies are fixed at every five-meter length and brass rings are provided at every meter length except where tallies are attached.
Also Read: Prismatic Compass Surveying
Steel band or Band chain
Steel bands are preferred than chains because they are more accurate and easy to use. The drawbacks are they get broken down easily, and it's difficult to service in the field.
The length of the tape is 20 and 30m, 12 to 16mm wide, and 0.3 to 0.6mm thick. They are numbered at every meter. Brass studs divide them at every 20cm.
Gunter's chain or Surveyors chain
Gunter's chain is a distance measuring device used for surveying. Gunter's chain was discovered in 1620 by English clergyman and mathematician Edmund Gunter. Gunter's chain is also known as the Surveyors chain.

The 66-foot (20.1 m) chain is divided into 100 links, generally marked off into groups of 10 by brass rings which simplify intermediate measurement. Each link is thus 7.92 inches (201 mm) long. A quarter chain, or 25 links, measures 16 feet 6 inches (5.03 m) and thus measures a rod.
In other words
Length = 66' (22 yards), No of links = 100, Each link = .66'
This is used for measuring distances in miles or furlongs (220 yards), acres (Area).
Did you know?

10 chains = 1 furlong and 8 furlongs = 1 mile
10 sq chain are equal to 1 acre.
Engineer's chain
Engineer's chain is a unit of length equal to 100 feet and it is divided into 100 links. The length of each connection is 1 ft. It is used in all Engineering surveys. The engineer's chain is also known as the Ramsden's chain.

The Ramsden Chain or Engineer's chain was constructed by Jesse Ramsden in 1784.
In other words
Length = 100ft.
No of links = 100, Each link = 1ft.
Revenue chain
The standard size of this type of chain is 33ft long.

The number of links is 16, each link has 2 1/16ft long.

This chain is mainly used for measuring fields in cadastral survey.
Type of Measuring Tape Used in Surveying
There are 5 types of tapes available in surveying for linear measurements and they are as follows,
Cloth or linen tape

Metric steel tape

Invar tape

Synthetic tape

Woven Metallic Tape
Cloth or linen tape
Cloth or linen tape as the name indicates it is made of cloths or fabric. The distance measured by cloth or linen tape is not accurate, so they are used for rough measurements (i.e offsets and for ordinary works).
The width of the strip is usually 12 to 16 mm. It is available in various lengths, including 10m, 20m, 30m, and 50m. These tapes are thin and flexible. But they are not successful due to the following disadvantages:
They shrink due to moisture.
They are not strong.
Due to stretching, they extend.
Metric steel tape
This tape is used for accurate works and is made of steel or stainless steel. The outer end is fitted with a holding ring.
Due to the strength of the material, these tapes do a great job at standing up
on their own and are useful for measuring long and flat distances as they will not curve.
According to IS: 1270-1959, they are available in 6, 9.5, 13, 16 mm widths.
Invar tape
This Tape is made of a Mixture of alloy containing (Nickel + Steel) 36% nickel and 64% steel. The distance measured by this tape is highly accurate, so this tape is used in top precision works in surveying like baseline measurement, triangulation surveys etc.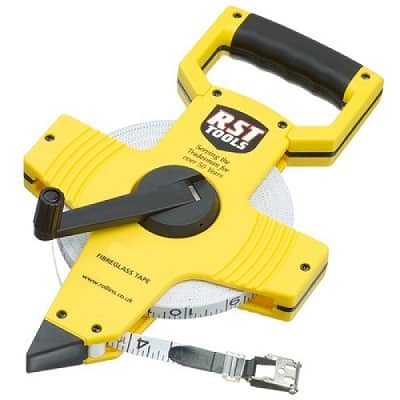 Its coefficient of thermal expansion is very low so that It doesn't suffer from temperature changes.
Thermal Coefficient = 1/30 * thermal coefficient of steel tape = 0.0000005
It is available in different lengths like 30 m, 50 m, and 100 m. It is accurate but expensive therefore used with the greatest care. It should not be used for ordinary works.
Synthetic tape
Synthetic tapes are made of glass fibers coated with PVC.
These are light in weight and flexible.
They are available in lengths of 5m, 10m, 20m, 30m, and 50m.
They are convenient for measuring shorts lengths.
Synthetic tapes may stretch when subjected to tension.
These are not suitable for accurate surveying works.
Mostly used in the vicinity of electric fences and railway lines, etc.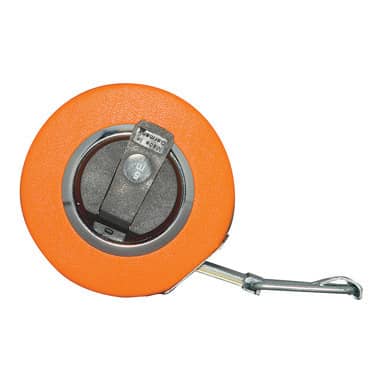 Also Read: What is Duties of Construction Surveyor
Woven Metallic Tape
The metallic woven tape is an advanced variant of linen tape. Brass or copper made wires are used as reinforcement for the linen material. Hence, it's more durable than cloth or linen tape. Wooven Metalic tapes are available in various lengths such as 2m, 10m, 15m, 20m, 30m, and 50m.
Also Read: Preliminary survey in Civil Engineering
We are sorry that this post was not useful for you!
Let us improve this post!
Tell us how we can improve this post?