What is Gypsum?
Gypsum is broadly mined and is used as a fertilizer. Also, It is used as the main constituent in many forms of plaster, blackboard/sidewalk chalk, and drywall.
Meaning of Gypsum
Gypsum is a soft sulphate mineral which is composed of calcium sulphate dehydrate and Its chemical formula is CaSo42H2O.
Also Read: Plastering – Purpose, Requirement & Technical terms
Uses of Gypsum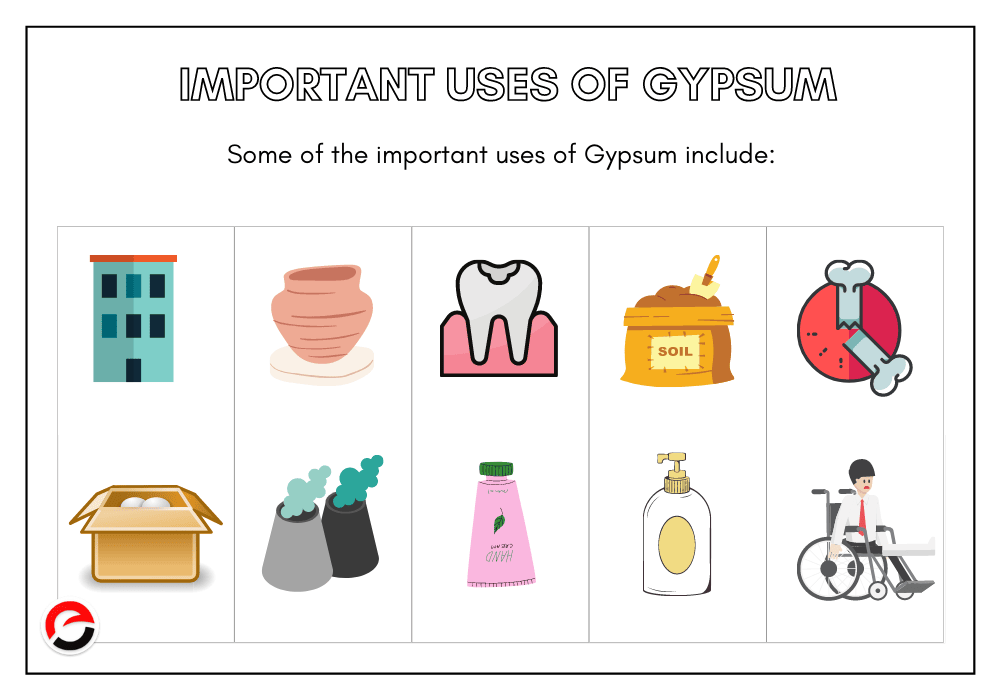 Some of the important uses of Gypsum include
In the construction of buildings
In pottery and mounds making
In dental appliances to make casts and mounds and impression material
In soil conditioning
Can be used as hardening material in cement
In many foods used as a filler ingredient
It is used in the treatment of burns and eczema
It can potentially be used to remove water pollutants like lead and arsenic
It also exists in some foot creams, shampoos, and many other hair products.
What is Plaster of Paris?
Plaster of Paris is a powder that is white in colour.
It is made of Gypsum (CaSo42H2O)
The plaster gets its name because its main ingredient Gypsum is found richly in Paris
When the white powder is mixed with water it forms a paste and when dried it hardens into solid structures.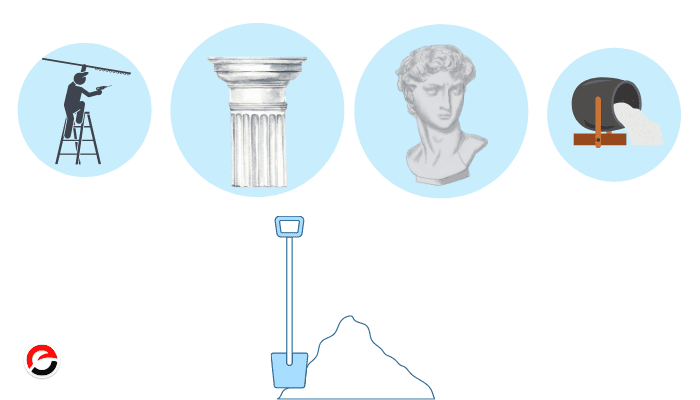 Uses of Plaster of Paris
It has plenty of uses and applications, some of them are
Often used as a protective coating on the walls and ceiling before painting.
It is used in the making of several statues, showpieces, and other decoration elements.
In fracture cases, it is used in hospitals and medical departments as its support and provides stiffness to bones.
To develop patients' head and neck impression plaster bandages are used.
It is used by artists and painters to create beautiful patterns or designs.
It is also used to make replicas of teeth and tissues.
It is used to make historical monuments and structures.
As plaster of Paris is fire resistant, it is used in buildings to avoid fire hazards.
What is Gypsum Plaster?
When dried plaster of Paris is mixed with water it gets hardened.
The material thus obtained which can be used to apply over the brick, block, or solid surface to form a smooth surface is called Gypsum plaster
It is applied in a plastic state with water to the surface, where it sets and hardens by chemical recombination of the Gypsum with water.
Technical Specifications of Gypsum Plaster
The colour of the finished surface results is white.
The setting time is around 25-30 minutes
Its thickness covering area considering 12 mm.
The package size of 1 bag is around 25 kg.
Advantages of Gypsum Plaster
Due to its superior finishing and time-saving quality, it is highly preferred by contractors and builders. In spite of this, it has many advantages which are as follows:
Easy Application: Gypsum plaster is very easy to apply to a surface with bricks, blocks, etc. They don't need to be finished separately since they don't need to be.
Results In Smooth Surface: Unlike other plasters like sand cement that result in cracks, Gypsum plaster produces a smooth surface with perfectly lined levelled, smooth walls and exactly right-angled corners.
Putty Is Not Required: As walls plastered with Gypsum are paint-ready because of their smoothness, they do not require putty or whitewashing
No Curing Required: Cement plasters require water curing for 21 days to settle down but Gypsum plaster does not require curing and thus saves 75% of construction time.
Faster Setting Time: Gypsum plasters sets normally in 25 to 30 minutes. The walls are ready for paint in 4 days. Cement plasters as compared to Gypsum plasters require 15 days to settle. Gypsum plasters gain their inbuilt strength in 78 hours.
Productivity Is High: Time is reduced very much when it comes to Gypsum plaster.
Environmental Friendly: Gypsum is an easily available, green, and organic material. Cement is a major source of carbon emissions, causing harm to the environment.
Fire Resistance: The chemical composition of Gypsum contains nearly 21% of crystallized water. It remains still below a temperature of 1,200°C. Thus it makes Gypsum fire resistance as it has a lot of water content in it and also proves to be safe material to coat inside walls of the home.
Reduced Supervision: In the case of Cement mortar plaster regular and careful quality check is required and sand also has to be correctly proportioned. In contrast, Gypsum plaster reduces supervision efforts as it does not require the same amount of quality checks.
Raw Materials Are Readily Available: Natural sand used in traditional cement mortar plaster is difficult to obtain as it is banned in many countries. But Gypsum plaster is an easily and readily available material.
Reduced Consumption of Resources: It consumes less amount of water, electricity, fuel, and manpower.
Lightweight Construction Material: It lowers 35% of plastering weight which in turn results in increased strength of high-rise buildings because Gypsum plaster has a low density and high compressive strength.
Natural Disinfectant and Insect Repellent: It protects the surfaces from bacteria, fungi, pests, and insects acting as a natural disinfectant.
Low Thermal Conductivity: As it has low thermal conductivity, it saves electrical costs for heating and cooling rooms in buildings.
No Shrinkage Cracks: Compared to traditional cement mortar plaster, Gypsum plaster results in fewer shrinkage cracks.
Decorative Applications: They can be used for decorative purposes because of their ability to frame into different shapes and forms.
Excellent Audiovisual Properties: It provides sound insulation and prevents the flow of noise from outside. So they are best suitable for crowded places like hospitals, hotels, and workplaces.
Disadvantages of Gypsum Plaster
As one has advantages,  it has some disadvantages also :
It can't be used for the outside walls since they absorb dampness and moisture. So in the areas such as the bathroom, toilet wash area, etc which are continuously damp, Gypsum plaster can't be applied.
It is also not suitable for use in areas subjected to whether moisture or high humidity.
It is costlier than traditional cement mortar plaster.
Regular exposure to moisture or water reduces the strength of the plaster.
Gypsum plaster has a shelf life of only 3 to 4 months, but if stored carefully it can be extended up to 6 months.
Even in a dry place, this plaster cannot be stored for more than 3 months, else it starts deteriorating.
Difference Between Gypsum and Plaster of Paris
| | | |
| --- | --- | --- |
| | Gypsum | Plaster Of Paris (POP) |
| Definition | A soft sulphate mineral composed of calcium sulfate dehydrate with the chemical formula CaSo42H2O | A building material used for protective or decorative coating of walls and ceilings and for mounding and casting decorative elements. |
| Composition | Calcium sulfate dihydrate | Calcium sulfate hemihydrates |
| Occurrence | A naturally occurring mineral | A man-made material |
| Moulding | It cannot be mould into different shapes | It can be mould into different shapes when it is moistened |
Also Read: False Ceiling: Types of False Ceilings | Pros, and Cons of a False Ceiling