What is a False Ceiling?
A false ceiling is a type of mock roofing that is used to enhance the architectural structure's aesthetic appeal. A false ceiling, which is simply a secondary ceiling, is attached to the original ceiling using metal or wooden frames. It is also known as a fifth wall. This feature was popular in Japan during the Muromachi Period (1337-1573). It is now a part of modern construction and can be found in commercial as well as residential buildings.
False ceilings are not only visually appealing but also provide insulation, soundproofing, and lighting. They create the illusion of a lower ceiling. False ceiling is also known as a drop ceiling or suspended ceiling, grid ceiling, or T-bar ceiling.
Types of False Ceilings
False ceilings are a modern architectural feature that allows for many variations in materials and construction. These materials are readily available on the market. Before making a decision, it is important to be familiar with all variants.
1. Plaster of Paris (POP) False Ceiling
Plaster of Paris (POP) is the most popular false ceiling material. It is essentially made from Gypsum and comes in a powdered version. The Gypsum is heated until it forms POP. This is then combined with water to make a paste. The POP false ceiling is able to be moulded into any shape, unlike a false gypsum roof. It is also far more affordable than Gypsum.
Building a POP false roof is not an easy task. The first step is to form the paste. Next, you will create the design on a chicken mesh, which can take several weeks to dry.
2. Wooden False Ceiling or Plywood False Ceiling
Wood is a harmonious blend of modern and traditional. Wooden false ceilings can enhance the aesthetic appeal of any space because they allow for the incorporation of many different patterns and designs. It also improves acoustics.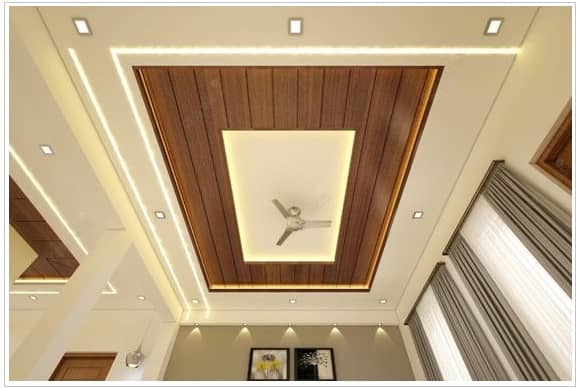 You can create a home that looks like it belongs in a movie by adding fancy pendant lights to the ceiling. False wood ceilings can be expensive and less durable than the POP or gypsum false ceilings.
3. Gypsum False Ceiling
One of the most popular false ceiling materials is Gypsum. It is a calcium hydrated sulfate type. Pre-designed Gypsum false ceilings can be purchased. It is easy to install once the desired shape, size, and design of the false roof have been decided on.
It has a seamless, smooth finish that is well-suited for absorbing heat and noise. It is lightweight and can be easily hung from an iron board from the original ceiling. False gypsum ceilings look great in the living room.
4. Metal False Ceiling
False ceilings made of metal are very popular in homes. Galvanized iron and aluminium are the most common materials used for false ceilings. They can absorb noise and last for many years. False ceilings made of metal are available in many different shapes and designs.
They are easy to maintain. It also has an antique look. You can have the ceiling painted according to your preference. False metal ceilings can be more expensive than POP or gypsum false ceilings.
Also Read: Lightweight Concrete
5. PVC False Ceiling
The synthetic material polyvinyl chloride can be used to make a variety of products that are durable and resistant to heat and water. False ceilings made of PVC are most commonly installed in bathrooms, kitchens, garages, and other areas. They are lightweight, easy to maintain, low on cost, and very economical.
6. Fabric or Cloth False Ceiling
Fabric and synthetic leather false ceilings generally use cloth or leather. They can be easily moulded and made to your specifications. They aren't meant to be used for long periods of time and are usually made for one occasion only. They can be damaged and dusty.
7. Mineral Fibre False Ceiling
Fiber false ceilings are available in tiles form. They can be made from natural or synthetic materials, including wood, stone, and tar.
False ceilings can be used in commercial buildings and other places because they are durable, affordable, soundproof, and cost-friendly. These ceilings are not always plain and boring. You can also opt for false fibre ceilings in your basement or storeroom.
8. Glass False Ceiling
False glass ceilings look amazing because of their transparency. You can either have beautiful floral designs on the glass, or you can keep the glass completely transparent to allow for a full view of the sky. A false glass ceiling is more attractive because of the way it reflects light. Glass is not as strong as other materials. It can be fragile and dangerous.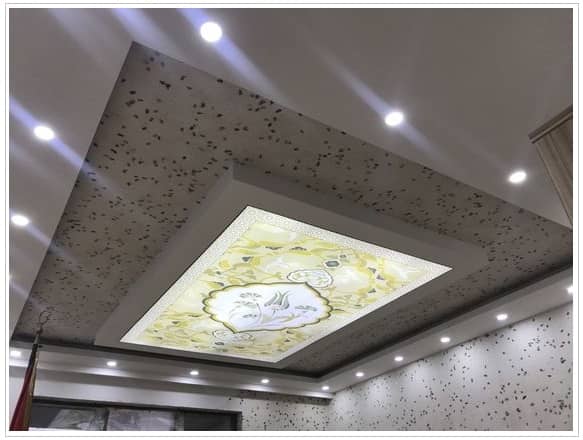 Popular False Ceiling Materials
1. Gypsum False Ceiling
Gypsum, an offspring from calcium, is used to build lightweight ceilings. They are usually in the form of boards, which are then attached to the ceiling using iron or wooden frames and painted.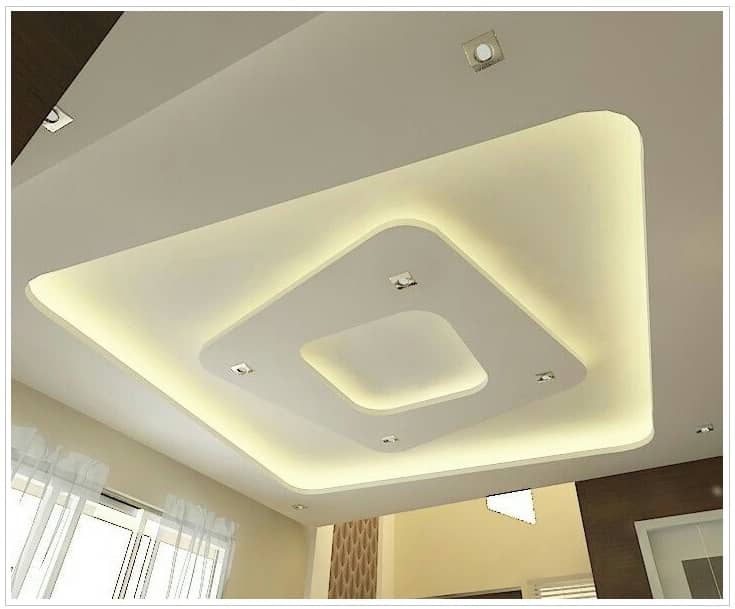 2. Wooden False Ceiling
Wooden is a natural material with beautiful textures and grain. It has been used as a ceiling many times on the fifth wall. It is a little more expensive than other materials, so you will most likely find it in large commercial buildings.
How is False Ceiling Cost Calculated?
Many factors go into calculating the price of a false ceiling per square foot. ft. These include:
Design: The more complex the design of the false roof, the more expensive it is.
Size: Larger ceiling areas are available at a lower price because the materials can be bought wholesale in bulk.
Quality: High-quality materials are more expensive than higher-quality materials. However, high-quality materials have a greater return on investment (ROI).
Availability: If the materials you use are readily available on the market, transportation costs and logistic costs can often be reduced.
Additional cost: This covers the cost of finishing, fittings and cutting, lighting, accents, etc.
Types of False Ceiling Designs
1. Single-layered False Ceiling
This ceiling is an easy way to add style and flair to a space without spending a lot of money. White ceilings can be left white by homeowners to add dimension and lightness without overwhelming the space. If you want to make a statement and draw attention upwards, you can choose from many colors, shapes, textures, lighting options, and even lighting options. This is a great way to distract from small spaces or ones that don't have much decor.
2. Multi-layered False Ceiling
Layers allow you to play with an already flexible medium and create your own ceiling. A multi-layered ceiling placed in the middle of a room creates drama and a feeling of grandeur.
Ceilings located near the edges will make the space appear larger. Multi-layered ceilings open up new possibilities for lighting, colour, and shape-based experimentation. Don't be afraid of using your creativity!
3. Plus-Minus POP False Ceiling
The plus/minus ceiling design uses POP to create elements that protrude from a regular false ceiling or are tucked inside it. This trend is more elaborate, so make sure you consider your existing decor and how much space you have before trying it.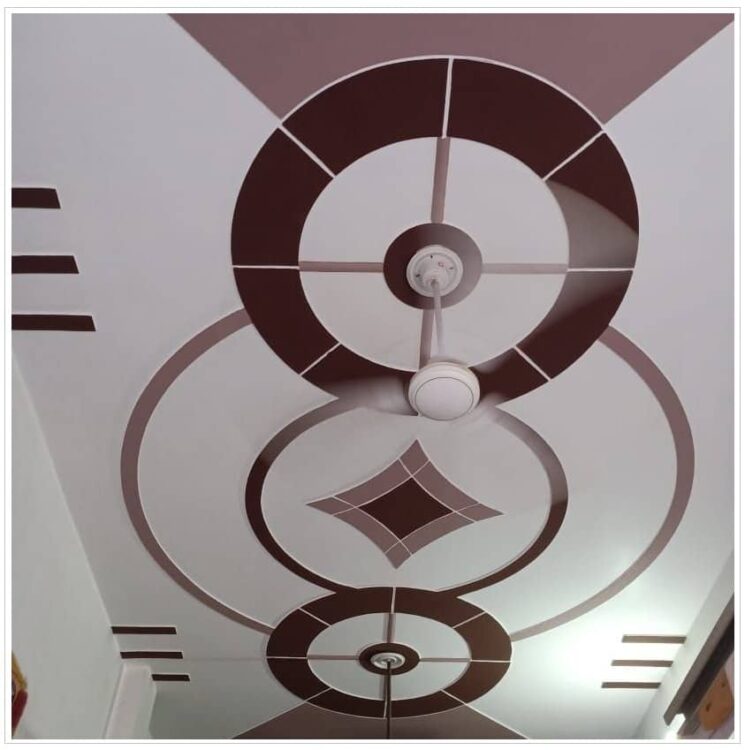 4. Coffered False Ceiling
Coffers can be described as sunken squares or boxy panels that are attached to a ceiling. This ceiling design creates the illusion that a ceiling is higher and has multiple dimensions.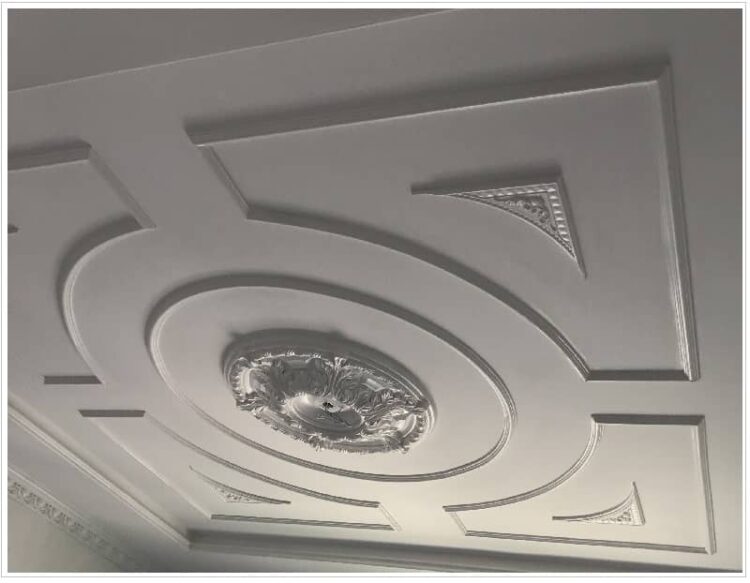 False Ceiling Shapes
#1. Box ceiling
This design has a layered ceiling that is attached with boxed and/or recessed lights.
#2. Peripheral Ceiling
This minimalist design is great for homes with low ceilings. This design can be used to house a pendant or chandelier.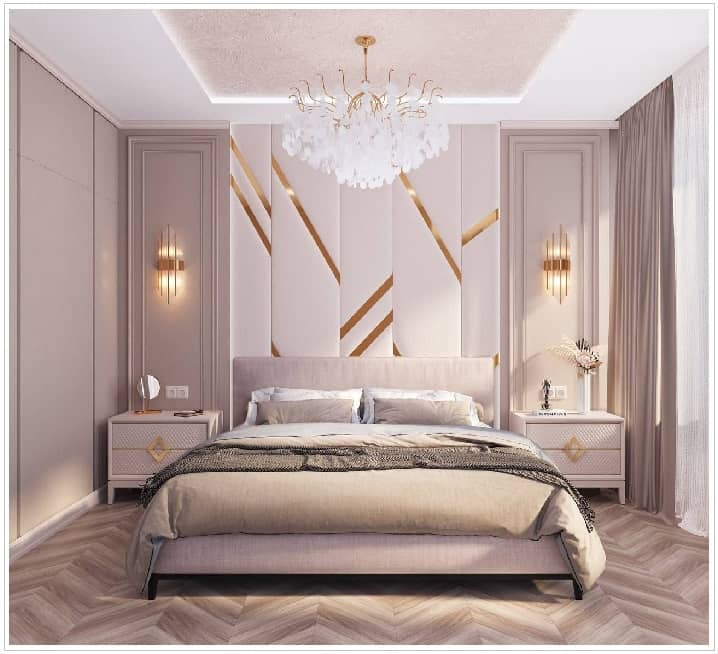 #3. Geometric Design
For each piece to be assembled, this design calls for suspended panels. This modern design gives the room an elegant edge.
#4. Intricate Lattice
A lattice is a way to create a visual boundary between open spaces and a false ceiling. It also adds to the room's aesthetics.
#5. Wooden Slats
Wooden false ceilings are a favourite albeit expensive option among homeowners. It's also an excellent insulation ceiling option.
#6. Inverted Cove
It is a great way to lower high ceilings. This design is great for ambient lighting and can be used in any room. This design can be used to house a chandelier.
Pros and Cons of a False Ceiling
Advantages of a False Ceiling
Excellent acoustics: By adding an additional layer to the ceiling, you can achieve better acoustics. This makes it a great design option for living rooms, home theatres, and AV rooms.
Hidden wires: A false roof is an ideal place to conceal wires and pipes. False ceilings can be fitted with hidden or sunken lighting.
Lowers high ceilings: f you have a large vertical area that dwarfs furniture, you might consider installing a false roof to restore the room's proportions.
Insulates the space: This is a great option for homes in the colder parts of the country. This layer is added to the existing layer and creates a gap that traps air and cools down the room. It optimizes the operation of air conditioners. It reduces the area that needs to be cooled and lowers energy costs.
Disadvantages of a False Ceiling
Experts are required to install false ceilings: False ceilings require precision in design, calculation, and installation. Only experts can do this.
Not possible for rooms with low ceilings: The wall must be at least 8 inches from the original wall. It is recommended that the ceiling height not be lower than 11 feet. A partial ceiling can be used in corners of smaller homes to provide additional light.
Also Read: 10 Innovative Wall Painting Ideas
Where to Install a False Ceiling
#1. Living Room
This creates a grand entry that instantly indicates the amount of vertical space, making the room appear larger than it actually is.
#2. Bedroom
False ceilings, which are placed vertically between the floor and the wall, can add drama and drama to a room while still maintaining the comfort and coziness that a bedroom should offer.
#3. Kids Room
Instead of sticking to safe colors like pinks and blues you can take all of the colors and put it up as a ceiling. This allows the room to be free from potentially dangerous decor and furniture, while also connecting the space design-wise.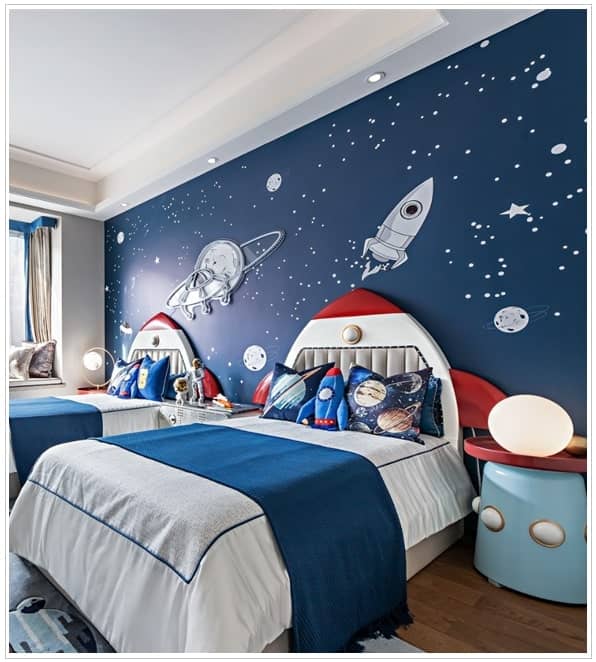 #4. The Kitchen
False ceilings in kitchens are not for the timid. This transforms a space that is primarily task-oriented into one that is more fun and creative. It not only looks great, but it also adds lighting to the space without requiring additional wall or countertop space.
#5. The Dining Room
These designs are popular in dining rooms because they look great. A lower ceiling creates a more intimate and pleasant dining experience. The ceiling will often mimic the material on the dining table in order to continue the design theme throughout the room. Above is a POP ceiling, which has been painted to match the solid wood dining room table.
#6. Pooja Room
Good lighting is essential for any prayer or pooja room. A pooja room should be small and have no windows. Even if windows are present, they will be covered or blocked. You can save space by installing this design with plenty of overhead lighting.
Also Read: Largest construction projects in the history of the world
FAQs on False Ceiling
What is the unit of measuring false ceiling?

False ceilings are measured in the area above 1′ wide. Coves/corner patterns can be measured in running feet. The same price applies per sqft unless there's a lot of labor involved.

Which false ceiling is best for home?

Gypsum ceilings are durable and will last a lifetime.

Fall ceiling or false ceiling which is correct?

A false ceiling is a fitted ceiling that hangs under the original ceiling in a room or house.

Does my house need a false ceiling?

It all depends on your personal preferences. False ceilings have many benefits. They can cover unsightly wires, improve acoustics and reduce electricity consumption. You can also choose fireproof and moisture-resistant designs.
We are sorry that this post was not useful for you!
Let us improve this post!
Tell us how we can improve this post?