What is Boundary Wall?
Any wall, fence, or enclosing structure constructed on or directly next to a cadastral property border, as well as any other structure fastened to or on top of a boundary wall, including security devices such as spikes, barbed wire, razor wire, or electric fences.
Definition of Boundary Wall
A boundary wall is "any wall constructed on, above, or over the physical border between two properties so that it stands on or occupies space on both properties at least partially."
Height of Boundary Wall
Standard height of the boundary wall ranges between 4ft to 8ft or 1m to 2.4m.
Minimum height of the boundary wall ranges between 4 to 6 feet.
Maximum height of the boundary wall is up to 8 feet.
Importance of Boundary Wall 
Boundary walls are constructed of cement concrete, bricks, stone, sand, aggregate, metal panel, wooden panel, polyvinyl chloride fancy often known as PVC fence, and other materials to protect the entire property, enhance the attractiveness of the house, and provide an aesthetic aspect.
The Boundary wall serves as the initial line of defense against intruders. It helps to demarcate the property's boundaries and protects the site and home from animals, thieves, and other intruders.
The boundary wall offers the property and its occupants a sense of protection and security.
Boundary walls and fences define the separating line between one property and another, as well as the duty that comes with these properties.
Boundary lines established by walls and fences are essential for preserving a healthy relationship between neighbours and preventing conflicts.
Establishing rules and regulations for the look of the neighbourhood as a public amenity.
Boundary walls and fences establish the boundary between two properties, as well as the responsibilities that come with them.
Walls and fences provide boundary lines that are necessary for maintaining a good relationship between neighbours and averting disputes.
Creating norms and standards for the neighborhood's appearance as a public amenity.
Also Read: Parapet Wall – Types, Purpose And Uses In Building
Types of Boundary Wall
There are 8 types of boundary walls as following:
Brick Boundary Wall
Stone Boundary Wall
Wooden Boundary Wall
Steel/ Iron Boundary Wall
Concrete Block Boundary Wall
Wire Mesh Boundary Wall
1. Brick Boundary Wall
What is a Brick Boundary Wall?
The term "brick boundary wall" refers to a boundary wall made of bricks.
It enhances the visual appeal.
It ensures the structure's safety and security.
It lessens the landlord-tenant dispute.
If the low depth is supplied below ground level, there is a chance of overturning.
The initial investment is rather high.
Construction of Brick Boundary Wall
To begin, the area is dug to a depth of 4 to 5 inches, and the dirt is uniformly compacted at the excavation's bottom. Then, at the bottom, a brick flat soling is installed.
Above the brick flat soling, PCC is installed. Then, over it, a trapezoidal footing is built.
The tie beam is erected with a thickness of 10″ once the footing is constructed.
The purpose of the column is to keep the border wall from collapsing.
The brickwork is done over a tie beam to give security.
Then, above the brickwork, coping, also known as bandwidth, is applied.
Modern Brick Boundary Wall Design Ideas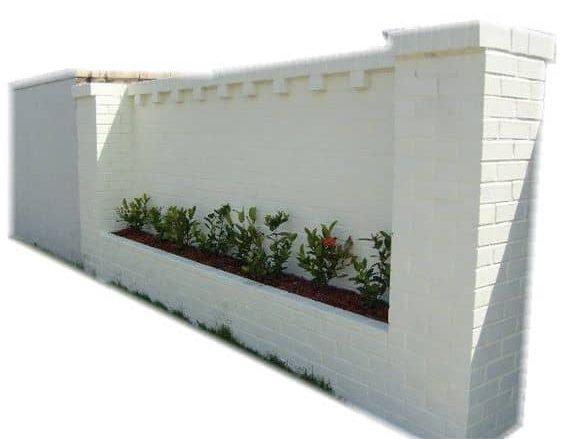 2. Stone Boundary Wall
 What is Stone boundary wall?
A brick boundary wall is a type of boundary wall made of through stones or bond stones.
Construction of Stone Boundary Wall
The process of the stone boundary wall is as follows
Every 600 mm, stones should be delivered to course.
The thickness of the walls should be between 380 and 450 mm.
Every 600 mm raise, "through stones" or "bond stones" of full length equivalent to wall thickness should be utilised at a distance of not more than 1.2 m horizontally. If full length stones aren't available, stone in pairs, each measuring about 3/4th of the wall thickness, can be utilised for one full length stone with some overlap.
Use steel bars of 8 to 10 mm diameter or a hooked link as bonding elements instead of "through stone" if the wall is covered by 25 mm on each side.
Alternately, wooden bars with cross-sections of 38mm by 38mm or plain concrete blocks with dimensions of 150mm by 150mm can also be utilised.
Long stones should be utilised at the corners and connections of walls to break the vertical joint and provide bonding between perpendicular walls.
Vertical reinforcement can be utilised as an alternative to strengthen the corners of the stone wall.
To reinforce the corners of a wall, stitchings can be utilised as reinforcement.
Also Read: Retaining Wall Its Design, Types & Definition
Boundary wall stone cladding
Taking measurements of the area is the first step in the installation process.
The next phase is surface preparation, which is the most important. So that the bond between the wall and the adhesive or mortar stays intact, the surface must be treated.
After that, the wet mortar is mixed and distributed to the desired thickness on the wall.
The natural stone is now pressed into the wet mortar, and the surplus mortar from the seams is scraped away.
Finally, depending on the finish desired, the joints are sealed with a pointing tool.
Modern Stone Boundary Wall Design Ideas
3. Wooden Boundary Wall
 What is a Wooden boundary wall?
A wooden boundary wall is a fence or enclosing construction built on or adjacent to a cadastral property border.
Construction of  Wooden Boundary Wall
The vertical components of a wooden boundary wall are posts, which support and hold all of the other components in place.
Rails are the horizontal components of a boundary wall that run parallel to the ground and connect all of the posts.
Nails are used to holding all of the wood components together in a wood boundary wall.
The protective section of the border wall protects the wood's vulnerable endpoint and keeps it as weather-proof as possible.
This boundary wall component is created with a sharp tip and stands straight up on rails.
Modern Wooden Wall Design Ideas
4. Steel/ Iron Boundary Wall
What is a Steel/ Iron boundary wall?
This refers to any steel or iron boundary fence or enclosure that is either placed on the property boundary itself or is directly adjacent to it.
Construction of  Steel/ Iron Boundary Wall
SHS profiles 40mm x 40mm x 2mm will be used to build a frame.
Steel mesh measuring 50mm x 50mm x 5mm will be put in the frame.
The steel base structure will be filled with a constructed steel frame.
At every 4m, lateral supports will be placed.
All steel items will receive one coat of anti-rust treatment and two coats of Ferro-mica type paint or an equivalent.
Modern Steel Grill Boundary Wall Design Ideas
 5. Concrete Block Boundary Wall
What is a Concrete Block boundary wall?
The first concrete block boundary walls were built in 1900, using a machine devised by Harmon S. Palmer.
Block walls were increasingly popular in the twentieth century as a result of reasons such as the growth of the domestic Portland cement industry and technological advancements in production equipment.
Block fence has been utilized for a variety of applications, including boundary walls, sound barriers, retaining walls, privacy fencing, and security walls, in addition to commercial and industrial facilities.
Construction of  Concrete Block Boundary Wall
Individual blocks are put on a continuous foundation with steel rebar and grouted joints in a traditional block boundary wall.
It takes a long time to construct, and without any visual enhancements, it can look bland and unappealing.
Block fence walls can also crack and become less sturdy as the ground moves.
Modern Concrete Block Boundary Wall Design Ideas
6. Wire Mesh Boundary Wall
It is frequently used to determine land boundaries. If we are cultivating veggies or pets in our garden, we must also protect them. As a result, we'll need to erect wire mesh devices to keep foreigners out of the garden.
This is due to a variety of factors. The wire mesh boundary wall is a weather-resistant product that may be used for many years without wearing out. Because coating procedures are used to avoid rust and abrasion in the construction of wire mesh boundary walls.
Advantages of outer boundary wall
Invest in some new fence and your property will be more secure.
As a public amenity, set standards and rules for neighbourhood aesthetics.
To guarantee the safety of pedestrians and other road users.
To allow for passive observation of the public domain from nearby private dwellings.
Promotion of pedestrian-friendly areas
Protect and improve the visual amenity and character of neighbourhoods, wards, and streets, while developing individual or institutional structures and premises.
Disadvantages  of boundary wall
Maintenance
Lack of Consensus.
Expensive
Hassle
Wildlife
What is a Precast boundary wall?
Unlike onsite construction, precast boundary wall production and curing take place under controlled conditions, which ensures excellent quality and durability.
As a result of the optimal use of the raw materials purchased, precast boundary walls are cost-effective and may be utilised in numerous projects at the same time without being thrown away. The cost of labour is likewise lower, resulting in a better return on investment.
Also Read: What is roof and its types?
What is a ready-made compound wall?
The materials and processes used to create readymade compound walls are of the highest quality.
These prefabricated compound walls are utilized as a barrier in a variety of locations and are simple to erect. Furthermore, these composite walls are affordable.
Exquisite polish, crack resistance, and a pleasing appearance are some of the characteristics.
Precast compound wall manufacturing process
Molding process:
In this sort of manufacturing process, concrete is poured into a mould (plastic, Pvc, rubber, or steel) and then left to cure.
Colours, design, and size may all be changed depending on the situation.
Concrete usually takes 24 hours to solidify and reach the necessary strength.
There are two sorts of compound walls that may be made.
Reinforced Concrete Wall
Plain concrete wall.
Prestressed Method:
By applying a compression force to a reinforced concrete segment, pre-stressing may be achieved.
To prevent cracking in a section, the tensile stress must be reduced to a level below the cracking stress by pre-stressing. Because of this, the concrete does not fracture when poured.
Flexible material is created, which allows for the concrete to be treated as such.
Pre-stressing a concrete member can be done in two ways.

Pre-tensioning
Post-tensioning
Also Read: Different Types of Roof Trusses
Frequently Asked Questions
---
How to calculate running feet of a compound wall?
It is the length of an item that is measured in "running feet". "Linear feet" is another word for running feet.
1. Place the tape measure's end at the wall's starting edge.
2. Continue measuring until you reach the other wall edge.
3. You should be able to see the tape measure from one wall's edge to the other. This is the wall's running feet.
How to calculate the area of the boundary wall?
1. Determine the volume of compound wall = L X B X H
2. Estimating the cement sand and coarse aggregate used.
3. Estimating the quantities of material used in constructing boundary walls.
4. Estimating the total material cost.
5. Estimating the total labour cost.
How to calculate the area of the boundary wall?
Multiplying the running feet of the wall times the width of the wall to calculate the area of the boundary wall.
What is the maximum height of a boundary wall?
The maximum height of the boundary wall is up to 8 feet.
What is a chain-link fence?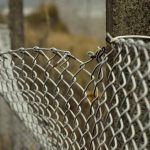 Chain-link fencing is a woven fence constructed of galvanized or LLDPE-coated steel wire. The wires are bent into a zig-zag pattern, with each "zig" hooking with the wire on one side and each "zag" hooking with the wire on the other.