As you all know, global warming is increasing day by day. Due to extreme weather conditions, home walls are affected. These extreme conditions may cause – chalking. That's why; you are facing paint chalking on the walls of your home.
So, this article brings you detailed information on chalking paint. Here, we talk about what it is, its causes, and strategies to prevent it.
What Is Paint Chalking?
It is the development of a very fine and light-coloured powdery residue on painted walls. It is seen on the outer walls of the structure that has environmental exposure. This powdery material consists of titanium oxide and extenders. Even though it is normal to some extent but an excessive amount of chalk is not fine. Nowadays, chalks on outdoor surfaces are a regular occurrence due to radiation. It also happens to interior walls. With time, paint damage is the main cause of wall chalk.
How Can You Determine Chalk on Your Walls?
It is quite simple for you to spot paint that has chalked. The following signs may help you to identify excessive chalk on your walls: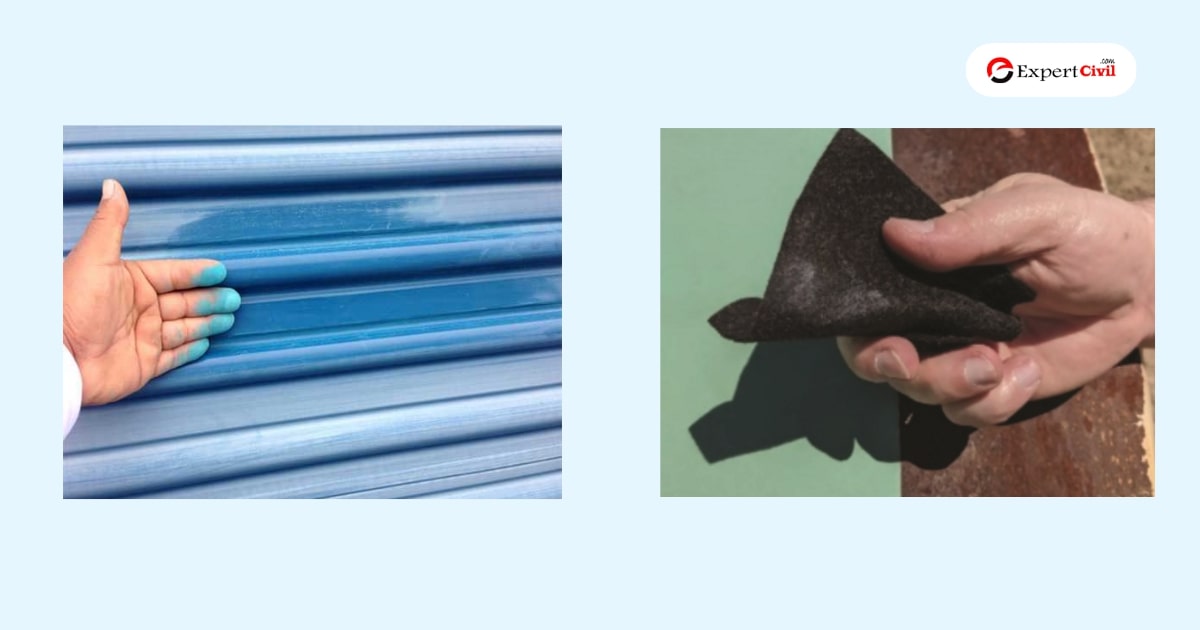 The paint becomes faded and a powdery substance develops on the surface. And, when wiping the surface with your hand, the pigment will cling to it.
Also, you can use a coloured cloth as proof.  Use a light-coloured cloth for dark paint and a dark-coloured cloth for light paint.
Hoping the above points will assist you to find out the paint chalking on your walls!
Also read: Different types of paints are used in building construction
Main Causes of Chalking Paint
There are multiple causes for the presence of chalk on your walls. But the main basics are discussed below in detail for your understanding. The causes are:
1. Old paint
The process of chalking paint becomes quick as paint ages naturally. It is increased if there is exposure to moisture and sunlight. Then, a new topcoat will restore your wall to its previous beauty.
2. Low-Quality Paint
The type and quality of your paint affect how quickly it deteriorates.  If the paint is of low quality, then it is understood as the cause of Chalking Paint. Paints of high quality are more resistant to UV rays. The fact is, quality is associated with the price of paint.
Generally, paint is a combination of pigment and binder. That's why; the low quality of the paint binder is the main cause of chalking. So, you should consider a high-quality binder for your walls.
3. Use Paint in Harsh Environmental Conditions
Early paint deterioration is due to the corrosive environment, such as coastal regions. In this process, paints react with oxygen from the surroundings which leads to chalk on the walls. It is advised to you always use paint that can endure environmental conditions. So, there are fewer chances of Chalking Paint on your walls.
4. Exposure to UV Rays
The main cause of chalking is the extreme exposure of our walls to UV rays. This is why it's important to check the quality of the paint. Because UV rays in sunlight affect the binder in the paints. Simply, it splits the binder from the pigment. After that, it causes chalk on the walls. Also, use paints that are compatible with UV rays. So, there will be no chance to get chalk on the walls.
How Can Chalky Residue Be Fixed?
There are many ways to fix chalky paint.
Some of them are discussed below:
Rub the surface with a finger or a cloth to determine the degree of chalking.
Pressure washes the area in case of a lot of chalking. Use pressurized water to clean the wall. You may also use a brush and detergent or soap to clean it. Then, rinse it completely.
To get rid of minor chalking, use a wire brush. Then, the surface is rinsed.
Allow a completely dry process of the surface for at least 24 hours.
To assess the quantity of chalk residue, recheck the surface with your finger. If there is no chalk then priming is not necessary.
If there is a moderate level of chalking available, use a penetrating ingredient in the first coat of water-based paint. So, the paint film adheres to the chalked surface. Chalk resistance is offered by a 100% acrylic finish than vinyl-acrylic paint.
Apply an alkyd-based masonry primer as the first layer of paint for noticeable chalk. Use a premium top coat to complete the wall.
Also read: All you need to know about Emulsion Paint
Steps to Take to Avoid Chalking Paint Defects on Painted Surface
There are following precautionary steps to avoid chalking on the painted surface. The main points are:
You should clean the surface thoroughly before a layer of paint is applied.
Always refer to the information sheet. You must follow all instructions or use the technique described in this article.
You must add the colouring pigment and mix it with a quality binder.
You should consider weather-resistant paint for outside walls. So, your walls will be protected from UV exposure to sunlight.
Before buying the paint, you should verify that no extraneous objects are present in the paint.
You can eliminate any shaky paint films.
You must avoid applying interior paint to exterior surfaces.
If you follow the above steps, we are sure you will avoid the chalk problem on your walls.
Frequently Asked Questions (FAQs)
How chalking can be affected by paint quality?
The paint quality has the main effect on chalk on your walls. As you know, paint is a mixture of pigment and binder. So, there is no chalk on the walls if you are using a high-quality binder in your paint.
What are the main reasons for paint chalking?
The main reasons for chalk on your walls are:
1) Low-quality paint.
2) Paint applied on a porous surface.
3) Exposure to UV radiations and moisture.
4) Due to high-pigmented paint.
Conclusion
In short, this article is all about chalking paint. In this article, we explained its effects, causes, and the solution to fix it. Now, you can use these ways to prevent chalking on your walls. So, if you have any queries about the topic, please mention them in the below section.
Also read: 7 Simple Wall painting Ideas for Your Room