What is Emulsion Paint?
Paint is any pigmented liquid, liquefiable, or solid mastic composition that converts to a solid film after application to a substrate in a thin layer. It is most commonly used to protect, color, or provide texture to objects.
It is Oil-based emulsion paints water-based (Water is used as a solvent) paint and also the most common type of paint. In a water medium, binder, pigments, additives are dispersed in a molecular form.
The different types of binders used in emulsion paint are alkyd resins, acrylic resins, epoxies, etc. Emulsion paints are water-based with vinyl or acrylic are more durable.
---
Emulsion Paint Definition
The tiny polymer particles within which pigments are trapped are called emulsion paints. The Emulsion paint usually consists of bases like zinc oxide, etc. ground in varnish. The particles are suspended in water, then as the paint dries the particles fuse together creating a film of paint on the wall. It can be used for both the internal and external faces of the building.
---
Constituents of the Emulsion Paint
| | | |
| --- | --- | --- |
| Constituents of emulsion paint | Percentage share of each constituent | Different types of materials are used as a constituents |
| Pigment | 25% | Titanium dioxide is used for reds, whites, and browns, chromium oxide for greens, iron oxide for yellows, and carbon is used for blacks |
| Solvent | 45% | Water |
| Binders | 25% | Acrylic or epoxy polymers |
| Additives (include biocides to stop algae and fungi growing on your walls) | 5% | A wide variety of additives are available according to requirements. |
Also read: 6 Things to Consider Before Hiring Commercial Painters
---
Application of Emulsion Paint?
They are easy to apply and they dry faster than other paints such as water-based paints and oil-based paints.
By following, "DIY" instructions of the manufacturer to paint the one can paint their house or walls with a brush or roller on their own.
Emulsion paints are ready to use paints just need to add thinner (water) before application.
The water is not added before application there might be a chance of occurrence of various defects on the painted surface.
It suits new wall faces as well as old walls, mostly used for walls and ceilings.
Easy to apply on all surfaces like concrete, wood, plaster, brick, and metal.
Emulsion paints are water-based with vinyl or acrylic for durability.
Emulsion paints can be applied with different types of mechanisms like spraying, brushing, dip, roller, and flow.
It comes in different finishes like gloss, satin, eggshell, flat Matt, silk, glossy, and semi-glossy.
It is available in different quantities from 1 Litre, 4 Litres, 10 Litres, 20 Litre packs as per requirement.
Without any pre-treatment, it can be applied to the surface.
Different types of products are available for external or internal applications.
Asian paints, Dulux paints, Nerolac paints, Berger Paints, and Shalimar paints are major companies providing a wide variety of emulsion paints based on where it needs to be applied (area of application) and the grade of Emulsion paint.
---
Properties of Emulsion Paint
The general physical properties of paint are Lightfastness, Heat stability, Toxicity, Opacity or Hiding Power, Color Temperature, Tinting Strength, Chemical Resistance.
Emulsion paints are humidity-resistant which makes them suitable to use for Kitchens and Bathrooms.
Emulsion paints are less toxic. It is safe for humans and pets. Almost every manufacturer claims that it possesses zero volatile organic compounds.
Emulsion paints washability varies from Medium to High level. Washability depends on the Surface sheen. The surface of the emulsion paint is hard. It will be easy to wipe the surface with water.
Wiping the surface of the emulsion paint once it becomes hard with water will not affect the color and quality of the emulsion paint.
Emulsion paints do not crack and dry.
Emulsion paints do not subject to sunlight or temperature changes.
Emulsion paints have good chemical resistance. They do not get affected by rain or any chemical substance. Emulsion paints are durable. The higher the amount of pigment higher the quality of emulsion paint.
Also Read: Top 10 Construction Companies In India
---
Advantages of Emulsion Paint
 The paint stays longer Emulsion Paint has an attractive smell.
Emulsion paints do not dry or crack in the sunlight.
 The quality and finishing of emulsion paints are better compared to distemper.
Emulsion Paint won't peel off when they are subjected to water or any kind of wetness.
It is washable and the color lasts a long time.
Disadvantage of Emulsion Paint
Emulsion Paints are expensive
Types of Emulsion paint
---
There are different types of emulsion paints available in the market. The following are the three major emulsion paints available in the market.
Vinyl Matt or Flat Matt emulsion
Vinyl sheen or Soft sheen emulsion
Vinyl silk or Silk emulsion
---
Vinyl Matt or Flat Matt emulsion
It is very Matt in look and feels. Nowadays, these types of emulsions are often described as durable or scrubbable which means they will remain hardy to wall faces. They are not easy to wipe off. Suitable for domestic and lighter environments.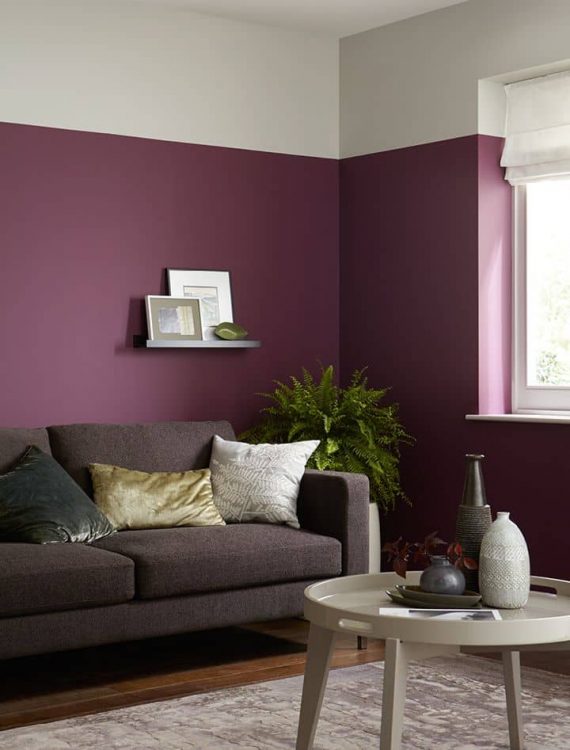 It is easy to apply on a wall and ceiling. Bedrooms, Sitting rooms, Dining rooms, and ceilings are the places where emulsion paint is usually applied.
Vinyl sheen or Soft sheen emulsion
Soft sheen emulsions are also called Satin emulsions. It has a slight shine to it and also offers long-term durability. Because of its humidity-resistant nature and shine, most people prefer to use it in wet places like the kitchen. Also, It is easy to clean.
Vinyl silk or Silk emulsion
Its high shine finish works well for humid areas. Vinyl silk paints are usually low odor and have a slower drying time. Vinyl silk also can provide a durable finish.
---
Difference between Vinyl Matt and Vinyl sheen
| | | |
| --- | --- | --- |
| Property | Vinyl matt | Vinyl sheen |
| Surface | Smooth, Rich, Hard, and Non-reflective finish. | It offers a shiny surface. |
| Durability | Durable | Long term durable |
| Suitability | Bedrooms, Sitting rooms, Dining rooms, and ceilings | Wet places like Kitchen and Bathroom |
---
Emulsion paint vs acrylic paint
Acrylic paint sticks to the surface and after drying it holds the other ingredients in place.
Emulsion Paint typically consists of pigment, resin, solvent, and additives.
Emulsion Paint is a water-based paint.
As compared to oil-based paint, working with Emulsion Paint is much better.
---
Market prices of Different emulsion paints provided by top manufacturers:
| | | |
| --- | --- | --- |
| Brand | Minimum price | Maximum price |
| Berger | Rs 310 per Litre | Rs 450 per Litre |
| Dulux | Rs 150 per Litre | Rs 450 per Litre |
| Asian Paints | Rs 140 per Litre | Rs 470 per Litre |

Also Read: Gypsum as a Building Material
---
Frequently Asked Questions
How to make emulsion paint waterproof?
There are two ways to make the water-based paint waterproof.
1.Brush on a coat of simple clear waterproofing sealer.
2. Stir in a paint additive before you apply.
How to use emulsion paint?
Prepare the surface like normal paint. For, thin emulsion paint use 50/50 with water. One can make their own primer by diluting emulsion paint 80/20 with water.
Use a brush, roller, rag, sponge, or airbrush to apply the emulsion. It usually takes an average of two hours to dry, depending upon the viscosity of the emulsion paint. When painting walls, always work toward the source of light. Experiment by painting emulsion over a coat of different colored oil-based paints.
What kind of paint uses a polymer emulsion as its binder?
Acrylic Paints uses polymer emulsion as its binder. The following are which uses polymer emulsion as a binder.
● Professional or Artistic Acrylics
● Student Acrylics
● Craft Acrylics
● Interactive Acrylics
● Exterior Acrylics
How emulsion paint is made?
Mixing the water in suitable proportion (50%) to the raw paint
What is acrylic resin emulsion paint?
Acrylic resins are a group of thermoplastic substances derived from acrylic acid, methacrylic acid, and other related compounds. More specifically, polymethyl acrylate is an acrylic resin used in its emulsified form for textile finishes, adhesives, lacquer, and other related products They are commonly the main ingredient in emulsion paint in the U.K. Acrylic resin is extremely waterproof, making it suitable for application to outdoor appliances and furniture. In its solid form, the acrylic resin can last for 30 years or more. It won't become yellow when exposed to sunlight.
How much water to add to emulsion paint?
Generally, the ideal quantity of water to be added to emulsion paints is 50%. We can add up to 80% depends on which coat we are adding water for.
What is the pigment? Film formers and thinner in Matt emulsion paint?
Pigments bring color to paints which is indeed a costly affair. To make the high-quality paint, the percentage share of the pigment should be more in the mixture.
How long does it take for emulsion paint to dry?
Preferred to let it dry for 6 to 8 hours but 4 hours is enough for it to dry
What is the solvent in emulsion paint?
Water is used as a solvent in emulsion paints.
How do you remove emulsion paint from clothes?
Emulsion paints that are oil-based can be easily removed by applying white spirit or turpentine.
The easy tip is to wash them before the paint becomes dry.
How many liters of emulsion paint do I need?
It depends on how much area needs to be painted. The following example gives an idea about how much quantity is required for a square meter.
Example:
Emulsion Paint: Dulux matt emulsion
Capacity: 13 sq.m/Litre/Coat
The quantity of Emulsion paint required for 100 sq.m is =100/13 which is approximately 7.7 Litre/coat. If the number of coats is two, the quantity required will be doubled. Then the final quantity of paint required will be 15.4 Litre.