Paint is very essential for a home, It protects the interior surfaces of walls. There are different types of paints are used in building construction. Let's discuss them one by one.
What is the paint?
A covering or wrapping of material. They provide protection or decorate metallic or non-metallic surfaces. Most often, they serve as both a protective and an aesthetic finish.
Any liquid solution containing pigment (dying substance) and solvent. which is applied to a variety of surfaces for ornamental or protective purposes. Paint is a combination of pigment and a solvent, often known as "paint thinner,"
Characteristics of Good Paint
Abrasion resistance

protecting ability

Easy to clean

Safeguarding the surface

Friendly to the environment

Aesthetic

Cost-effective and practical.
The elements of paint
Pigment:

It gives color and concealing properties.

Binder (resin):

 It provides adhesion and binds the pigment particles together.

Liquid:

serves as the pigment and binder's carrier.

Additives:

They help to prevent coating flaws.
Types of paint and their application
Let's have a quick summary of the various paint types and their applications.
1. Whitewash Paint
Calcimine, also referred to as whitewash, is a low-cost paint produced from chalk, salt, and slaked lime. In history, it was used to smooth out rough patches and remove dust and silt. As the whitewash peeled off over time, in the middle of the 19th century, whitewash was first applied to barns as part of routine maintenance. Whitewash is cheap and easy to make. 
Purpose of Whitewash 
Whitewash improves hygiene by smoothing and covering uneven surfaces.

This covering has antibacterial qualities that help animal barns' cleanliness and hygienic environments.

Many coats of whitewash create sheets of scale that at last flake off, any surface dirt in the process.
Making of Whitewash
To achieve the desired consistency, simply add water to white water-based paint.

A thin, translucent covering that doesn't need wiping or dry brushing.

It is formed with a paint-to-water ratio of 1:3.
Application of Whitewash
It is useful in constructing buildings and surfaces made of stone and wood.

Also beneficial In poultry houses, dairy barns stables, kennels, and other similar structures, 

Whitewash is best to remove odors and create cleaner environments.
2. Distemper paint
There are two types of distemper paints.
Oil-based Paint
Distemper made up of water is less flexible and durable. On the walls of the home, oil-bound distemper provides an unparalleled finish. This paint is of excellent quality, aesthetically pleasing, and comes at a low price.
The paint maintains great porosity in both new and ancient structures. it is useful for a variety of interior surfaces.
Water-based Paint
Water-based distemper paints are applicable without a base coating. They don't need a primer for base coatings.
straight on a cement-coated surface, and it will survive for several years.
Characteristics of Distemper paint 
A distemper is an affordable option that is used for rental buildings that need to have a new coat of paint applied each year.

It has a

unique odor.  

Easy to apply
Composition: is mostly made up of chalk, lime, and water.
Coatings: Rugged By applying it to a smooth surface, it is possible to make it smoother.
Durability: is less resilient than an emulsion. It is impossible to clean.
Cost: is affordable in terms of price.
Environmental benefits
Oil-based distemper releases fumes that are toxic to the environment. whereas water-based distemper is environmentally friendly.
Application of distemper paint
In the past, distemper was the most used interior paint for houses.

 In actuality, it is helpful for wall painting and other sorts of home decoration.

 However, it cannot become wet and is easily damaged.

It is useful for indoor surfaces because it is not waterproof.

It is often used in outdoor areas with little to no rain.

It is useful for decorating homes, including painting the walls.
 3. Emulsion Paint
The most popular option for interior painting of homes is emulsion paint. It provides a silky smooth finish and excellent coverage.
Cost: In contrast to distemper, it costs more.
Odor: has a smell, but it is not as strong as Distemper.
Composition: water and lime is made up of binders and a range of chemical colors dissolved in a solvent. An "emulsion" is created by suspending these particles in water.
Finishes: are incredibly smooth.
Durable: You can wipe away dirt.
It is difficult to apply:  A more experienced painter is required.
Environmental benefit
During the drying process, VOCs are emitted.

The gases can make you queasy if you breathe them in.

Some emulsion paint varieties still release harmful gases after six months of application.
Application of Emulsion Paint
 Emulsion paints are perfect for walls and ceilings since they are thick and simple to use

They are humidity-resistant and are used in steamy spaces like restrooms and kitchens

 Water is used as the medium in emulsion paints for the transfer of paint pigment to the area.
Also Read: A complete guide on Emulsion Paint
4. Oil Paint
Oil paint is a type of slow-drying paint that is made up of pigment granules contained in a curing oil. When exposed to air, the oil paint dries and hardens to a vibrant coating. Because oil and water repel one another. That's why oil paint and water cannot function together. Oil painting needs other solvents like zest and turpentine.
Linseed oil: Pigments when mixed with oils, usually linseed oil, form the basis of oil paintings.
Duration: oils take much longer to dry.
Blending and mixing
 Oil paints have wetness and slide over your canvas easily due to their long drying times. It is very easy to blend and mix colors with oil.
Greasy texture: It is hard to remove oil paint with water.
Application of Oil paint 
Oil paint is useful for wood, some metals, ceramics, canvas, or thicker boards. 

These paints perform best when a foundation layer of primer is applied due to their oily base.

It has a slow drying process which is why it helps paint on glass animation.
5. Aluminum paint
Its composition includes aluminum powder and varnish.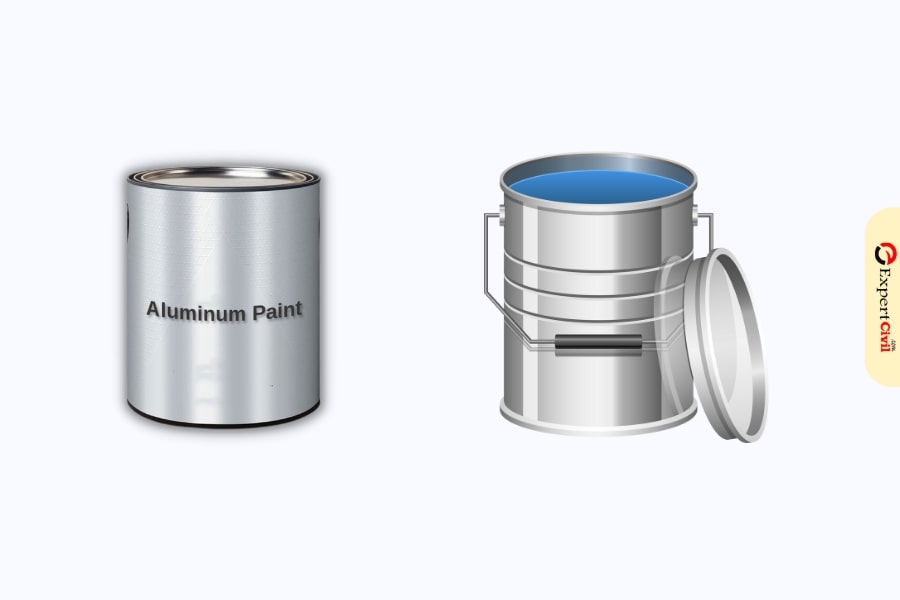 Temperature withstands: Aluminium paint can withstand temperature extremes up to 150 degrees Celsius.
Rusting: because of its water resistance. It prevents rusting.
Properties: corrosion resistance heat resistance and thermal insulation.
Durability: It is durable strong, and long-lasting.
Chararastics of Aluminum Paint
Heat resistance paint

Corrosion resistance

Thermal insulation
Above are all the excellent protective qualities of aluminum coatings.
 A major class of paint 
One of the great types of paint that is useful with oil, grease, and chemicals due to its long-lasting nature.
Application of Aluminum paints
Aluminum paint is a premium coating, a super high-class product.

It provides metal surfaces with a shielding, shiny appearance.

Because of its water permeable qualities, you can use it to prevent corrosion.

It also prevents corrosion on the surfaces such as metal gates, grills, ceilings, and pipes.
6. Enamel paint 
Enamel paint has a highly lustrous surface when it is fully dried.  Enamel paint has a high lustrous surface when it dries. whereas enamel paint has an oil-based and shiny finish.
 Characteristic of enamel paint 
They turn yellow over time

Glossy appearance 

Enamel paint dries hard

Creating a long-lasting

Rust-resistant layer.
Waterproof: Enamel paint is waterproof with an oil-or lacquer-based base. 
Stain properties: It offers outstanding stain properties and durability.
Durable: enamel paint finishes require more time to
Application of Enamel paint 
Enamel paint is useful for the decoration of outer walls

It is also appropriate for painting kitchens, bathrooms, stairways, doors, and windows. 

Enamel paint is useful for the decoration of outer walls and external applications.

It is used for aluminum, wood, and metal surface.
7. Cement-based paint
Apply cement paint on brick, plaster, and concrete surfaces. It performs well on porous surfaces. Cement paints often have a matte or smooth appearance. The tools and machinery needed to make cement paint are accessible and affordable. It provides all types of cemented walls and surfaces with excellent protection. It protects against weather conditions such as rai heat water and humidity.
Waterproof: white cement offers a high level of waterproofing.
Cement: cement paint provides excellent UV protection for all types of stone surfaces.
Varieties:  paint has many colors and varieties.
UV protection: UV protection is excellent in cement-based paints.
Characteristics of Cement based paint 
Protect cement walls against the harsh climatic conditions 

Stop the formation of bacteria and fungi on the brick surface.

Adds a lovely appearance and color to all types of bricks
Application of cement-based paint  
Cement paint is water-based paint.

It is useful to the exterior or interior of a building, including brickwork and concrete.
It is useable to paint exterior wall surfaces to stop water infiltration.

It is useful to reduce dirt accumulation.

It is useful for coating concrete and decorating the interior and exterior walls.
8. Acrylic paint 
Although most acrylic paints are water-based, they become water-resistant once dried.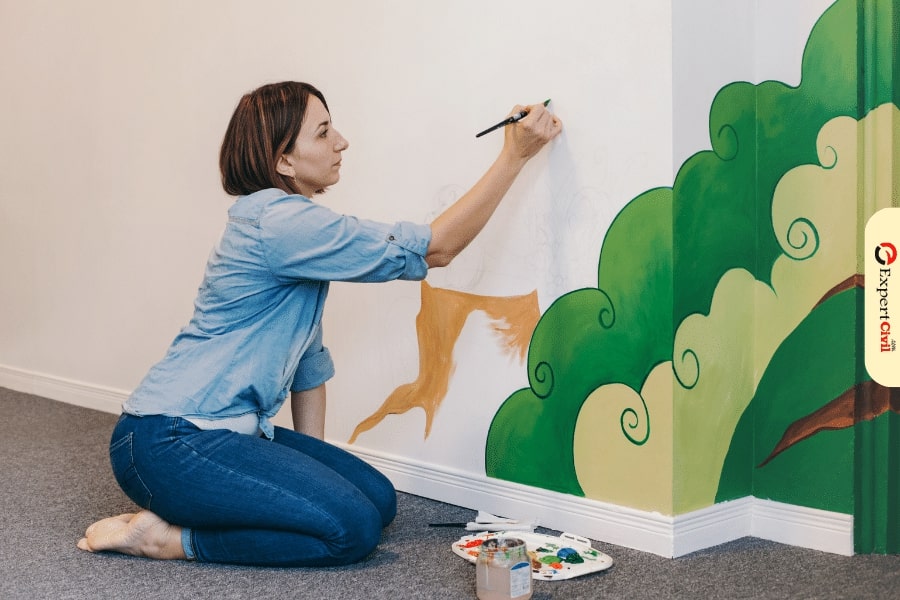 Composition of Acrylic paint
It contains pigment in an acrylic emulsifier with silicone lubricants and defoamers. Plasticizers, stabilizers, or metal soaps are the main pigments of Acrylic paint.
Characteristics of acrylic paint 
Versatile 

Least toxic 

Flexible water resistant 

Durable 
Application of Acrylic paint
Acrylic paint is flexible and useful in various materials such as cloth, wicker, glass, metal, and ceramic.

Acrylic is best for crafts, painting, and mixed media work.

Its flexibility, hardness, adhesive properties, and low toxicity makes it excellent for use.

Acrylic paint is useful for materials like canvas, wood, metal, textiles, and ceramics.
9. Anti-corrosive paint
Anti-corrosive paint has corrosion-resistant pigments in its composition. These pigments are Zinc dust, zinc chromate, lead chromate, zinc oxide, and red lead is suitable for surface material composition and the field atmospheric temperature.
Characteristic Anti-corrosive paint
 Quick drying 

 Hardening properties. 

Fight against rust

Water resistance and good impact resistance.

Abrasion resistance
Application of Anti-corrosive paint
Anti-corrosive paints provide protection for structural steel against acid fumes and lousy weather.

It covers the metal parts from oxidation salt spray moisture exposure.

It protects against different weather conditions industrial chemicals and other damages.

It protects everything from harsh environmental conditions including buildings, tunnels, and cars.
Also Read: 6 Things to Consider Before Hiring Commercial Painters
10. Lead paint
Lead paint is any colored liquid apply on a surface with a brush, roller spray, or another tool. It contains no more than 0.06% lead by weight.
Lead poisoning: Most cases of lead poisoning in children occur when they absorb lead-based paint from homes.
In

1977 the CPSC in the US

banned the use of lead paint to cut the risk of lead poisoning in children.

The first choice

holds the colors in a much better way than other paints. That is why it is the first choice of painter
Characteristics of Lead paint 
It has a

lustrous and glossy appearance. 

Lead (II, IV) oxide pigment

s, also known as "chrome yellow" 
Adding lead to the paint
 

Increased moisture resistance 

Speed up the process.

Retain durability. 
In the past, it was a low-cost, efficient method of producing paintings.
Application of lead paint 
It has a permeable quality that why it is useable for the prevention of corrosion on surfaces.

It prevents metal gates, grills, ceilings, and pipes from corrosion.
11. Bituminous paints 
Bituminous paints, also known as asphalt coatings, are a special type of paint. It is a versatile paint.
Composition of Bituminous paints 
Combine bitumen or coal tar, and dissolve it in mineral alcohol or naphtha. It is applicable in liquid form or a semi-liquid state.
Characteristics of Bituminous paints
Improved waterproofing membrane. 

Strong 

Very flexible

Adhesive properties 

Durable and cheap

It is available in spray and brush form for application to iron and steel structures, castings, and the structural concrete surface of asbestos and cement sheeting.
Application of Bituminous paint 
Building for damp proofing, waterproofing, and

corrosion-resistant applications

for various structural components. 

It works as a sealant and exterior coating on asphalt, metal, and wood and as a waterproofing agent on concrete and pipes.

 It provides weather resistance.

Bituminous paint works on concrete, wood, masonry, ferrous and non-ferrous metals. 

It works best on steel flashing, fire exits, stair railings, staircases, rails, and fences.

 it has a wide range on a large scale.

 One of the best uses of bitumen paint is for

yachts in the marine industry

.
12. Synthetic rubber paints 
Synthetic rubber paints are the combination of polymerization of unsaturated hydrocarbons. Its price is in the moderate to average range. Its appealing smooth finish offers cost-effective protection and outstanding chemical and water resistance.
Chararastic synthetic rubber paints
long-term insulation, 

Protection,

Shielded from moisture, 

Minimizing electronic leakages, 

Overheating, 

Flash-overs,

Faulty wiring, 

Chemical resistance 

Earthing.
Application Synthetic rubber paints 
It is useful for both interior and exterior from swimming pools to lane markings.

It dries so fast and it applies to many surfaces, including steel, cement, roadways,

It applies to concrete surfaces fiberglass and plastic surfaces.
Advantages of paint
It is the simplest and least expensive technique to instantly transform a room.

Quietly highlight the features of your interior.

Paint requires far less time for preparation than wallpaper.

It can conceal damaged wall

Improve indoor air quality

Increase the home's aesthetic appearance
Hides stains and permanent marks.

Interior surface protection.
Advantages of paints for home
Protection

Aesthetics

Value

Personalization

Resist wall stains

Productivity
Also Read: Complete Guide on Wall Putty