Construction equipment is heavy machinery used in large construction projects such as highways, multi-story buildings, dams, bridges, and platforms for heavy equipment. Construction equipment makes the construction process easier and faster. When performing a task, it is more efficient and cost-effective to use multiple types of equipment.
The equipment listed below can be used at various stages of construction.
Construction Vehicles
Equipment for Earth Moving
Concrete Mixer Machines
Material Handling Equipment
Tremix System
Miscellaneous Equipment
1. Construction Vehicles
Trailer Truck
A trailer is a vehicle that is not powered and is towed by another vehicle. It is commonly used to transport products and materials such as concrete, steel, TMT Bar, and rods.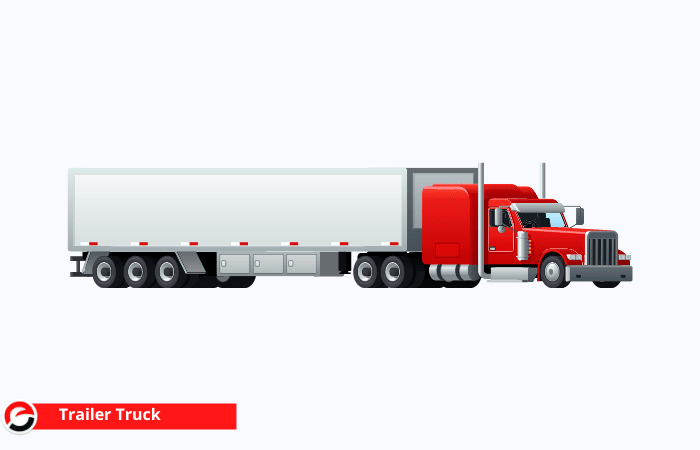 Dumper
Frequently used on construction sites for the purpose of unloading bulk materials. The arrangement distinguishes unloaders from dump trucks.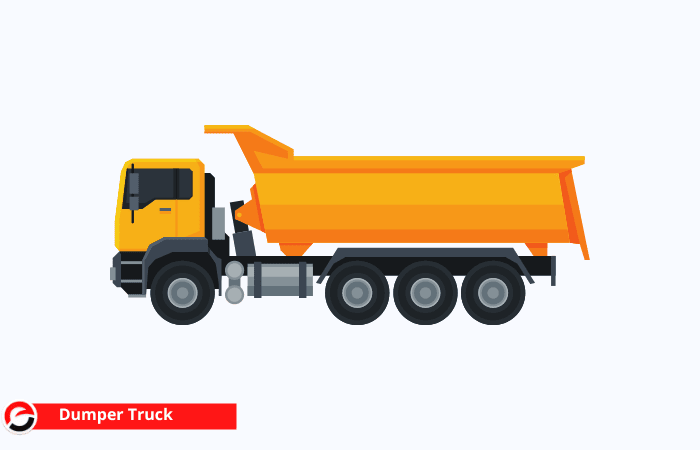 Tipper Truck
Dump trucks, also known as unloader trucks or tipper trucks, are used to transport dumps from construction sites. A tipper is a big vehicle with an open-top body that is used to transport piles of concrete, crushed stone, soil, and other materials to and from construction sites.
2. Equipment for Earth Moving
Earthmoving equipment is used to perform many types of digging operations, such as excavation. Every piece of earthmoving equipment has a specific application and is mostly used for construction, maintenance, and demolition.
Excavator Vehicle
These are well-known earth-moving machines with a vessel, arm, rotating cab, and moving rails. These components provide significant digging force and versatility, allowing this large machine to perform a variety of tasks, including burrowing, breaking holes, and digging.
Loader Vehicle
Loaders are large construction machines that load or transport items such as demolition debris, recyclable material, soil, gravel, wood logs, snow, and rocks onto other machines such as a conveyor belt, garbage truck, or railroad car.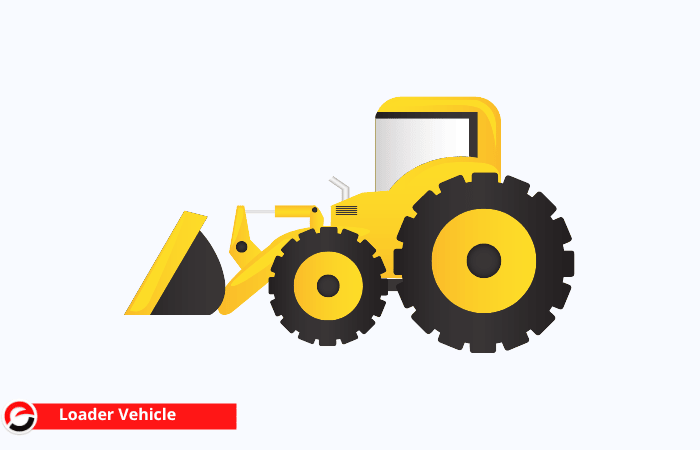 Bulldozer
A bulldozer is a large, heavy farm vehicle with a massive metal plate that is used to push large volumes of sand, soil, stone blocks or other similar material during excavation or construction work. It is frequently fitted with a claw-like tool at the back to relax densely crushed materials.
3. Concrete Mixer Machines  
There are a few types of mixers are available in the markets
Self-loading Transit Concrete Mixer
Self-loading concrete mixers are powerful concrete mixers that significantly minimize labor and time on building sites. While en way to your desired location, a single Operator can weigh and load the exact amount of cement, sand, and aggregates from numerous sites, as well as mix the concrete. A single operator completed all of this in a short amount of time.
Self-Loading Concrete Mixer Features 
Four Wheel Drive
Reliable, High-Performance Concrete Mixing
Compact Design
Fully Automatic Operation
Reversible Drum Mixer
Sand, cement, and other materials are digitally weighed and loaded into reversible drum mixers' heavy-duty mixer drum. In this reversible drum, concrete is mixed in forward rotation and discharged in a reverse spin. Depending on your needs, you can choose from a single bin, three bins, or four bins.
Concrete mixer with Digital weighing system
 A 1000 Concrete Mixer with Weigh Batcher or Digital Weighing System is used to mix measured amounts of cement, sand, and other aggregates to form concrete of the specified grade. The Concrete Mixer has a capacity of 10/7 Cft and two separate weighing bins.
To maintain proper cement mixing ratios, both Bins use a load cell-based weighing mechanism. The automatic water pump will turn off once a particular volume of water has been pumped into the cement mixture.
Hydraulic Concrete Mixer
In hydraulic concrete mixers, hydraulic discharge is utilized to tackle the issue of increased wear components and labor intensity in the drum concrete mixer feeding system. This hydraulic cement mixer has smooth feeding, simple operation, and low cost, and is suitable for mixing hard concrete, plastic concrete, flowing concrete, light aggregate concrete, and all types of mortar on general construction sites, roads, bridges, water conservancies, wharf, and small and medium concrete plants.
Hand Feed Concrete Mixer, Winch Concrete Mixer, Concrete Mixer With Hoist With Hopper, and Mini Mixer are examples of various types of mixers.
Also Read: Different Types of Concrete Mixer or Concrete Mixing machines
4. Equipment for Material Handling
Crane
A crane is a mechanism that lifts and lowers things and moves them in a parallel manner. An elevator rope, strong cable or chains, and bundles are used in its construction. It is mostly used to lift and transport heavy items such as TMT bar, steel, blocks, and other similar items.
Cranes employ different types of spreader bars based on their specific applications, which can be conveniently supplied through 
spreader bar rental
 services, offering versatility and efficiency in handling diverse loads.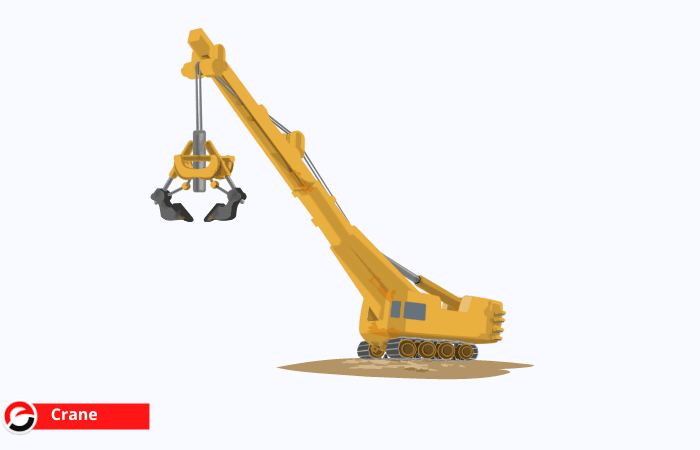 Forklift
It was created in the twentieth century and is essentially an industrial truck that is used to transport and move items across short distances.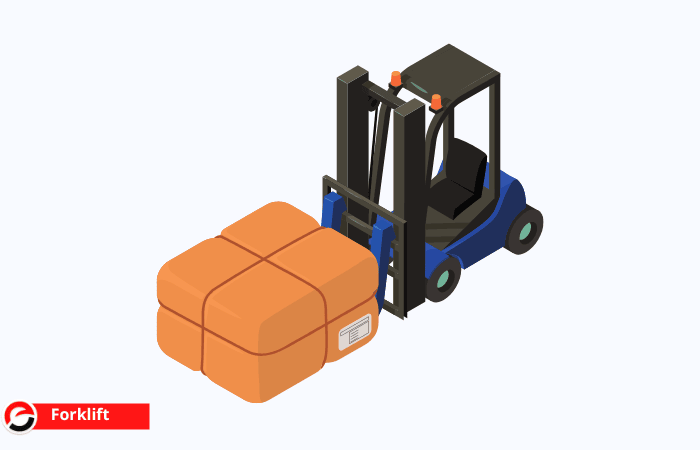 5. Tremix System
Power Trowel Cum Floater
Dewatering is followed by flotation and troweling. A floating disc is used for this operation. This compacts the cement and allows for a very smooth finish to be achieved. Trowel blades are used to further improve wear resistance, reduce dusting, and achieve a smoother finish.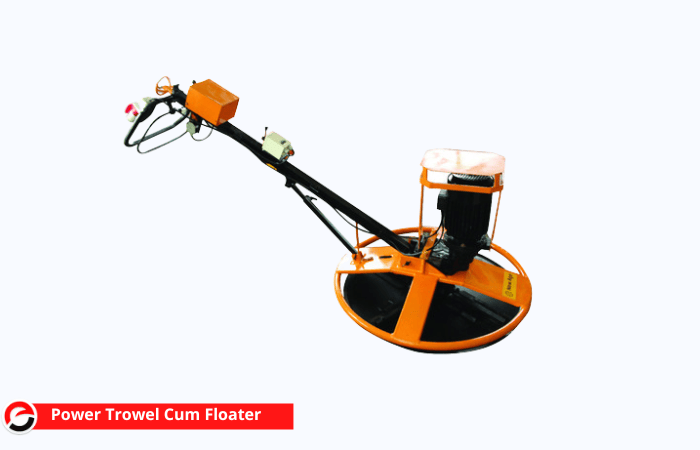 Double Beam Screed Vibrator
A double beam screed vibrator is made comprised of a beam unit and a vibrator unit. The concrete is vibrated using a double beam screed vibrator to create a compact and levelled surface. These self-traveling vibrators just need to be guided along with the formwork and dragged at the ends by two operators without having to work in the concrete.
Groove Cutter
Concrete cutter is another name for groove cutter. It's utilized in RCC roadways to cut grooves.
Vacuum Pump
A vacuum pump is used to lower the amount of water in concrete by 15 to 25%. The dewatered concrete has been compacted and dried to the point where walking on it leaves no tracks.
6. Other Types of Construction Equipment
Bar Bending Machine
For TMT bar bending, bar bending machines are widely utilized on construction sites. Safari Construction Equipments is a leading supplier of high-quality bar bending equipment at affordable pricing.
Also read: Preparation of Bar Bending Schedule (BBS) and Their Importance
Bar Cutting Machine
TMT bar cutting is done a lot on construction sites with bar-cutting machines. Safari Construction Equipments is a leading provider of high-quality bar-cutting machines at affordable pricing.
Rotary Sand Sieving Machine
Sand sieving machines are made using the best raw materials available. Sand sieving machines are used on construction sites to filter sand. These devices are suitable for both household and commercial applications.
Earth Compactor
Earth Compactor machines are made from the highest quality materials and are powered by a three-horsepower electric motor. Before laying paving bricks, these heavy-duty plate compactors are used to level the ground. With competitive rates, SAFARI is a prominent Earth Compactor producer and exporter.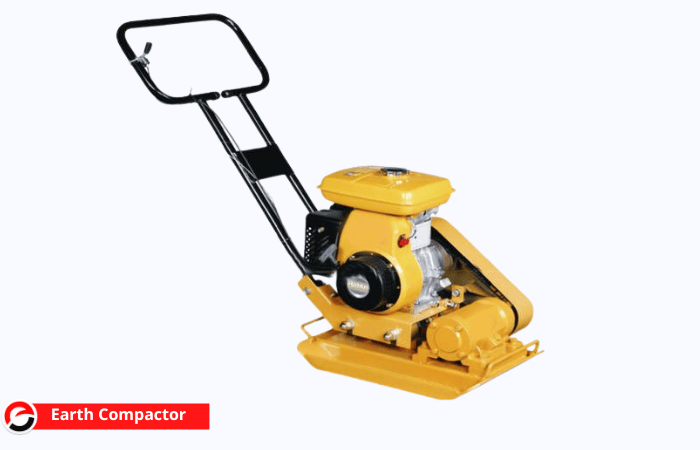 Column Feeder
A Column Feeder Machine is a specialized machine used in commercial or industrial projects to pour concrete into column formwork for the construction of concrete columns. A high-quality concrete mixture is made in a concrete batching plant and then transferred to the bucket of the column feeder machine using a tiny crane or a builder hoist lift. This bucket then climbs vertically to the discharge chute, pouring concrete.
The height and angle of this discharge chute can be changed so that concrete is discharged or poured directly onto the column formwork. A remote control device makes it simple to make these adjustments.
Also Read: 11 Steps in Construction of multi-story Buildings and Advantages and Disadvantages of Construction Equipment
FAQs
Why is construction equipment Yellow?
Reason 1: The use of yellow as the predominant colour of heavy equipment has become industry standard. This isn't the norm, and there's no rule that says it has to be that way. Many firms have distinctive colours for their heavy machinery and equipment. For example, Hitachi's excavators are painted 'Safety orange.' Yellow is most commonly associated with warning and visibility. Because all heavy gear used in mines or construction sites must be handled with extreme caution, they are painted yellow.
The aim is that there must be a striking contrast between the work environment and the surrounding environment to alert bystanders and motorists to the existence of these devices. It's a matter of safety. Reflectors and reflective tapes are used to achieve this goal.
 
Reason 2: At least during the day, human eyes are most sensitive to that wavelength of light (550 nanometres). Because of this reason, most heavy vehicles, construction equipment, and safety devices are yellow in color.
How many years do you depreciate construction equipment?
Within a year of purchase, most heavy equipment loses 20 to 40% of its value. Depreciation schedules tend to be linear after that. Many types of heavy equipment have a useful life duration set by the IRS for depreciation reasons. It's five years for trucks.
If possible, the depreciation schedule should be prepared immediately following settlement. This allows the surveyor to see your property in its original form. The good news is that the depreciation schedule only needs to be prepared ONCE, not every year as some people believe.
In any case, it is contingent on how well the consumer maintains the equipment and how well the operator operates it.
How much do construction equipment operators make?
Take-home pay ranges from Rs 18,000 to Rs 22,000 per month, depending on the operator's experience and the equipment he or she is responsible for.
What does cat stand for in construction equipment?
Caterpillar Inc. (abbreviated as CAT) is a Fortune 100 company based in the United States that designs, develops, engineers, manufactures, promotes, and sells machinery, engines, financial products, and insurance to clients through a global dealer network.
We are sorry that this post was not useful for you!
Let us improve this post!
Tell us how we can improve this post?