Today, construction vehicles are a great option to complete your construction project. You can choose the machinery according to your needs and job type. For that reason, there are several options available to choose from. This article presents the most common construction vehicles for you. Now, you can select your vehicle according to your task. So, read on to get further information. Let's get started.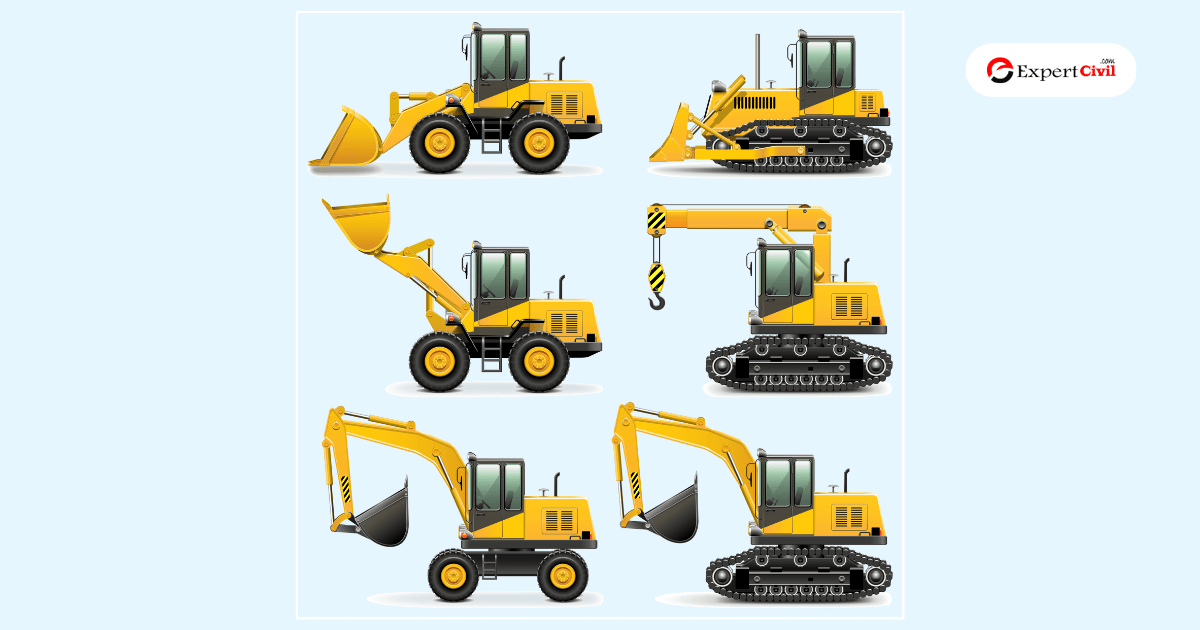 What are Construction Vehicles?
Construction vehicles are large, heavy-duty vehicles used for construction projects. Examples include bulldozers, excavators, cranes, backhoes, dump trucks, graders, and forklifts. This type of machinery will help you in projects including earthwork activities.
These vehicles can assist you in completing your tasks. There is a variety of machinery, and each machine has a specific purpose. The use of specialized equipment always aligns with the needs of a project. The project benefits from the efficient use of the right equipment in terms of cost, quality, safety, speed, and time.
Reasons to Use Construction Vehicles
There are several reasons to use vehicles at your job site. The main reasons are discussed below:
The use of construction machinery makes it possible to complete work on time.
The cost of the project is reduced.
Less labor is needed to complete the project.
Using a power shovel and other tools, excavation work can be finished rapidly, resulting in increased productivity.
Construction materials must be transported using equipment like trucks, wagons, and dumpers.
Heavy-duty lifting tools like cranes can help to transfer heavy objects.
The quality of the work is improved due to construction machinery. For instance, the paving machine is used to spread, compact, and polish concrete.
Construction equipment also facilitates the mixing and transportation of concrete.
Most Common Construction Vehicles
Nearly every type of construction vehicle is used on a building site at some point. Below is a list of many types of construction machines:
1. Asphalt Paver
Pavers are used for paving projects, including roads, parking lots, and walkways. Asphalt is distributed and compacted by pavers, and then the pavement is smoothed by a roller.
Some asphalt pavers are self-propelled, while others are attached to tractors or trucks. Asphalt pavers come in a variety of styles and horsepower levels. The following points must be considered during their selection:
Key feature: Asphalt pavers use a screed unit that flattens and compresses the material, and also levels it until it becomes smooth.
2. Backhoe
A backhoe is also known as a back actor or a rear actor. It is a very common machine and is used for many different tasks. A hoe arrangement is located on the vehicle's backside and a loading bucket is attached to the front.
It is ideal for lifting and unloading a range of materials. It is used for excavating ditches below machine level and is also used for trenching and lifting various items.
Key feature: Backhoe is a machine that helps to move materials and is also used for trenching purposes on your construction site.
3. Bulldozer
A bulldozer is a large and motorized machine used for soil excavation on building sites. The bulldozer's front part is equipped with a large metal plate, which is used to remove soil. Also, hydraulic pistons are used to lift and lower the plate.
Bulldozers are used to remove weak soil and to raise the soil. Sand, soil, rock, and debris are pushed and moved by the metal blade. Building roads, demolition, and other types of construction all require bulldozers.
Key feature: Bulldozers push heavy loads of materials through various types of terrain.
3. Dump Truck
Heavy vehicles called dump trucks are used to transport debris from one location to another. Dump trucks have an open-box bed at the back and hydraulic rams to elevate the front part, which enables it to unload debris at the back of the machine. These trucks can be used for mining and construction.
Key feature: Dump trucks feature deep beds that make them ideal for hauling and unloading materials. 
4. Cranes
Cranes are an essential tool in all types of construction operations. They are used to lift and move large objects.
There are several different types of cranes:
Wheeled crane
Tracked crane
Stationary crane
Mobile crane
They can assist you with a range of jobs, and you can find a specialized crane to meet your demands. Cranes can lift large objects to great heights, such as up to 265 feet or even higher.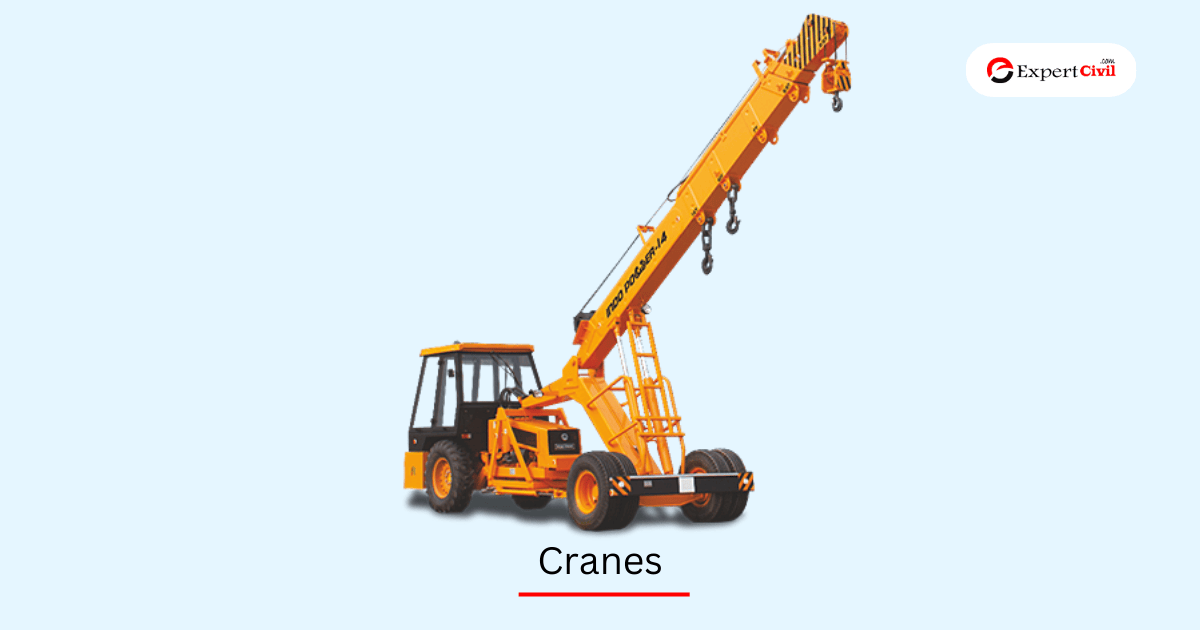 Key feature: Cranes are a common vehicle in the workplace, and this machinery can be used for lifting materials at heights.
Also read: 18 Different Types of Cranes Used in Construction
6. Trencher
Trenchers are very versatile pieces of construction machinery with multiple uses. They come in a variety of sizes and types, ranging from compact walk-up trenchers to large machines. Their adaptability is highly appreciated. Trenchers are used for preparing for trench warfare, digging trenches, and providing drainage.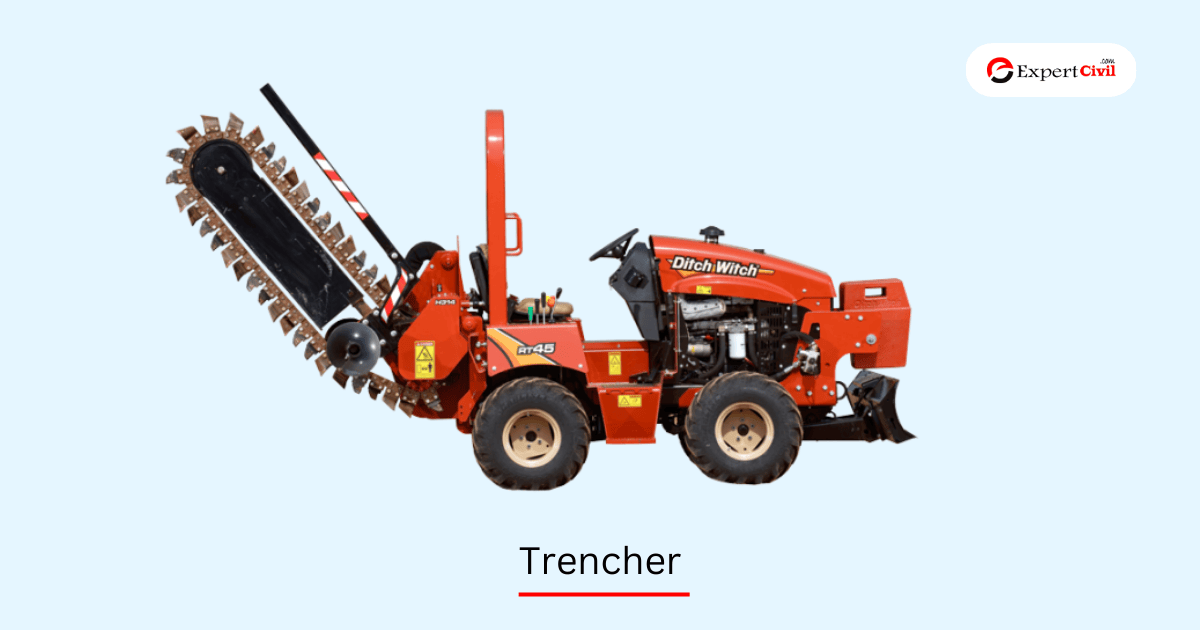 Key Feature: A key feature of trenchers is that they move a lot of dirt with them, leaving smooth sides and flat bottoms.
7. Excavator
On a building site, excavators—commonly referred to as heavy construction equipment—are an important vehicle for your construction project. Excavation is the most significant and crucial operation on any building site.
An excavator is one of the most expensive pieces of construction machinery, made up of a bucket, cab, dipper, and boom set on a movable platform. They come in several sizes, with the smallest being referred to as compact excavators.
Key Feature: A key feature of this essential machinery is that it excavates material with its bucket and arm, and can work on a variety of terrain types due to the usage of movable tracks.
8. Forklift
Forklifts can lift and move heavy objects over short distances. These powered industrial trucks are used in warehouses and construction environments and are excellent for lifting and carrying palletized items overhead.
When selecting a forklift, it is important to consider your unique material-handling requirements. Forklifts vary in terms of maximum lifting capacity; arms reach the length and tire type.
Key Feature: Forklifts have a double-pronged attachment, allowing them to lift and move large items.
Also read: 10 Different Types of Forklift Trucks – Features, Uses and Safety Checklist
9. Telehandler
Heavy materials can be carried and placed precisely by telehandlers. Telehandlers offer the pallet-lifting prongs of a forklift, as well as the expanded range of motion of a crane. This is why they are regarded as a mix of a crane and a forklift. Telehandlers' telescoping booms can move diagonally, up and down, and left and right. As a result, telehandler operators can carry a variety of loads on a single job site.
Key Feature: Telehandlers provide unparalleled stability on uneven surfaces, as well as heavy-duty lifting capability and mobility for carrying items.
Also read: 8 Different Types of Construction Lifts For Construction
10. Double Drum Roller
Double drum rollers are ideal for flattening surfaces in preparation for construction projects. They are powerful devices for compressing both soil and surfaces. If you need to level uneven terrain before paving, a double drum roller is the perfect tool. It flattens the foundation to make construction easier.
A double drum roller has two steel drums, one in the front and one in the back. Of all the types of compactors available, the double drum roller provides the best results.
Key Feature: It has two steel drums that enable the machine to quickly and efficiently flatten surfaces.
11. Crawler Dozer
The crawler dozer is one of the most powerful construction equipment tools. Crawler dozers are among the more stable tracked vehicles, featuring many blades on their fronts to help move material. They are used in pioneering projects such as building new roads or clearing mine overburden.
Smaller crawler dozers are also used as grade tractors, offering automation for the creation of complex contours.
Key Feature: Crawler dozers have the main feature of moving objects to build new roads.
12. Front Loader
A front loader is a piece of earth-moving equipment. It is also known as a scoop loader, bucket loader, or front-end loader. A front-loader is a bulldozer-like machine that is elevated above the ground. Its huge wheels enable it to move across difficult terrain. It has a moveable arm to move objects. The bucket can be permanently attached or removable.
The bucket can sometimes be replaced by other machineries, such as forks or buckets. The front loader's main job is to move soil. It works on construction projects and road maintenance and can transport building materials, such as bricks, pipes, and digging tools.
Key Feature: Front loaders are used to move items, even on difficult terrain. They also help to remove dirt and are used for road maintenance.
Also read: Different Types of Soil Excavation Tools and Machines In Construction
13. Grader
Graders are known as road graders or motor graders. They are important pieces of construction equipment with long blades. The main duties of a grader are to level surfaces and remove small amounts of debris.
Graders are used in the construction of roads and the maintenance of dirt roads. Graders are also used to create broad, flat foundations for courts. They are also used to create foundation pads for local soil.
Key Feature: Graders are mainly used for the construction of roads and leveling up surfaces.
14. Concrete Mixer Truck
Concrete mixer trucks are used to mix concrete, cement, water, and other materials using a hydraulic engine. The resulting concrete is ready for use in a range of commercial and industrial applications.
Key feature: A mixer drum gives employees access to a ready supply of concrete.
Simple Guide for Buying Construction Equipment
A quick buying guide for you is discussed below:
You must determine your needs on the construction site and consider the job site conditions, such as the environment.
Always make a list of the vehicles you need during your project and consider which machine will best suit your task.
Consider the brand's reputation before purchasing your machine, and if you buy it online, check the vehicle's warranty and after-sales support.
Read the specifications of the machinery, and buy the vehicle according to your financial range.
Research the safety features of the vehicle and make sure it meets all necessary safety standards.
Make sure to check the fuel efficiency of the vehicle and compare it to other models.
Consider the maintenance costs of the vehicle and make sure you can afford them.
Conclusion
This article is all about construction vehicles and their uses. Surely, this article will help you out when you are making a purchase of machines. For example, you can buy forklifts, boom lifts, or excavators for your project. Your decision may change depending on your working environment and the task. So, always make sure to consider the need of each vehicle in your project. We hope you will find this article useful!
Also Read: 21 Types of Construction Equipment