Definition of Culvert
Culvert is a tunnel that can provide a way of a bridge to traffic so they can pass on it. It carries a natural flow under the road or railway line.
What is a culvert for drainage?
A drainage culvert is a culvert provided for the free flow of water under obstructions like roads, railways, trails, etc. these structures are generally covered by soil but they may tend to be above the ground. For the drainage culvert, different materials were used. Mostly reinforced concrete pipe is preferable for all kinds of situations but galvanized steel pipes are suggested for a few cases.
Purpose of culvert
The purpose or uses of a culvert is to provide a way as a hydraulic structure to any stream or flow under or over roads, or railways. Also serves as a pathway to traffic when it is constructed under the roads-, and trails.
Also Read: Reservoirs
Types of Culvert 
1. Pipe Culvert (Single or Multiple)
A pipe is used to move water away at an excavated place, and then it is known as a pipe culvert. it can be a single pipe culvert or multiple that can be depending on the span of excavated place.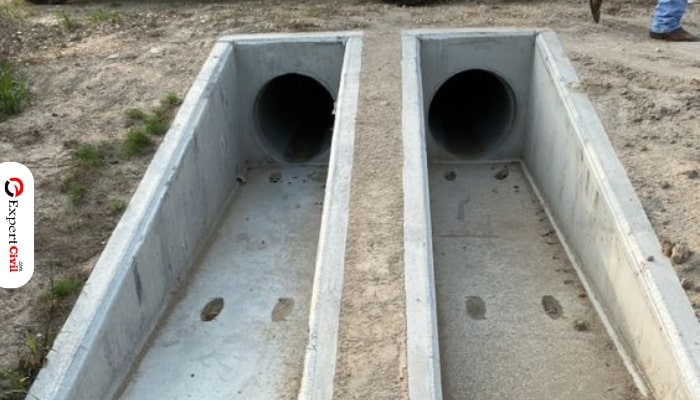 A pipe culvert is commonly used in every place because it is economical, and gains proper strength through proper mixing in the case of concrete pipe. It may be circular, elliptical, pipe arch, etc.
2. Pipe Arch Culvert (Single or Multiple)
A pipe arch culvert is very aesthetical for the view purpose. It is very suitable for large waterways and provides great hydraulic advantages. The arch culvert provides low clearance and a very artistic view.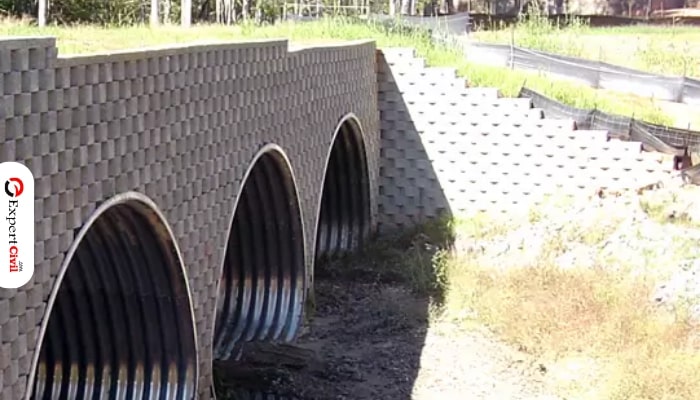 It is cost-effective and easy to install. It provides more hydraulic facilities at low flow and is lightweight also.
3. Box Culvert (Single or Multiple)
A box culvert is mainly made from concrete, RCC, etc. which provides greater strength to the structure. But the main point is we need water-free(dry surface) for the installation of this culvert. So water direction can be changed as heavy water flow is expected.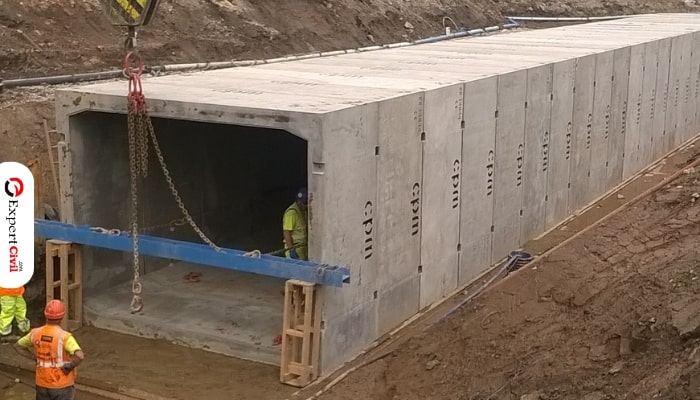 It is economical and more used in the aspect that it has an easy and simple construction. used for weak foundations because it has a solid bottom slab which reduces the pressure on the soil.
4. Arch Culvert
As we know it gives a good aesthetic view. In arch culvert stone masonry, concrete, RCC, etc. material is used. As we know this diversion of water is not necessarily so easy to install and construct. That's why it is a low-profile culvert.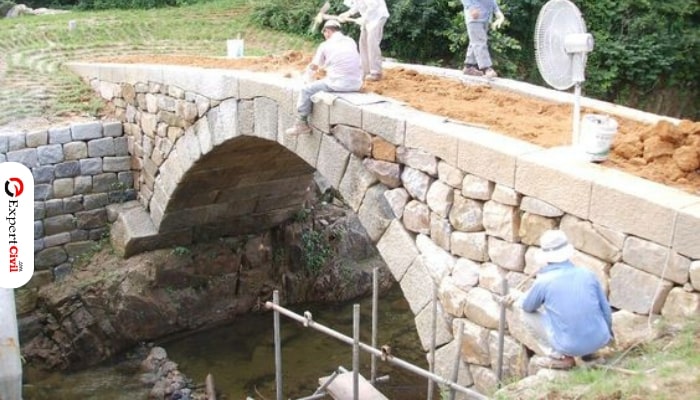 5. Bridge Culvert
A name itself shows that it serves more than one purpose. It is generally rectangular and the foundation is constructed under the ground level and pavement situated on top of it.
So bridge culvert is constructed on a river or stream that fulfils both requirements. As it serves both purposes so expenses will be more, also has a very strong foundation and strength.
Materials for Culvert Construction
Culverts are mainly in form of pipe, arch, or box-type construction or precast.
The materials are:
Steel
Concrete
Plastic
Aluminium
High-density polythene
Concrete culverts are preferable and easy to construct. They can be reinforced or non-reinforced.
Also Read: Difference between Barrage and Dam
Location of Culverts
The location of a culvert is selected as it should allow the maximum water level to pass through it easily. Culverts are perpendicular to the roadway or railway. No other embankment is required for the culvert as it is constructed under the roadway or railway line.
It should be located so that water flow can easily pass through it which requires a proper gradient location for the culvert.
FAQ
What is a culvert bridge?
A culvert bridge is allowed to pass traffic above it as it is embedded in soil and bears the load of traffic and allows water to pass through that structure.
What is a culvert pipe?
A pipe whether it is circular, elliptical, or pipe arch inserted as a culvert is known as a culvert pipe.
How to box culvert is constructed?
Box culvert has very simple construction where the foundation is weak. It is constructed mostly on a non-perennial stream. The span of the box culvert may be less than 6m which can be described as a minor bridge of 6m or less than the span.
What are the types of culverts?
There are 5 types of culverts:
1. Pipe culvert (single or multiple)
2. Pipe arch culvert (single or multiple)
3. Box culvert (single or multiple)
4. Arch culvert
5. Bridge culvert
Where are culverts used?
Culvert is used for the upland path where the proper stone is not available for cross drainage or a stone culvert is not possible. Also sometimes low land path construction.
We are sorry that this post was not useful for you!
Let us improve this post!
Tell us how we can improve this post?