After the roof and windows, the door is the most essential component of a house. The style and feel of the home will also be affected by the choice of doors. A range of doors is available on the market to give homes a modern appearance.
Popular door designs always include rolling shutter doors. This kind of door offers your home a large space, safety, and protection. So, if you are interested to know more about rolling shutter doors. Then you are at the right place. So, let's have look at the below content.
Also Read: Types of Door | Functions of Door and Importance of Doors
What Is Rolling Shutter Door?
A roller shutter door is a door made of steel or aluminium slats. The door is opened or closed by rolling the slats around a barrel. Rolling shutter doors have a vertical operation and a compact design of the door curtain. Then, it is fully opened. Rolling shutters are among the most popular styles of doors.
Rolling shutter doors are used in different situations. It is used for huge openings and safety protection from fire and theft. For ultimate strength, massive steel strips are linked and hinged. These linked strips create the rolling shutter.
The rolling shutter doors are being propelled upward or downward. These doors confirm their movement by a spring, an electric motor, or both. For commercial or industrial use, roller shutter doors are a popular form of door.
For easy operation, these shutters are secured with coiled springs. Rolling shutters offer complete security. These rolling doors provide strong resistance to wind, rain, and intruders.  Materials, operations and applications are used to classify rolling shutter doors.
Usage of Rolling Shutter Doors
Roller shutter doors are a fantastic option for every sort of house beautification. There are many uses of rolling shutter doors. That's why they are becoming so common.
The main uses are listed below:
Rolling shutter doors are made for both residential and commercial applications.
Rolling shutter doors can be used for a wide range of security purposes.
Rolling shutter doors shield your home from burglary and damage.
Rolling shutter doors prevent any household damage against any theft.
In the last few years, Rolling shutter doors are growing in popularity. They are used as one of the most used types of garage doors.
Rolling shutter doors are made of steel or aluminium. They are controlled manually or electrically.
Rolling shutter doors also provide good weather sealing and protection.
If you choose the appropriate specification, your door will be very safe. The rolling shutter door is dependable and simple to operate. We emphasize the importance of selecting the proper specification of rolling shutter doors. Due to the fact that rolling shutter doors have more moving parts than any other garage door. So their moving parts should be of high quality. High-quality shutter doors provide lifetime services with the least damage.
Types of Rolling Shutter Based On Material
There are different types of rolling shutter doors. They are classified on their material. These types are mentioned below:
1. Aluminium Rolling Shutter
Aluminium rolling shutters have extruded aluminium sections. These sections are used in the design and fabrication of rolling doors. Aluminium rolling shutters always come in double and single walls with insulation.
These roller shutters have a nice aesthetic look. They are lightweight and corrosion-free as well. Aluminium rolling shutter has improved its corrosion resistance quality. Now, it is very tough and has good strength. Aluminium shutters operate gently. These types of doors need less maintenance and increase privacy.
2. (Mild Steel) M.S Rolling Shutter
M.S. Rolling shutters or Mild Steel Rolling Shutter work on the same principles as above. These shutter doors are made from high-quality steel rods. This shutter can be used in conjunction with grills or perforated panels. These grills allow ventilation or see-through sight. These types of shutter doors are easy to install. M.S rolling doors withstand any type of weather.
This roller shutter is the most cost-effective option for any application. M.S rollers prevent rusting and increase the duration of the shutters. M.S rollers are prepared with an anti-drop device. M.S rolling shutter has an extra electromagnetic brake as well. These two things provide protection in the worst weather conditions. They also prevent the shutters from falling freely. It offers defence against storms and break-ins.
3. Transparent Polycarbonate Rolling Shutter
A transparent rolling shutter creates aesthetically pleasing transparency across the space. These rolling shutters allow visibility and airflow from both sides of the building. These rolling shutters are transparent, portable, and long-lasting. These rolling shutters are high in cost.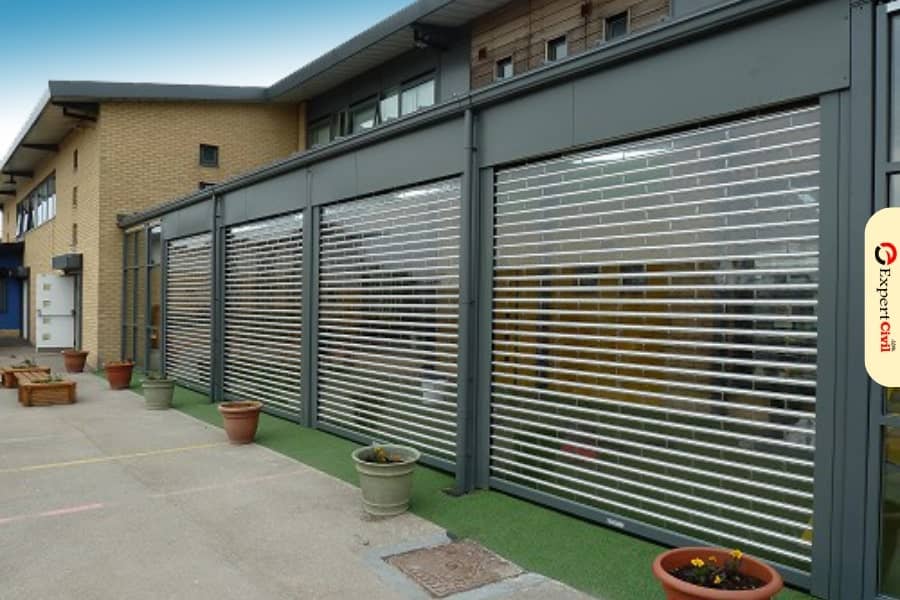 Types Of Rolling Shutter Based On Operation Of Shutter
Rolling shutter doors have different types based on their operation method:
1. Automatic Rolling Shutter
This type of rolling shutter is made up of M.S., aluminium and stainless steel. In general, an electric motor and gearbox are used as a power drive. Then, these shutters act as automatic rolling shutters. These shutter kinds are relatively affordable structures. These shutters are fully-equipped for hassle-free shutter opening and closing.
The automatic rolling shutters are very robust and simple to maintain. These rolling shutters may be utilizing for an opening area which is greater than 10 sqm. These doors are appropriate for garage doors and industrial usage. For power outages, they can also be manually released.
2. Push-Pull Rolling Shutter
Push-pull rolling shutters are preferred for an area which is smaller than 10 sqm. The shutters are opened and closed manually with a push or pull motion. They are simply rolling shutter doors.
3. Mechanical Gear Type Shutter
Mechanical gear type shutters are operated by a reduction gear and connecting rod. The winding handle or chain of pulley blocks is utilized. These shutter doors have a greater than a 10sqm opening area. It is easy to maintain and long-lasting.
Also Read: Different Types of windows for Home with Pros and Cons
Types of Rolling Shutter Based On Their Application
Depending on their usage, rolling shutter doors are divided into several categories:
1. Grill Rolling Shutter
Aluminium alloy links with a 0.9mm thickness. These shutters are assembled on rods and make up the grill rolling shutter. Round bars with an 8mm diameter of aluminium alloy are used to create the grill. Grill rolling shutters are used for protection, safety, visibility, and ventilation.
Certain ventilation through the door is required in particular situations. Such as transformer rooms use these shutters for ventilation. It is a cost-effective way to seal off any gap. It works well for stores, businesses, power generating rooms, and transformer rooms. Grill roller shutters are durable and corrosion-resistant.
2. Industrial rolling shutter
The industrial rolling shutter has a very large size. These rolling shutters are often used in tough environments. Steel, aluminium and metal are used as industrial shutters. The industrial rolling shutter may be a push-pull type, mechanical gear operated, etc.
What Is The Difference Between Roller Shutter And Roller Door?
| | |
| --- | --- |
| Roller Shutter | Roller Door |
| 1. Roller shutters are suitable for a variety of industrial environments. | 1. Roller doors are often employed in industrial buildings. |
| 2. Roller shutters can be created for emergency situations. They have qualities i.e. fire resistance and terror protection. | 2. Roller doors can also be used when heavy-duty protection is not needed. |
| 3. Roller shutters are strong. They often have interlocking slats made of steel or aluminium. | 3. Roller doors have the potential for quick opening and they uphold constant traffic flow. |
| 4. Roller shutters protect windows and doors from the destruction of a wide variety. | 4. Roller doors also protect windows from environmental damage. |
| 5. Roller shutters have many horizontal slats. So, they can act as insulators. | 5. Roller doors have a single piece of curtain for protection. |
Conclusion:
In short, this article is all about different types of rolling shutters. For large openings, the rolling shutter door is the ideal option. Your property will be protected from all situations by using rolling shutter doors.
These doors are often described by the purpose for which they are designed. Roller shutters come out in a variety of forms. That's why; you can execute rolling shutter doors in your homes according to their function.
Also Read: Different types of paints are used in building construction