Looking for an ultimate guide on manholes. We have got the right information for you regarding manholes. 
Manholes are the most frequently used underground structures for utility maintenance that allow access to installed pipelines for cleaning and inspection. It is an essential part of the sanitary system and water supply, the fundamental subsurface utilities.
On the streets and paved walks, manholes are common. Manhole covers are the lids that cover open manholes to protect people from tripping over them or from illegal individuals entering.
What is a Manhole?
An access point for labourers and material inside the sewer line is known as a manhole. It is the most crucial part of the sewage line and is also referred to as an inspection chamber or unit since it fully removes the necessity for digging.
Up until the end of the main sewer line or drainage point, manholes are positioned regularly along the sewer line. The manhole, which is used to access the inspection point, typically consists of a vertical circular chamber with varied widths and depths.
Purpose of Manholes
Manholes are built primarily for trenchless rehabilitation of the sewer system, drainage system inspection, cleaning of clogged lines, and maintenance purposes. Manholes are also used as a first step for entering the interior of a sewer line to identify problems with it and to replace damaged pipes without the need for digging.
To perform a check, clean the sewage line, and remove any obstructions that are there.
With the use of a manhole, sewers can be joined, pointed in a different direction, or aligned.
The covers of these have perforations that allow the noxious vapours to escape. As a result, it provides the underground sewage system with optimum ventilation.
Manholes help to lay the sewer line in conventional lengths.
Importance of manholes
Manholes are frequently used to join two or more pipes for sanitary sewer or water supply lines. Nowadays, cities and towns are covered in pipes and tunnels that run beneath the streets and sidewalks. Each application calls for a manhole with a varied diameter and entrances at distinct altitudes and angles. To adequately cover these channels with a detachable plate, a manhole cover is a need. 
Maintenance work is the principal use of manholes. Manhole coverings will keep things and people out of the holes and will also keep unauthorised persons out. Manhole covers may appear to be a straightforward plate or lid covering a large hole, but there are many different designs and production methods used to make these items.
Components of Manhole
1. Access Shaft
The higher part of the manhole that offers access to the working chamber is known as the access shaft. An access shaft must be at least 0.75 m x 0.60 m in dimension for a rectangular manhole and 0.70 m in diameter for a circular manhole. 
In rare circumstances, a reinforced cement concrete slab with the appropriate dimensions may be used to cover the access shaft.
2. Working chamber
A working chamber is the lowest part of the manhole that has been designated as a workspace for maintaining and inspecting the sewage line.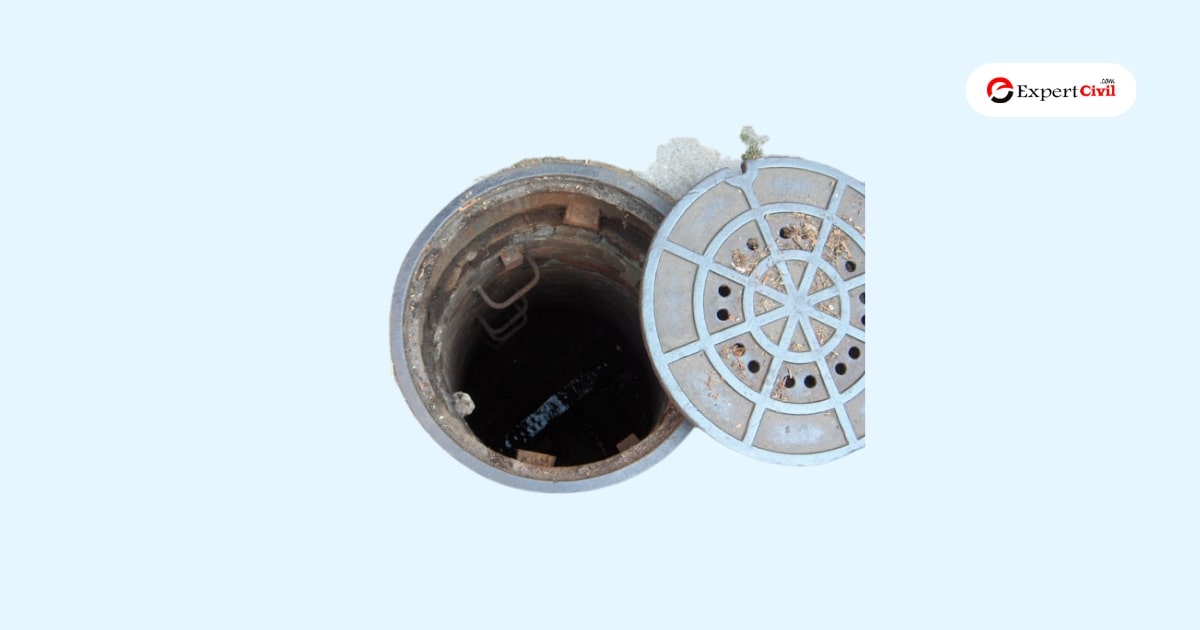 The rectangular chamber must be at least 1.2 metres by 0.9 metres with a bigger side provided for flow. The working chamber's height must be at least 1.8 metres and the circular chamber's minimum size is 1.2 metres.
3. Sidewalls and the Base
The foundation of the manhole is typically composed of plain cement concrete and is positioned at the base level to support the manhole's sidewall and deter groundwater intrusion.
4. Bottom or Invert
The manhole's bottom is either semicircular or U-shaped. It is a concrete channel made of cement, and the sewer line's diameter is the same as the concrete channel's. The top edge of the horizontal diameter is rounded off and made to slope toward the channel to provide benching. The horizontal diameter is extended vertically almost to the crown point of the sewer or manhole.
5. Ladder/Step Irons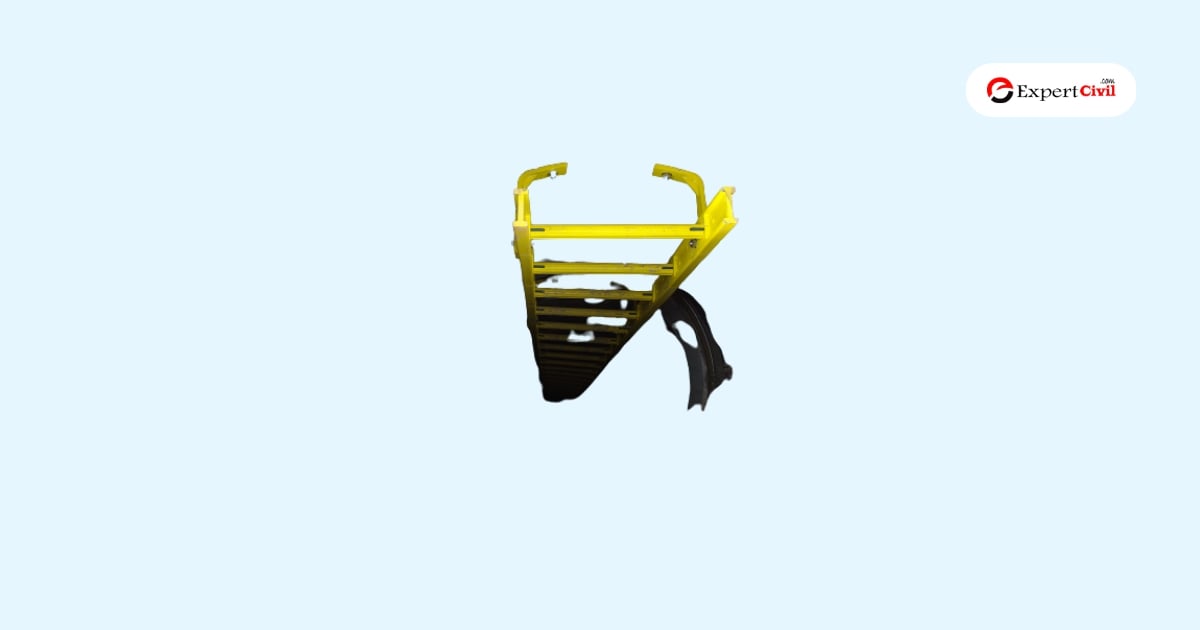 Step irons are put in to allow maintenance staff to descend, and are typically composed of steel, however, more recently non-corrosive materials have also been used. Due to safety concerns with employees requiring specialised confined space entry equipment, they are sometimes being removed or not installed in new construction.
6. Ring and Manhole Cover
The lid fits firmly inside the ring and is typically spherical, made of cast iron with a concrete insert. This seal prevents odours from exiting and surface inflow from entering. The cover should typically be flush with the surrounding ground surface.
Types of Manholes
Given that they are essentially just holes in the ground, you may assume that all manholes are fundamentally the same. It turns out, though, that there are numerous kinds of manholes for a variety of reasons—and even merely in terms of location. A manhole has been divided into three categories based on its depth: shallow, normal, and deep.
1. Shallow Manhole
A shallow manhole is between 75 and 90 cm deep. These are built near the beginning of a branch sewer or in a region with little traffic. A small cover known as the inspection chamber is attached to the shallow manhole.
2. Normal Manhole
These are available near the sewage line and have a thick cover over them. It is 150 centimetres deep. A typical manhole is a square in shape.
3. Deep Manhole
A deep manhole with a hefty cover at the top is available at a depth greater than 150 cm. The capacity for growth is greater, as is the ability to descend.
How Is A Manhole Built?
The construction of a manhole depends on its type. A metal grate or surface can withstand enormous loads if a manhole is needed to sustain them. On the other hand, if it merely needs to withstand light traffic from vehicles, its surface will be light, similar to concrete. Additionally, all manholes are waterproofed to prevent water intrusion. They either have an additional layer of tar or grout protection against rain to do this. However, when grouting is utilised, some sidewalks have holes left on top for drainage.
Employ a construction company to put in new sewers and other subterranean infrastructure; they probably have teams on staff that can construct manhole covers as well. Although manhole covers can be made of metal or plastic, most are made of reinforced concrete. Installing a manhole cover is not difficult once the concrete has been shaped into one.
Location of a Manhole
In general, the following locations have manholes:
Whenever the sewer's alignment is altered.

Whenever the sewer's direction or grade changes.

Whenever the sewer's capacity changes.

Where two or more sewers converge.

At regular intervals along sewers' parallel alignment.
Materials used in the construction of manholes
The following materials are available for the manholes. The use, location, and cost all influence the material choice.
1. Precast Concrete Manholes
Precast concrete is used to build these kinds of manholes. It is a manhole built conventionally. The precast concrete manholes are produced on-site and then installed. Consequently, permits a speedy and efficient installation. Due to their lengthy lifespan, these manholes are widely utilised throughout the world.
2. Fibreglass Manholes
The manufacture of these manholes uses fibreglass technology. In essence, they are made up of a manhole barrel, a cover, weirs, flumes, stormwater separation units, etc. Such manholes are relatively simple to handle and install due to their modest weight. Fibreglass manholes are also strong and environmentally friendly.
3. Plastic Manholes
Polyethene is used in the production of plastic manholes, and each component is made to last. That indicates that a plastic manhole is directly produced along with attachments like a ladder and cover.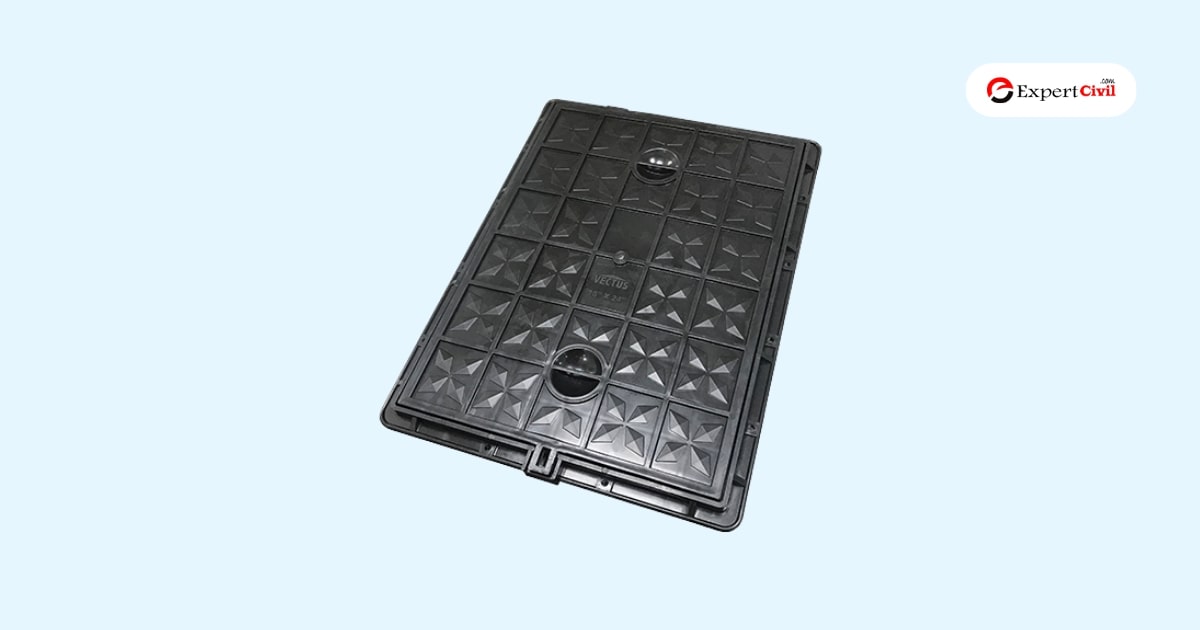 These manholes are made with environmental protection in mind during the design and manufacturing processes. Additionally, these manholes have no negative effects on the land or groundwater where they are put. Plastic manholes are easier to maintain and have a high level of corrosion resistance.
Manhole Cover Types
Manhole covers are detachable lids used to cover and seal manholes. Manhole covers used to be constructed out of concrete, cast iron, or even a combination of the two materials.
1. Ductile Iron
The main material used to create these manhole covers is nodular iron, a special type of iron known as ductile iron (SG iron). The nodularity determines whether or not the iron is of good or terrible quality. Because of their durability, sturdiness, heavy-duty, and durable qualities, ductile iron covers are well known.
2. Recessed
For aesthetically pleasing finishing in pedestrian paths, these kinds of manhole covers are erected in recessed regions ideal for laying block paving, cement, and a layer of screed. For interior manhole covers in hospitals, cast iron manufacturing facilities, residential areas for apartments, and household gardens, it is the ideal choice.
3. Solid Top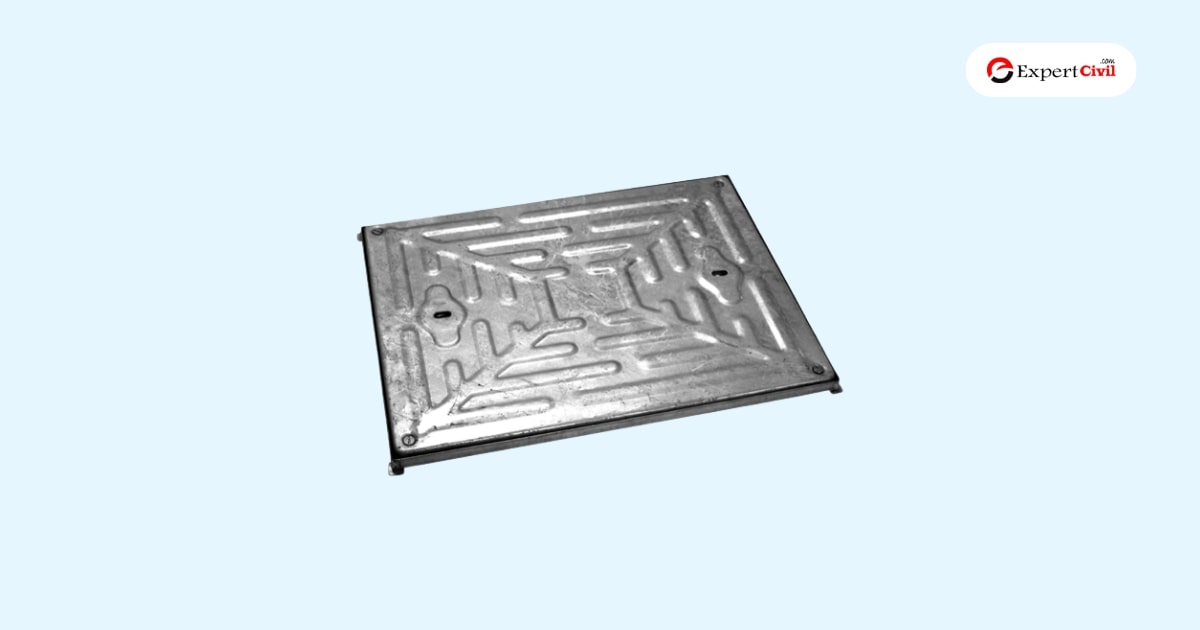 These manhole covers are made to be visible on the ground. A solid top silver manhole cover has an anti-slip surface and is composed of lightweight galvanised steel. These are typically put in locations that frequently undergo routine maintenance and safety inspections. For lighter use, solid top coverings with inset grab handles that sit flush at ground level are preferred.
Frequently Asked Questions (FAQs)
What is a manhole?
A manhole is simply defined as a roadway hole that has a lid over it so that people may look through it to see the subsurface pipes, cables, etc.
What are the types of manholes?
The different types of manholes are:
1. Normal manhole
2. Shallow manhole
3. Deep manhole
Why are manhole covers round?
A cover would make adjustments more difficult. The cover must be rotated precisely by the worker. Because different manhole covers are round, they don't need to be turned. A round manhole cover won't fall into a hole if it's turned the wrong way, making it safer.
What is the weight of an inspection chamber cover?
The manhole cover is 113 kg in weight.
What is the purpose of Manholes?
The purpose of manholes are listed below: 
1. To do maintenance, conduct inspections, and remove any obstructions from the sewer line.
2. For tying a sewer pipe together at a junction.
3. For adjusting a sewer line's alignment or direction.
4. For modifying a sewer line's gradient.
Conclusion
That's all from our side. We have provided all the details regarding the manhole, its types, features importance, and materials used in the construction of manholes. If you have any queries do let us know in the comment section below.
Also read: WBM Road – Its Construction, Maintenance, Advantages & Disadvantages