What is a Ranging Rod?
A ranging Rod is defined as a surveying instrument used for measurement in construction. It helps mark position in surveying and is also named a Ranging pole.
Length of ranging Rod
Ranging rods usually are 2m to 3m in length and have a diameter of about 30mm. These rods are painted in two colours. They are specifically used to mark small areas. That is why it is painted with alternate colour patches of length 200mm, 500mm, and 1 foot.
It makes it convenient and easy to use. Coloured flags are attached at the top for clearance in case of significant distance or climate problems.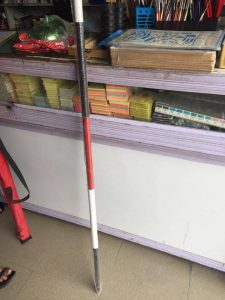 At first, these were made of light, slender, straight bamboo, or very much prepared wood like teak, pine, or deodar. These days they are made of wood, metal, or fibreglass.
Also Read:  5 Types of Chains and Tapes in Civil Surveying Engineering

The least Count of Ranging Rods
Ranging rods have no zero error but if you grab the ranging rod with your hand then the error of 0.5cm will occur.
Offset rod
Offset Rod is a ranging rod that has no flag on the top. They are comprised of hardwood and are furnished with iron shoe toward one side. A hook is given at the opposite end. At the stature of the eye, two thin cuts at the right points are likewise accommodated, utilizing it for fixing points and giving them a perfect 90-degree angle.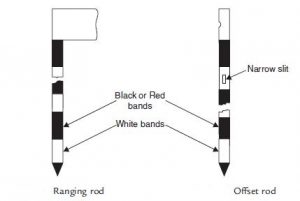 Use of Ranging Rod in Surveying
Surveying is the first step if we are going to construct anything. Surveying is to mark reference point, and these points are a guide through the whole construction. When a survey is supposed to be conducted on any construction site, its length is greater than the chain.
It becomes essential that the measurements are aligned with the chain. This method of marking intermediate points on the survey line is defined as ranging.
Direct Ranging
Reciprocal Ranging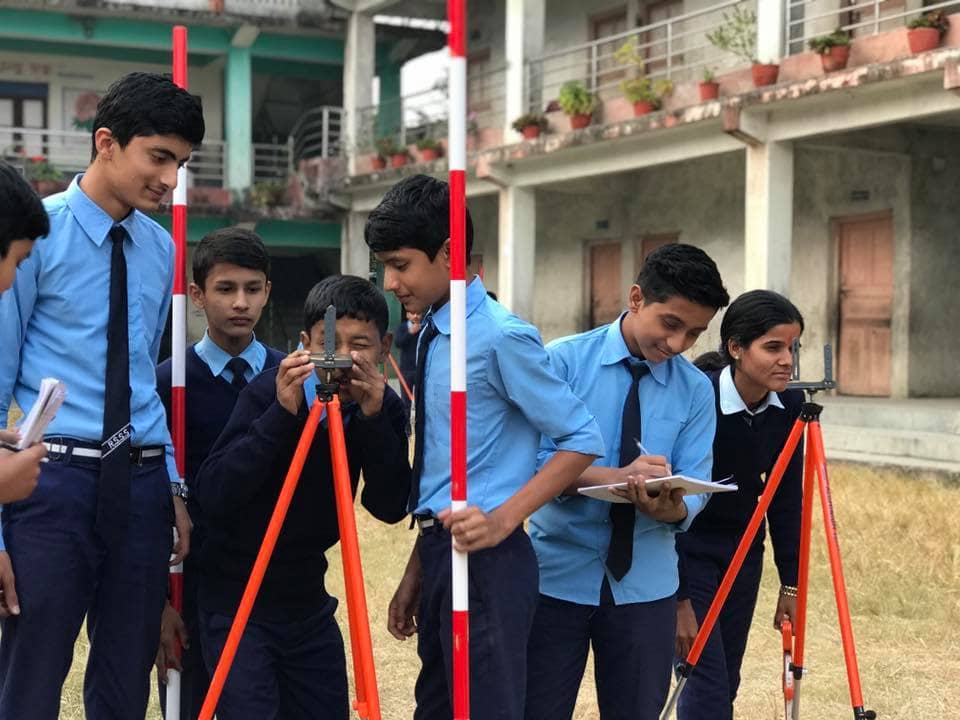 What is Direct Ranging?
Direct ranging is given preference in a case where points are intervisible (mutually visible).  When a ranging rod is placed by eye observation or using any eye instrument, it is called direct ranging.
Steps
Assume that An and B are two end station of the chain line where two rods are primarily fixed.
Suppose it is needed to fix rod at the halfway point P on chain line so that the point A, P and B are aligned.
Surveyor stands 2m behind the going pole A by looking toward line AB.
Assistants hold a running pole at P vertically at a safe distance, usually at arm's length. It should be held gently by thumb and front finger.
Now surveyor guides the partner to move the ranging pole to the right or left sides. Until the three bars come precisely in a similar straight line.
To check none vertically of the pole, the assessor twists down and glance through the lower part of the pole.
Ranging will be wonderful when three ranging poles harmonize and showed up as one pole.
When the surveyor fulfilled that the going is excellent, he signals the colleague to fix the bars on the ground by waving his hands.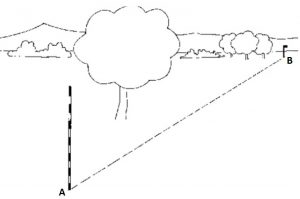 Also Read: Duties of Construction Surveyor
What is Reciprocal or Indirect Ranging?
Reciprocal ranging is given preference if Endpoints are not intervisible. The endpoints are not unified due to high ground between them or sufficiently long distance or any turn in between.
Steps
Two surveyors station themselves at say m1 and m2 around by AB
A person with ranging pole m2 can see m1 and A, while an individual with a ranging pole at m1 can see m2 and B
Now, individual m2 will control the individual at m1 to come following m2 on another position m3
The individual on m3 will direct the individual at m2 to go to a position m4 to such an extent that m3, m4 and B are in one line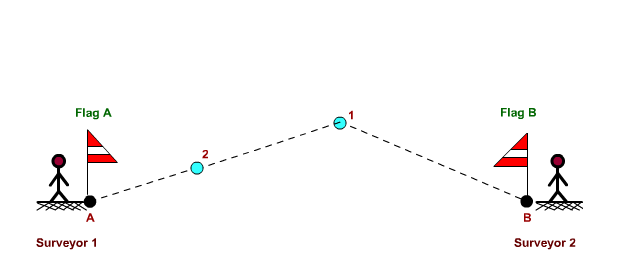 ---
Still, Do Have a Question? Ask a Question and Get an Instant Answer