While walking or driving on roads you might have seen different signs and markings which are drawn on the roads, which provide some information. The markings guide pedestrians and even help in controlling the traffic on roads and highways. 
Pavement markings may be defined as the process of applying different symbols, markings and lines to the surface of streets, parking spaces and highways and bridges to give traffic and pedestrians direction.
In this article, we will be discussing pavement marking and its types, and also its importance. 
What is Pavement Marking?
Along with traffic lights and signs, the markings on the pavement are a component of the information systems for drivers. Pavement markings guide the driver where vehicles should be parked, warn drivers of imminent dangers, and even showcases where transportation is allowed.
Most pavement markers are either white or yellow. Although there are other colours but white and yellow are the most popular ones.
Need of Pavement or road markings
Listed below are some of the important pavement markings that should be kept in mind:
A lack of markings on the pavement could result in complete vehicle chaos.

Additionally, they are used to enhance the text on road signs and other devices.

Different patterns and colours are used in pavement marking to designate specific roles.

Road or pavement markings aid in enhancing traffic flow and boosting road safety.
Types of Pavement Markings
1. Longitudinal Pavements Markings
To guide the driver to a suitable position on the pavement, longitudinal markings are chalked or painted in the exact directions as traffic on the pavement surface. The most common colour used for this type of pavement is white. white and yellow are used to distinguish between opposite directions of traffic as well as the margins of the pavement.
A  3 feet – narrow line segment with a gap of 9- feet is used for intersections at the longitudinal pavement, This form of the narrow segment is used for lane lines. It widens a line whose breadth is at least equal to that of the line it widens.
2. Crosswalks Pavement Markings
The purpose of crosswalk pavement markings is to point out where it is safe and easy for traffic to be controlled. On the other hand, well-defined crosswalks for pedestrians do not automatically control traffic or stop pedestrian collisions. Depending on the need, a pavement crossing is required at an intersection regardless of whether it is marked or not, according to certain traffic regulations.
 Crosswalk markings demarcate and provide paths for approaching signalised crossings and traffic stops. Crosswalk markings specify and delineate approaches to signalised intersections as well as their pathways. These crosswalks warn drivers to designate pedestrian crossings where signs or signals are not present.
3. Edge-line pavements Markings
Edge-line pavements are used to indicate the boundaries of the road. In poor weather and low visibility, this type of pavement can be used as a visual guide. Never cross significant driveways or crossroads with edge lines. Standard yellow lines are used on one-lane roads and bifurcated highways and ramps to indicate the left side of the route or to indicate constraints to just the left of these markers.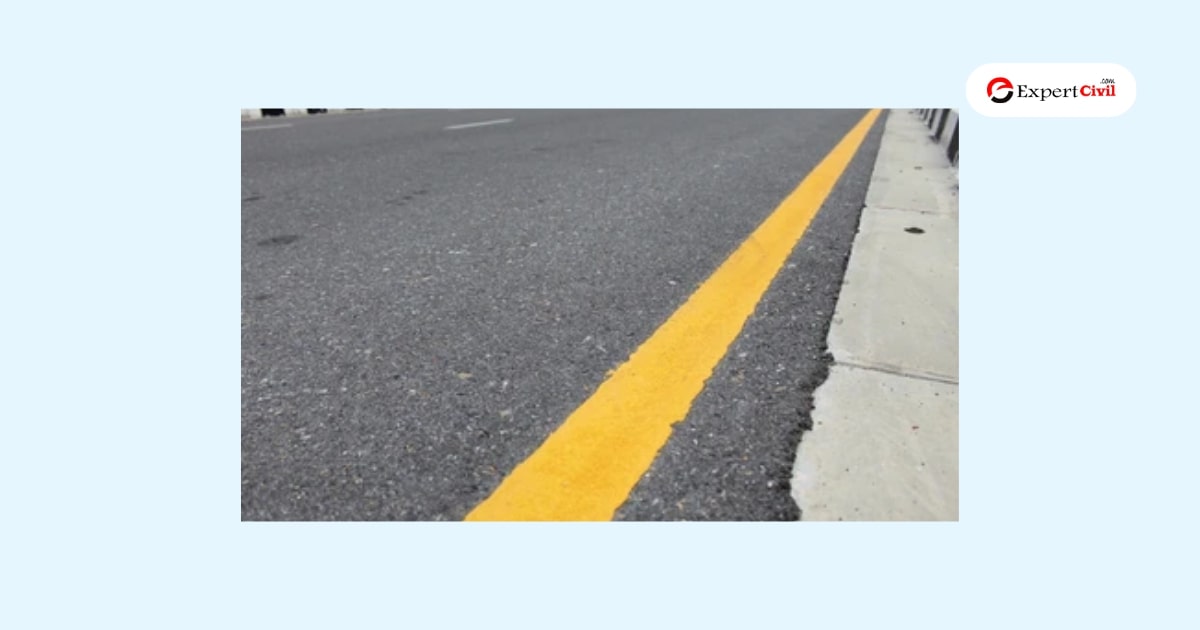 On the other hand, the right border is marked with solid white lines. Additionally, broad solid edge line markings may be employed in situations where additional space is needed.
4. No-Passing Zones
On two- and three-lane roads (with centerline markings), no-passing zones are implemented when the engineering studies show that passing must be restricted owing to insufficient visibility or other unique circumstances.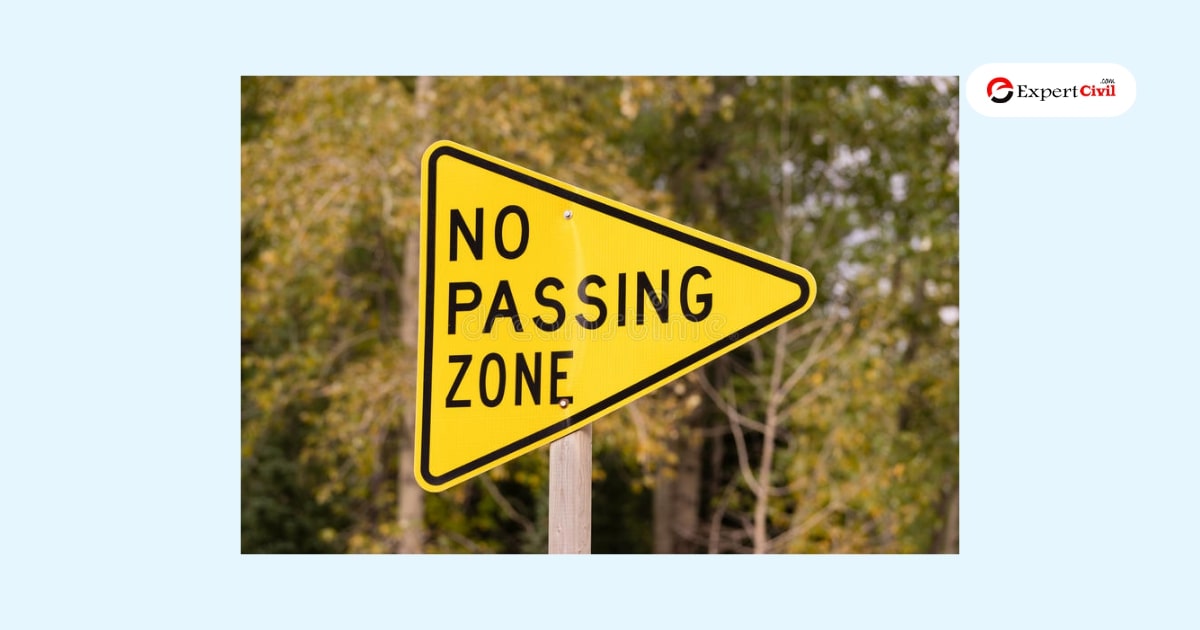 Pavement markings for no-passing zones should be either one- or two-direction, according to the manual on uniform traffic control devices. Signs are used to divide no-passing zone boundaries. 
5. Raised Pavement Markings (Rpm)
Raised pavement markings can be placed on or replaced on roadway pavement markings. These may be retro-reflective or non-retro-reflective, in contrast to prismatic cube-corner reflectors utilised for necessary retro-reflective qualities.
Raised pavement markers can operate as transverse rumble strips, provide tactile alerts, be more reliable than markings, and improve visibility in poor weather.
6. White Lane Line Pavement Markings
Traffic lanes that are moving and indicating in the same direction are designated with white pavement markings. These markings should be put down on the pavement where there are two or more adjacent lanes of traffic moving in the same direction.
In overpopulated locations, lane line markings could also be employed, with many traffic lanes having markings than those without. These lane line markings will be a typical broken white line, except for the places where crossing the lines is permitted.
Types of white lane lines
Different types of White lane lines are as follows
1. Broken white lane lines
The driver may change lanes when needed on broken white lines pavement. 
2. Solid white lane lines
It demands that cars settle into their lanes and mark the road's shoulder.
3. Stop and yield lines
Transverse pavement markings called stop and yield lines direct drivers when to halt or yield when they approach a crosswalk or an intersection amid a block.
Give way lines, often referred to as yield lines, indicate to drivers where a yield is expected or required at a junction or roundabout with a yield sign restriction. This marking is made up of a line of solid white isosceles triangles that point in the direction of oncoming traffic. A yield sign or a sign that reads "Yield Here to Pedestrians" may require yield lines to move over. The yield line markers, however, must not be utilised in areas where drivers are required to stop.
7. Roundabout Pavement Markings
A roundabout is a typical type of circular crossroads with special traffic-management elements that are intended to control speeds. Designing the pavement markings and signage for a roundabout requires consideration of its geometric configuration and intended lane usage.
Also read: Project Report on Design of Flexible Pavement & its Quality
Colours used in pavement marking- meaning
Some basic colours are used for the pavement marking so that they are easily visible for people moving on the roads and highways:
Black – When the pavements are of light colours the contrast cannot be seen clearly, for this purpose black colour pavement markings are used as a conjunction.
Blue – Reserved bus lanes and public transportation typically use the colour blue.
Purple – Purple pavement markings can be used for electronic toll collection vehicles' toll mane and edge lines.
White – It showcases the right edge of the road or highway and divides the traffic going in a similar direction.
Yellow – The opposite-direction traffic flow is divided by a yellow line.
Materials Used in Pavement Marking
There are various paints and tapes which are used for marking the pavements so that they are visible to drivers and pedestrians. We have listed below all the different types of material used in pavement making : 
1. Solvent Based paints
This type of paint's key benefit is that it won't freeze. Unlike water-based paints, which degrade in colder temperatures, they may be applied in colder weather without trouble.
Oil-based paints are frequently employed because of their affordability and versatility. Water-based paints, which offer a more environmentally friendly solution with simpler cleanup and disposal, are now a popular choice among consumers due to environmental concerns.
2. Thermoplastic paint
This substance, which as its name suggests comprises plastic, is another kind of pavement marking material typically found on roads. There are several ways to apply thermoplastic pavement markings, including prefabricated, extruded, ribbon, and spray. Some states may only accept a certain kind of application, while others may not.
3. Ready-to-Use Adhesive Tapes
These come in rolls that are set on the previously marked line and rolled for intense compaction.
4. Water-based paint
These paints are less harmful to the environment than solvent-based paints because they are water-based. They are the most cost-effective and environmentally friendly sort of paint available.
Advantages of Pavement marking
The pavement markings are highly durable and environmentally safe.

It can be used to avoid traffic congestion and easy flow of traffic. 

They are simple to construct and do not require any other machinery for construction.

High retro-reflectivity can be used for pavement marking.
Disadvantages of Pavement marking
There is a great necessity for capital outlay.

For outdated or inadequate roadways, pavement markings are inappropriate.
Frequently Asked Questions (FAQs)
What is the purpose of raised pavement markers?
Raised pavement markings provide several functions, but they are crucial for the nighttime visibility of traffic lanes, highlighting dangerous curves, and informing drivers of the direction of the road.
What type of pavement marking indicates reversible lanes?
The yellow colour pavement markings indicate reversible lanes. It separates the two left turn lanes and also the reversible lanes from other lanes.
How to glue pavement markers?
To glue the pavement markers follow the given steps:
1. Clean and dry the surface.
2. Place the pavement markers where they need to be glued.
3. Heat the adhesive pad and melt them
4. Finally press them slightly.
What is the purpose of reflective pavement markers?
The main purpose of reflective pavement markers is to warn drivers about their safety on the road and avoid drifting them off the road which might lead to accidents.
Conclusion
To maintain road safety and control traffic problems, pavement markings are really important. It helps in the reduction of accidents and increases visibility. We have tried to incorporate all the information related to pavement markings, the materials used, and the colours required.
If you face any other issue related to pavement marking, do let us know in the comment section below.
Also read: What are the different types of roads in India?
We are sorry that this post was not useful for you!
Let us improve this post!
Tell us how we can improve this post?