What are Road Studs?
The longitudinal/transverse reflectorized road markings were added with retro-reflective studs to improve visibility at night as well as in inclement weather. They are also placed on both sides of the carriageway to act as speed limiters while also providing a rumbling impression to the user.
Wherever road crashes are high, a sequence of such studs must be placed ahead of junctions, crossings, as well as the end of the flyover portion. Regarding detailed specifications, check Clause 804 of the Ministry of Road Transport and Highways (MORTH) Specification for Road and Bridge Works and ASTM D4280-04.
Types of Road Studs
Based on Direction
Unidirectional Road studs (shall be used on the one-directional carriageway of undivided roads, one-way street or slip roads)
Bidirectional road studs: These road studs can be used in both directions (to delineate the center line and edge line)
Types of Road Stud based on the basis of Colors
For highways, studs with various colors of reflectors, such as white, red, and yellow, are adopted based on conditions.
White: Used to indicate traffic lane line and center of the carriageway
Red: They are used to signify a lane that has to know no longer be crossed and especially to delineate the left-hand edge of the strolling carriageway i.e., for road studs for use at the shoulder side edge line. The road studs shall be omitted or can be replaced with green color where the facility for existing traffic is provided from the main carriageway like entry to Truck Lay Bye/Bus Bay, the start of Service Road.
Yellow: Yellow Road studs are to be again deployed to indicate a line that should not be crossed with the aim to delineate the right-hand edge of the running carriageway in case of the multi-lane divided carriageways i.e., median side edge line.
Green: Green Road studs are to be employed to indicate crossable edge lines like the lay byes and to show the boundary of acceleration or deceleration line on the left-hand side of the carriageway in case of the multi-lane divided carriageways.
Multicolored: Uni-directional carriageways shall have one colored face with the applicable color as given above, whereas Bi-directional carriageways shall have two colored faces which can be a combination of two colors such as Red-White bi-directional road studs or the same color on two faces like white-white bi-directional road studs or yellow-yellow bi-directional road studs.
Also Read: What are the different types of Roads?
Based on Material
Aluminum Road Stud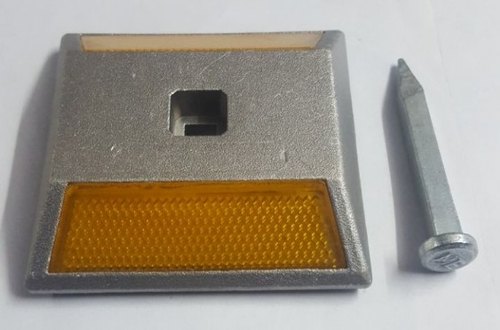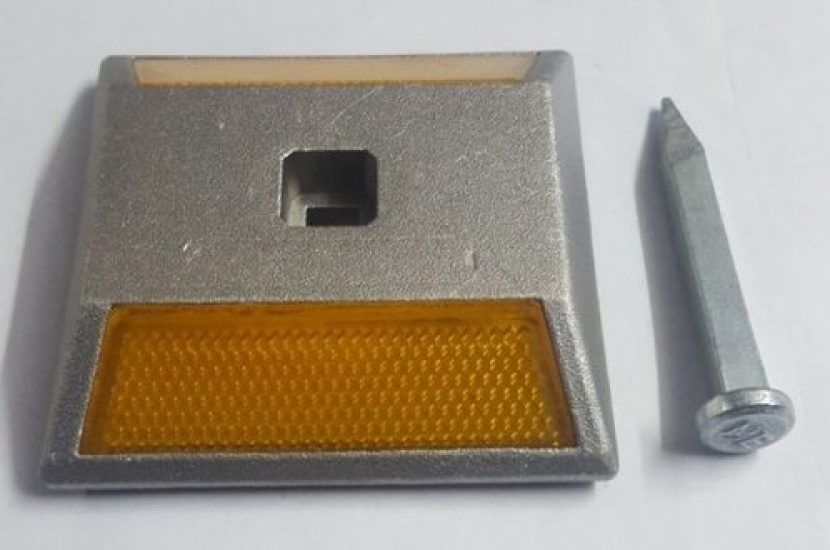 These road studs are made with aluminum. There are different types of road studs available. The following are a few aluminum type road studs:
Aluminum road stud
Aluminum road stud with lens
Aluminum road stud with shank
Aluminum road stud with nails
Sample Product Representation
| | |
| --- | --- |
| Material | Aluminum |
| Load capacity | 60 T |
| Reflector Type | Double-side |
| Work Temperature | 20 degree C+80 degree C |
| View Distance | 550 mm |
| Size/ Dimension | Customized |
| Minimum Order Quantity | 100 Piece |
Aluminium Road Studs Manufacturers / Suppliers (India) & Market Prices
Suppliers
Cost per piece
Specialty
Road Mark India
85 Rs
Customized
M/s Oscar safety solutions
120 Rs
Dev Plastics
85 Rs
Anshika Safety Solutions
90 Rs
H2 safety India private Ltd.
100 Rs
Customized
Note: The prices mentioned here are based on current market rates. They may get subjected to change.
Plastic Road Studs
They are made of plastic material or recycled plastic with reflectors for all types of roads. These reflectors should be coated with an abrasion-resistant protective coating. The studs with anchorage or without anchorage can be bonded to the road surface with suitable epoxy/bitumen adhesive as recommended by the manufacturer.
Plastic Road Studs Manufacturers (India) & Market Prices
| | | |
| --- | --- | --- |
| Suppliers | Cost per piece | Specialty |
| H2 safety India private Ltd | 55 Rs | Customized |
| Road Mark India | 55 Rs | Available in different colors |
| Dev Plastics | 65 Rs |  Available in different colors |
| Futurvista | 48 Rs |  Customized |
LED Road Studs
To easily identify the road edges and negotiate curves LED studs are used. They enhance nighttime visibility. Also, the maintenance cost of LED studs is low compared to other types of studs.
Different suppliers' market prices
| | | |
| --- | --- | --- |
| Suppliers | Cost per piece | Specialty |
| Dev plastics | 650 Rs | Blinking |
| Hamid sons | 1100 Rs | Black color |
| Shri Shyam enterprises | 75 Rs | Available in different colors |
| BSS fire protection systems | 1200 Rs |  Customized |
| KB Fitness | 900 Rs | Available in different colors |
Applications of different road studs
| | |
| --- | --- |
| Type of Road stud | Application |
| Aluminum | Recommended for use on high-speed roads and roads with heavy vehicles such as trucks |
| Plastic | They can be used in Infront of factories, hospitals, and schools where traffic flow or speed is medium or low |
| LED | Curves (Night visibility). |
 What are Solar Road Studs?
They shall be made of Aluminum alloy and polycarbonate material which shall be weather resistant and strong enough to support a load of 13,635 kg tested as per ASTM D4280.
Its color may be white, red, yellow, green, or blue, or combination as directed by the Engineer. Its water resistance should meet IP 65 criteria for protection against water ingress, as specified by IS: 12063:1987 Category 2.
The size of solar studs should be 100 mm x 100 mm x 10 mm. It shall have super bright LEDs to provide long visibility from a distance of more than 800 m.
Its flashing rate shall not be but 1 Hz. It should be ready to give the prescribed performance within the temperature range of -40°C to +55°C. Its life shall be not but 3 years.
What are Road Studs Meant for?
They meant to save lives.
They meant to enable the drivers to completely judge the form of the road and to provide visibility during nighttime.
Advantages of Road Studs
Improved night visibility (Few road studs can provide visibility of 900 m)
Enables the drivers to safely negotiates the curves.
Improves safety of the road sections
Reduction in accident rates
Saving road assets from damages
Energy free alternatives for highway lighting
Some of the road studs can act as a speed breaker (Elevated Road stud) too.
Highlights the appearance of the road geometrics
Improves the aesthetics of road alignment
Dis-advantages of Road Studs
Loosely installed road studs may cause accidents.
Some of the road studs are very expensive, Also, the installation requires expert personnel.
What Material is used in the Reflector?
The following are the materials used in road reflectors.
Reflective sheet
Plastic Reflector
Glass Beads
Standard Requirement of Road Stud (as per Ministry of Road Transport and Highways)
The enveloping profile of the top of the road stud shall be smooth and studs shall not represent the sharp edges or traffic.
The studs reflecting surfaces must be free of cracks or ledges where dirt could collect. The height of the marker should not be less than 10 mm and must not be more than 20 mm, and the width must not be more than 130 mm.
The marker's base has to be flat to within 1.3 mm. The outermost faces of the configurations here on the bottom of the marker should not deviate more than 1.3 mm from a level surface, as well as all road studs, should be legibly marked with the manufacturer's name, trademark, or other forms of identifying.
Also Read: WBM Road – Its Construction, Maintenance, Advantages & Disadvantages
Placement of the Road Stud
The reflective marker shall be fixed to the paved surface using the adhesives and therefore the procedure recommended by the manufacturer.
No nails shall be used to affix the marker so that they do not pose safety hazards on the roads.
No matter the sort of adhesive used, the markers shall not be fixed if the pavement isn't surface dry and on new asphalt concrete surfacing until the surfacing has been opened to traffic for not less than 14 hours.
The portions of the highway surface, to which the marker is to be bonded by the adhesive, shall be freed from dirt, curing compound, grease, oil, moisture, lose or unsound layers, paint, and any other material which might adversely affect the bond of the adhesive. The adhesive shall be placed uniformly on the cleaned pavement surface or rock bottom of the marker during a quantity sufficient to end incomplete coverage of the world of the contract of the marker with no voids present and with a small excess after the marker has been lightly pressed in situ. Excess adhesive around the edge of the marker, excess adhesive on the pavement, and adhesive on the exposed surfaces of the markers must be immediately removed in epoxy installations.
Measurement of Payment
The measurement of reflective road markers/solar-powered road studs shall be in numbers of various sorts of markers supplied and glued.