There are different types of equipment for soil digging that make excavation operations possible. The scope of the project and the construction site determine the kinds of excavation equipment. The excavating machinery can be used in a specific type that satisfies the project's specifications.
In this article, you will get great detail on every aspect of earthworks, from initial planning to the best equipment to utilize.
Earth Excavation Tools
Earth excavation tool defines as removing the soil that lies immediately below the topsoil. The excavated material is known as "spoil," and is frequently heaped up. It is used to build foundations and embankments. From the perspective of construction, soil excavation is crucial.
It is depending on the size of the site or the depth of the excavation. After a deep study, it should be done with hand tools or specific types of gear. The ground is cleared of tree roots, strums, biological contaminants, etc. during excavation, which should have no impact on the foundation.
Why We Need Excavation Equipment in Construction?
The company, its employees, professionalism, and the excavation equipment really matter most when it comes to excavation jobs. That is why having the appropriate tools is so important. Having the appropriate equipment is crucial for success in any profession or project. It could be argued that when it comes to excavation equipment, your commercial property is so highly vulnerable. The only thing that matters.
What You Require To Consider When Decide On The Right Excavation Equipment
The job. The most powerful excavation equipment is needed for large regions. Furthermore, flat terrain has distinct requirements than uneven urban terrain.
Your position. Will this be a quick operation, or will you have to get ready for a lengthy process? Does your project have a lot of risks and numerous phases? The tools required to avoid surrounding obstructions may be different from what you need for lifting, carrying, and digging.
The operator's comfort and expertise. Never overlook the person using the excavating machinery. The task is not completed if the person feels uneasy or if he lacks the necessary tools. Make sure the controls are simple to use and intuitive. The equipment usage method should be friendly. When these factors are in place, your performance and results will improve.
Major Types of Excavation Tools
There are primarily two categories of excavation equipment on the market:
Hand Tool
Machinery Tool
Hand Tools for Soil Excavation
These are typically employed for shallow excavations in restricted spaces. These tools must be operated by humans. The explanations of the tools in this category are provided below.
1. Mattock
This appears to be a pickaxe. It is employed for chopping, excavating, and digging. Because of the curved metal at its bottom, it is typically employed as a digging tool.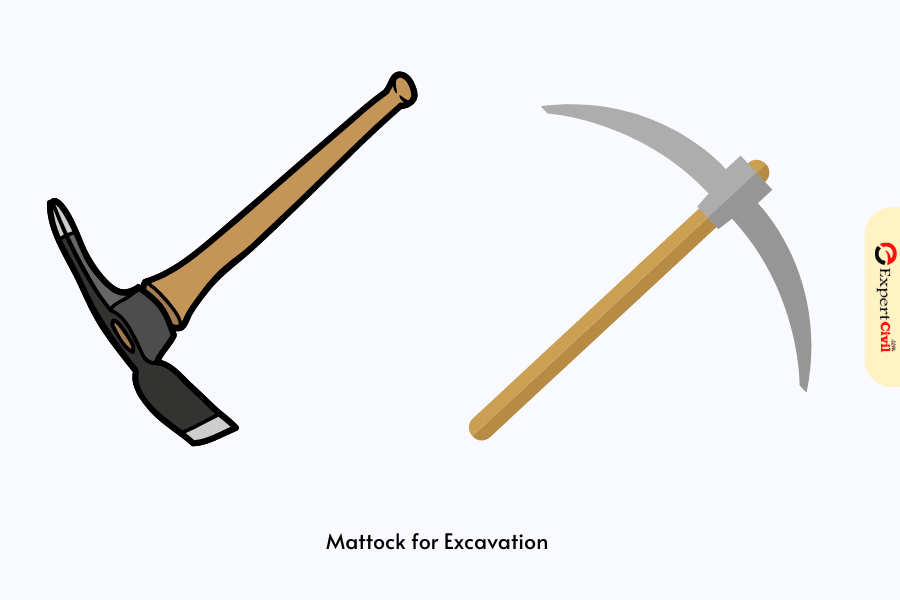 2. Spade
A spade is a long wooden handle that is securely attached to a thin metal plate with sharp edges. It may easily pierce the earth thanks to its relatively sharp edges.
However, a spade's plate has less curvature than a spade, making it ineffective for scooping and lifting the earth. It is used for edging flower beds or lawns. It can also be used for slicing and lifting sod.
3. Shovel
A shovel is a tool used to lift the soil that has been excavated. There is a minor difference between a spade and a shovel. The difference between a shovel and a spade is in the leading edge. In general, a shovel's metal plate has a higher degree of curvature than a spade, allowing us to lift and hold soil more easily. In situations involving sand, soft soils, etc., a shovel may also be used for digging.
4. Hoe
A hoe is a digging tool with a long, acutely angled handle attached to a metal plate. To remove the soil, a plate with a sharp edge is utilized. It is commonly used equipment for excavation projects on a small scale. Fork-shaped plates are occasionally used in place of metal plates.
5. Rake
A rake is a tool that removes the smallest soil layers and has a horizontal rod with metal teeth. It is used to remove leaves and dust from the surface before excavating the top.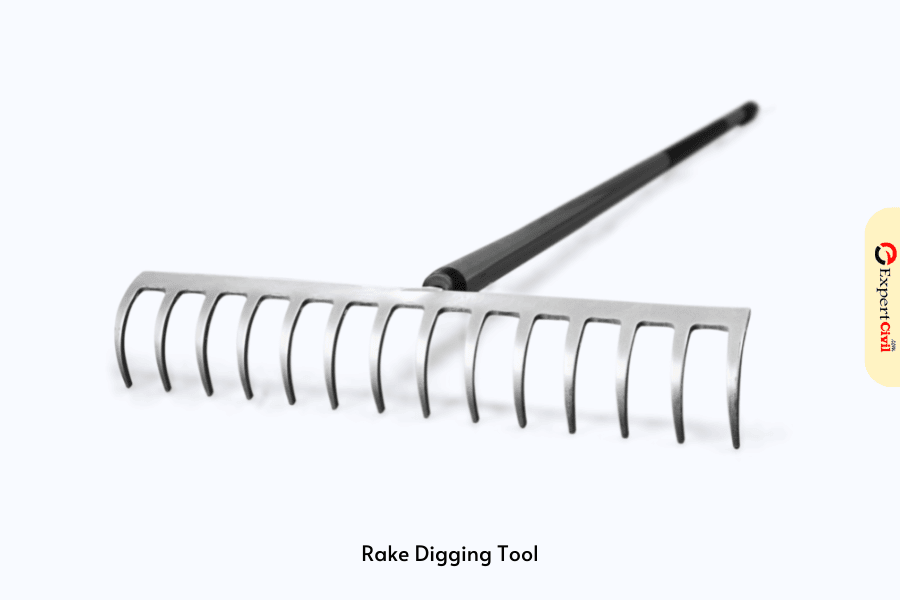 6. Trowel
A trowel is a hand-sized instrument.  It is typically used to remove shallow soil roots or dig small trenches in the ground. It is utilized for weeding or digging tiny holes.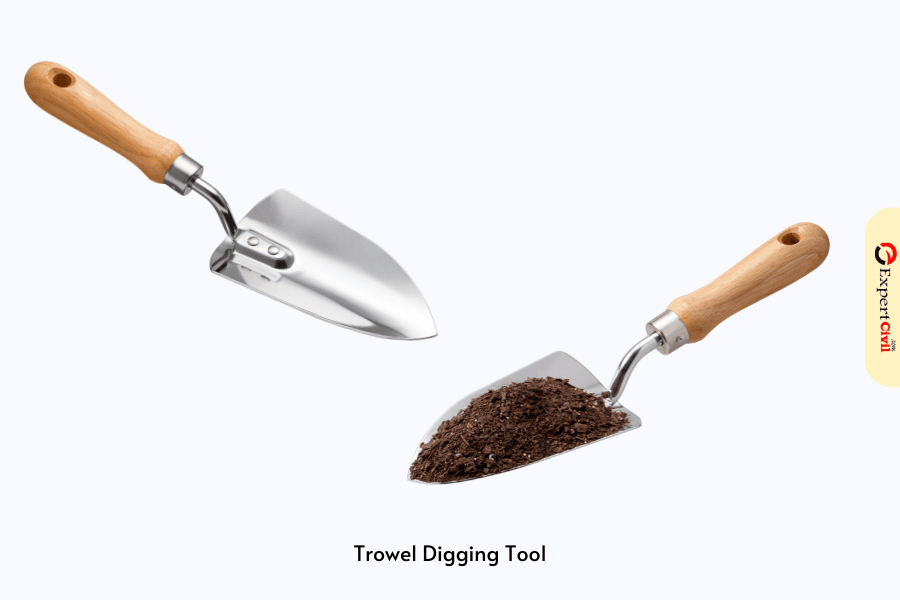 7. Pick Axe
Hard spikes are affixed perpendicularly to the handle of a pick axe. They are applied on the soil to make tiny ditches. Even in the case of hard soil, a pick axe can cut it. The metal spike has a broad blade on one side and a sharp tip on the other.
Also Read: Advantages and Disadvantages of Construction equipment
Power Tools for Soil Excavation
These are the pieces of equipment used for deeper excavations that are powered by mechanical force. In present-day, a wide variety of machine tools with user-friendly designs have been created.
1. Tracked Excavator
Track hoe is another name for this. Long arm and cabinet make up this item. Again, there are two sections to the long arm. Boom and Dipper-stick are the names of the initial component that seals off the cabinet. The end of the dipper has a bucket for digging connected. This complete system is capable of 360° rotation.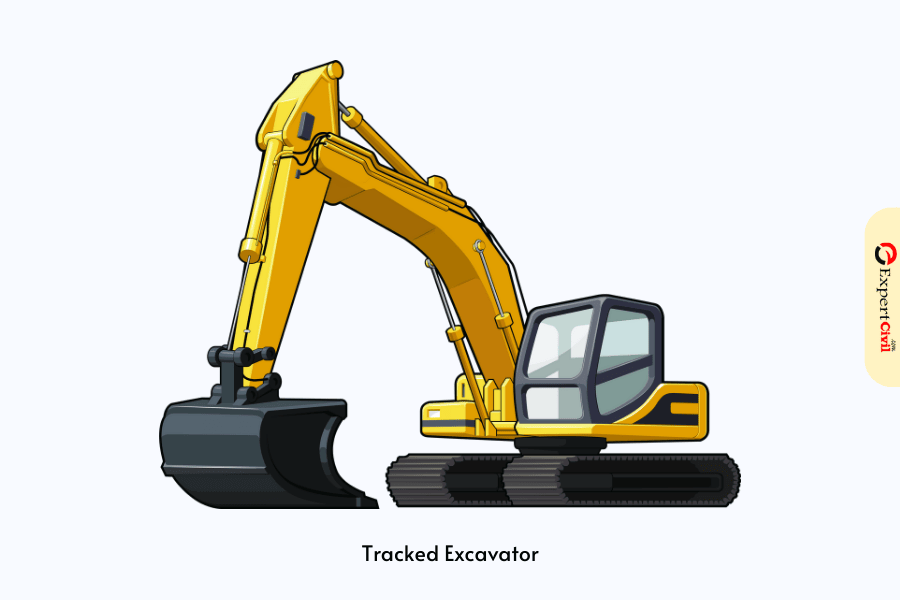 In this instance, the vehicle is propelled by traction. It makes suitable for usage in pipeline sectors as well as mines and forestry. Excavators are sometimes known as hydraulic excavators since hydraulic fluid performs the excavator's duty.
2. Backhoe Excavator
When using this equipment, the loader bucket is positioned in front of the vehicle and the hoe arrangement is on the backside. Hoe and loader perform two tasks. One is excavating and the second is loading or lifting. These days, a lot of equipment is employed that is thus tiny and versatile. Wheels are used to transport something. As a result, switching between workstations is completed rapidly.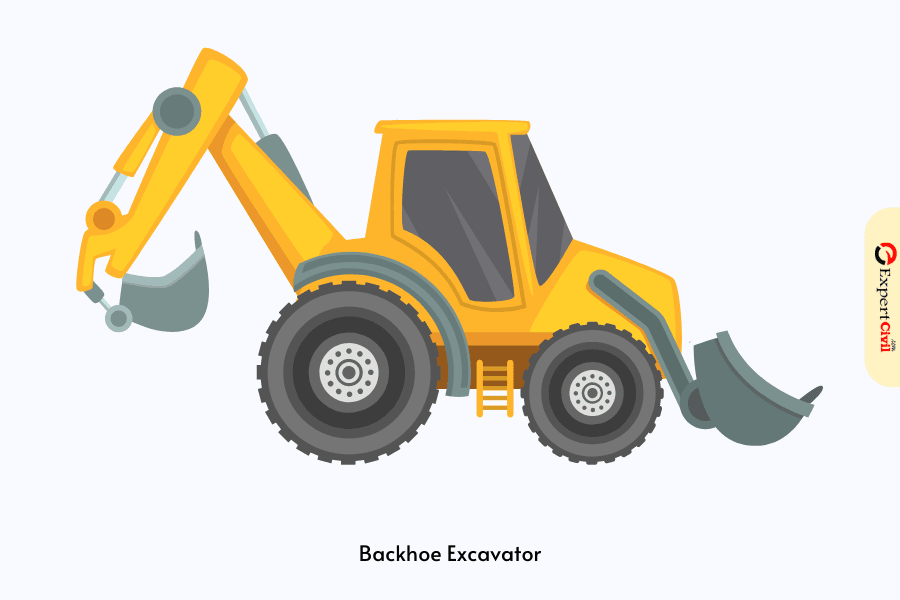 3. Wheeled Excavator
The only difference between this setup and a tracked excavator is that the vehicle is moved by wheels. When compared to tracked excavators, it can travel more swiftly. But because of its slippery nature, it is ineffective on uneven or hilly terrain. In order to build roads and other things, they are typically employed.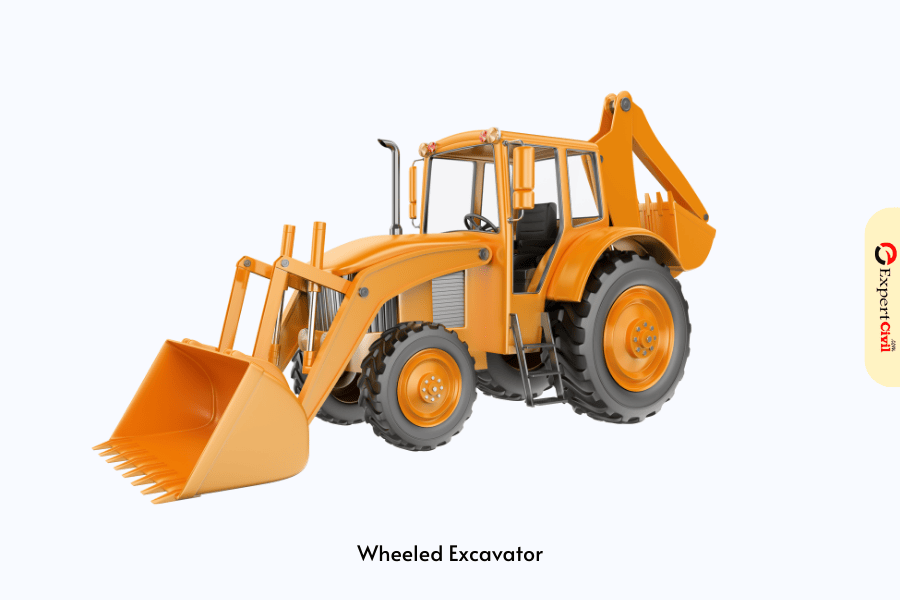 4. Bulldozer
The front of a bulldozer is made of a strong steel plate with a sharp edge. This plate's cutting edge's sharpness aids in both excavation and dirt cutting. Hydraulic arms can be used to raise and lower the metal plate. The bulldozers can be purchased on wheels or tracks. These are frequently employed for tasks like lifting dirt, removing weak rock strata, and excavating of soil.
5. Trenchers
The tools used to excavate trenches in the ground are called trenchers. Depending on our needs, these are also available in a variety of sizes. Trenches are typically dug for drainage, pipeline installation, and cable installation. There are typically two types of trenchers.
Trenchers with chains
Trenchers on wheels
Trenchers on chains
A digging chain is arranged around a stationary arm known as a boom in a chain trencher. The chain has sharp teeth and is quite hard. The chain rapidly rotates around the boom for cutting the ground.
We can control the depth of excavation by modifying the boom's angle. It removes soil with hard strata that bucket-style excavators can't work in. Wheeled trucks are available for smaller chain trenchers. Tracked vehicles are available for bigger chain trenchers.
Trenchers on wheels
When using a wheeled trencher, the trenching tool is a metal wheel with teeth. Both tracked and wheeled versions of these vehicles are available for this equipment. The wheeled trencher can cut harder soil than the chain trencher can. In the course of road maintenance, it is also used to cut the pavement surface. The wheeled trencher is superior to the chain trencher economically as well.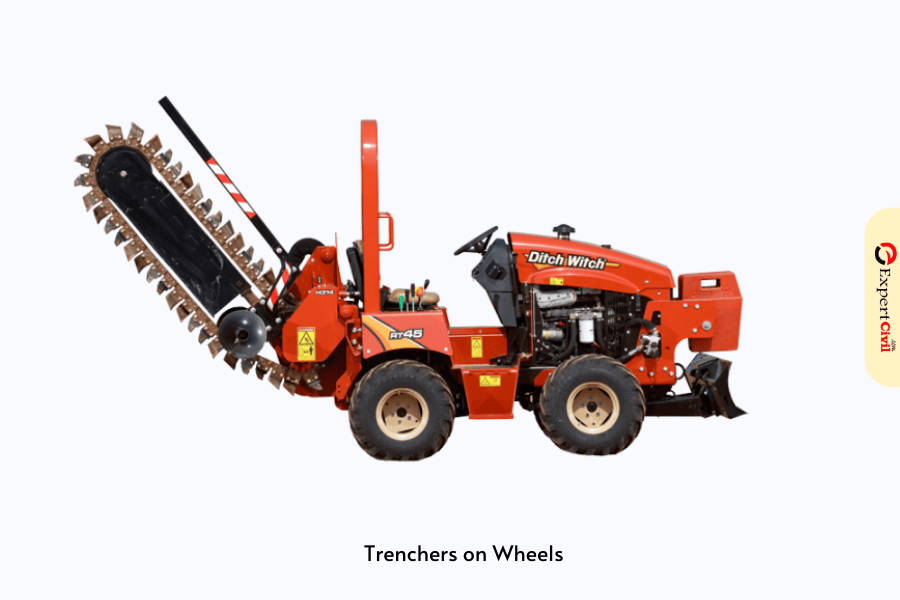 6. Dragline Excavator
Excavators with draglines feature long booms. A digging bucket is suspended to a cable that is hung from the top of the boom. Dragline excavators are typically used for deeper excavations. For example, port building and the removal of underwater sediment, among other things. These pieces of heavy machinery are more economical.
7.  Feller buncher
Feller buncher designed for forestry applications, aren't commonly used in construction due to their specialized function. However, in niche cases, they can assist by clearing dense vegetation or small trees on construction sites, aiding in site preparation.
Conclusion:
By reading this article you can get information about digging tools and their types. Different types of tools can be used for different levels of excavation. Each tool has its specific use. Hand tools are used for minimal digging. While deep digging requires power tools to complete a project.
Experience and training are required for excavation tasks. Regardless of the kind of excavation equipment you have, you'll need someone with the knowledge and expertise to use it properly. Additionally, it must have the accessories and functionality required for the task. Additionally, it's important that your equipment performs flawlessly and is free of leaks and extra smoke. To prevent mishaps, delays, and expensive repairs, make sure that all equipment is tested on a regular basis.
Also Read: 21 Types of Construction Equipment
We are sorry that this post was not useful for you!
Let us improve this post!
Tell us how we can improve this post?