Installing a fence around your home line will not only affect the outside style of your home; fences are a great addition to any area. It will help you to increase your home's privacy, provide security for your loved ones and pets, or add some aesthetic appeal to your yard.
It becomes challenging to select just one option when there are so many yard fence ideas available, each with its own unique colors, materials, sizes, and styles.
"Fences give a complete look to your house."
As a result, a home's fence is really important, and the most significant thing is that you can use a variety of "types of fences" to enclose your land. There are several available types of fencing. Each variety has a different level of service, fence styles, durability, and attractiveness.
What Do You Expect From Your Fence?
The main concern with fencing your home is privacy, however.
You want to stop a pet or young child from running away as they play outside.
You need a fence to keep outsiders out of the new pool.
You should pick a beautiful fence that enhances your landscape because the front of your house is all about giving your house an aesthetic look. Some fence designs can give your home the desired aesthetic appearance while enhancing security.
Types of Fences
Wood Fence
Aluminum Fences
Wire Fence
Bamboo Fence
Vinyl Fences
Composite Fences
Masonry Fence
Wrought Iron Fence
Chain-link Fences
Welded Wire Fencing
Woven Wire Fencing
Barbed Wire Fencing
Electrified Fencing
Keep in mind that there is no end to the choices; you must choose the one that meets your needs and necessities.
Also Read: Different Types of Windows for home with Pros and Cons
Wood Fence
Of all the fence types, "wood fencing is by far the most widely used."
From classic to modern, there are a million gorgeous styles you can create, and the price is also good.
Pros of Wood Fence
Your home will feel better and more comfortable with a strong wood fence.
Pickets, panels, logs, lattice, and posts are among the possible options for wood fencing.
Choose the best wood that can tolerate weather changes wherever possible.
Select the one that is both termite-resistant and season-proof. Otherwise, it could shorten the lifespan of the wood fence.
Natural color-treated wood: It is a fantastic choice because it both increases and enhances the property's charm and aesthetics.
Cons of Wood Fence
Given different climatic conditions, wood can split and shatter since it is a finicky substance.
Life Span: A wood fence also only has a lifespan of 10–20 years. depending on the installation's quality, the wood's species, and even the maintenance given to the fence.
Quality: A high-quality timber fence. When talking about high-quality timber fences, less maintenance and replacement is required.
Prevent decay:
When choosing timber for fencing, take into account the local weather or atmosphere since picking the right wood for your area will prevent decay and give a long-lasting fence.
on wooden fencing to shield it from moisture and excessively high or cold temperatures.
Cost of Wood Fence
The cost of a wood fence depends on the quality of the wood.
Aluminum Fence
Uses of Aluminum Fence
 Ironwork fences and aluminum fences are both available in a wide range of colors and designs. Some only serve as decoration, while others offer security.
Depending on the style, these kinds of fences work well for front or backyards and are frequently used as pool fences.
Pros of Aluminum Fence
Durability: Due to its durability, an aluminum fence is typically used in commercial settings.
Low-maintenance: Aluminum is a low-maintenance material that is very simple to clean.
Lightweight nature: Due to its lightweight nature, it is easily bent by small pressure or even a strong wind.
Strength and security: Aluminum fencing does not provide the same strength and security as other types of fencing.
Cons Aluminum Fence
The weakness of aluminum compared to wrought iron makes it more susceptible to damage during harsh weather.
Cost Aluminum Fence
The range from 19 to 76 dollars per linear foot depends on the height, style, size, and color of your fence.
Wire Fence
Uses of Wire Fence
A garden fence made of hog wire works well. It prevents animals from eating your flowers, vegetables, and other vegetation. A wire fence is another option for small pets.
Farmers and ranchers will construct single or double lines of wire fences to prevent horses and cattle from grazing in the wrong places in remote locations.
Pros of Wire Fence
The cost and ease of installation.
 Your wire fence won't need much maintenance besides minor repairs.
Cons of Wire Fence
Wire fencing is not attractive to many households. It's undoubtedly a functional fence choice rather than an attractive one.
Security: When used alone, they are a poor source of privacy.
Cost of Wire Fence
3 to 5 dollars per linear foot.
Bamboo Fence 
Uses of Bamboo Fence 
Homeowners who care about the environment prefer bamboo fences.
It is a particularly eco-friendly fencing option.
Pros of Bamboo Fence 
Eco-Friendly:
Bamboo fencing is a good new alternative in warmer areas because it is eco-friendly and appealing.
Wood frames keep the bamboo sticks

together for a distinctive, lovely style in bamboo cane and folded bamboo. 
Sustainable material: It's simple to grow bamboo, which makes it a truly sustainable material.
Safety: Your home will look better and feel more secure with bamboo fencing.
Cons of Bamboo Fence 
 One of the most native plants on earth is bamboo.
 Live bamboo will swiftly invade your yard and spread to your neighbor's land.
 In addition, bamboo, a different kind of wood, is prone to rot and pests (especially roaches).
To prevent rot, you must mount rolled bamboo panels several inches above the ground and apply a protective coating to them.
Cost of Bamboo Fence 
It costs between 3 to 6 dollars per linear foot. Another cost-effective option, it is also quite simple to install.
Also Read: Complete Guide on Wall Putty with Advantages and Disadvantages of Wall Putty
Vinyl Fence
Uses of Vinyl Fence
Vinyl is great for picket, split-rail, and privacy fences.
 It is also useful for pool fencing, pet fencing, and landscape décor.
Vinyl fencing is ideal for both the front and back yards.
Pros of Vinyl Fence
These fences are strong and long-lasting, and they frequently have lifetime warranties.
Maintenance: With only frequent washing, vinyl requires little care and maintains its excellent condition for years.
Color: 
The standard colors for vinyl feces are green and black.
This particular style of wire fencing has been welded and weaved before a vinyl covering was added.
Durable: A vinyl-coated fence has a nice appearance and is durable because the wire is shielded by both vinyl and galvanized coating.
Cons of Vinyl Fence
There is only one disadvantage of vinyl fences which is the expensive cost. 
Cost of Vinyl Fence
17 to 38 dollars per linear foot.
Composite Fence
Composition of Composite Fences
The material is made of a strong combination of plastic, resin, and wood parts.
Pros of Composite Fences
It is available in a variety of shades and patterns that resemble real wood but lack the material's susceptibility to decay and pests.
It resembles genuine stone: Manufacturers also produce composite fencing that resembles genuine stone.
Low maintenance: These fences require only the occasional watering to maintain their best appearance and are low maintenance.
Security and safety: Solid panels offer protection and security for kids and pets.
Cons of Composite Fences
High Cost: Composite fences are more costly than certain other types of fencing due to their superior quality and durability.
It's difficult to install: You need to employ a contractor because they are extremely difficult to install.
Preferences: Composite fencing is preferable for backyards rather than front yards because it is often tall and blocks views.
Cost of Composite Fences
Materials will cost from 15 to 45 dollars per linear foot.
Masonry Fence 
Uses of Masonry Fence
They can also provide a secluded outdoor area if you construct them tall enough.
 A taller version is ideal for the backyard, while a low, ornamental brick fence is ideal for enhancing your front yard landscaping.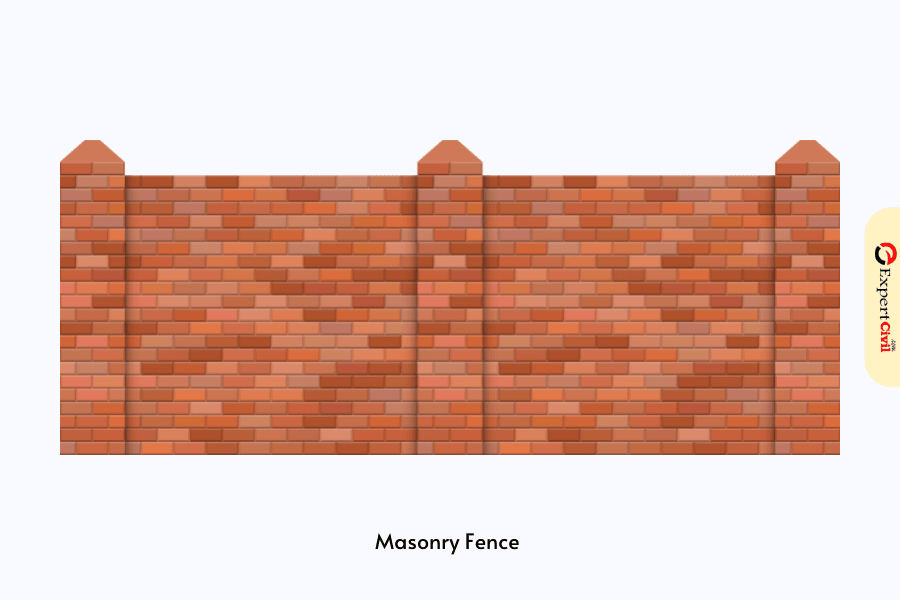 Pros of Masonry Fence
A masonry fence can last a long time and requires little maintenance if it is erected correctly.
Security: Fences made of stone, brick, plaster, or concrete improve a home's aesthetic appeal and security. 
Cons of Masonry Fence
The materials themselves are expensive, and professional installation is required.
Cost of Masonry Fence
Materials will cost from 10 to 80 dollars per square foot.
Wrought Iron Fence
Uses of Wrought Iron Fence
This fencing is primarily used to produce a first and customized solution.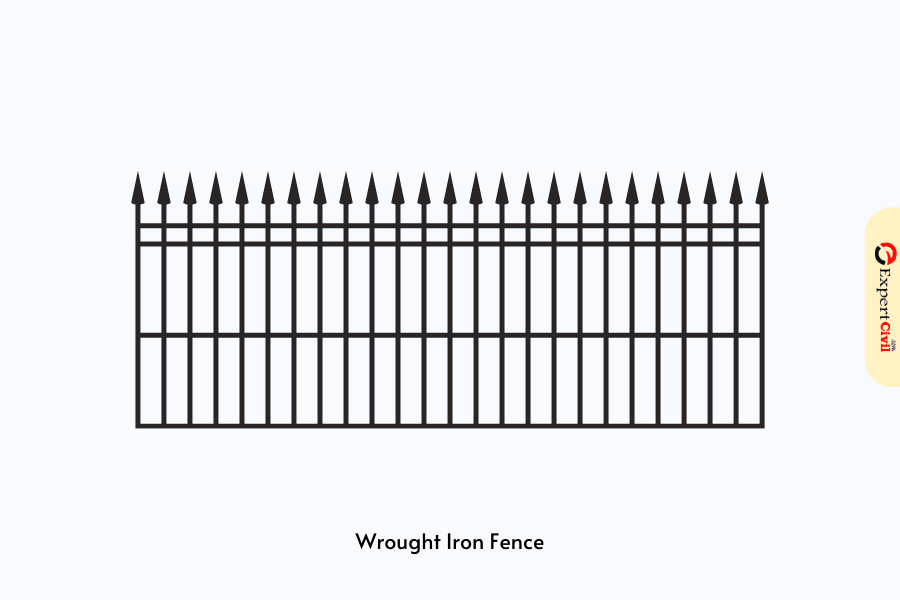 Pros of Wrought Iron Fence
Wrought iron will survive for a long time with proper maintenance.
These fences are also easily matched to your landscaping and are customizable.
High-end customizing: Due to its weight and a great degree of malleability, this material is ideal for high-end customizing.
Cons of Wrought Iron Fence
 These materials require regular maintenance as iron and steel quickly rust. Most iron fences are extremely expensive as they are custom-made.
 Additionally, when used as fencing, it requires a lot of maintenance.
Cost of Wrought Iron Fence
Wrought iron fence prices range from 26 to 34 dollars per linear foot.
Chain-link Fence
Uses of Chain-link Fence
Due to its low cost and ease of maintenance, a chain-link fence is primarily used in building projects and industries, or in a variety of contexts, including the home, public spaces, and both urban and rural areas.
Pros of Chain-link Fence
These include low cost and simplicity of installation for do-it-yourselfers.
 They don't require any repair and are resilient.
Simple and quick: These kinds of fencing are simple and quick to install.
Safety: Even though they are poor privacy options when used alone, you can make a strong privacy fence by weaving in vinyl strips.
Cons of Chain-link Fence
According to the majority of homeowners, chain-link fencing doesn't add aesthetic value to a home.
The material can rust if you purchase it without a covering to protect it.
Cost of Chain-link Fence
Price varies between 12 to 33 dollars per linear foot.
Welded Wire Fencing
Purpose Welded Wire Fence
It is put over walls around secured property and is used to build cheap fences.
 it is a key component of trench warfare fortifications.
Pros of Welded Wire Fence
This wire will simply last longer and endure the test of time than a woven or chain link fence because of its strong cross points and rigid holes.
 In terms of adaptability, welded is more easily adapted in the field than woven or chain link.
Cons of Welded Wire Fence
The fence will eventually create a permanent deformation under intense pressure.
Uses of Welded Wire Fence
Garden Fence

Protection Wall

Road and rail fence

Window Fence

Animal fence 
Cost of Welded Wire Fence
For a welded fence, you should pay between 4 to 10 dollars per linear foot.
Woven Wire Fencing
Pros of Woven Wire Fencing 
 This is a robust, durable, and attractive fence only when it is installed correctly.
It requires less maintenance than the electric fence and serves as a physical barrier.
Cons of Woven Wire Fencing 
Apart from its price, one of its drawbacks is that it can become challenging to install effectively.
Uses of Woven Wire Fencing 
Fences for swimming pools

Ostrich and Emu Fences

Garden Fencing

Canine shelters

Fences for goats and sheep

Inserts for railing safety panels
Cost of Woven Wire Fencing 
 The price per linear foot ranges from 0.40 to 1.50 dollars.
Barbed Wire Fencing 
Purpose of Barbed Wire Fencing 
They

are famous for avoiding

unwanted visitors

and ensuring the

safety of your property.

 People are discouraged from trying to enter a space when they

notice the tiny barbs on a fence.
Pros of Barbed Wire Fencing 
Barbed wire is a low-cost choice
Additionally, when used as fencing, it requires a lot of maintenance for fencing and offers a strong barrier.
Cons of Barbed Wire Fencing 
Barbed wire fencing is not safe for horses.
If a horse gets trapped in barbwire, the injuries could be fatal because of how quickly its barbs can rip into the thin skin of the animal.
Uses of Barbed Wire Fencing 
Confinement

Division

Protection

Repellents

The Army
Cost of Barbed Wire Fencing 
The price ranges from 60 to 110 dollars for a normal, 1,320-foot roll, or 0.03 to 0.08 dollars per foot.
Electrified Fencing
Pros of Electrified fencing
Electric fencing saves time, effort, and money compared to non-electric fencing
it is cheap and made up of low-cost wires.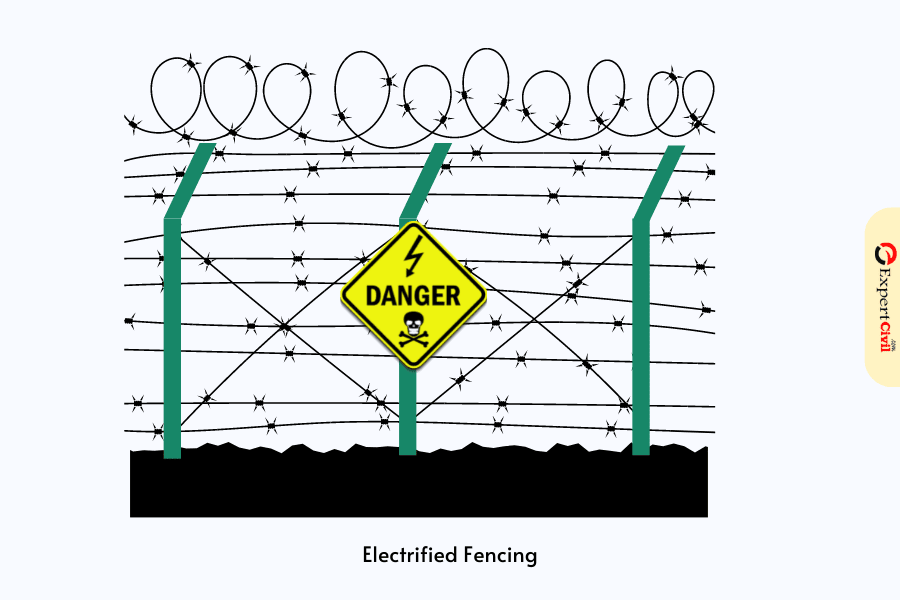 Cons of Electrified fencing
They need maintenance at regular intervals.
It requires regular plant maintenance.
If grass and trees are not kept correctly trimmed, they may be a fire hazard.
 Additionally, make sure the fence is correctly grounded since, if not, it could become dangerous or useless.
Uses of Electrified Fencing
Affordable and simple.

Reliable and safe. 

Durable and long-lasting
Cost of Electrified Fencing
900 to 1,300 dollars
Also Read: Different types of parapet walls for home