Do you know how important construction tools are? In actuality, these are the tools that increase the efficiency of construction projects. And, you always need some basic tools to finish your job. These are the tools that made it possible to do tasks more quickly and correctly. That's why; these tools might not be confined to just a few!
So, if you are in search of finding tools for your next project, you are at the right site. This article serves as a reference for the various tools and their application in a construction project. Let's get started.
What are Construction Tools?
Construction tools are the main asset to every construction project. They help to reduce manpower. These tools ensure delivery of task completion. There are many varieties of tools and each type has its specific purpose.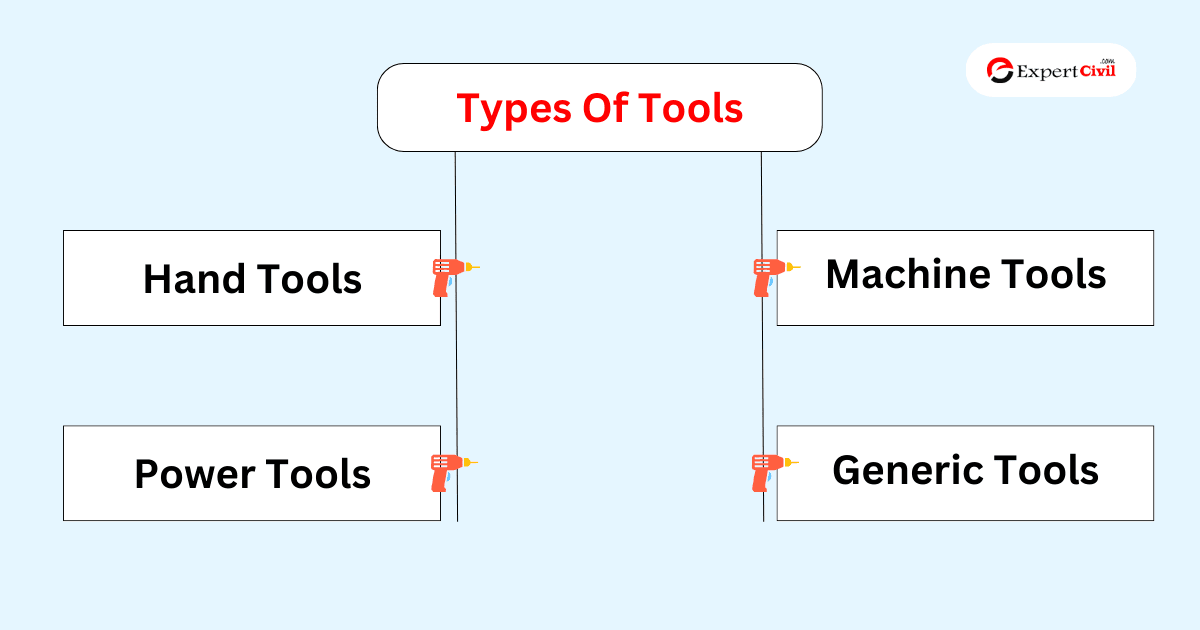 Following are the main types of tools are discussed below:
1. Hand Tools
These tools must be manually operated. For example, screwdrivers, brushes, trowels, and wrenches. They can be used both indoors and outside.
2. Power Tools
These types of tools include using liquid fuel, compressed air, or electricity to operate. They can be either stationary or portable. Speed and accuracy are other advantages of power tools. For instance, a table saw.
3. Machine Tools
They may be used to cut, bore, or grind materials. They are used in manufacturing. These types of tools are not powered by human muscle.
4. Generic Tools
These types of tools include a wide range of instruments such as hammers and shovels both how they are made and what they are intended to perform can differ. They can be produced using a variety of substances. In broad terms, they all contribute to the construction process.
List Of Top 50 Construction Tools
Construction industries like masonry, carpentry, and plumbing need a variety of instruments, tools and equipment you could need for your construction project with images are listed below.
1. Chisel
Chisels are used as cutting tools in construction. Materials like cement, wood, or metal can be cut, carved, and shaped. The chisel is used with a hammer to enhance the productivity of your task.
2. Circular saw
The most common saw used in modern construction is a circular saw. The cutting of material is performed by its round and sharp-toothed blade. It cuts metal, wood, fiberglass, concrete, and polymers.
3. Claw Hammer
A claw hammer is a hand tool. This tool has claws on the opposite side. The claws force up nails and a hammer is used to drive in nails.
4. Adjustable Spanner
An adjustable spanner has a changeable jaw on an open-ended wrench. Its opening can be changed. So, you can use it on any fastener size. It will be convenient for you.
5. Air Compressor
It is a type of power tool. You can use it for cleaning surfaces of sawdust. Air compressors are also used by road cleaning equipment. These compressors easily remove trash from the road's surface.
6. Bolster
A bolster is a hand tool. It consists of a handle and a beveled edge. It can be used to break tough material i.e. brick, stone, and metal.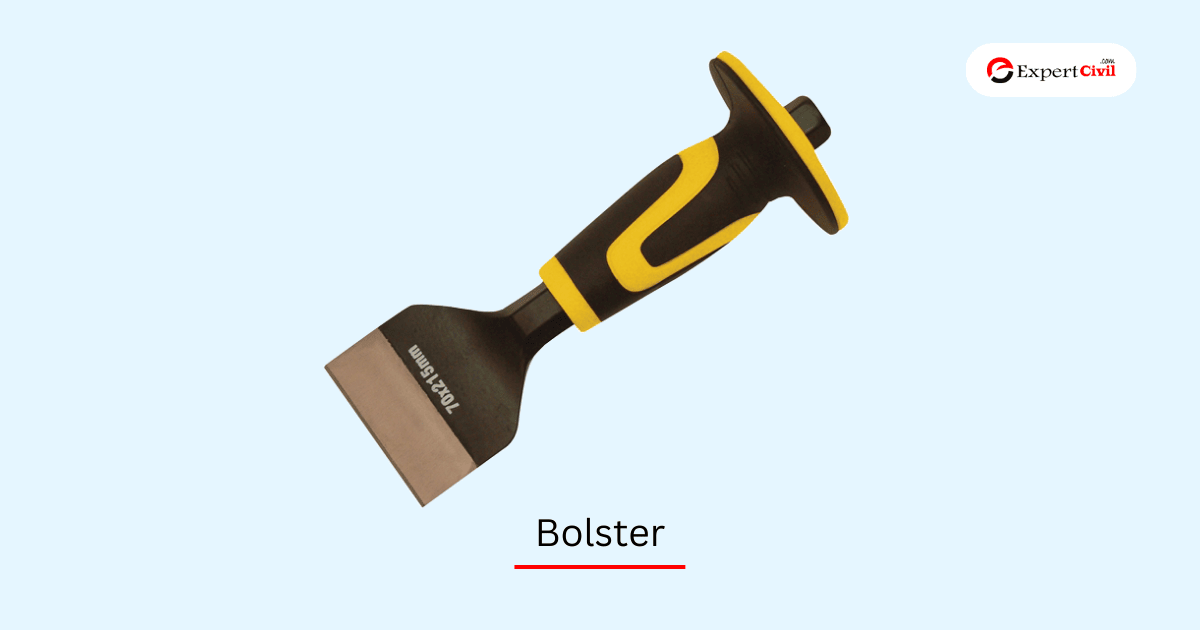 7. Boning Rod
A t-shaped bar is called a boning rod. It is used to level dug ditches along their length. Leveling a trench surface needs the use of three boning rods.
8. Bump Cutter
A bump cutter is used to eliminate all elevated patches (bumps) in the concrete. This tool has a sharp straight edge.
9. Calculator
In projects, you can make calculations on various components, such as materials and equipment. This tool can make precise estimations to prevent losses in your project.
10. Caulk Gun
Caulk is an adhesive that is used to fill cracks and gaps around sinks and window frames. It is usually applied by using a gun. So, you don't have to worry to fill gaps and cracks. Caulk gun helps you out in your project.
11. Concrete Mixer
Sand, cement, aggregates, and water are all blended. It has a cylindrical machine to mix all the mixtures. You have to add all ingredients to the machine to make desired concrete for your project.
Also Read: Different Types of Concrete Mixer
12. Generator
Construction buildings are often cut off from the power supply. Power generators provide a temporary solution to give power. It ensures the availability of power on site.
13. Gloves
Gloves help to provide safety to you during work on the site. It protects your hands from wounds, heat, and chemical dangers. So, you never forget to wear your gloves during your working hours.
14. Hand Saw
A handsaw is a tool used in construction to cut the wood into various sizes and forms.
15. Head Pan
A head pan is a container, like a bowl used to carry concrete or cement to the site.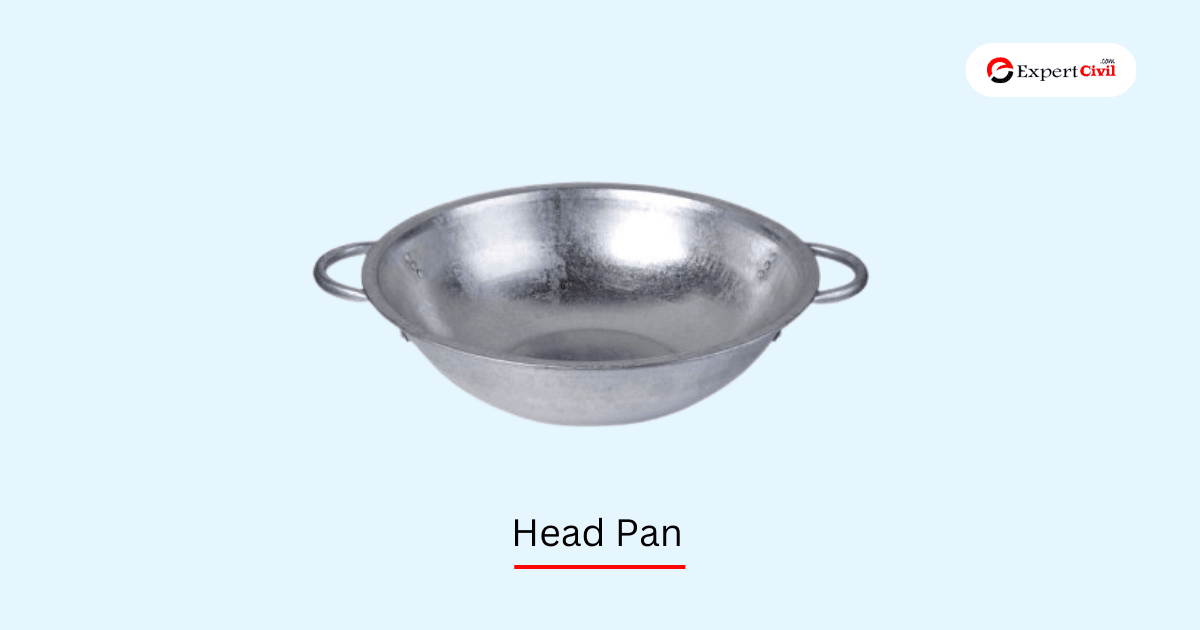 16. Hoe
In construction, a hoe is a tool used for modest excavating tasks. It is made up of a long wooden handle and a metal plate.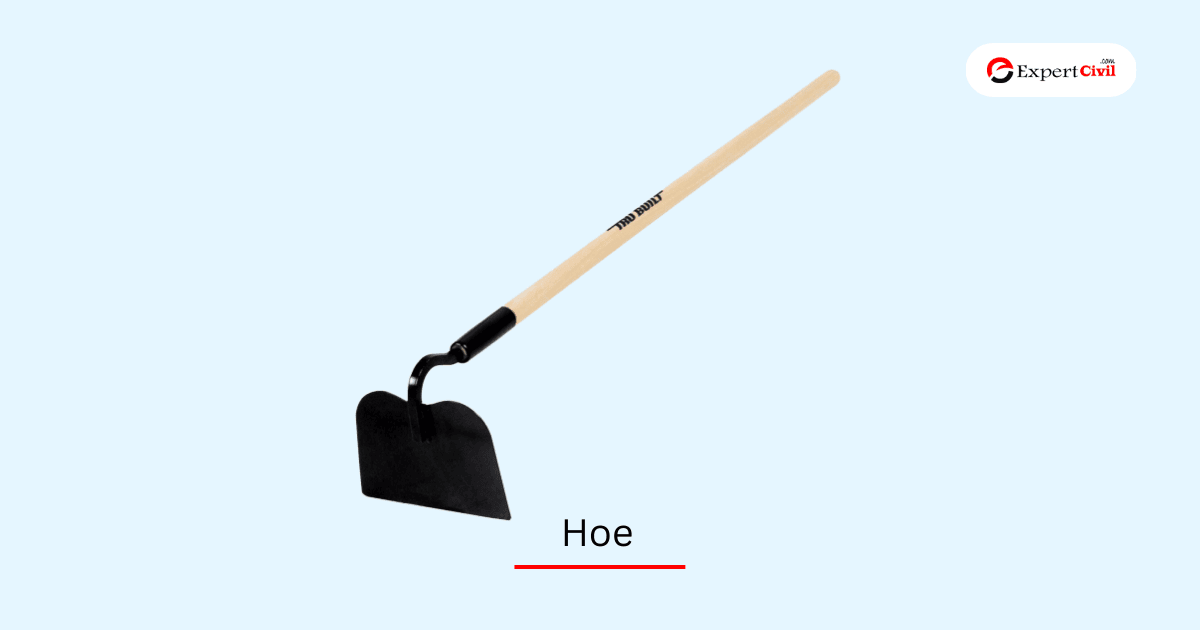 17. Jackhammer
A jackhammer is a power tool. It is used in construction to break through hard objects.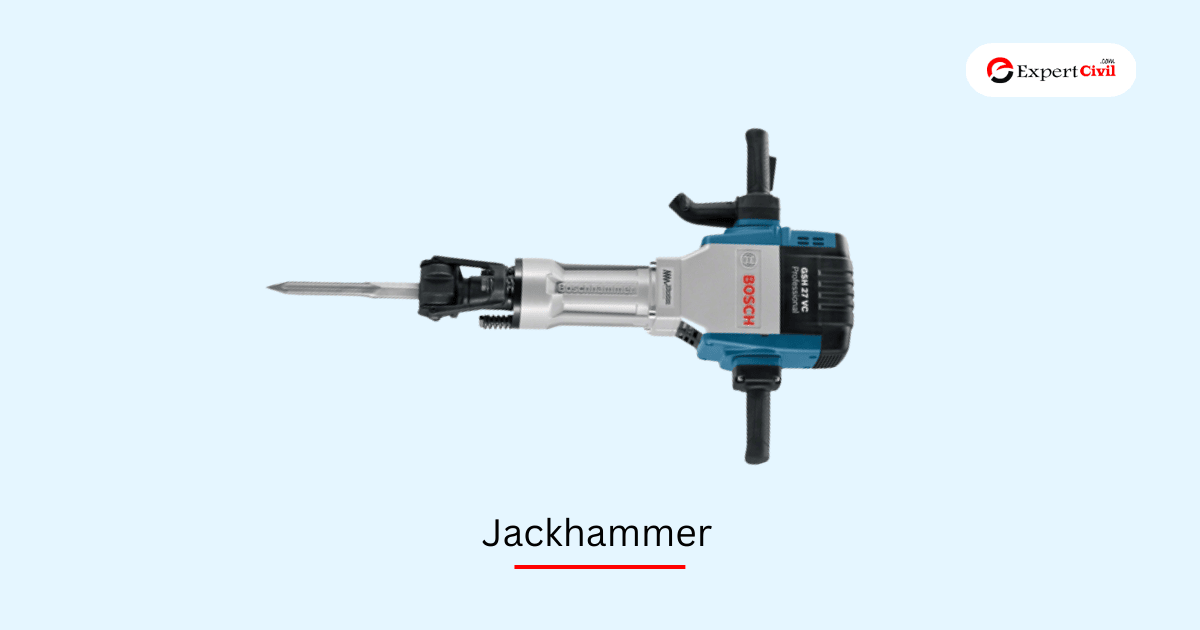 18. Concrete Sander
A leveling tool for concrete surfaces is a concrete sander or concrete grinder. Even rough concrete grinding may need it.
19. Crowbar
It is a lengthy instrument composed of steel alloys. This tool can lift big objects that are tightly secured.  You can lift your heavy objects with this tool.
20. Digging Bar
Making and excavating holes is easier with a digging bar. It helps in the removal of rocks, dirt, and debris. So, your digging task becomes fast just because of this tool.
21. Disc Grinder
Handheld abrasive cutting tools include disc grinders and angle grinders. It is used to cut building materials at a specific angle.
22. End Frame
The Small L-shaped frames are known as end frames. They work the same as lines pins. For bricklaying, they are used to secure threads around corners.
23. Float
 A float is used to remove surface flaws from concrete.
24. Nail Gun
A nail gun is a type of hammer. It drives nails into wood or other construction materials.
25. Pickaxe
A pickaxe is a hand tool. It has a sharp and perpendicular edge affixed to it. You can break tough surfaces in a second with the help of this tool.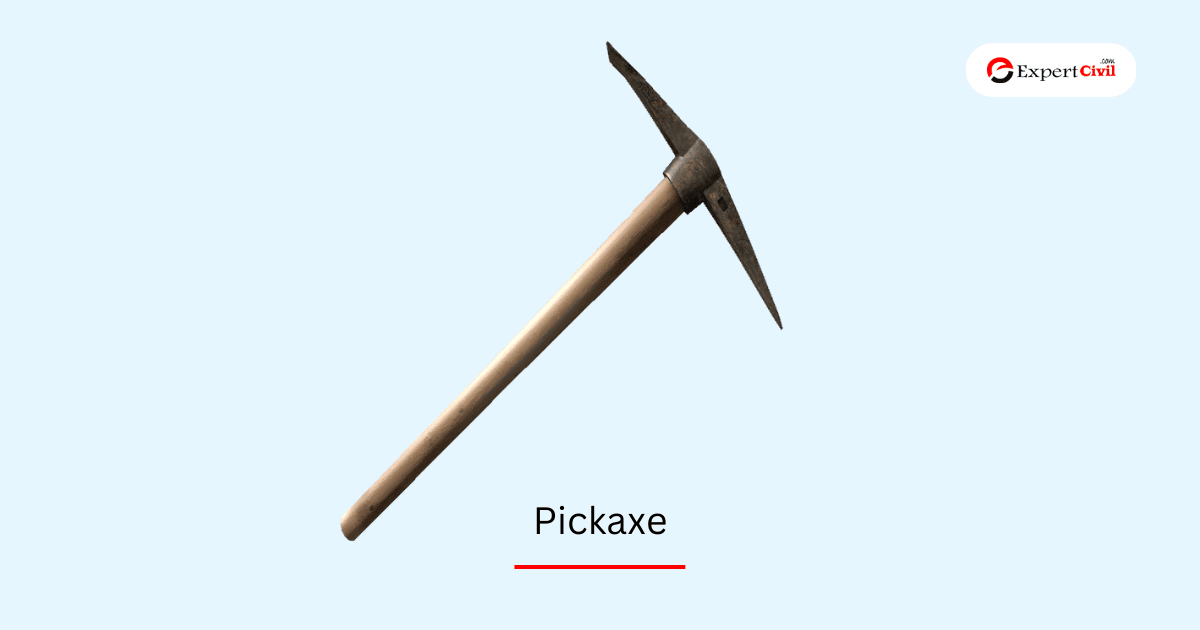 26. Plier
This is construction equipment with handles, pivot points, and jaws. They are used to grasp, cut, loosen, or tighten things.
27. Plumb Bob Level
It is among the first building tools. It helps to create a vertical datum. The work efficiency increases due to its pointed tip.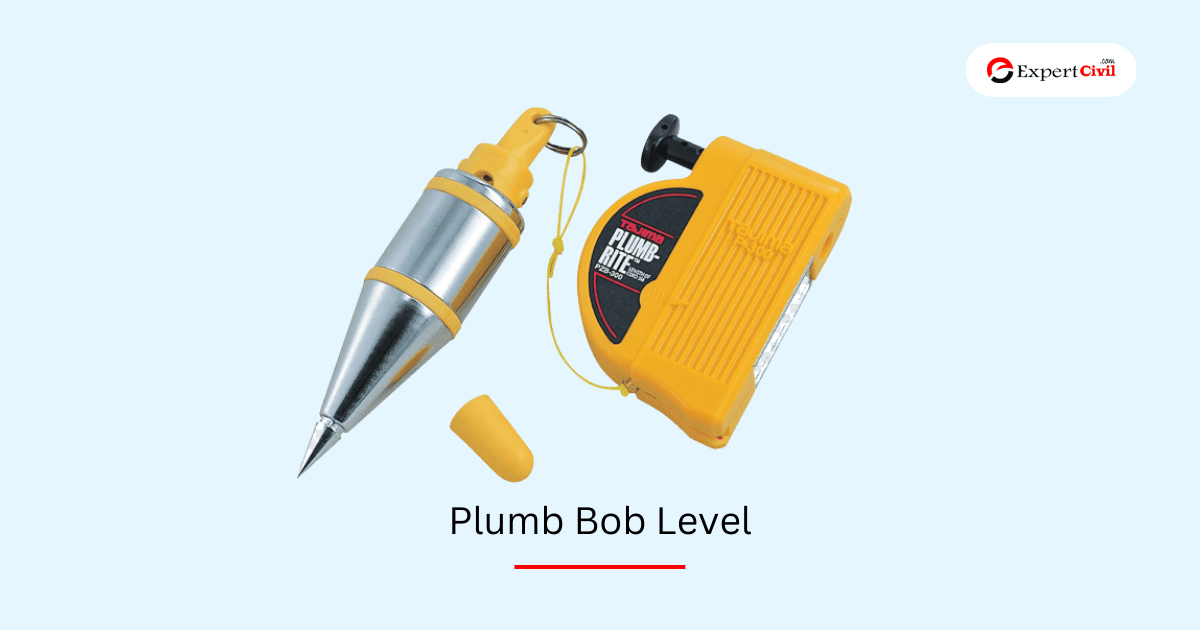 28. Ladder
It has a vertical or inclined structure with rungs. It helps you to climb higher at the desired height. Ladders can be composed of fiberglass, metal, or wood.
29. Line Pins and Rope
Bricklayers use lines pins and rope. These are used to lay out even courses along a wall. For laying bricks, the line is knotted around the pin.
30. Mason's Square
An L shaped instrument is called a mason's square. It is used to square off the corners of masonry walls.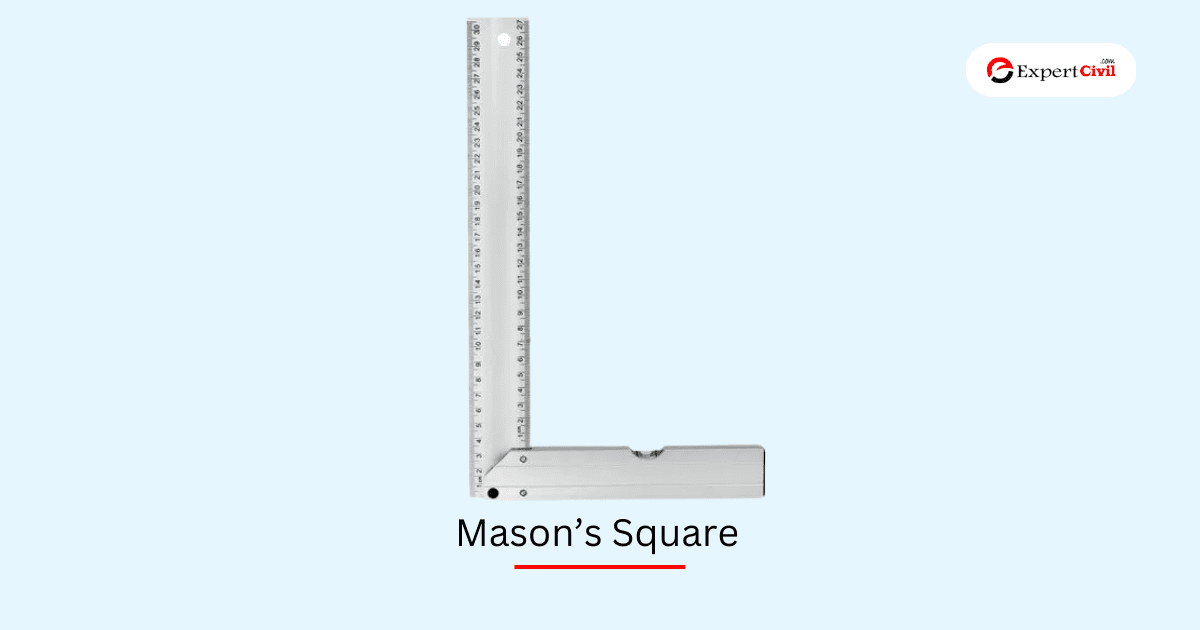 31. Measuring Tape
A measuring tape is more like a flexible ruler. You can use it to measure the length and width of walls.
Also Read: Different Types Of Chains and Tapes In Surveying
32. Distance Measuring Wheel
In construction, flat areas like plots and fields are measured using a distance measuring wheel. The measuring device counts the number of rotations of the measuring wheel. In this way, measurements can be taken.
33. Plumb Rule
A plumb rule is a short piece of wood. It is used along with a plumb bob to verify the vertical datum of a construction.
34. Rake
A rake is a crossbar with teeth. It is fastened to a pole-like framework. Rakes are used to scattering and pushing gravel and other materials. Additionally, they are essential for leveling aggregation.
35. Power Drill
A power drill is a tool that is used in construction. It is used to tighten or loosen screws. It can drill holes, and install small drill-bit accessories.
36. Rammer
A hand instrument is used to compact and compress the soil.  It can provide the optimum hard surface. So, the dirt is compressed by using a rammer.
37. Safety Glasses
You must use safety glasses to protect your eyes. Construction site hazards can cause serious eye injuries. Grinding and brickwork produce huge chips and particles that fly around. They may injure the eye if they do so. That's why don't forget to use your glasses.
38. Rubber Boots
Rubber boots are personal protection equipment (PPE). It ensures food safety at work. They guard the feet against slipping, falling items, burns, and slippage.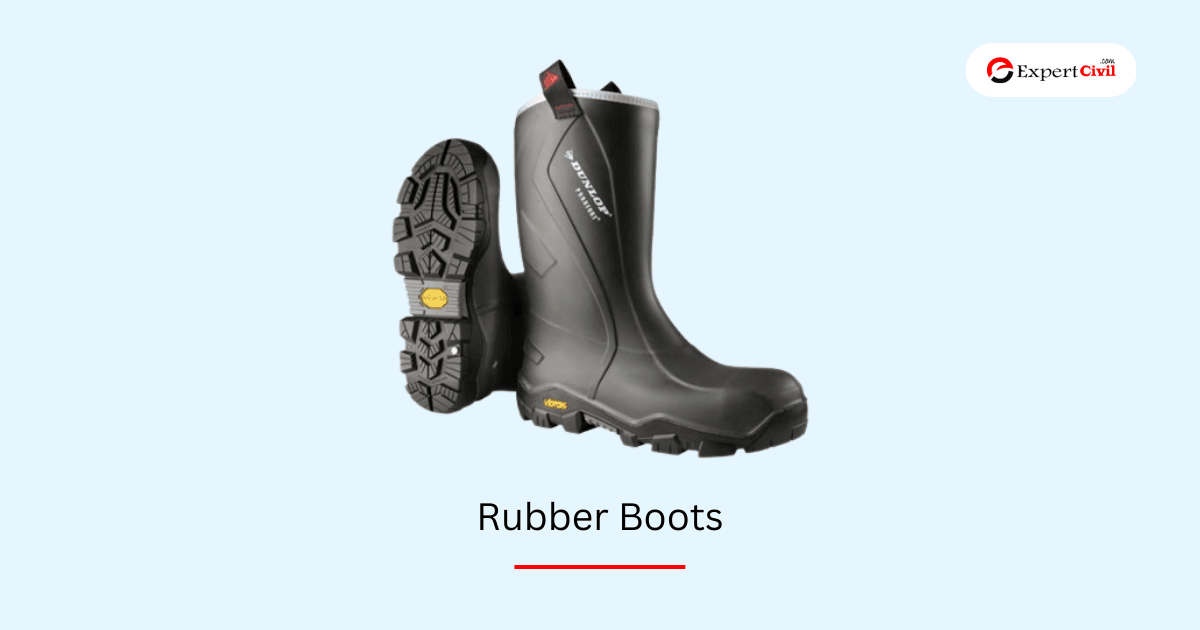 39. Safety Helmet 
In construction, safety helmets are a standard piece of protective equipment. It shields the head and brain against foreign objects. They also offer enough resistance against excessive sun exposure.
40. Sawhorse
A sawhorse is a straightforward building tool. In general, it adds support for cutting wood. It can also be used with support planks to create a scaffold.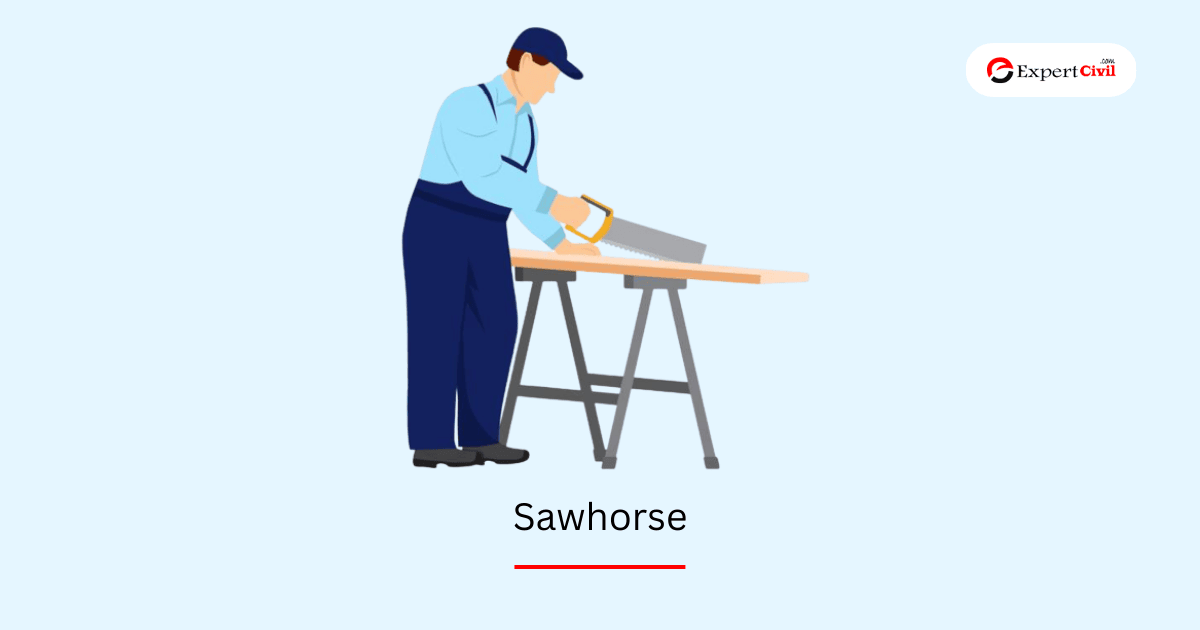 41. Sand Screen Machine
Sand is sieved on a building site by using a sand screen machine. It contains a vibrating mesh. This mesh allows smaller grains of sand to pass.
This machine has a variety of sieve sizes. Each variety of machines is designed according to the size of the sand particle.
Also read: Silt Content Test for Sand
42. Scratcher
The primary method of plastering surfaces is layer by layer. A scratcher is used on the bottom coat to scratch. And, it strengthens the bonding for adhesion between the layers.
43. Shovel
A shovel is a tool used to transfer loose material from one location to another. Trenching and digging are also done with it.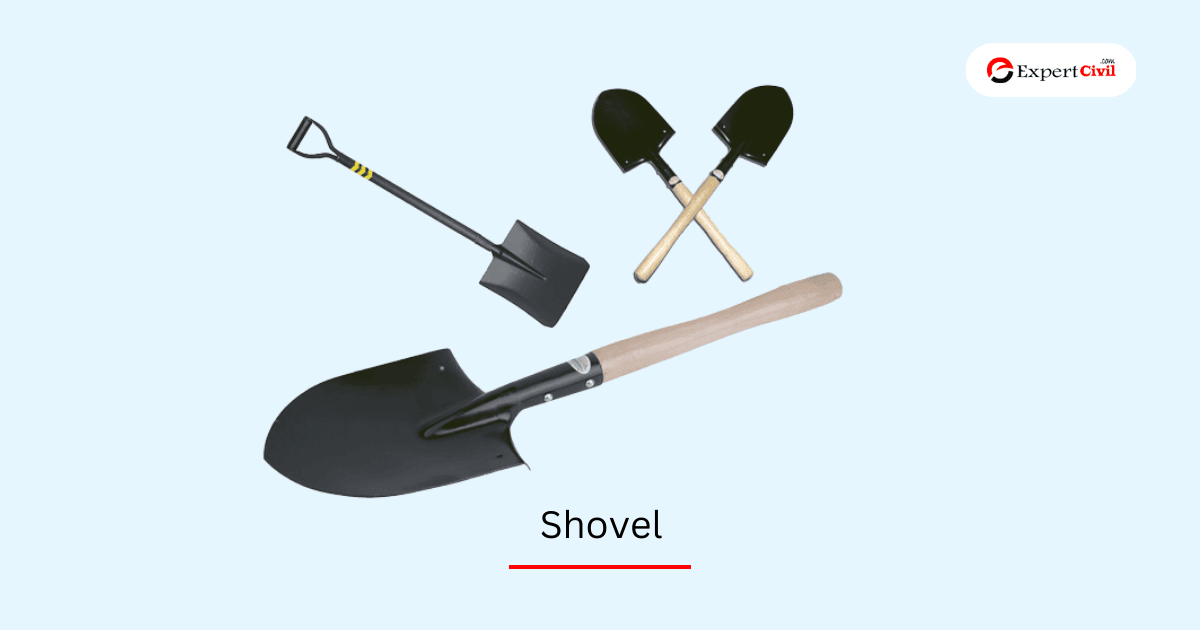 44. Screwdrivers
A tool with a handle and a shaft is called a screwdriver. The screwdriver is used to insert or remove screws.
45. Spirit Level
Spirit level is used to check the surface level concerning the ground.
46. Sledgehammer
A sledgehammer is a powerful hammer with a head like a mallet. It is used to crush stones.
47. Straight Edge Brush
A straightforward tool is used for completing plastered surfaces. It draws smooth corners and edges of walls.
48. Survey Rope
A survey rope makes basic measurements between two locations. Always use a rope with a handle and cord for correct calculations.  The numbers are calibrated from the handle to the end.
49. Tile Cutter
A tile cutter uses a tiny blade to score a tile. It is used to cut straight lines in glass, ceramic, and cotta tiles.
50. Stud Finder
A stud finder is used to find structural studs hidden beneath the drywall. Now, there is also the availability of modern or digital stud finders. They can determine the density of the materials hidden behind walls.
Tricks to Enhance Construction Tool Productivity
1. Consistently Maintain Your Equipment
The international journal of engineering and science (IJES) estimates 40% of overrun expenses are due to not maintaining your equipment. If you don't maintain your tools, it will affect your task's progress and productivity. Profitable construction sites have fewer expenses and compensations. So, always check your tools before starting your job. It will eventually save you time and make more profit.
2. Sufficient Training
As you all know that training is the key to success in your construction project. If you want to avoid accidents and harm, do your worker's training. 
You should always follow the guidelines before using any tool. This practice will increase your tool's working efficiency.
3. Maintain A Clean And Organized Workspace For Construction
It is a thumb rule to clean your workspace to increase your task and tool's performance. Most of the tasks on the construction site demand an organized workplace. During work, the prevention of delays is ensured by regular cleaning.
4. Disconnect And Unplug Power Tools
Be careful to unplug and disconnect power tools after their usage. For safety reasons, you should disconnect it as well when changing its bits. And, you must disconnect tools before transporting them to a new position.
5. Adequate Tool Management
Tools should be handled carefully to reduce mishaps. Never use an electrical cord to lower or lift tools to your workspace. It is suggested to use a tool belt when carrying your tools around. Always, keep your finger away from the triggers on your power tools.
Make sure you have adequate room to work safely. Make sure there is no one below you if you are working at a height. No safety protections on your tools should be changed or removed.
6. Wear PPE
For your protection, you should wear PPE. It includes masks, helmets, earplugs, safety boots, and safety goggles. You must avoid loose clothing or jewelry on your workspace.
FAQ
What types of laying tools are used in construction?
Several construction tools can be used for laying. The following tools are mentioned below:  
1. Hoes
2. Iron pans
3. Jack planes
4. Mason's squares
5. Measuring boxes
6. Brick hammers
7. Boning rods
8. Bolsters
9. Digging bars
10. End frames
11. Hand saws
12. Measuring tapes
13. Measuring wheels
14. Pickaxes
15. Spades
16. Spirit levels
17. Tile cutters
18. Trowels
19. Plumb bobs and rules
20. Polishers
21. Chisels
22. Concrete mixers
23. Scratchers
24. Wedges
25. Wheelbarrows
26. Putty knives
Which tools are used by workers to dig?
Construction workers use a variety of machines to excavate and grade soil. They can speed up the digging process. Some of the construction tools that can be used for digging are:
1. Excavators
2. Backhoe Loaders
3. Bulldozers
4. Skid-Steer Loaders
5. Motor Graders
6. Crawler Loaders
7. Trenchers
8. Scrapers
9. Dump Trucks
Conclusion 
In short, this article is all about construction tools. These tools are essential for completing tasks for workers. Each construction tool is designed for a specific purpose. 
Now, you are aware of the tools that will serve your needs. So, you can begin your job right now with 100% productivity.
Also read: Different Types of Soil Excavation tools and Machines In Construction