What is plyboard?
Plyboard is a panel made of wood. Plyboard consists of strips of softwood glued together that form the core. Softwood strips are edge-to-edge. It is covered with hardwood planks or software veneer on both sides. Veneer panels are glued with softwood strips under heat and pressure. Then it creates into particleboard. Softwood strips are usually 28 mm wide.
Uses of blockboard/plyboard
Plyboard is used in the manufacture of wood products that require long lengths of wood. Various products include shelves, chairs, tables, cabinets, sliding doors, etc. Plyboard is ideal for covering large portions of furniture. Plyboard is ideal for the following uses in your home:
Larger pieces of furniture like long tables or bookshelves
Benches
Partitions
Longwall panels
Back Veneer
Plyboard panels are made up of three layers. The very first one is a veneer sheet. it covers both sides of the board and is sandwiched with wood stripes. Plyboards are occasionally made with five layers. It has two veneer sheets on each side.
These sheets help to improve stability. One veneer sheet sandwiched between the wood stripes and the veneer stripes. Plyboards are in a variety of widths and thicknesses. Plyboard comes in thicknesses ranging from 13 mm to 60 mm.
Also Read: Types of Wood with Their Uses and Advantages
What is plywood?
Plywood is a board made by stacking sheets of wood veneer. Sheets are on top of each other and glued together using resin under high pressure. The wood grain of the adjacent layers is rotated up to 90 degrees apart.
Uses of plywood
Interior walls: plywood is strong and flexible. That's why; it is a great candidate for framing and cladding interior walls.
Cabinets:  plywood works great for cabinets. By and large, plywood is used on the back and side of the cabinet.
Roofing and Flooring: On many flooring projects, professionals use plywood. It tends to use for subflooring. Besides, plywood is commonly used for a variety of covering roofs.
Furniture: plywood is durable and cost-effective in nature. As a result, plywood is very suitable for the furniture industry. In general, plywood is used to make cabinets, wardrobes, shelves, bookcases, etc.
DIY projects: plywood has great versatility. It makes it useful for DIY projects around the home. From birdhouses to skateboard slopes, the possibilities for projects are endless. Adding up, plywood is a great material for making other workspace items.
Exterior walls: Often, plywood sheets cover the exterior walls. Plywood is attached to each stud. It adds extra strength to the product. It helps to prevent vertical and horizontal shifting.
Composition of Plywood
Plywood is formed by three or more thin layers of wood. Plywood is orientated with its grain running perpendicular to the adjacent layer. It causes less shrinkage and increases the strength of the finished product as well.  The majority of plywood is pressed into big and flat sheets.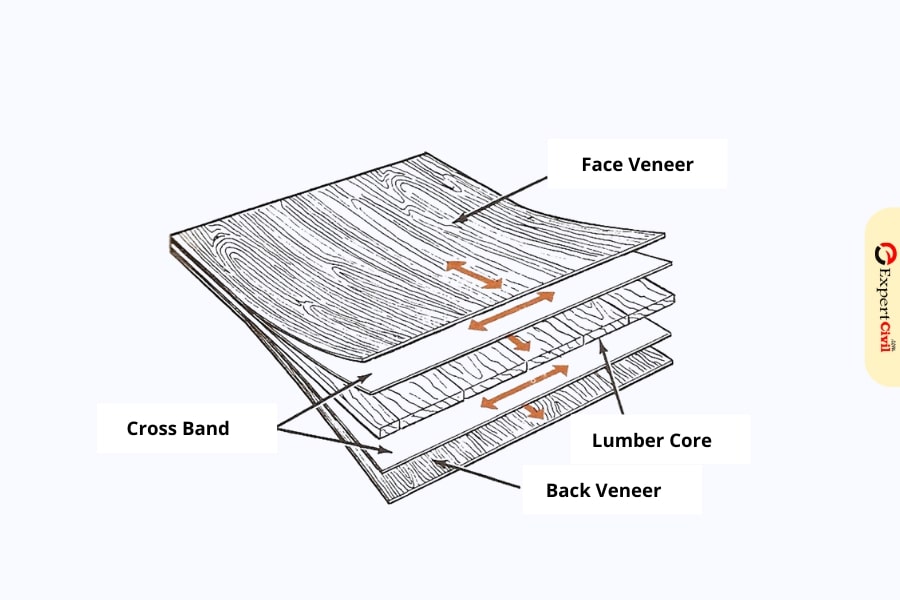 They are used in buildings. Additional plywood pieces are bending into simple or compound curves. Then, these bent woods are used in furniture, boats, and aircraft.
Also Read: Types of Door
Difference between plyboard and plywood
Characteristics
Plyboard/Blockboard
Plywood
1. Weight
When compared to plywood, plywood is lighter than plywood.
Plywood has a core of rich oak veneer. So, it is heavier than a plyboard.
2. Water resistance
Due to its property to retain moisture, plyboard is vulnerable to water damage.
Plywood is water resistant material.
3. Sagging
Plyboard is less likely to bend and droop than plywood. Because it is firm in nature. Therefore, plyboard is preferred over plywood when a lengthier piece of wood is required.
If plywood is used in lengthy sections, it will inevitably bend and sag.
4. Warping and Cracking
Plyboard is extremely resistant to warping and breaking.  It has dimensional stability.
Plywood has less resilience to warping and cracking than plyboard does.
5. Splitting
Plyboard is resistant to splitting.
When working with plywood, splitting is impossible.
6. Cutting
Cutting doesn't cause plyboard to split.
·       In comparison to plyboard, plywood chips are more severely challenging to cut.
7. Uniformity
Small holes that are not visible from the outside are present in plywood.
The plywood is of uniform structure over its length and width.
8. Strength and Durability
The plyboard has less strength and durability.
It has a consistent thickness. Plywood is more durable and stronger than plyboard.
9. Application
Long bookcases, longwall panels, long tables, etc. are all made of plyboard.
On the other hand, plywood is used to construct floors, walls, roofs, and custom furniture.
10. Cost
Plyboard is less expensive than plywood because cheaper softwood strips are used in it.
Plywood is more expensive than plyboard.
11. Sheet Thickness/Size
Plyboards, on the other hand, come in thicknesses ranging from 16 to 25 millimeters.
The thickness of plywood sheets varies and ranges from 3mm to 25mm.
12. Ease of handling

They are lightweight. Plyboards are simple to handle and move.
Plyboard is lighter than plywood, which is stronger.
13. Screw holding capacity
·Plyboards are much better at holding screws than MDF and particle board. They are employed in the construction of custom furniture. They retain nails in an effective manner.
Plywood got exceptional screw holding capacity.  As a result of the veneers' cross-layered structure, it holds screws very tight. The hinges are difficult to remove.
14. Sound insulation properties

 

Boards have a strong sound and thermal insulation qualities. Plyboards are poor conductors of sound, heat, and electricity. Therefore employed in dividers, etc.
Plywood has no sound-insulated property. So, it is used for cabinets, etc.
15. Life span
In contrast to plywood, plyboard has a shorter lifespan than plywood.
The lifespan of plywood is very lengthy. The plywood sheet can last up to 50 years or longer if it is veneered or laminated. A dry climate also lengthens the lifespan of plywood.
Conclusion
In short, Plywood is the best choice for your project if strength is a key consideration. For instance, plywood is needed for kitchen cabinets. They are always being opened and closed. Plywood outperforms plyboard in terms of strength and durability. All qualities of plywood are just for its composition. Plywood is composed of hardwood. This makes it superior to ply boards.
Plyboard should be used in place of plywood for lengthy projects. It does not have the same tendency as plywood. It can sink or droop in the middle. In the end, plywood and plyboard are used for both inside and outdoor products.
Also Read: Different types of paints are used in building construction
We are sorry that this post was not useful for you!
Let us improve this post!
Tell us how we can improve this post?