What is a pitched roof?
Definition: A pitched roof is a roof with two sloping sides that meet at a ridge. A pitched roof refers to a particular roof which consists of a sloped surface or can have those surfaces that have an angle of over 20 degrees.
Types of pitched roof
1. Mono-Pitch Roof
A Mono-pitched Roof is a roof surface which is single-pitched. The very concept of a Mono-pitched roof is in contrast to a  multiple-pitched or dual-pitched roof. A catslide or an outshot roof is a pitched extension of the main roof which is similar to an extension of the upper roof.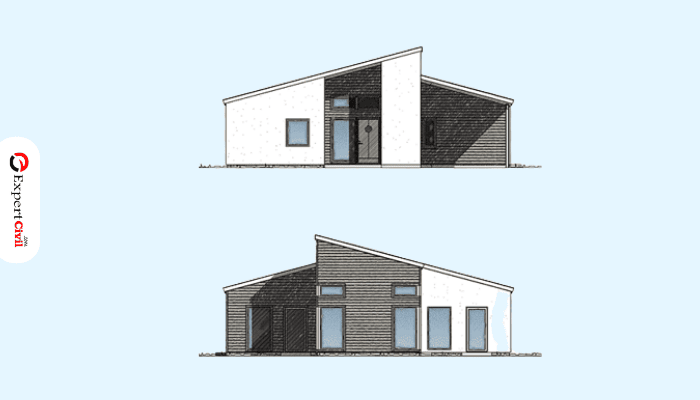 Saltbox houses are created by the addition of such roofs and are often constructed with a shallower pitch than the original roof.
Advantages Mono-Pitch Roof
The advantages of Mono-Pitch Roof as follows:
Money and time are saved at the time of construction.
It is quite efficient in draining off the snow as well as the rainwater.
It is more energy efficient as compared to others.
Also Read: Types of  Single Roof
2. Double-Pitch Roof
A Double-Pitch Roof is the most commonly used roof that is also very famous and is a traditional roof. It's basically a triangle with two connected surfaces which are held together on top of a ridge.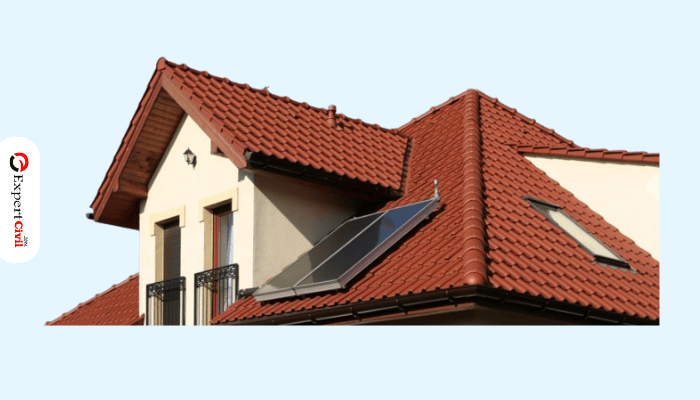 The load walls provide support to these two surfaces and at its end gables are formed that are basically triangles which commonly have windows pre-installed in order to permit the natural daylight inside.
Advantages of Double-Pitch Roof
The advantages of a Double-Pitch Roof are as follows:
 Many Different kinds of roof covering along with the lowest outcrop could get installed.
It could get classified into both asymmetrical as well as symmetrical.
From the point of view of aesthetical purposes, its design is quite interesting.
Also Read: Difference between a single and a double roof
3. Couple Roof
A couple roof is one of the simplest forms of a pitched roof. Its construction includes common rafters that slope up in directions from opposite walls meeting at the ridge piece of the middle. This kind of roof is called as a couple roof as it consists of pair of rafters that act as the two arms pinned at the top.
Advantages of couple roofs
The advantages of a couple roof are as follows:
Providing shelter to farms.
Its used as a storage building.
4. Couple Close Roof
Couple close roofs are very similar to the couple roof but the difference between the two is the legs of a common rafter that are closed by a horizontal tie called the tie beam, which prevents the rafter from thrusting and spreading out of the wall as it has a connection to feet of the common rafter.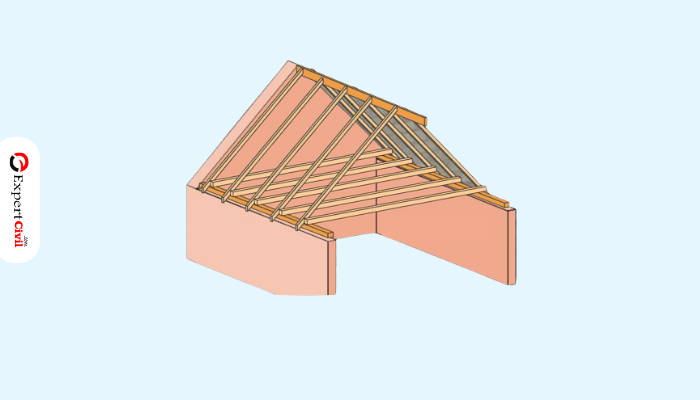 Advantages of couple close roofs
The advantages of a couple close roof are as follows:
For the prevention of rafters,  these couple close roofs get the support by the central vertical rod, called the king rod or king bolt that is placed between the centre and the ridge of the tie beam.
It can be used for a long duration of time without the risk of the roof getting spread under the loads.
5. Collar Beam Roof
A collar beam roof is a horizontal member between two rafters. It is quite common in the construction of domestic roofs. These are used to frame the ceiling.
Advantages of collar beam roof
The advantages of a collar beam roof are as follows:
It is used for the prevention of foot spreading on a rafter.
Its design gives a good amount of required ceiling height.
6. Slant Roof
Slant roof is a type of roof that features two sides and slopes from a ridge line down to the eaves. It is often used in areas that receive a lot of snow, as it is better at shedding snow than a flat roof. Slant roofs are very popular roofs, especially in the United States.
Advantages of Slant Roof
The advantages of a slant roof are as follows:
Snow and water get easily shed.
They give more space to vaulted or attic ceilings.
 They allow a good amount of ventilation.
They are economical and have a simple design, which makes their construction easy.
7. Purlin Roof
Purlins or ridge runs in a perpendicular direction from the top of the wall to the ridge, and is a kind of roof support system that is either a rafter or a  ridgepole, its common arrangement includes a rafter-and-purlin system, that combines rafters and purlins.
Advantages of Purlin Roof
The advantages of a purlin roof are as follows:
It gives support for rafters, roofs, and purlins.
It provides with beautiful interior.
It is used for the creation of overhead drama where trusses are lacking that may further be used for looks as well as support.
8. King Post Roof
In the King post roof, only one single supporting post is present in the King post roof, whereas there are two in a queen post truss. A king post roof is a type of roof framing system that uses a single vertical post to support two rafters. It's often used for small structures such as sheds and barns, but it can also be used for larger buildings. The advantage of this design is that it is relatively easy to construct and provides ample support for a variety of roofing materials.
Advantages King Post Roof
The advantages of a king post roof are as follows:
Its construction is quite easy.
It makes possible the maximum amount of load that to in any direction.
It is available at ease in any shape or size.
It is mostly used for the purpose of aesthetic appearance.
In order to support top cables it is often used in the construction of aircraft terminals.
Also Read: Complete Guide on Different Types of Roof Trusses
Frequently Asked Questions
What are the types of pitched roofs?
There are several types of pitched roofs, including Mono-Pitch Roof, Double-Pitch Roof, Couple Roof, Couple Close Roof, Collar Beam Roof, Slant Roof, Purlin Roof and King Post Roof.
What is another name for pitched roof?
A pitched roof is also known as a gambrel, sloped or slanted roof.
Where is pitched roof used?
Pitched roofs are used in many parts of the world, including both residential and commercial buildings. They are often used to provide better ventilation and air circulation, as well as added protection against weather elements.
Which roof pitch is best?
A roof pitch which ranges between 4/12 – 9/12 is simply the best roof pitch, as this gives resilience to Wind, by providing durability and resistance at the time of high winds. Furthermore, roofs with a good lifespan, slough off those materials that have the potential to degrade the integrity of the roof such as tree debris, snowfall, rainfall, and other materials.
What pitch roof for solar panels?
Pitch roof for solar panels should face the south, with a tilt between 30 and 45 degrees.
What pitch roof is best for snow?
As the steeper incline allows snow to fall with more ease from the roof, a roof pitch of 1:12 is the best roof pitch for snow.
What is sloping roof?
The sloping roof is a pitched roof that slopes towards down.
What Is the best roof pitch for a house?
A roof with a pitch between 4/12 and 9/12 is the best for a House.
Standard roof pitch for house
Standard Roof Pitch for House starts with the rage between 4/12 and 9/12. This particular range of 4/12 to 9/12 is really very common for residential buildings.