Glass balustrades commonly referred to as glass railings feature glass panels in railings. If you are looking for an amazing way to increase the visual interest of your space and to add a modern look, a glass balustrade is your best option.
Glass is a multifaceted material that fits into different environments without looking odd. On the contrary, the addition of glass railings will switch-up the style and look of your home. It will upgrade your home from a regular one to create a modern, trendy, and elegant look with added visual appeal.
There are lots of reasons why you should be updating your home with a glass balustrade. We will be looking at the top seven reasons why a glass balustrade is a right accessory for your balcony and home.
---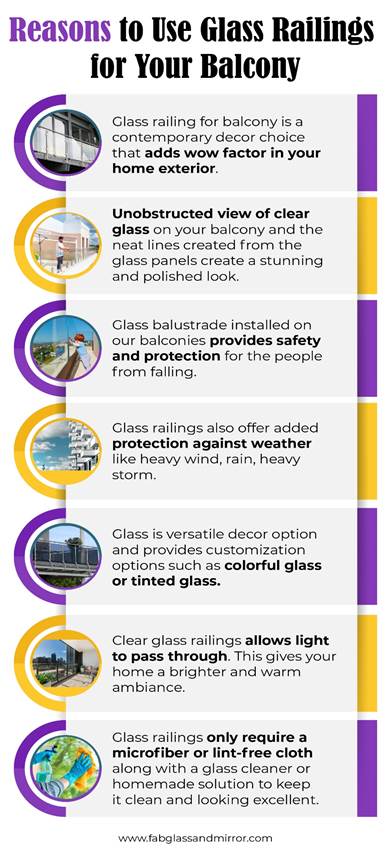 ---
Turn your home to a modern and cozy look
If you want to add the "wow" factor to your home, you should consider installing glass stair railing in your home. The unobstructed view of clear glass on your balcony and the neat lines created from the glass panels create a stunning and polished look.
Glass is a material used in interior décor to add elegance and sophistication to the look of a business environment or the home. This is partly because glass is a reflective material. This also makes it a good source of visual interest in your home.
Installing glass balustrades on your balcony will instantly transform the look of your home from the everyday look to a modern and elegant one. If you plan to sell your home in near future, glass balustrades will serve as a great source of attraction for home buyers and investors.
---
Enhanced Safety
Glass balustrade installed on our balconies provides safety and protection for the home in different ways.
One of the ways glass balustrades ensure safety is by protecting people, young and old, from falling. This is especially vital in homes with young children and pets. The balustrades offer protection while your children are also enjoying the serene view from the balcony or playing and having fun.
Besides the above, part of the safety glass balustrades provides is that they are made with safety glass. Safety glass, commonly referred to as tempered glass, is up to seven times stronger than standard glass. This means your children and pets will be protected should they make a massive impact with the glass during a play session or while running around the home.
Glass balustrades also offer added protection against weather elements like heavy wind, rain, heavy storm, amongst others. This is also made possible with the use of tempered glass use in glass balustrades.
---
Strong and durable
Glass balustrades, apart from adding increased visual appeal to your home, are strong and durable. They last long with little to no maintenance required.
As mentioned above, glass balustrades have glass panels made from tempered glass. This makes it durable and long-lasting because tempered glass is a safety glass that is not prone to breakage. Wood, on the other hand, will corrode after some time and is also likely to get infested with pests. Also, wood balustrade requires regular maintenance to keep it in top shape.
Glass, on the other hand, will not show visible signs of wear and tear. The glass will continue to look as good as new when maintained occasionally, which can be done with a simple dishwashing solution or by getting a glass cleaner. 
The glass used in balustrades is an excellent choice because of its durable and long-lasting attributes.
---
Create space
One of the fantastic attributes of glass is that it makes space appear bigger than its original size. This is especially of advantage to homes with small spaces. 
For glass balustrades, it is no exception. The use of clear glass in balustrades will create the effect of an ample space, which makes the area appear more significant than its original size. This cannot be attained with the use of wood or aluminum in balustrades.
The use of glass also opens up your space, which in turn makes it expansive and ultimately looking bigger than its original size. This is also one of the reasons why glass is a popular choice for interior decoration.
---
Versatile Glass options
Glass railings offer lots of customization options that allow you to make different choices to reflect your preference and style. 
Glass balustrades can be installed as framed glass balustrades or frameless glass balustrades. Framed balustrades are glass panels installed along with a support frame, and the support frames can be made from other materials like wood or aluminum. Frameless glass balustrades feature only thick glass panels fitted with clamps or brackets to keep the panels together. 
Apart from the choice to install as framed or frameless, glass choice in glass balustrades also provides lots of customization options. The glass panels can be installed as transparent glass or frosted glass in homes where privacy is a concern.
Also, depending on personal preference, the use of frosted glass offers more customization options. Frosted glass can also be installed as colorful glass to add some creativity. You can choose frosted glass in different tint shades.
---
Enhance lighting and glamorous atmosphere
Glass is a material that reflects light and allows light to pass through. As a result, glass reflects natural light to make a space brighter.
Glass railings provide your home with this qualitative benefit. Glass balustrades provide your home with light reflected from a natural source. This gives your home a bright ambiance, especially during the day. This removes dimness to create a brighter and warm ambiance in the house. 
Apart from a well-lit home, glass balustrades through light reflections will create a feeling of openness.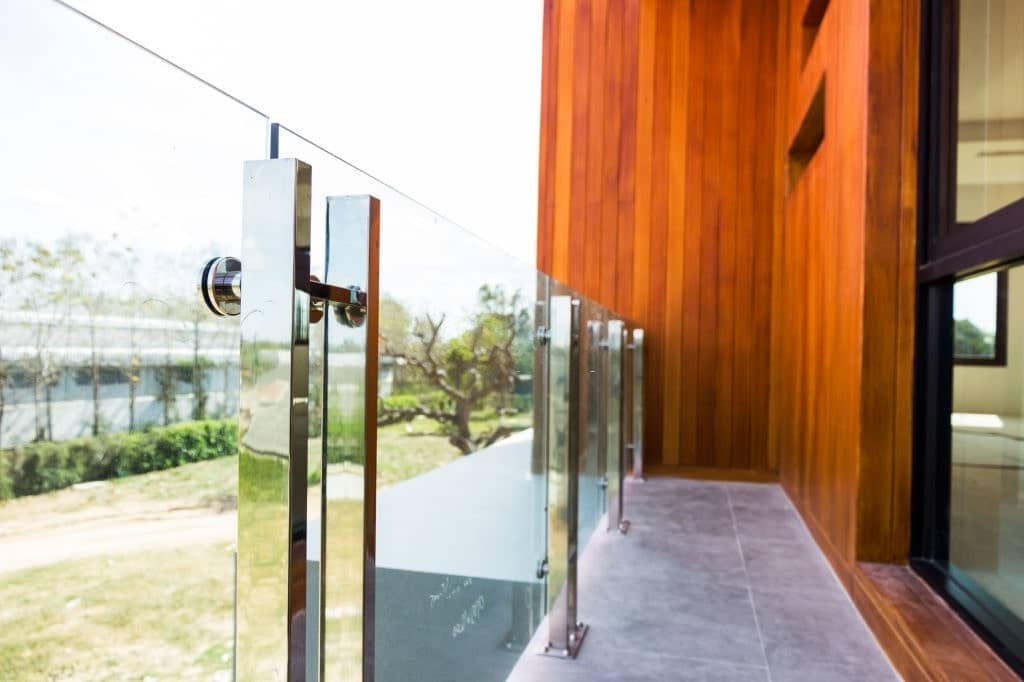 ---
Easy to clean and maintain
Glass balustrades, unlike other materials, only require a microfiber or lint-free cloth along with a glass cleaner or homemade solution to keep it clean and looking excellent. Wood, on the other hand, needs to be painted when the look and shine fades, needs to be polished regularly to keep it looking new, and many more.
Polishing wood, staining wood, and paint cost money to do. The case is different with glass, as you do not need to break the bank to keep the glass balustrades in great shape.