Traps do exactly what their name implies – they catch water and sewage gas. A plumbing trap is a tool that keeps odours, bacteria, and insects out of your house. Every plumbing fixture or appliance that uses water has a drain line to discharge wastewater, and the pipe must have a trap to close the drain.
The trap is crucial to maintaining a clean atmosphere since it will stop sewer gas from entering the structure. There are traps with a variety of plumbing components, including sinks, bathtubs, toilets, and washbasins. It is possible to install a trap, which is often found inside a plumbing fixture, with the aid of multiple connections.
The manner the traps are made creates a seal for bad gases and prevents them from entering the property by holding back some water. In this article, we have brought you different types of Plumbing traps which can be used according to the needs and the various advantages and properties of Plumbing traps.
What do Plumbing traps do?
Drainage is handled through the plumbing trap. It is constructed or engineered in such a way as to retain a tiny amount of wastewater from the fitting to which it is attached, acting as a barrier to stop noxious fumes or air from entering the structure.
An important part of the sewage system is plumbing traps. They stop the spread of disease by preventing the flow of noxious air, insects, and parasites from the sewers into the structure.
Traps are designed to hold a body of water that serves as a water seal.
It is best to use self-cleaning traps. To produce a self-cleansing effect, or a smooth finish and a full identical opening, they need to generate enough speed from the available flow.
Requirements of a Good Plumbing trap
The following are the requirements of a good Plumbing trap which need to be kept in mind before its installation:
Under all flow circumstances, both when there is water flow and when there is not, it should work as an effective water seal.
It needs to clean itself.
To allow for unimpeded passage through it, it should not contain any internal projections, angles, or contractions.
It should have a smooth inner surface to prevent dirt, dust, and other particles from adhering to it and to automatically secure each portion as the water flows through.
Appropriate access points should be installed for cleaning.
Advantages of Plumbing Traps
A good plumbing trap has the following qualities or advantages:
Resistance to household chemicals and impact damage.
Stop sewer-borne insects, parasites, and noxious air from entering.
Self-cleaning and rodent-resistant.
Long service life.
Quicker and simpler installation.
Economical.
Types of Traps in Plumbing
1. Gully Trap
These plumbing traps are constructed outside the structure to collect wastewater from sinks, washbasins, restrooms, and other fixtures. They are connected to the nearest building drain or sewer to prevent sewage gas from entering the home. These seal traps are very effective. 
The water seal in gully traps needs to be at least 50 mm deep. Additionally, it prevents cockroaches and other vermin from entering wastewater-transporting waste pipes through sewer lines.
The following three shapes are available for gully traps:
P Trap
S Trap
Q Trap
Also read : Functions of Gully Trap 
1. P Trap
With an Indian water closet, this trap is employed. Sheets of cast iron or UPVC are used to make the traps. This trap also features a water seal, which keeps bad gases from entering the house.
2. S Trap
This kind of plumbing trap resembles a P and is used to repair latrine water closets. The S-shaped trap is used for an outlet through the floor, whilst the P-shaped trap is used for an outlet through the wall, which is the only difference between the two.
3. Q Trap
Strap-like Q traps are more suited for upper stories than the first floor. It is available in the toilet under the water closet. It is appropriate for various higher story WCs on the upper story other than ground.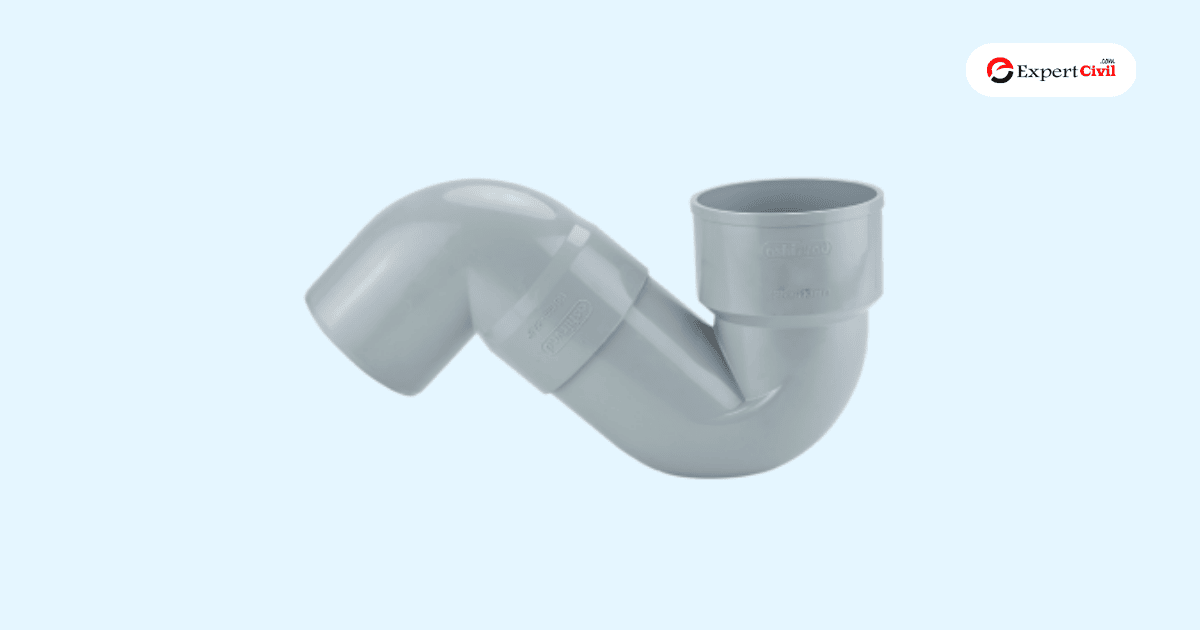 2. Bottle Trap
The waste pipe is installed horizontally in this kind of trap, and to clean it, you must unscrew the bottom. The bottle traps are frequently used at pedestal-mounted sinks and basins to trap foul gases because they are ideal to be fitted in small places.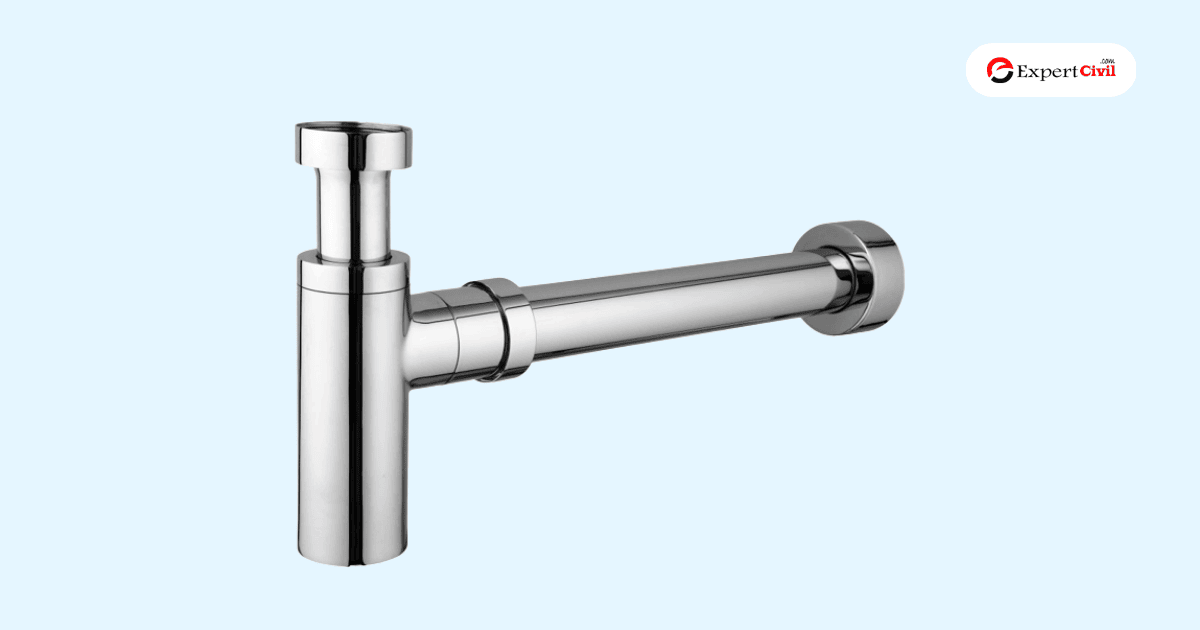 Where there is no built-in trap, a bottle plumbing trap is provided to collect waste from washbasins, kitchen sinks, and other equipment.
3. Floor Trap (Nahani Trap)
The Nahani Trap is another name for floor traps. Nahani Trap is used as a water seal to prevent the entry of bad gases into the structure. The depth of the water seal should be at least 50 mm. When waste water is flowing, a floor trap prevents the foul gases (worst odours) from entering the structure. 
A floor trap, also known as a Nahani trap, is built into the floor to collect wastewater from the bathroom, wash zone, washbowl, kitchen sinks, and other locations. PVC, UPVC, and CI floor traps are available; they lack vent pipes but have detachable grinding at their highest position.
4. Grease Trap
Grease traps are used in businesses that generate a lot of greasy waste, such as hotels and restaurants, to filter out the grease before flushing the wastewater down the drain.
Sticky greasy or oily substances will cause sediments to collect in the drain if they are not removed, which could eventually cause the drain to get blocked. A bent pipe or T serves as the outlet in a grease trap, which is made of cast iron or masonry.
When wastewater enters the grease trap, its flow velocity decreases ( because of the separation of oily or greasy matter from the wastewater). The oily substance rises as it floats (in the trap) and is routinely removed using a mild steel tray.
Also read: Different Types Of Kitchen Faucets To Fit Your Style
5. Intercepting Trap
The interceptor manhole has an intercepting trap (Interceptor Chamber). At the intersection of the building sewer and public sewer, there is an interceptor manhole available. By providing a water seal, the intercepting trap is designed to stop the foul gases from public sewers from entering the building sewer.
The Interceptor Manhole is given the intercepting trap. At the intersection of the building sewage and the public sewer, there is an interceptor manhole available.
By creating a water seal, an intercepting trap is built to stop the foul gases from public sewers from entering the building sewer. These traps, which have a deep water seal of 100 mm, are erected at the building's last main sewer hole.
Frequently Asked Questions (FAQs)
What is a bottle trap in plumbing?
Bottle Trap is a fitting that, when fitted in a correctly vented system, creates a liquid seal that stops gas from re-entering the system without affecting the flow of sewage or wastewater. The bottle trap is a crucial component of the wash basin plumbing that maintains cleanliness and hygienic conditions.
What is a gully trap in plumbing?
A gully trap is offered outside the building before connecting to the external sewerage line. Additionally, it gathers wastewater from the bathroom, washroom, and kitchen sinks. By constructing a water seal, a gully trap is built to stop the unsavoury gases from entering the building.
What is a grease trap in plumbing?
A grease trap is a plumbing device (a sort of trap) intended to catch most greases and solids before they enter a wastewater disposal system. It is also referred to as a grease interceptor, grease recovery device, grease capsule, and grease converter.
What is an intercepting trap in plumbing?
A trap is available at the intersection of a household sewage and a municipal sewer to intercept any foul sewer gas leaks. There is an intercepting trap available to separate the household drain from the public sewage.
What are Q trap and S trap plumbing Trap?
The shape is used to categorise Q and S traps. They mainly consist of U-shaped tubes that hold water and act as a seal between the atmosphere and the filthy gas.
Which plumbing trap is prohibited?
Prohibited Plumbing Traps Obsolete or illegal plumbing trap types: Bell trap, Crown-vented trap, Drum trap, Moving parts trap, Non-integral trap, S traps.
What are the types of shower drain traps?
The following can be used as shower drain traps:
1. Gully Trap
2. P Trap
3. S Trap
4. Q Trap
5. Floor Trap / Nahni Trap
6. Bottle Trap
What are the types of sink traps?
Listed below are the different types of sink traps:
Sink trap
Bottle trap
P-trap
Free float trap
Conclusion
There are several different kinds of traps used in plumbing, including the floor trap (also known as a Nahani trap), gully traps, P traps, Q traps, S traps, intercepting traps, bottle traps, and grease traps. They come in a variety of materials, including PVC pipe products, GI, and others.
The aforementioned trap types are frequently employed in plumbing work, but they are not the best plumbing traps.
Use the greatest and most suited plumbing traps if you want to keep bugs, parasites, and bad odours out of your home. Not only is this simple and comfortable to install, but it also puts less strain on your wallet.
Also read: Common Plumbing Problems