Nowadays architectural glass is a remarkable invention in construction. It has a wide range of uses and advantages due to its strength, durability, and variety of hues. Glass is one of the most attractive building elements in home construction.
The glass comes in many varieties. It is used in building construction for a variety of reasons. Since glass has made many manufactured and consumable products for daily life. Almost all the decorative objects used in construction are made of glass.  The usage and engineering characteristics of these glasses are covered in this article.
What is glass?
The glass is a translucent, solid, and brittle substance. Massive amounts of heat are used to create glass. Glass is a homogenous, amorphous, inorganic substance. It may be molded into any shape. It is transparent or translucent. In other words, glass is an inorganic fusion product. It has not crystallized after cooling to a hard state.
How is glass made?
Glass manufacturing was a time-consuming and expensive process. Its process demanded labor-intensive effort in the beginning. But now, a lot of new methods of glass manufacturing and marketing techniques have been introduced. The new method of making glass is simple, affordable, and effective. Also, this process gains widespread industrial fame.
The manufacture of glass is accomplished by carrying out a few straightforward processes.
Prepare the raw material batch. In the furnace, melt the basic materials.

Making glass into the shapes that customers want.

Annealing technique
So, the following materials are melted together to form a glass:
Potash (KOH), soda (Na OH), pure sand (Si O2) (K OH), and Calcium carbonate (CaCO3) at a temperature greater than 1000°C. In other words, it is a combination of sodium, potassium, and calcium silicates.
Annealing technique
It includes heating a material's temperature above its recrystallization temperature, maintaining it for the proper period of time, and then letting it cool.
Characteristics of glass as a building material
Hardness and brittleness
Due to its high impact resistance against applied weight, it is a hard material. It is a brittle material that shatters under pressure and breaks instantly.
Weather resistance
Glass is a weather-resistant material. It can survive the effects of rain, sun, and wind. It also allows us to alter natural light to affect our everyday activities.
The glass includes taking care of both our physical and mental wellbeing. It can absorb, reflect, and refract light. Due to its low thermal expansion value, it possesses excellent dimensional stability.
Insulation
Glass has an effective insulating reaction against the transmission of visible light. It is an outstanding insulator against heat, electricity, and electromagnetic radiation.
 Glass makes obvious resistance to the transmission of x-rays, infrared, and ultraviolet. If operated with the proper thickness, it offers good sound transmission resistance.
Chemical resistance
Glass can endure the effects of chemical reactions in various environmental conditions.  Solutions of acid and base are very well tolerated by it.
Colour and shape varieties
Glass is easily available on the market. It can be blown, drawn, or pressed into any color, shape, or variety. Availability of glass depends on the purpose, dimensional requirement, and safety criteria.
Transparency
Glass promotes a visual connection with the outside world. Since technology has advanced, clear glass can also be changed to become opaque.
Fire resistant glazing
Fire protection is possible with modern glazing products. The transparent glazing acts as a barrier. The glaze is turning opaque at above 120°C.  To do this, specialized translucent gels are used.
Also Read: Types of Wall Panelling
Properties of glass as a building material
Glass density
Flat glass has a mass of 2.500 kg per square meter for every millimetre of thickness. It is due to the density of construction glass, which is around 2500 kg per cubic meter at 200°C.
Glass Compressive Strength and Tensile Strength
Compressive strength of glass material 
Glass has a compressive strength of 1000 N/mm2 which equals 1000 MPa. 1 cm of glass cube needs 10 tonnes of weight to break a glass. Glass has a substantially lower tensile strength than compressive strength.
Tensile strength
Glass is compressed on one face and tensioned on the other when it is deflected. Glass has a very high compressive stress resistance. It always has a far lower tensile stress resistance. For annealed glass, the resistance to tensile strength is 40 N/mm2 at 200°C. But toughened glass has resistance ranging from 120 to 200 N/mm2 at 200°C.
Glass young's modulus or modulus of elasticity
Any material's stiffness can be determined by its young's modulus. The glass is more rigid when the young's modulus value is higher. At 200°C, Young's modulus of glass is 70 GPa and for concrete is 30 to 50 GPa.
Glass Poisson's ratio
The Poisson's Ratio is commonly referred to as the lateral contraction co-efficient. It means the material expands and contracts in one direction due to force. Glass loses cross-sectional area as it is stretched. and Glass has a Poisson's ratio of 0.22.
Glass linear expansion or coefficient of thermal expansion
For a change in temperature of 10°C, linear expansion results in a stretch per unit of length. The coefficient of linear expansion for glass is 9 x 10-6 m/mk.
Different types of glass used in the construction industry
1. Float Glass
This glass is also known as soda-lime glass. Also, it is made of calcium and sodium silicates. It produces glare since it is flat and clear. The weight of float glass ranges from 6 to 36 kg/m².  Its thickness ranges from 2 to 20 mm. Float glass is used in a variety of applications, such as storefronts and public spaces.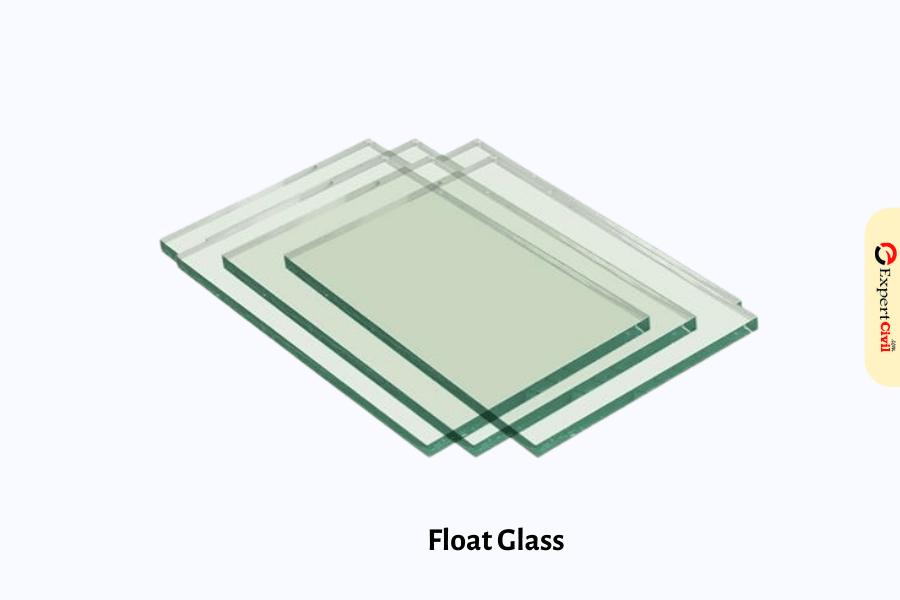 2. Shatterproof Glass
 It is utilized for floors, skylights, windows, and so on. In its production process, polyvinyl butyral is added. Because of this, it cannot shatter into pieces with sharp edges.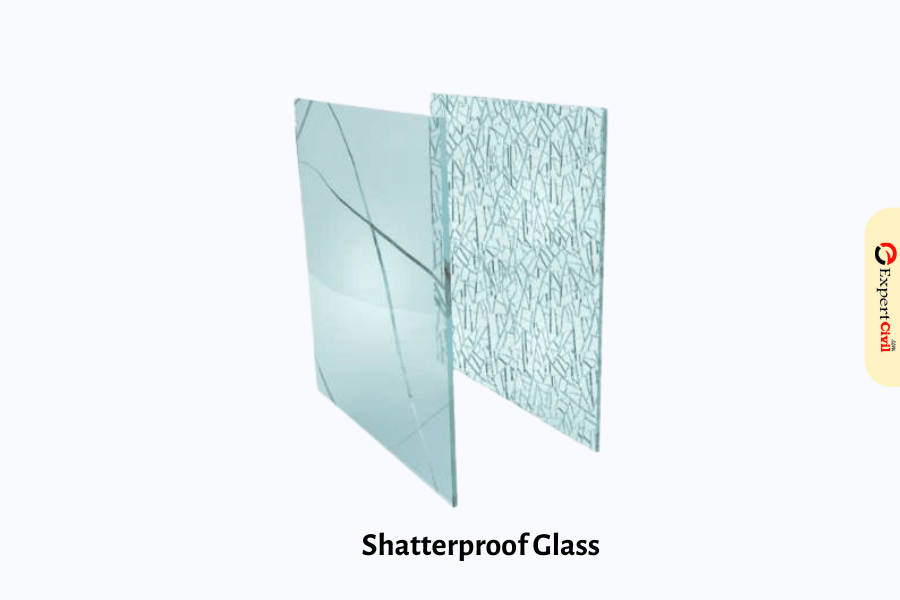 3. Laminated Glass
Layers of regular glass are combined to create laminated glass. It is heavier than regular glass. It is more robust, soundproof, and UV resistant. Bridges, aquariums, and other structures use this glass.
4. Extra Clear Glass
Photocatalytic and hydrophilic are the main qualities of extra clean or clear glass. These characteristics make it stain-resistant. It gives it a lovely appearance. Also, it has simple maintenance.
5. Chromatic Glass
ICUs, conference rooms, and other spaces use chromatic glass. Also, it can regulate the transparency of glass and shield the interior from sunlight. The chromatic glass can be photochromic, which has a lamination. It is light-sensitive and thermos-chromatic. This type of glass is heat-sensitive or electro-chromic due to this lamination.
6. Tinted Glass
Glass that has been tinted is simply colored. A color-producing element is added to the regular glass mix. This element assists colored glass to remain intact.
So, no changes occur in other qualities of glass. The following table lists many ingredients that cause color:
| | |
| --- | --- |
| Coloring ion | Color |
| Iron oxide | Green |
| Sulphur | Blue |
| Manganese dioxide | Black |
| Cobalt | Blue |
| Chromium | Dark green |
| Titanium | Yellowish brown |
| Uranium | Yellow |
7. Toughened Glass
This glass is a tough material with poor visibility. It comes in all thicknesses. When it breaks, it creates little granular bits. This also goes by the name of tempered glass. This kind of glass is utilized for screen protectors and fire-resistant doors.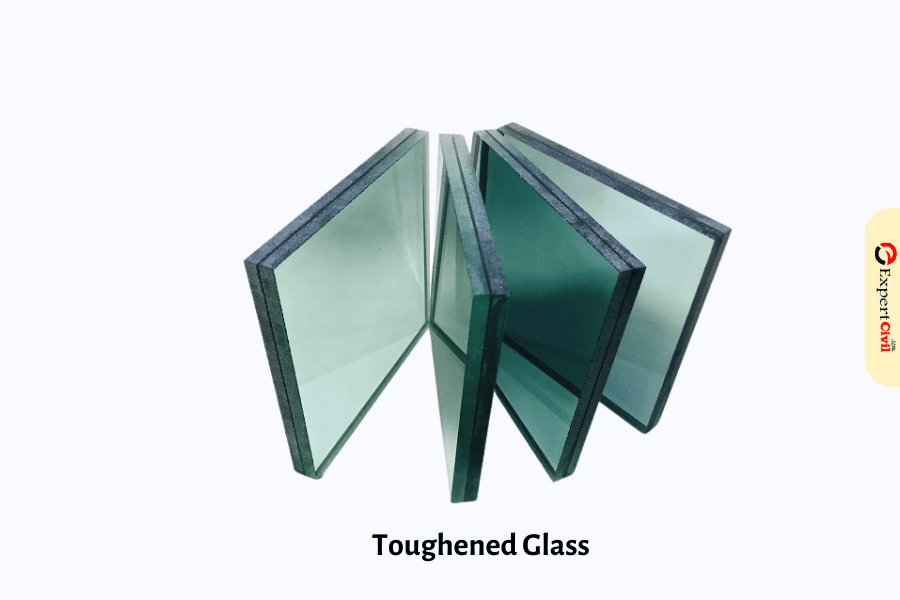 8. Insulated Glass (Glazed)
Glass is divided into two or three layers. A layer is enclosed in insulated glazed glass units by air or vacuum. Due to the air between the layers, they serve as effective insulators. They cannot let heat pass through them. These glazed glasses also go by the name "double glazed units."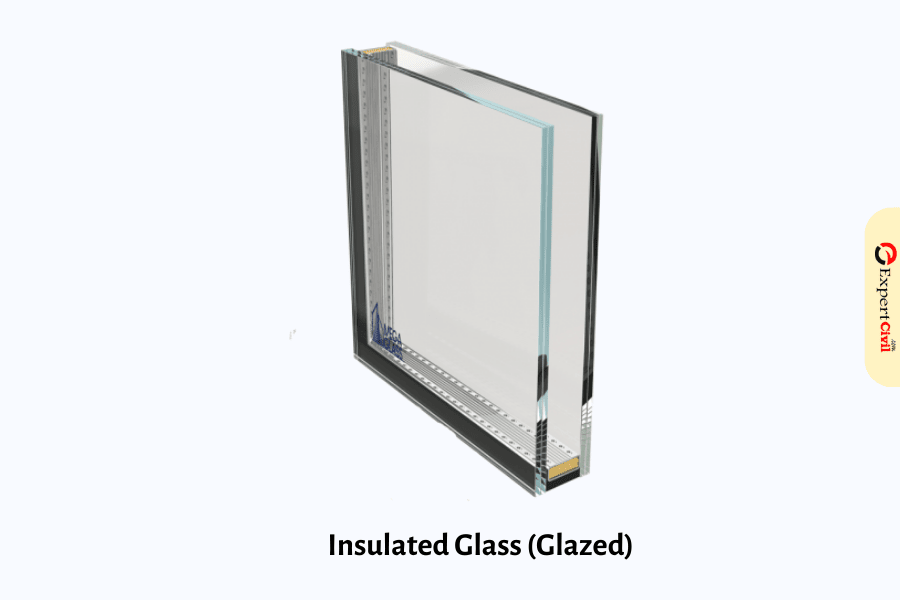 Also Read : Types of Door
Advantages of using glass as a building material
1. Easily molded
Glass is a clear, stiff substance that is simple to form into the appropriate shape. The introduction of heat into sand results in its production. Since it can be blown, drawn, and pressed into any shape.
It is also placed in furniture after being laminated with a metal sheet or plywood. As a result, it is one of the most adaptable materials utilized in building construction.
2. Weather and rust resistance
Glass is corrosion resistant. It is only chemically damaged material under specific circumstances. The chemical makeup of glass is the main element in how glass interacts with the environment.
3. Excellent insulator against electricity
A substance that conducts electricity poorly is an insulator of electricity. Glass makes a great insulator. It is not a good conductor of electricity. It guarantees your safety from any electrical risks because of no free electrons. So, these glasses create decorative wall lights and a variety of electrical appliances.
4. Recyclable
Recycling is the process of turning trash into a form that allows for reuse. Advantages of recycling glass include the ability to save energy and lower costs. Reduction in pollution and the preservation of natural resources are the outcomes of recycling.
Glass is completely recyclable and does not deteriorate while recycling. As a result, it can be recycled many times without losing its quality or purity.
5. Adds to the beauty of the structure
Glass is the best medium for product display. Glass may enhance the structure's charm. They make it look more elegant and stunning. Glass may give the entire structure a completely attractive appearance.
The architects use glass for clear aesthetic reasons. The interior of the structure has an appealing ambiance because of the design of one of the glass panes.
Disadvantages of using glass as a building material
1. Easily breakable
Glass is a material that is rigid, brittle, and stiff. It fractures under tension without experiencing a great deal of strain. Glass fragments may be sharp. So, there is a considerable risk of injury.
2. Unsafe for earthquake-proven areas
Structures in seismically active regions need to be specially built. So, they would withstand horizontal loads and motions in emergencies. Glass is brittle, and that's why it often breaks or collapses.
and Glass usage is extremely risky in earthquake-prone areas. Sadly, no technique has been developed that can make glass a stable substance. It should be adjusted to some amount so that it can resist mild earthquakes.
3. An increase in the cost of security
 Glass usually allows for more transparency. So,  it raises the expense of security for buildings.
4. Heat absorbent
Glass serves as a greenhouse and stores heat that warms the interiors. As a result, it could not be appropriate for the construction of structures. This factor does not allow the installation of glass in hot areas of the country. The trend of running ACs will increase. And it causes significant energy usage.
5. Increase in the overall cost of the building
High temperatures are necessary to process the basic components. That's why; making glass requires a lot of energy. Compared to other materials used in construction, glass is more expensive. As a result, the building's cost can go up. It also raises the expense due to its transparency aspect.
What is glass made of?
Glass is made up of sand, soda ash, and limestone. These raw materials are combined, sieved, and blended in a certain ratio. Then this mixture is melted in a furnace. It is a fantastic medium with a variety of applications and qualities.
When was glass invented?
Glass first appears as a separate object around 2500 BC. It is usually introduced in the form of beads. It may have originated in Mesopotamia and later been transported to Egypt.
Why is glass considered a supercooled liquid?
As glass is an amorphous solid, it is referred to as a supercooled liquid. As a result, it doesn't produce a crystalline structure. But it also allows molecules to continue to move through the material. Under normal circumstances, the constituent particles of ordinary solids do not move. So, Glass is sometimes referred to as a supercooled liquid because of its fluidity.
Conclusion
Last but not least, it is challenging to imagine modern architecture without glass. It successfully contributes to giving the buildings a nice aspect.  It has the excellent accuracy essential to reflect, bend, and absorb light.  
The consumer can successfully select the appropriate glass application for their purpose. So, the features and properties of glass make it the ideal building material of the future.
Also Read: Tallest and Longest Glass bridges in the world