What is a PVC wall panel?
Many people strive to make their homes look modern and stylish by using the latest interior design trends. This interior wall paneling trend has replaced other wall finishes such as wallpaper, tiles cladding, and paint. The PVC Wall Panels is the most popular wall panel. They can be used to improve the appearance of your interiors, as well as the floor and furnishings.  Are you curious to learn why the PVC Panels are so great for interiors? We're happy to share our reasons.
Did you know that 50% of PVC products are used in construction? Half of all PVC products are used for construction. PVC is an inexpensive material that has been replacing wood in many interior-related products. The first use of PVC sheets in Walls was by Germans in the 1970s. This wall covering was unique in its smooth surface.
PVC panels are an eco-friendly product that is in high demand due to their many properties, including flexibility, impact resistance, and durability. These panels are lightweight and affordable.
Also Read: Types of Wall Panels Based on Materials
Types of PVC Wall Panels for Interiors
PVC Foam Board
PVC Sheets
3D PVC Wall Panels
#1. PVC Foam Board
PVC Foam Board can be prepared by PVC foaming, pressing with additives. They are available in thicknesses ranging from 1mm up to 20mm. For paneling walls, we generally use 4mm thickness or more. PVC foam boards come in a variety of sizes, including widths from 1.22m up to 2.05m, lengths between 2.44m and 3.05m. They are available in a variety of bright colors, including white, yellow, red, and green, as well as blue.
PVC foam is also known as polyvinyl chloride foam. It is a tough, closed-cell, and free from PVC sheet material. PVC foam is very easy to work with. It can be cut, drilled, sawed, and bound to suit various applications. PVC foam has many benefits, including superior impact resistance, durability, low water absorption, and high corrosion resistance.
#2. PVC Sheets
These sheets are made of PVC and sandwiched between a grid of PVC. This grid gives the sheet strength, and the sheet is lightweight. It is also called lightweight panels. PVC sheets can be embossed in many styles to resemble wood and leather textures, meeting different cosmetic standards. PVC flooring can be installed in place of traditional tiles and is a popular alternative for DIY materials in the home or public spaces.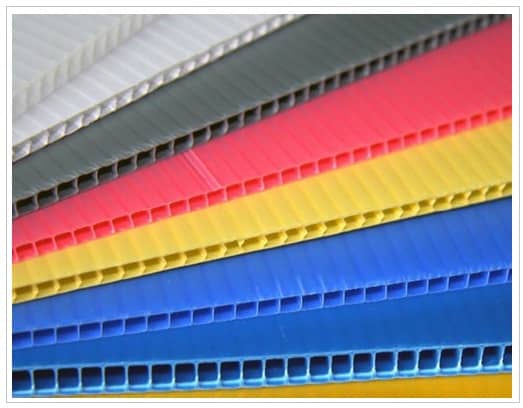 You can also add fire retardant, cold crack, and anti-UV additives to improve material properties. We would appreciate your detailed application so that our sales team can suggest PVC sheets for you.
PVC panels are interlocked at the edges so water can't pass through them. Some designs feature grooves that give a wall stripes look. These patterns have no joints because they blend with the grooves.
PVC Sheets are available basically in the following tone:
Wooden Pattern: You can choose from a variety of PVC sheets with wooden textures that replicate the wood look. The sheets also feature a 4-inch groove pattern that gives the wall a uniform wooden plank look. You can print and apply hot foil to create wooden textures.

Golden Stripes: To overcome the appearance of plain bald, the edges of PVC panels can be treated with silver or gold lines. These sheets are often used in commercials and offices.

Solid Colour: These sheets can be used in the bathroom and kitchen according to our preference. You can make the surface more colorful by using hot foil treatment or semi-transferable printing. It can be painted in many different colors or textures.

Marble Textures: Some PVC sheets can be hot filmed with stone textures to mimic the appearance of the stone. These sheets can be used in bathrooms, kitchens, and toilets.

#3. 3D PVC Wall Panels
It is important to choose the right material when enhancing walls. Each day new trends emerge, just like fashion. Textured wall panels are a new way to transform walls and the entire environment. 3D wall panels offer the most innovative options among textured panels. They create amazing illusions with light by creating repetitive patterns and creatively applying light. These are some guidelines to help you make an informed decision when purchasing 3D wall panels.
Pros of Using PVC Panels
There are many advantages of using PVC Panels
PVC wall panels can be very useful when there is dampness in a wall. It can resist moisture very well.
PVC is an environment-friendly material. Much medical equipment and food packaging are made from it because they do not cause any harm to the environment. This makes it useful for schools, hospitals, and sports arenas.
PVC is very resistant to moisture. It is free from cracks and pores, which prevents bacteria growth. The boards have a layer of polyurethane that gives them a smooth, plain surface. These boards are easy to clean. It is easy to clean the wall paneling because there is no dirt on it. These panels can be used in kitchens and bathrooms, as well as other rooms.
When used on exterior surfaces of the house, they don't rust.
They burn slowly because their ignition temperature is 60 C. They emit less smoke than wood, and they are less toxic in the natural environment.
Because these panels are lightweight, the installation time is very short. These panels are easy to cut and install without the need for grout.
The interlocking tongue and groove system allows for the fast fixing of many panels. This allows you to easily replace one panel if it becomes damaged.
Insulating with PVC panels is easy.
PVC panels can be recycled and old ones can be given to a recycling facility.
PVC panels come in many different colors and designs. Designers have many options when it comes to creating a wall decoration.
PVC panels have a finished surface. These panels do not require any additional finishing, such as painting or polishing.
Cons of Using PVC Panels
There are only a few disadvantages of using PVC Panels
These panels are the final ones. It is important to avoid hitting it with a sharp object. This can cause scratches that will be hard to hide or treat.
Sometimes it can be difficult to nail or screw these boards. The screw cannot be used again if it goes wrong.
Now you are more familiar with PVC panels. You can choose PVC Wall Panels to make your walls attractive and decorative.
Let me know where you are planning to place it in your home. Please share your experiences with PVC Wall panels.
Also Read: 10 Types of Flooring used in Construction with their Advantages and Disadvantages