What Is A Screw?
Screws are a typical type of fastener used to join various materials. A screw is a basic device that consists of an inclined plane. It has been twisted and is wrapped in ridges around a cylinder. The screw has a sharp tip. The screw tip is used for drilling into stone, metal, wood, and plastic.
A screw can penetrate deep into the walls. The majority of individuals will need to use a screw at some point.
Also Read: Plyboard vs Plywood 
Types of Screw
1. Wood screws
Wood screws use for joining two planks of wood. Wood screws are used in basic woodworking and building applications. Wood screws are a great option for woodwork. Wood screws have several qualities i.e coarse threads, smooth shank, and tapered head. The screw will need a pilot hole or an already drilled hole. The wood screw is self-tapping. Depending on the type of wood, different types of thread are used in wood screws.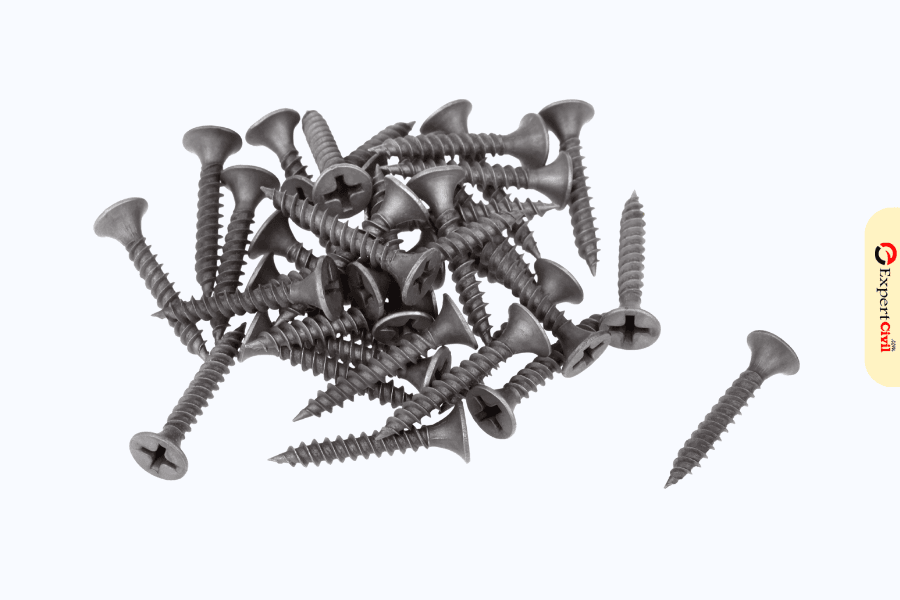 In general, coarse thread screws work best for connecting hardwoods. While smaller thread screws work best for fastening softwoods like pine. Despite the fact, that wood screws can have a wide variety of heads. Wood screws have a round head or a flat head. A flat head will be flusher with the final piece of wood. Wood screws are accessible with suitable finishes in interior or exterior styles.
2. Deck screws
Deck screws are identical to wood screws. Deck screws have a few other distinctions compared to wood screws. Decking screws are used to fasten strike to composite decking or a deck frame. On average self-tapping, this kind of screw can be drilled straight into the material.
Corrosion resistance makes it more durable for outdoor use. Deck screw heads are also made to countersink. It means they can either sit flush with the board or sink slightly into it.
3. Drywall screws
To build drywall, use drywall screws. This type of screw is used for fastening sheets of drywall to wall studs or ceiling beams. Drywall screw has its self-tapping head.
It is made to countersink without damaging the drywall. Drywall screw has a special groove on the head. So, it calls for a specialized drill spot that isn't included in drill kits.
4. Masonry screws
Heavy-duty fasteners called masonry screws are used to deal with masonry and concrete. These screws often feature rounded hex heads and flat tips. In general, before screwing and hammering in masonry screws, holes must be predrilled.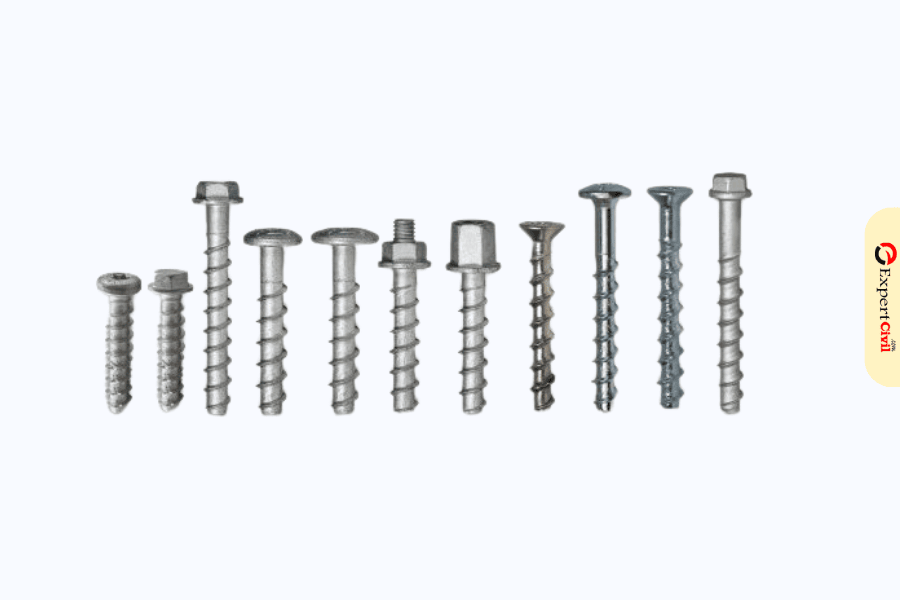 5. Sheet metal screws
Sheet metal screws are made for fastening metal sheets. They are used for wood to join other materials. So, their main application is sheet metal. They can readily drive through the sheet metal. This type of screw has threading all the way up to the head.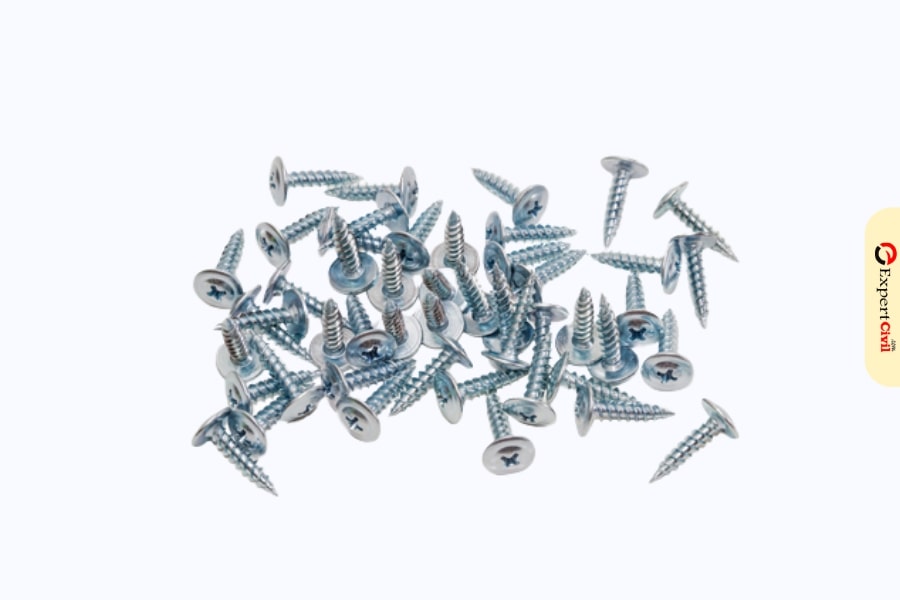 It does not have a smooth shaft. These screws are constructed of steel and have a self-taping mechanism. This mechanism makes them strong and lasting. These robust screws come in a variety of sizes. They have sharp tips and flat or hex heads. Sheet metal screws are adaptable and dependable.
6. Lag bolts
Lag bolts penetrate into wood or other materials in a very firm way.  Lag bolts are also known as lag screws and carriage screws. These screws have a big diameter and a longer length. Lag bolts are incredibly resilient.
These screws are covered with a corrosion-resistant coating. This coating helps to prevent them from exposure to environmental conditions. Lag bolts are used in construction. They are frequently seen in decks, walls, and other outside buildings. Screws are utilised to make very robust connections. A more stable method of joining thick pieces of wood is with carriage bolts.
7. Hex bolts
Hex bolts contain a hexagon-shaped head, small threads, and a smooth shank. They are often used to secure wood to metal, such as in furniture. This kind of screw works well for indoor applications. It's also available in steel or galvanised varieties for usage outside. For good fastening, hex bolts may need both a drill and a wrench.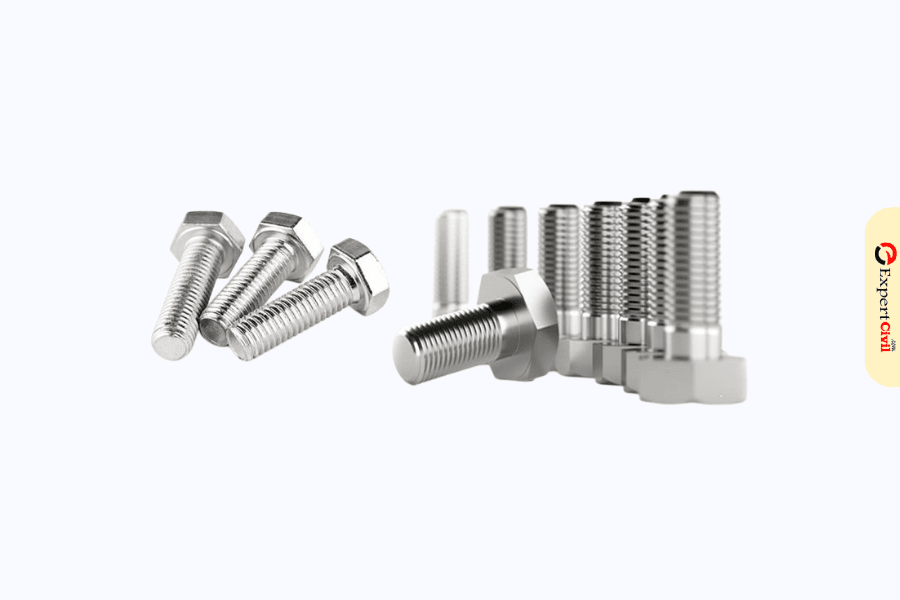 Advantages of Screws
The screw is suggested for use in building furniture. It has an excellent holding strength. A screw is highly rust and moisture-resistant. As a result, it is preferable to nails as a long-term fix.
Screws come in a variety of sizes and thread types. The patterns of screws give a wonderful opportunity to consumers. It is important to select the right option for long-term strength.
Screws may be taken off more readily than nails.
When using screws, you can precisely place them where you want them to go. They can install in a gentle way. Screws can be fixed by using a screwdriver or drill.
Disadvantage of Screws
It is more difficult to conceal screws since their heads are often larger than their bodies.
Screws need expert labor to install.
They are less flexible than nails.
Also Read: Types of Door
What Is A Nail In Construction?
Nails are one of the strongest and most used building materials. A wooden house can need from 20,000 to 30,000 nails just to build it.
Nails were originally made of bronze. Then the copper and ultimately iron appeared. The earliest carved nails date back to 3400 B.C. Nails were created by the ancient Egyptians. Also, families often produced their own nails.
Types of Nails Used In Construction Projects
1. Common nails
These construction nails are also known as typical wire nails. Common nails have flat heads and straight shanks. Common nails are often used in home construction for framing.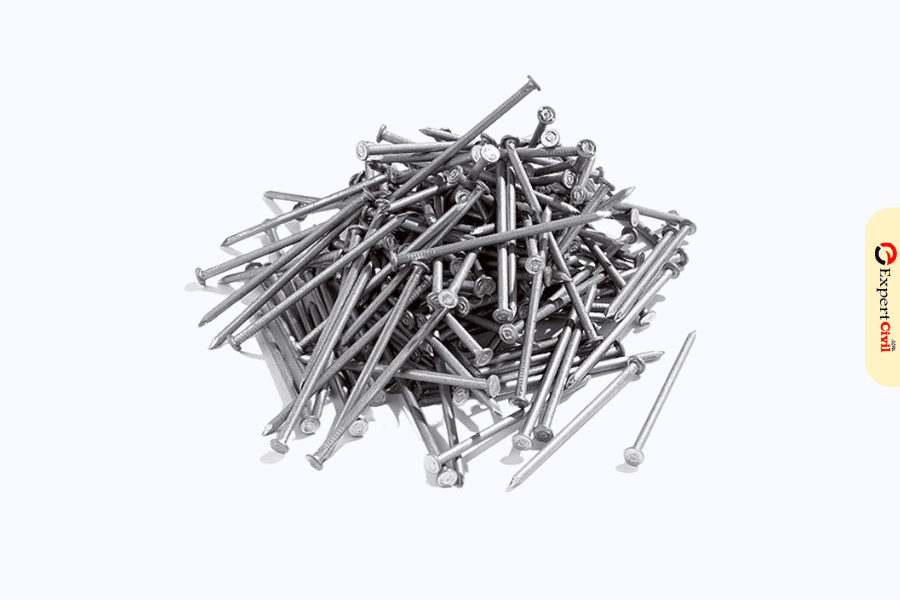 2. Duplex nails
A double-headed or duplex nail looks to have two heads. They have one head that has been lengthened. Duplex nails can be removed with a hammer or nail remover. For constructions like scaffolding or concrete forms, duplex nails are employed.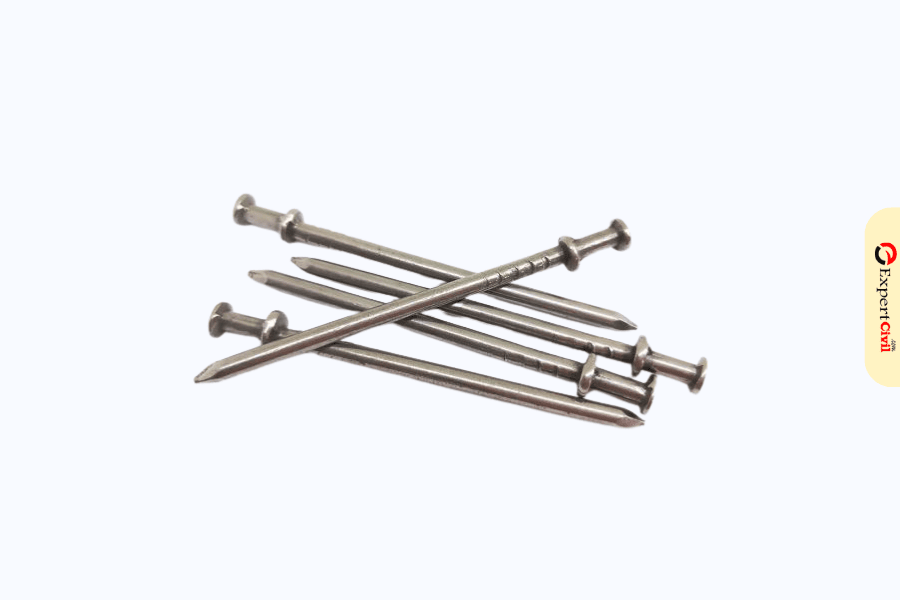 3. Sinker nails
Sinker nails are short, thin nails. They are utilised in difficult-to-reach spots.  The majority of framing is constructed through conventional nails and a pneumatic gun. They have a vinyl or cement coating. The vinyl is ready, and the rings at the top aid in keeping it in place. When it becomes cool and solidifies, then it forms an adhesive bond.
4. Underlayment nails
These nails are employed while installing plywood subfloors or on top of timber beam. Nails have features of smaller shanks. These shanks help to reduce the chance of fracturing.  They provide underlayment nails. These nails have certain screw-like advantages. They have more gripping power than a straight nail.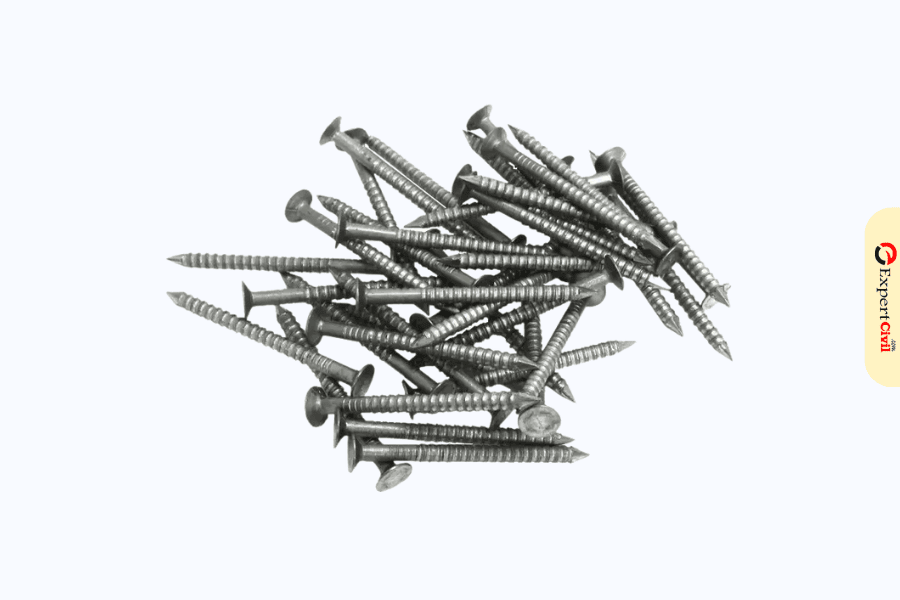 5. Roofing nails
These nails hold shingles or other roofing materials in place. Nail heads are very huge relative to their shanks. Some roofing nails include a little disc beneath the head. They resemble with a washer. As a result, the substance that the nail holds in place has a larger surface area.
6. Annular ring nails
An annular ring nail has a series of rings along its shank. It is also known as a ring shank nail or drywall nail. When used with softwoods, the rings push the fibres of the wood out of the way. The rings aid in making room for the nail as it is driven in. After the nail is driven, the wood settles back into place around the ring.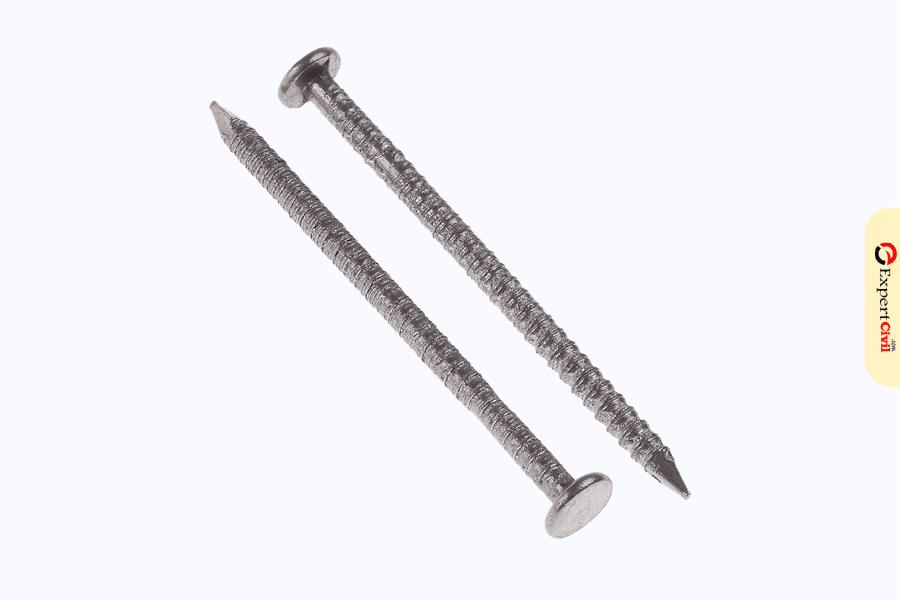 7. Spiral shank nails
The rings of an annular ring nail are parallel to one another. The shanks of a spiral shank nail resemble screws. They twist and make their own threads when they are nailed into the wood. While spiral shank nails are utilized with hardwoods. They are denser and more difficult to penetrate.
8. Decking nails
Decking nails have rings, just like underlayment nails. Despite the drying and weathering conditions, the decks remain intact. The nail design helps to ensure that nails remain in place.
9. Masonry nails
Masonry nails are used to drive a nail into cement or stone. They also have fluted or grooved shanks. You'll need a stronger hammer to insert masonry nails.
10. Brads, casing and finishing nails
These nails are utilized for trim and other minor wood details.  They have thin shanks and tiny nail heads. The thinnest of the three, brads are ideal for circumstances. When preventing a piece of wood from splitting as you drive a nail into it is your main concern. Picture frames, panelling, and thin trim all use them.  A casing nail is used where trim needs more strength. They are used for window frames and casings around door frames.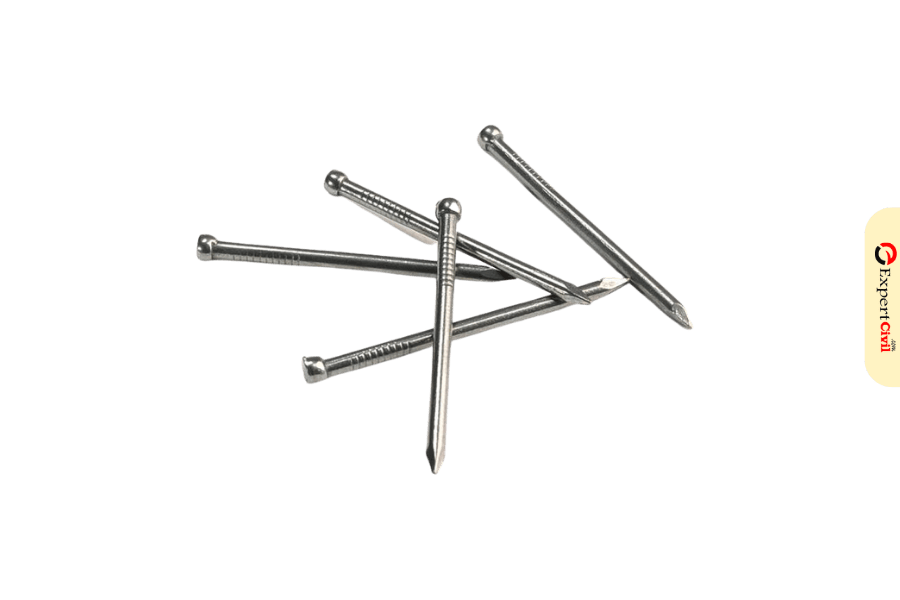 11. Box nails
These nails derive from their employment in the construction of wooden boxes. They have extremely thin shanks. Box nails are also intended not to split wood. Box nails don't provide much support. You won't utilise them for structural strength. Clapboard siding is often installed on homes. It has thin shanks that prevent cracking.
12. Cut nails
They are also known as square nails. Masonry Cut nails are made of metal sheets rather than wire. Cut nails were popular in the 19th century. These nails are still made today for a niche market.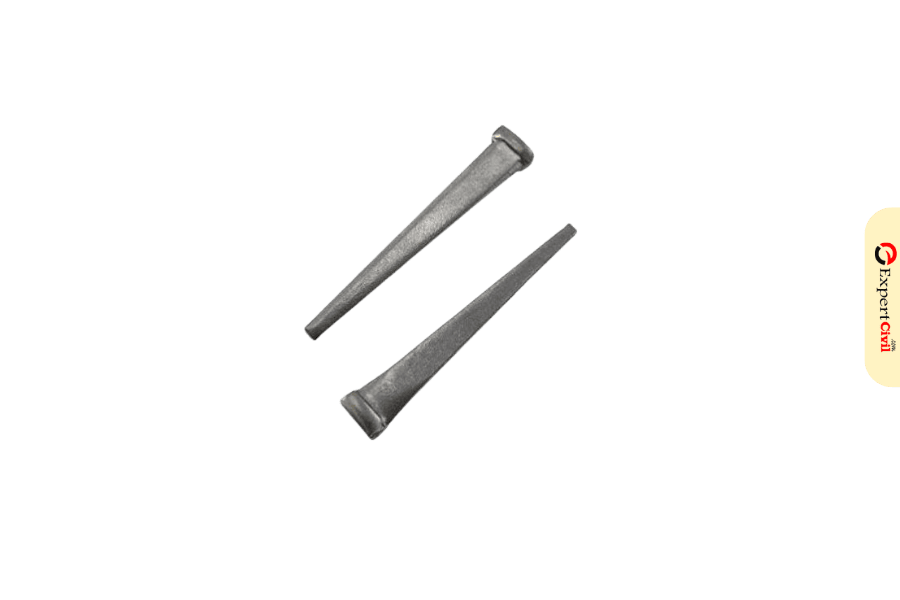 Advantages of Nails
Nails may be put more quickly.
Nails are less expensive than screws.
A good hammer can drive a nail all the way through wood in just two or four strikes.
Finishing nails have a small head. Nails can make it easy to conceal them on furniture surfaces.
If you accidentally bend a nail by striking it at the wrong angle, straighten it with the hammer. Reuse it for lightweight furniture where there is almost no load.
Disadvantages of Nails
Hammering nails into plywood, etc. will cause the nails to bend.
Compared to screws, nails have less holding power.
The use of a hammer to put nails necessitates greater force.
Screws Vs Nails For Furniture
Factor
Nails
Screws
Composition
Nails have three components that are the head, shank, and point.

To make hammering easier, the nail's head has been expanded and flattened.

A thin shank is its main structural feature. Materials are held together by nails. The friction is the main factor to join substance and shank

The tapering section of the shank's end is the nail point.

Head, threads, and pitch are the three components of a screw.

A drill or a screwdriver can be inserted.

The pitch is the spacing between threads. The threads are the helical ridges that run the length of the screw. It can provide friction that holds the two materials together.

Material
Nails can also be made of aluminium, brass, or a variety of other metals.  Nails are constructed of mild steel.
Screws are made up of brass, stainless steel, chrome-plated M.S., and others.
Strength
Compared to screws, nails have higher shear strength.
 In comparison to nails, screws have a higher tensile strength.
Types
Common nails are used in the construction of furniture. It includes round wire nails, oval wire nails, finishing nails, etc.
 There are several different sorts of screws. It includes countersunk, raised, and round screws.
Flexibility
Nails can bend more easily. A bad hammer blow will cause anything to bend.
In contrast to nails, screws are less flexible.
Rust Resistance
Nails are less rust-resistant.
Screws shield the metal from moisture. Screws provide a high level of corrosion resistance.
Size
Nails can be utilized according to their size. The nails range in size from half an inch to five inches.
The most popular gauges range in size from 2 mm to 16 mm. screws have lengths ranging from 0.25 to 3.5 inches.
Cost
Nails are more affordable than screws. The materials and nail size affect the price of the nails.
Screws cost more than nails do. The size and material have an impact on the price of the screws.
Frequently Asked Questions
Q. How to drive a nail into a wall through a hammer?
Nails can easily fix to the wall. First, hold the nail precisely parallel to the wall surface.
The nail's head should be in the middle of the hammerhead.
Use elbow motion. You can bend your wrist to a backward position.
Pull the hammer back. Watch the nail's head, not the hammer, as you start your forward motion.
Q. How to get a broken screw out?
Grab the shank with pliers.
Turn the screw counterclockwise to free it from the material.
Pull it out to remove a screw with a broken head.
Try placing a rubber band around the stripped head. It helps to improve the screwdriver's grip if the head is stripped
. The screw should then be removed with a screwdriver as usual.
Q. How to fill nail holes in wall?
Use spackling paste on plaster walls, drywall, and finished wood properly.
Fix nail holes for permanent.
You can use common materials like toothpaste, craft glue, or bar soap as a quick cure.
Conclusion
In short, this article is all about information about nails and screws. You may conclude your knowledge through the comparison of nails and screws. Although they serve the same goal but screws always remain superior. You can choose screws or nails according to your project and your demand for construction. As a result, you must choose according to your own requirements.
We are sorry that this post was not useful for you!
Let us improve this post!
Tell us how we can improve this post?