Construction Residential Timeline Template Download
---
Welcome visitors, are you looking for "Construction Residential Timeline Template for Construction site" let's go and download this powerful template.
These following Tasks are required for a timeline.
Task Name
Start date
Demo Prep
Demolition
Excavation
Concrete
Pre backfill
Framing
Roof
Plumbing
Windows
HVAC
Electrical
A/V
House wrap
Insulation
Drywall
Exterior stone
Exterior casework
Laundry/furnace room flooring
Hardwoods
Tile
Cabinets
Plumbing -hang sinks
Interior doors
Millwork
Interior painting
Stone Counters
Schedule Buffer
Decks
Interior doors- hang & hardware
Appliances
Plumbing
Electrical
Bathroom Glass
Garage Door dress up
FINAL Inspections
Wrap up
House Cleaning
Complete
This sheet is based on excel formula just we need to put the Start Date and End Date and it will generate the Gantt Chart.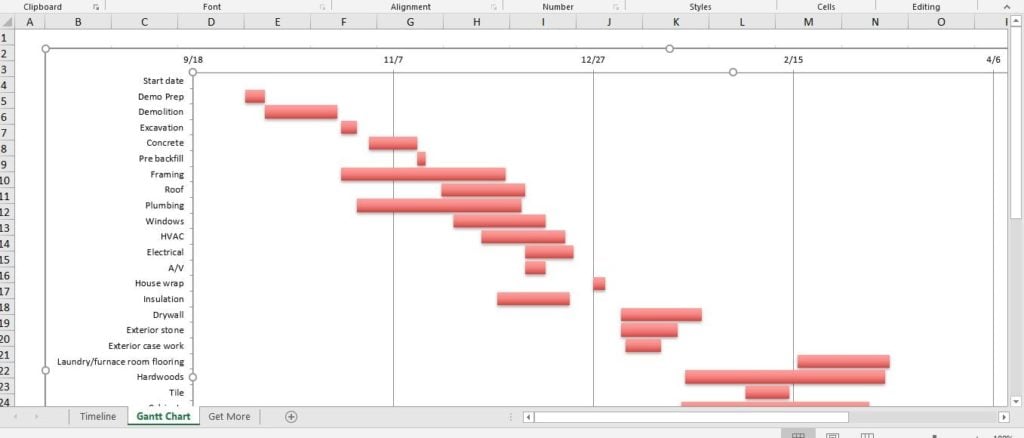 ---

Also Download
---
Good News! we just launched our new civil engineering shop, so now you can download any civil engineering materials, like Question paper, Ebook, Spreadsheet, PDF Book, etc.
Visit our Online Store [Civil Engineering Shop]
We are sorry that this post was not useful for you!
Let us improve this post!
Tell us how we can improve this post?