Vastu Shastra is all about creating pleasant environments, whether it's a place to live or work, in the most scientific way possible by utilizing the benefits granted by nature's five elements.
What is Vastu Shastra for homes?
Vastu brings positive vibrations and energy into homes and businesses, creating an environment conducive to total success, harmony, tranquillity, and good health.
Most people believe in Vastu because of different reasons, maybe most people believe that if we don't follow it, we are giving any negative energy a chance. Most people build their dream home once in their lives, it should not be associated with any bad energy.
The Science of Vastu Shastra 
Our ancient saints concluded that everything in the universe, alive or non-living, and the entire universe, is made up of five basic elements, or panch tatva.
Vastu is made up of the panch tatva, or five elements, which include air, earth, fire, water, and sky. Our five senses of smell, taste, hearing, touch, and sight are all part of the panch tatva. Any Vastu imbalance, both external and internal, results in negative events.
Panch tatva in its proper proportions generates bio-electric magnetic energy, which promotes health, wealth, and prosperity.
Vastu meaning
The word "Vastu" comes from Sanskrit and means "home or residence with a corresponding plot of land." The following image represents the Vastu pyramid.
Vastu Tips for Your Home Tips And Tricks
Vastu Tips for Plot
Based on shape:
The most ideal shapes of plots to have been Square and Rectangular.
Based on the position of the plot:
There must be no neighboring cemeteries, crematoria, mausoleums, or other burial sites.
Avoid the land directly across from a hospital, nursing home, or religious institution.
Vastu considers a blockage of positive energy entering the smaller space if the real-estate property has two large plots or buildings on the two surrounding sides. Misfortune and loss are attracted to these schemes.
Avoid putting a waste dump or sewage near your commercial or residential property.
When hills, mountains, elevated terrain, taller structures, or trees are present in the west or southwest direction of the house, it is considered lucky.
Based on per structure of the plot:
A land with roads on all four sides is considered lucky by Vastu for commercial and residential reasons.
According to Vastu, a vacant plot of land in the northeast or north direction is auspicious.
Land that faces north or east and has a lake, canal, river or other body of water is considered lucky and auspicious.
Vastu for Office
A nice bountiful office is one that faces east.
Avoid plots with uneven shapes, and opt for a square or rectangle for your office structure.
If there is any water resource or element, it must be put or installed in the northeast corner of the workplace.
When working or engaging with clients, the company's senior executive or owner must face north.
For executives and other workers, the northern or eastern sides are ideal.
Managerial and other high-level employees in the office should be forced to sit in the southern or western portion of the office, facing north or east. The northeast portion of the office should be left empty with a water resource placed.
Toilets should be built on the west or northwestern side of the building, avoiding the south-east and north-east east sides.
A pantry should be built in the southeast.
The greatest places to build a staircase are in the south, south-west, or west. Avoid taking the stairs in the office's Brahmsthan or in the center.
The reception area should be designed in the northeast.
If there is a temple built in the office in the northeast.
Employees should not be forced to sit beneath the beam.
In the northwest or northeast, a waiting room can be built.
Colours in the office should be pleasant and vibrant, not depressing, or gloomy.
Attractive photos should be put on walls, while pictures depicting conflict or evil should be avoided.
Vastu Tips for Main Entrance Gate
According to Vastu Shastra, there are 32 possible entrances. When you divide a 360° circle into 32 entrances, each one covers 11.25°. There are eight alternative entries for each cardinal direction (North, East, South, and West).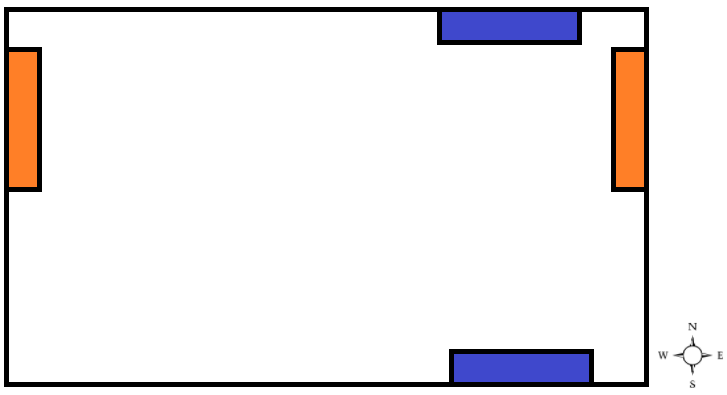 For example, there are eight gates for the north (N1 to N8), eight entrances for the east (E1 to E8), eight entrances for the south (S1 to S8), and eight entrances for the west (W1 to W8) (W1 to W8). Each entry has its own influence, but only a few of them are beneficial to the house's occupants.
Must Read: 10 Types of Flooring used in Construction
Vastu Tips of Kitchen
The Lord of Fire—Agni—predominates within the southeast direction of the house, in step with Vastu Shastra, which indicates that the southeast direction of your house is the optimum location for your room. If you're unable to try to do this for any reason, the north-west direction can serve. However, the room ought to ne'er be in-built the north, north-east, or south-west directions of the house, as this can severely injury family connections.
Because all objects within the room indicate hearth, appliances like gas stoves, cylinders, microwave ovens, and toasters ought to be placed within the south-east corner. Also, these objects ought to be organized in such a way that they force someone to cook with their back to the east. in step with Ddhannak, this can give positive energy.
The washbasins and cookery vary, which has the gas cylinder and kitchen appliance, ought to ne'er be placed on an equivalent platform or parallel to every different within the room, in step with Vastu Shastra, as a result of hearth and water square measure opposing parts, making a prejudicial impact on human conduct. it's the potential to cause accidental fights among spouses and relations.
Inside the room, washbasins, the washer, water pipes, and also the room drain ought to all face north or northeast. AN overhead tanker within the room, on the opposite hand, mustn't ever face north or north-east. The water tanker, in step with Ddhannak, ought to be set outside the room within the western section of the house. it is vital to keep up a healthy balance between the fireplace and water parts. you'll achieve terms of wealth and health if you maintain a balance with water.
To assist you to overcome issues in life, place the white goods within the south-west direction. it'll facilitate producing a peaceful atmosphere within the room.
Grain and different stock ought to be kept within the kitchen's south-west corner to bring sensible luck and wealth.
Must Read: Complete Guide on Staircase
Table: Best positions to keep items involved with kitchen
| | |
| --- | --- |
| Type | Best direction |
| Entry door | North, east or west |
| Gas cylinder | South-east |
| Cooking gas | South-east corner |
| Refrigerator | South-east, south, north or west |
| Equipment (e.g., heaters, conventional ovens, microwaves, ovens) | South-east or south |
| Storage racks | Western or southern wall |
| Sink | North-east corner |
| Drinking water | North-east |
| Windows and exhaust fan | East direction |
| Clocks | South or south-west wall |
For glorious health and success, a clean, roomy, and clutter-free room is crucial. The room should have windows, be lightweight and ethereal, and be well-lit. the planning of the room ought to be betoken, with clean, easy lines, so as to avoid litter and have adequate area whereas cookery. The west and south walls of the room ought to have the maximum amount of space for storing as doable.
Vastu Tips for Living Room / Drawing Room
A beam or beam ought to ne'er lie the front room ceiling since sitting underneath one causes mental instability and stress.
The use of bright inexperienced or white on the walls creates a way of happiness and heart among guests and inhabitants. On the east wall, solely dark shades ought to be used.
Use light-weight curtains on the windows and doors on the north-east wall and significant drapes on the south-west wall of the front room.
Keep some area within the north-east corner of the front room. Maintain a clutter-free and clean atmosphere. to feature to the tranquilly, place some potted plants during this space.
Keep some area within the north-east corner of the front room. Maintain a clutter-free and clean atmosphere. to feature to the tranquilly, place some potted plants during this space.
In the Agni corner or the south-east corner, place the tv and cooling system.
To generate positive energy and elevate the mood, droop artworks that depict the sweetness of nature or a scene that gives tranquilly to the area. Avoid worrying about photos of violence, wild animals, tragedy, and even deceased relations.
Artificial flowers square measure thought of unlucky and will ne'er be shown. Even dried flowers, that square measure related to the fall season, square measure thought of unlucky. Cacti and trees ought to never be maintained since they need a negative impact on the livelihoods and money prospects of the locals.
In the room's south or west corner, droop an enormous pendant. It's suggested to not droop it precisely within the middle (Brahmsthan). within the front room, bright lighting is suggested.
Guests ought to take a seat within the north-western corner of the area. during this realm of air and quality, they will not be able to outstay their welcome!
The family's head of unit must always be facing east or north within the south-west quadrant. This puts him up to speed and prevents guests from overwhelming him.
The orientation of your property determines the simplest location for a front room. The front room may be in-built the northeast for a house facing north or east. A house facing west should have its front room towards northwest.
A front room, on the opposite hand, may be found within the central west, central east, central south, or central north of the house.
Vastu Tips for Bedroom
Master Bedroom: It ought to be within the south-west corner of the house.
Kid's Bedroom: The west-facing area ought to be the children's area.
Guest Bedroom: East-facing rooms ought to be guest rooms.
Study Room: South-East corner ought to be allotted for finding out and dealing.
Vastu Tips for Puja Room
The Pooja room slab should be shaped like a dome or a pyramid to ensure that cosmic energy is dispersed evenly.
Avoid placing the Pooja Chamber in your bedroom or on a wall adjacent to your bedroom.
The Pooja Room should not touch the bathroom or toilets.
The pooja room should not be below the bathroom or toilet.
Do not keep a dustbin or any kind of dirt inside or near the Pooja room.
Never keep broken idols or images of God. Idols should not be kept on the floor, instead, idols should be kept on the floor.
Also Read: What is Skirting Tiles
Vastu Tips for Bathroom
The north-west is the best direction for a bathroom location. The fact that this is an Air element direction has no bearing on the passage of subtle energies.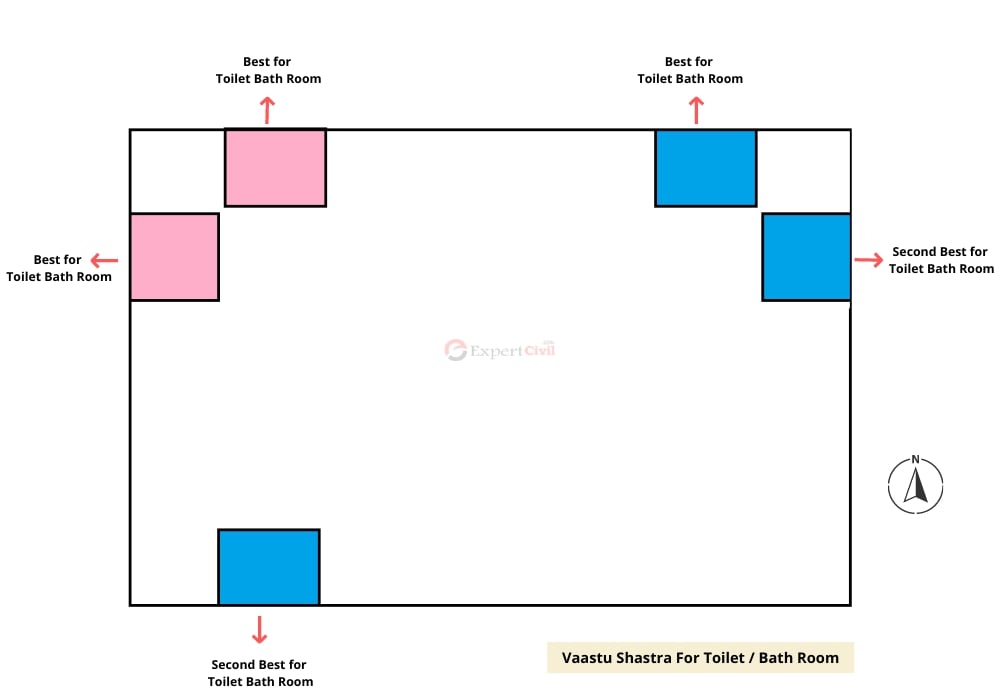 Placing a bathroom in the north-east corner of the home is a serious Vastu violation, according to Vastu Shastra. The north-east is a particularly holy area, owned by Lord Shiva and occupied by the Vastu Purush's forehead. The north-east is a point where electromagnetic energies emerge, and this energy pervades the entire structure. If a restroom is built here, these energies will be contaminated. As a result, putting a restroom here can lead to serious health concerns, accidents, and offspring troubles, as well as unneeded conflicts.
According to Vastu experts, placing a bathroom in the south-east location is also an issue. This is due to the fact that this space belongs to Lord Agnidev and is occupied by the Fire element, whereas a bathroom belongs to the Water element, which opposes fire. Lord Agnidev is also disrespected in this bathroom. Unexpected losses, legal challenges, taxes issues, and electricity-related mishaps or accidents may befall occupants of the building with a bathroom in the southeast.
A bathroom in the south-west is also unlucky and can result in financial losses and extra expenses for the building's tenants. They may also experience anxiety and depression in some circumstances. Because the magnetic energy of the north-east is stored in this direction, there should be no drainage in this area.
The bathroom should not be located in the centre of the house since Lord Brahma is believed to reside there. Furthermore, because the middle area is the source of gravitational energy, a restroom here would infect this positive energy.
When entering a building, the bathroom should be hidden.
Ensure that the bathroom is not connected to the kitchen wall or the mandir wall. The bathroom emits a lot of negative energy and is filthy; it may compromise the purity of the kitchen and taint the food cooked there. The same is true in the mandir; the sacred environment is not kept pure and clean due to the bathroom's negative energies, in addition to being disrespectful to the Gods.
Vastu Tips for Staircase
An outdoor staircase can be built in any of the following directions: southeast-facing east, southwest facing west, northwest facing north, and southwest facing south.
Always start your stairwell from the north to the south or the east to the west. If there isn't enough room on one side, a turn to the other can be made.
The number of steps on a stairwell must always be odd, and the number must never finish in a zero.
The vertical set of steps should also be an odd number, with a remainder of two when divided by three.
Avoid building circular staircases because they can be hazardous to one's health. A stairway that circles the building can also cause serious disasters.
A basement room with a stairway in the southwest corner is not auspicious. People who live in a room like this, according to Vastu, suffer from high blood pressure, undetected diseases, anemia, and other ailments.
Build doors at the top and bottom of each stairwell. It's also crucial that the steps do not touch the northern or eastern walls.
Try designing stairwells in such a way that people are not able to see them. Stairs that are clearly visible are regarded to be unlucky. Stairs that are broken must be repaired right once, as they can cause strain and accidents.
Bathrooms, kitchens, and pooja rooms should never be built beneath a stairwell. This space can only be utilized to make a storage area.
If you're going to build a linear staircase, start from north to south or east to west (inside or outside the house). It can then go in any direction.
Must Read: 10 Innovative Wall Painting Decors idea
Vastu Tips for Basement
According to Vastu principles, there should be more room in the east and north than in the south and west, hence basements should be created in the northern or eastern direction of the home.
Rather than being used for living or amusement, the basement should be used for storage or other purposes.
Put all of your rubbish, including heavy equipment, in the southern and western corners of the basement, and make sure the shape is square or rectangular. An unfit basement can result in unavoidable losses and jeopardize people's health.
The basement should have around a quarter of its area above ground.
A basement should have a minimum height of 9 feet.
Heavy items should not be stored in the basement's north or east areas.
Avoid heavy hues and choose light and subtle colours to paint your basement.
Vastu Tips for Choosing Colours for Your Home
According to Vastu, the master bedroom should be in the south-western direction and painted blue.
The most acceptable orientation for the Drawing Room or Guest Room is north-western, and it must be painted in an all-white hue.
According to Vastu, the children's room should be built in the north-western direction for children who grow up and go out to study. In addition, because the Moon monitors the north-western direction, the chamber must be painted white.
According to Vastu, the Kitchen should be in the south-eastern zone. The walls must be painted in a bright red or orange tint. The house's kitchen represents the element of fire. As a result, brighter colours would be the ideal choice.
The bathroom should be oriented in a north-western direction, and the area should be painted white.
According to Vastu, the house's hall should be erected in the north-western or north-eastern direction and painted white or yellow in colour.
Home exterior color: This should be based on the owner of the house. Colours like off-white or yellowish-white or even orange can be suitable for any Rashi.
Pooja Room: According to Vastu, this area of the house must face north-east in order to receive the most quantity of sunlight. The most acceptable hue for this space is yellow, according to experts.
Entryway: Use gentle colours for the front door or the house's entrance. Silver, white, or wood are all good choices. Dark colours like dark blue, red, or black, according to Vastu, should be avoided.
Study Room: Do you have a home office as well? "No problem," Vastu says. Blue, light green, white, and cream are good choices. The use of light hues makes the room appear larger.
Balcony/Veranda: According to Vastu, the balcony should be facing east or north. For the veranda, Vastu recommends using soothing hues such as cream, blue, and light green/pink.
Garage: According to Vastu, the garage should be located in the north-western direction. Yellow, white, blue, or any light shade are recommended.
Table: Colour combination for different types of rooms
| | | |
| --- | --- | --- |
| Room | Suggested colours as per Vastu | Colours to avoid as per Vastu |
| Master bedroom | Blue | Dark tones of red |
| Guest room | White | Dark tones of red |
| Drawing/living room | White | Dark colours |
| Dining room | Green, blue, or yellow | Grey |
| Ceiling | White or off-white | Black and grey |
| Kid's room | White | Dark blue & red |
| Kitchen | Orange or Red | Dark grey, blue, brown, & black |
| Bathroom | White | Any dark shade |
| Hall | Yellow or white | Any colour in a deeper tone |
| Pooja room | Yellow | Red |
| Home exterior | Yellowish-white, light mauve, off-white | Black |
| Main door/entrance | Silver, White, or wood colours | Red, deep yellow |
| Study room | Light green, blue, cream | Brown, grey |
| Balcony/veranda | Blue, cream, light tones of pink and green | Grey, black |
| Garage | White, yellow, blue | Black, brown |
| Staircase | White, beige, light grey, pale blue | Red & black |
Also Read: Advantages & Types of Emulsion Paints
We are sorry that this post was not useful for you!
Let us improve this post!
Tell us how we can improve this post?