What is a forklift truck?
Forklift trucks are one of the most adaptable vehicles for builders. Forklifts are essential on any construction site. They can lift huge things that humans cannot. They can be used in a warehouse or on a construction site.
There is a vast range of types and styles of forklift trucks. So, it might be challenging to choose the best forklift for building projects. This article covers everything about its types, uses, and features.
Types of forklift truck
1. Warehouse Forklift
The most well-known kind of lift truck is the warehouse forklift.  Twin forks are projected from the front. It has a golf cart-like appearance. This forklift is most often used in a facility with a large inventory of commodities. It works well for loading and unloading pallets. It also helps in moving goods to and from delivery vehicles.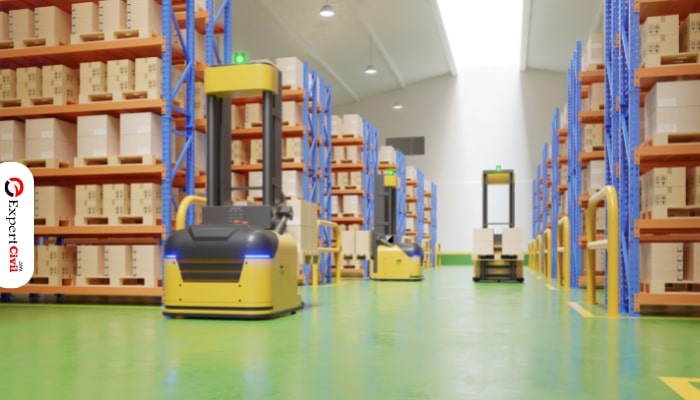 Hyster 36-38T and Toyota 3-Wheel Electric Forklift are well-liked models. The average industrial forklift can carry 5,000 pounds. Certain heavy-duty machines may lift 25,000 pounds. Side loaders and counterbalance forklifts are two varieties of warehouse forklifts.
Key Feature: Trucks may load between one and five tons.
Uses: It is the most effective for lifting and moving objects over short distances.
2. Side Loader Forklift
A side loader is a sort of warehouse forklift. They are typically seen in steel service centers and manufacturing plants. It is a large, heavy, and awkwardly shaped product. A side loader unloads the objects.
Its operator stands in a sideways compartment. Side-load forklifts can drive up alongside racks. It can load and unload without turning because of its sideways action.
They can handle long items like pipes and lumber. They can hold even maneuver in confined spaces. The main brands of side loaders include Hyundai, Raymond, Yale, and Toyota.
Key Feature:  it has a horizontal moving compartment. It can move with the load.
Uses: It is used for lengthy lifting. It can carry bulky objects like pipes and wood.
Model: Combilift SL-Series
Lift Capacity: 4,500kg – 6,000kg
Lift Height: 4,040mm
3. Counterbalance Forklift
It is a common lift that has forks in the front. It carries weight in the back to balance the load weight. That is why; it is called a counterbalance forklift. Their arms cannot extend. So, counterbalance forklifts can Manoeuvre right up to the load.
There are many varieties of counterbalance forklifts. The 3-wheel version is the perfect forklift for round turns. Operators can quickly hop on and off between loads. Popular producers include Crown, Toyota, and Mitsubishi.
Key Feature: A weight on the back that balances burdens.
Uses: It is moving best in circular motions.
Model: Hyster J Series, Hyster XT Series, Hyster XM Series
Lift Capacity: Up to 32,000kg
Lift Height: Unit Specific
4. Telehandler (Telescopic) Forklift
The telehandler is also known as a telescopic forklift or a reach forklift. It combines a crane and a forklift. It is attached with a boom and an extensible arm. Pallets are raised off the ground by using the two spikes. These spikes are attached to the arm. A basic telehandler is excellent for getting into small places and awkward angles. It can move 5,500 lbs of objects up to 19 feet in the air.
Telehandlers are produced by JCB, Genie, Bobcat, Haulotte, and Caterpillar. Larger capacity operations are well suited for models like the JLG 1644. Other models can lift items to 55 feet high.
Key Feature: It has an attachment for an extendable arm and an articulating boom.
Uses: transferring weights from the ground to higher altitudes.
Model: JCB – 525-60C Telehandler
Lift Capacity: 2,500kg
Lift Height: 6,000mm
5. Heavy-Duty Forklift
The heavy-duty forklift is also known as a big-capacity forklift. It combines the capabilities of a telehandler with a warehouse forklift. It can carry bigger objects far higher off the ground.  It can't reach awkward angles like a telehandler. Although it has a starting lift capacity of 30,000 pounds.
You should only require a lot of strength for specific tasks. In comparison to the telehandler and warehouse forklift, this limits its application. There are 20 well-known producers of heavy-duty forklifts. NACCO Industries and Mitsubishi are two well-known companies. They have an amazing capacity of 36,000 lbs.
Key Feature: Reach and power are combined in hydraulic levers.
Uses: Carrying large objects for industrial purposes.
Also Read: 21 Types of Construction Equipment
6. Rough Terrain Forklift
The rough terrain forklift is also referred to as a straight mast forklift. It is primarily used for outdoor job sites with uneven surfaces. These trucks have strong pneumatic tires. These tires are large and threaded. They can improve their stability and balance across uneven terrain.  Rough terrain forklifts are essential for outdoor applications and building sites.
Popular models include the JCB 950 and CASE 588H. The ability to handle greater loads is another significant benefit of these forklifts. The majority of models have a lifting capacity of up to 8,000 lbs.
Key Feature: Large tires and a strengthened cage cab on a sturdy design
Uses: outdoor work on uneven terrain
Model: Liftsmart Rough Terrain Forklift Range
Lift Capacity: 2,500kg – 5,000kg
7. Pallet Jack Forklift
Pallet jacks are highly specialized. These forklifts are also referred to as pump trucks. They are too small to lift heavy objects. Pallet jacks have a compact footprint in exchange for power.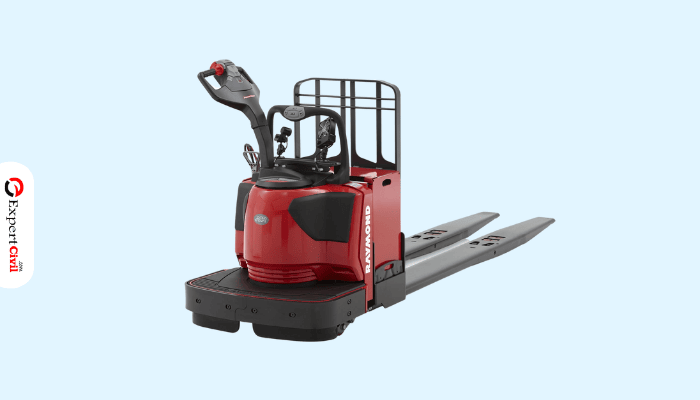 It enables them to fit into the smallest locations and raise small goods there. A pallet jack is far less expensive to buy and rent. There are manual and electric pallet jacks available.
Key Feature: A small-size, manually or battery-powered
Uses: Pallets moved across great distances and through confined areas.
Model: Liftsmart PT15-3
Lift Capacity: 1,500kg
Lift Height: 190/200mm
8. Walkie Stacker
Walkie stackers are distinctive in appearance and limited in their use. These material-handling vehicles lack cabs.  The operator controls the stacker by walking behind it. The operator uses a handle that is attached to it. These machines lack speed, mobility, and power.
Yet, they are perfect when a larger pallet jack is required.  The reach of this forklift is considerably greater than conventional ones. Hyster, Jungheinrich, and Toyota are the current walkie-stacker forklift producers. Jungeinrich's EMC 110 is best for tight aisles. Toyota's 6BWC20 is best for 4,000-lb loads.
Key Feature: Because of the design, the driver must follow the truck behind him.
Uses: moving pallets to higher positions than a pallet jack can accommodate.
Model: Liftsmart LS10
Lift Capacity: 1,200kg
Lift Height: 3,500m
9. Order Picker Forklift
A walkie stacker subtype is called an order picker. It is used to pick and distribute items from storage. These devices are intended to raise operators to warehouse racks. It can move individual units. They can reach heights of up to 32 feet. They flourish in storage facilities and warehouses.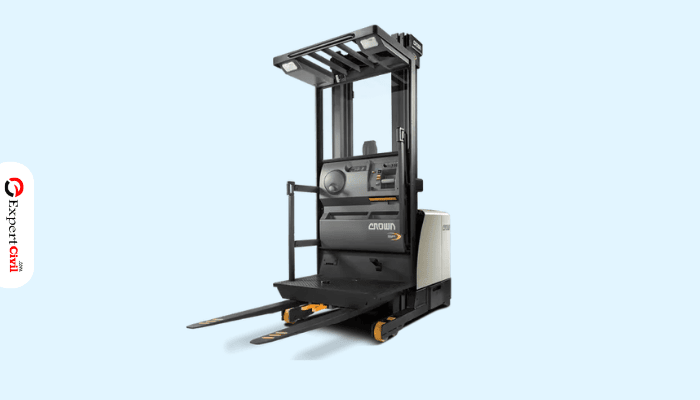 They handle customer orders. They can pick specific items without having to bring down entire pallets. They can handle a range of goods, from furniture to auto parts. They have a very adaptable design.
Key Feature: Open the operator's window and avoid handling pallets.
Uses: applications for warehouse inventory and piece-picking units.
Model: Hyster LO 2.0
Lift Capacity: 2,000kg
Lift Height: 120mm
10. Reach Fork Truck
A warehouse truck used for indoor work is the reach forklift. Its main strength is the ability to extend its forks. It has an open compartment as well. It gives the operator a better view.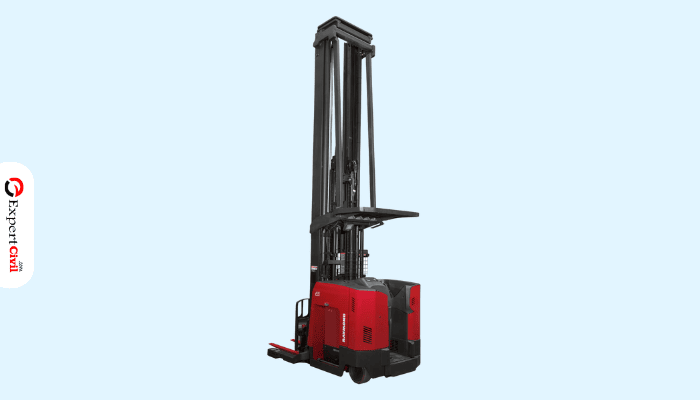 Reach trucks operate well indoors. They are inadequate for outdoor operations due to their low undercarriage clearance. Some of the best producers are UniCarriers, Clark Materials, and Yale.
Key Feature: Its legs are stabilized and forks expand forward.
Uses: Picking pallets quickly and precisely in enclosed spaces.
Model: Hyster N35–45ZR N30–35ZDR
Lift Capacity: 40,000kg – 50,000kg
Lift Height: 12,650mm
Also Read: 18 Different Types of Cranes Used in Construction
Elements of a Forklift
Although size is vital, a forklift's design carries particular weight.  A forklift's lift capacity, load center, and stability should be considered. Forklifts have different elements that must be considered before selecting one.
Lift capacity

: The maximum weight a forklift can support safely. It should remain stable during lifting a weight.

Load center:

It usually works on the center of gravity. The distance between the forklift and the load's center should be measured. It can be varied according to the lift's weight, tilt, or lift angle. So, It should be taken as an important factor to consider.

Stability triangle:

The region under the forklift maintains the center of gravity. It keeps it from toppling over and is known as the stability triangle.
How to Choose a Forklift?
For choosing a forklift, you should take the following factors into account. The selection for a project always ensures its effective operation. The following are the main points while choosing a forklift:
First, determine the capacity. How much weight must you raise? Is it suitable for your project?

Determine the stability of the worksite. Can the forklift be supported by the ground?

Determine the height of the area. Can you fit your forklift through the gaps? Is it lift the weight according to your desired height?

Make the proper fuel type selection. Do you require gas or batteries?

Examine the topography. Is the ground even or sloping?
When choosing a model, it's critical to take into account the various elements. There are several options like lift capability, height, and tire composition. Forklifts are essential tools on any job site.  They can pick up and move goods of all sizes. So, choose it wisely according to your project.
Forklift Safety Checklist
Forklift operators make sure that powered industrial trucks are in good operating order. That's why they usually used a checklist. Safety inspections and maintenance checks are conducted by using forklift checklists. Due to these checklists, unnecessary accidents and malfunctioning in projects can be minimized.
This daily forklift checklist is broken up into two sections:
1) Pre-operational inspections are carried out before starting the engine.
2) Safety inspections carried out by following engine start-up. The following elements should be completed before using a forklift:
Inspect the forklift before and after starting the engine

Damaged parts should be noted by using photos or videos. Make notes of such damage.

Assign corrective actions if any damage or malfunctions are found.

Finish the inspection by digitally signing your name or the inspector's.
Also Read: Advantages and Disadvantages of Construction Equipment
FAQ
Are forklift operators in demand?
Yes, forklift operators are in demand. For the past ten years, the demand for forklift operators has been growing.
There is a current increase in warehouse positions. It may indicate an even more promising future in the next years.
What is the most common forklift?
The most common type of forklift is the counterbalance forklift. It is famous for its stability. It can keep the unit from tipping forward.
They often consist of a unit at the front. They have a substantial counterweight at the back.
Can a forklift lift a forklift?
Any licensed forklift operator (or OSHA inspector) does not allow lifting a forklift. It is so risky to use one forklift to raise another.
It can increase the risk of property and equipment damage. Also, it can raise operator injury and even death.
How long forklift license valid?
The Health and Safety Commission (HSC) recommends a complete training course for operators. The validity of forklift license remains valid for three years or less.
When was the forklift invented?
Most people agree that a track tractor qualifies as the first forklift. It happened in 1917. The device was essentially a tractor with an attachment. It resembled just current lift trucks.
Why forklift training is important?
As you can see, safety training for forklift drivers is essential. It can lessen workplace accidents and fatalities.
It also decreases financial costs from damaged items. Untrained forklift operators put themselves at risk by operating this equipment.
Conclusion
In this article, you can find information about forklift trucks. The advantages, features, and several types are explained well. Hope you meet your queries by reading this article.
Also Read: Types of Soil Excavation Tools and Machines In Construction