Different types of cranes are used in civil engineering construction projects. Cranes have an important significance in constructing the structure of the building. They are employed to raise and lower objects. Cranes are most often used in the lifting of heavy equipment in the construction area.
Any work site that needs the lifting of materials to higher areas usually utilizes cranes. Here is a list of the cranes that are often used in industries. Using the right kind of crane is essential in building projects. So, let's come across on below read.
What Is A Crane?
An example of a machine used to move materials, equipment, etc. is a crane. It is made of sheaves, wire ropes or chains, and a hoist rope.
It can be used to lift and lower objects as well as move them horizontally. A crane is in general used to lift big objects. Also, it is used to move objects a short distance between locations.
Also Read: 21 Types of Construction Equipment
Types of Cranes
Due to varying needs, different sectors use different types of cranes. It is used to move materials in the construction sector. They assist in loading and unloading shipments in the transportation sector. Moreover, assemble heavy machinery in the manufacturing sector. Cranes of several varieties are used in construction. Their usage depends on the nature job. The top crane types that are often utilized will now be covered in more detail.
1. Telescopic Crane
A boom with a variety of tubes that are fitted within one another is offered by a telescopic crane. The boom is then lengthened or shortened using hydraulic systems. Hydraulic systems help stretch or retract the tubes.
This kind of crane is movable and it can flexibly move cargo from one location to another site. Telescopic cranes include height tuning functions. So, in moving and carrying products, this crane eliminates height-related issues.
2. Rough Terrain Crane
This kind of crane is built so that it can move over a wide range of surfaces. Cranes designed for rough terrain have a body with four sizable rubber tires.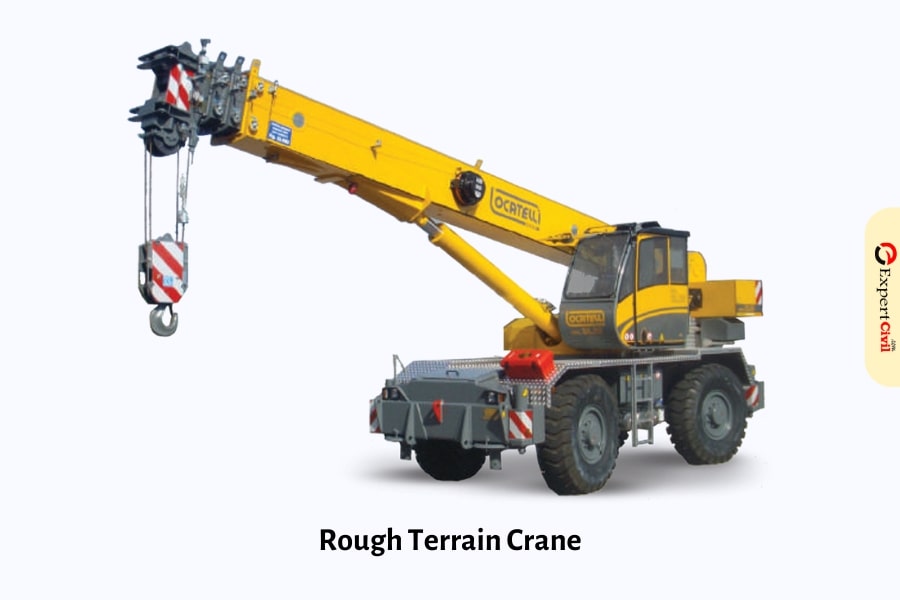 These tires allow them to climb over obstacles and maintain grip. It is installed in an off-road-oriented undercarriage with four rubber wheels.
3. Harbor Crane
These types of cranes are mostly used in harbors. Ships are loaded and unloaded in the harbor area using harbor cranes.
4. Level Luffing Port Crane
A rotating jib is attached to a vertical pole. It can slow and slide inward and outward from the base. That makes up a level-luffing crane. The mechanism is fixed to keep a specific hook level for these cranes. While moving the jib up and down is the inward and outward movement of the crane.
Due to this, these cranes are very helpful for safely lifting and transferring goods. These cranes carry products that are close to the ground. The jib itself moves into a place. Then, it is used for lifting and lowering the load rather than a hook block moving along it. These cranes are frequently engaged in shipbuilding, loading, and construction.
5. Mobile Crane
The most basic type of crane is a mobile crane. It is made up of steel support. Also, it has an adjustable boom set on a movable platform. This platform might be on wheels, a rail, or a cat truck. The blast pivots can be lifted or lowered using links or pressure-driven chambers.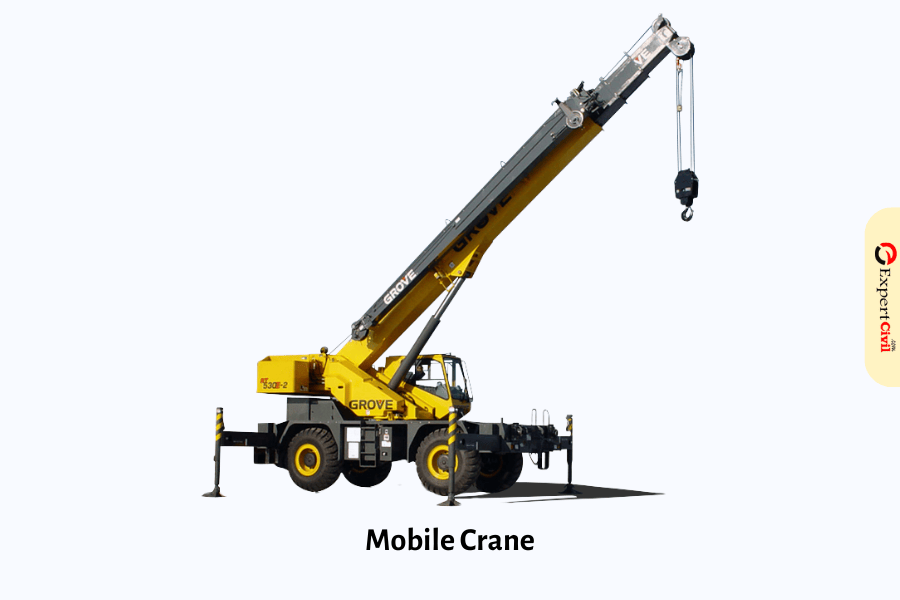 The crane's lifting arm helps to allow the necessary lifting and reduction. This can be done by using a network of wires and the entire mobile structure. This structure may be connected to support. It ultimately helps to increase stability while it is in use.
6. Crawler Crane
This kind of crane's boom is suspended from a crawler-tracked undercarriage. It provides both stability and mobility.
The lifting capacity of crawler cranes ranges from 40 to 4,000 tons. It is propelled by tracks. That is the reason; they are also referred to as crawlers.
7. Aerial Crane
Aerial cranes resemble helicopters in appearance. Heavy loads are carried by this type of crane. They are also referred to as sky cranes and flying cranes.
Where accessing by land is not an option, an aerial crane is used. These cranes are typically used in military activities. In the event of a disaster like a flood, a sky crane is particularly helpful.
8. Hydraulic Crane
A hydraulic crane's hydraulic system enables it to lift big objects. The hydraulic cranes have a fluid-filled hydraulic mechanism.
This mechanism enables it to transport big goods and equipment. Heavy precast beams are transported in the construction industry by using hydraulic cranes.
9. Carry Deck Crane
The carry deck crane can spin up to 360 degrees. It is a mobile type of crane. It has four wheels. Due to its compact size, it can readily plan through both wide-open regions and confined ones.
10. Floating Crane
Offshore construction projects use floating cranes. They're able to lift big things. A floating crane may also be referred to as a crane boat or a crane vessel.
11. Overhead Crane
The common locations for these cranes are factories and commercial buildings. Heavyweights are lifted with them. It is sometimes referred to as the dangling crane.
The overhead crane's hoist is mounted on a trolley. They can move one way down a bar and occasionally between two beams.
12. Bridge Crane
An extension crane is the second name for an overhead crane. It is usually met in modern settings. Its resemblance to a scaffold supported by both steel beams. It can bear the load and lift things up. So, they travel along the crane's bridge section, where its name originates.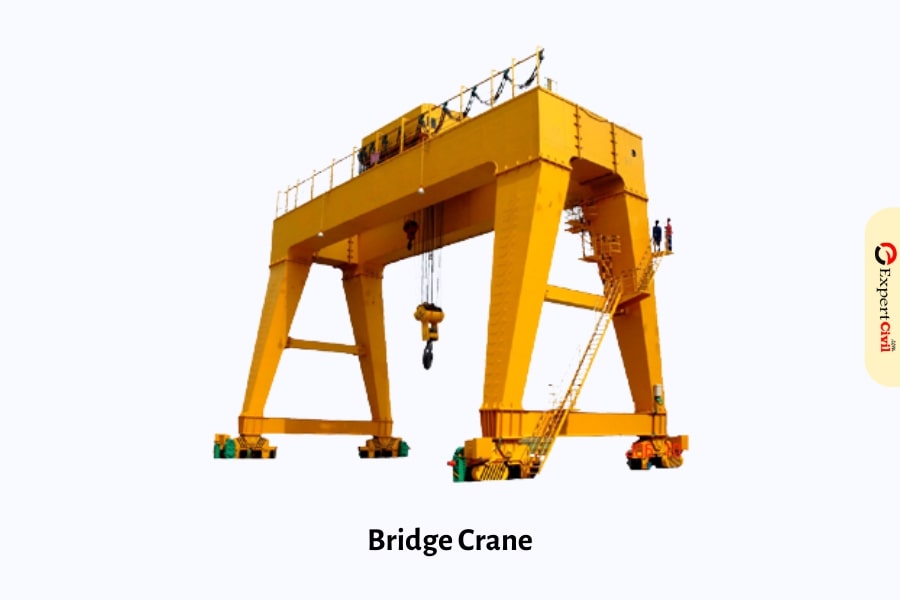 13. Bulk-handling Crane
A bulk-handling crane features an inherent grab for lifting. It can lift bulk cargoes like coal or mineral ore. It has just a standard hook that can take a variety of slung goods. A shell bucket is a grab that resembles a two-piece hinged bucket. So, it can transport material easily.
14. Hammerhead Crane
The Hammerhead crane has horizontal and double beam circles. They have a steel-propped tower with a fixed jib in the crane. The lifting streetcar is moved by the front part of this beam or jib. It can stretch out backwards to create support for the tool and counterbalance the weight.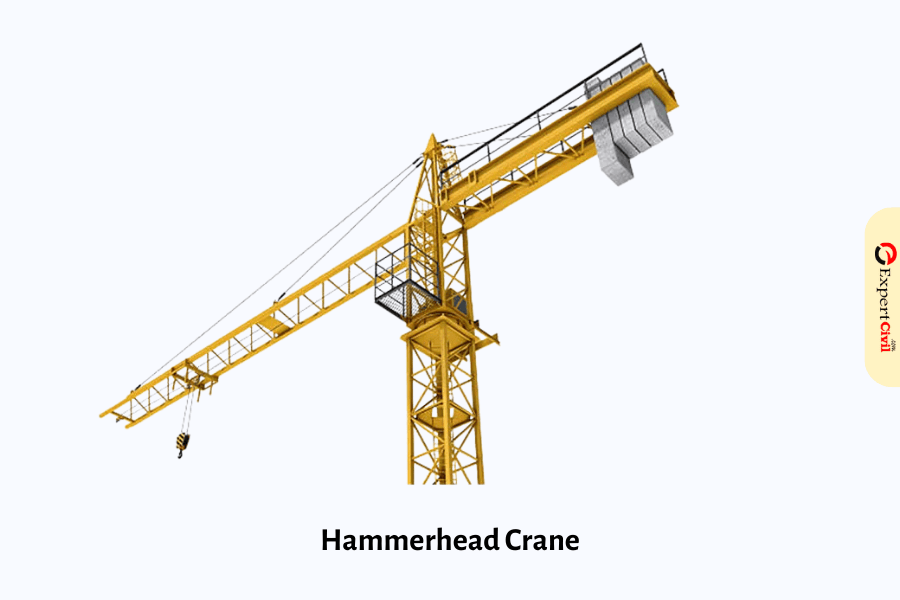 15. Stacker Crane
Cold warehouses use stacker cranes. Unit loads are stored and retrieved automatically using it. A stacker crane is utilized because humans can't work in frigid temperatures.
16. Truck Mounted Crane
Stacker cranes are used in cold warehouses. It automatically stores and retrieves unit loads. Since humans can't work in temperatures this low, a stacker crane is used.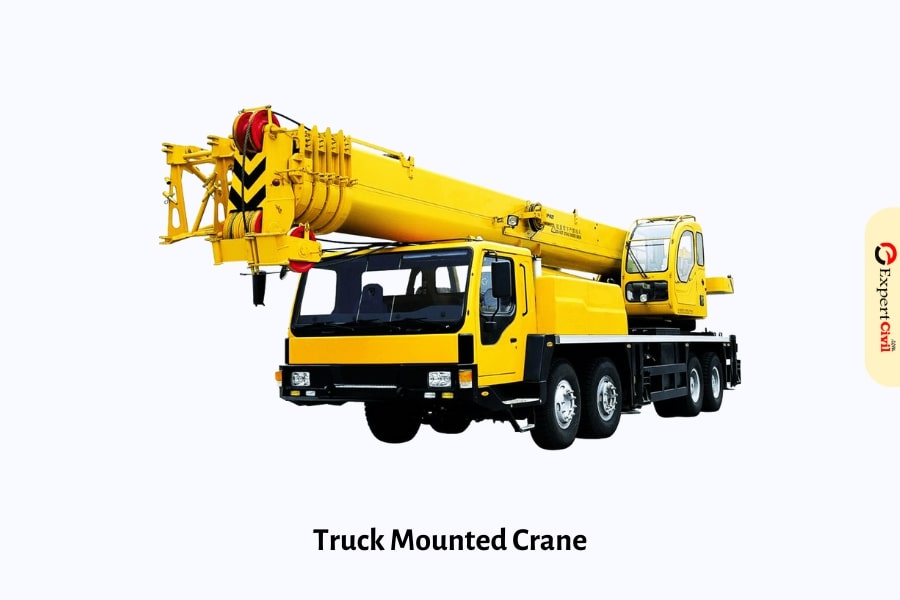 17. Tower Crane
Typically, a tower crane is used for building operations. Fixed tower cranes are appropriate for large and high-rise construction projects. Tower cranes are made to lift the most weight. They can lift weights to 300 meters in height and 70 meters in any direction.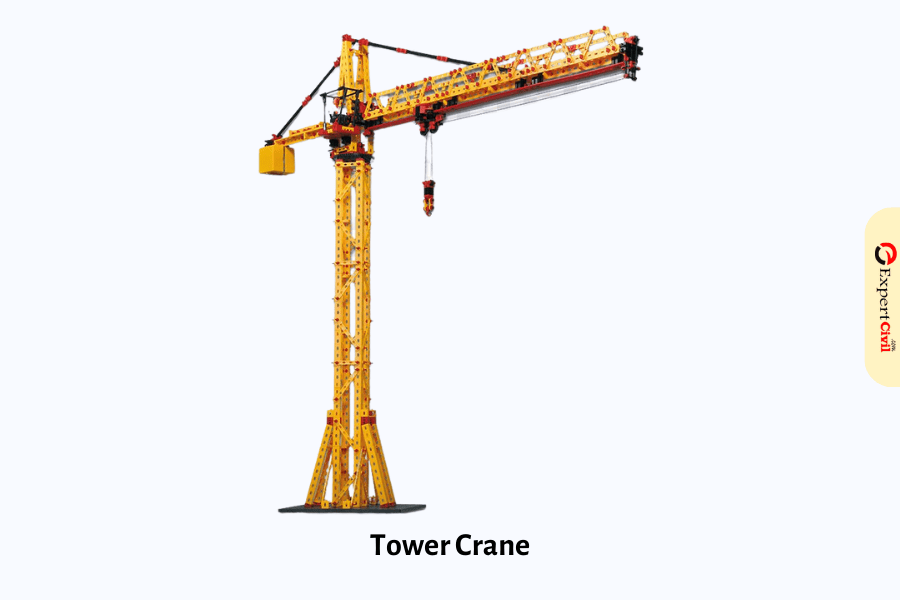 Tower cranes have a lifting capacity of 5 to 25 tons. One of the two jibs on the tower cranes is fixed, and the other is mobile. Moving jib goes up and down, whereas fixed jib moves horizontally.
18. Railroad Crane
On the railroad track, a railroad crane is especially useful. It is operated on a railroad track. The railroad crane can only move over the rails due to a flanged wheel.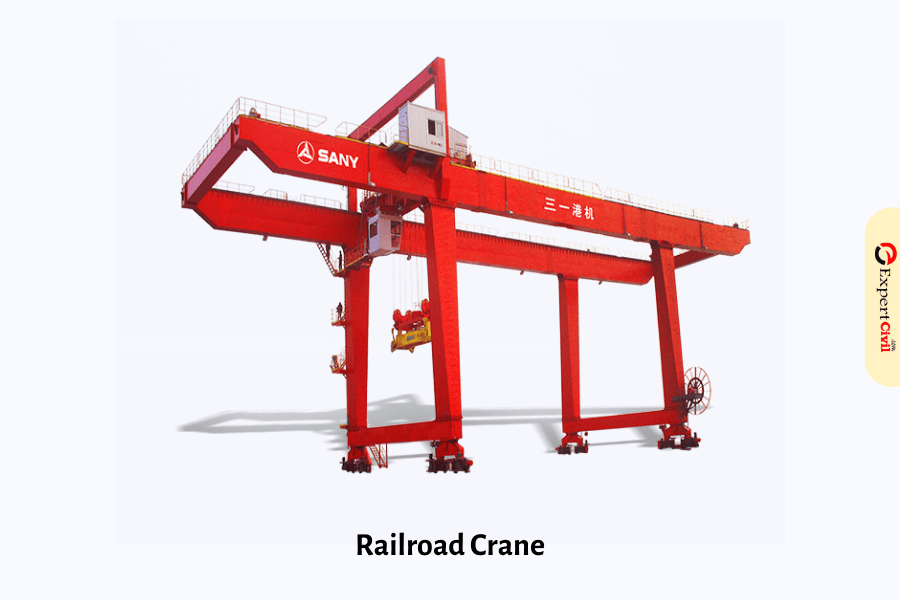 Also Read: Advantages and Disadvantages of Construction Equipment
Frequently Asked Question
What type of crane used in congested areas is?
Carry Deck Cranes can be used in congested areas. The carry deck crane can rotate up to 360 degrees. It is a movable crane. It consists of four wheels. Due to its compact size, it can easily pass through confined areas.
Which type of motor is used in cranes?
Mostly, electric lifting motors are used for cranes. It uses a three-phase wound rotor or slip ring induction motor.
How many types of cranes are there?
Different types of cranes are used in construction, depending on the job. Cranes can be divided into two primary categories. Stationary cranes and Mobile cranes.
Stationary cranes transport loads along fixed paths. They are permanent or semi-permanent structures fixed to the ground or building.
A mobile crane is transportable from the job site and is mounted on treads or wheels.
The top 10 crane types that are most frequently utilized in construction:

#Static Crane
1. Hammerhead Crane
2. Level Luffing Crane
3. Tower Crane
4. Telescopic Crane
#Mobile Crane
5. Rough Terrain Crane
6. Truck-Mounted Crane
7. Crawler Crane
8. Aerial Crane/Flying Crane
9. Rail Road Crane
10. Floating Crane.
Conclusion
This article should have given you a basic grasp of the various kinds of construction cranes. It explains how they differ from one another.
There are two types of cranes:
Mobile cranes
Static cranes
Each has a few unique traits and capabilities.
Mobile cranes and static cranes are used in the building of structures. Cranes are not constrained to a certain path. These cranes help in the transportation of objects anywhere over a job site. The lifting range of overhead cranes, tower cranes, and level-Luffing cranes is set. These cranes are all included in static cranes.  
We've been able to construct things that were previously thought to be impossible. It is possible just because of the cranes. They let us transport materials almost anywhere, even build over water. Mobile cranes offer the flexibility to construct in confined locations. So, one-day machine learning will take the building sector to heights.
Also Read: Different Types of Soil Excavation Tools and Machines In Construction