Definition of cracks in the building
Here is a definition:
Cracks are the complete or incomplete separation of concrete or masonry that breaks the masonry or concrete into two or more parts.
The cracks can be broadly classified as structural or non-structural types.
The main reason for cracks in masonry joints is
The cracks in masonry joints are due to sulphate attacks. The sulphate which are present in the soil, groundwater, or bricks react with the tricalcium aluminate content of cement and hydraulic lime in the presence of moisture and form products that occupies a much larger volume than the original constituents.
Due to this the weakening of masonry, concrete, and plaster happens and which leads to the formation of cracks. For the reaction described above, it is necessary that soluble sulphate, tri-calcium-aluminate, and moisture, all the three are present.
How many types of cracks can occur in a building
Structural Cracks
The structural cracks are the ones that affect the most and endanger the safety of a building, these occur due to incorrect design, faulty construction, or overloading. An example of a structural crack is the extensive cracking of an RCC beam.
Non-Structural Cracks
The non-structural crack is developed due to internally induced stresses in buildings materials due to the variations of properties like moisture, temperature, elastic deformations, creep, chemical reaction, foundation movement, vegetation growth, etc.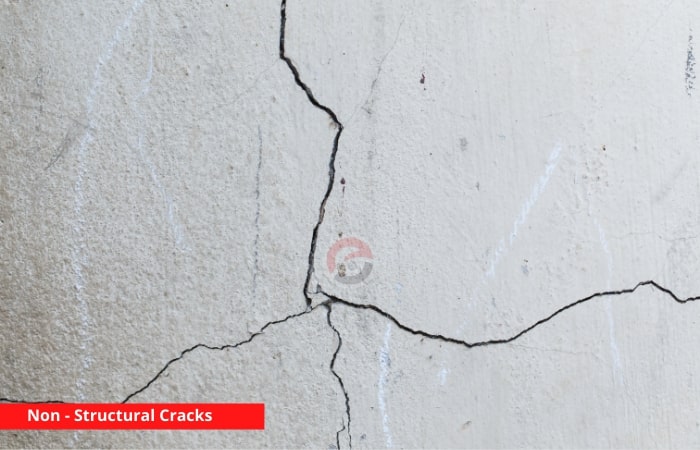 Non-structural cracks do not affect or endanger the safety of a building but the cracks formed will look unsightly and create a feeling of instability and impression of faulty construction. Moisture may penetrate through these non-structural cracks and these resulting damages of internal finishes or corrosion of reinforcement thus affecting stability during the lifetime of the building.
There are other types of cracks like plastic cracks, early-age thermal cracks, and drying shrinkage cracks. The plastic cracks develop before the concrete has hardened and are in the form of plastic shrinkage cracks and plastic settlement cracks.
Types of cracks in walls
The cracks that occur in walls are classified into the cracks in a masonry structure, in RCC frame structure, in freestanding walls.
Masonry structures
The commonly observed cracks are cracks at ceiling level in cross walls when the slab undergoes alternate expansion and contraction due to temperature variations. Horizontal cracks that occur at the base of a parapet wall or the horizontal cracks in the topmost story below the slab level due to the deflection of the slab and lifting of the edge of the slab, combined with a horizontal movement in the slab due to shrinkage.
Diagonal cracks in cross walls of a multi-story load-bearing structure due to differential strain in the internal and external load-bearing walls to which the cross walls are bonded. Vertical cracks below the opening in line with window jambs occur as a result of differential stress.
RCC framed structures
Horizontal cracks can occur in brick panel walls due to shortening of columns caused by elastic deformation, creep, and drying shrinkage or due to comparatively greater deflection of an upper beam under heavy loads.
Vertical cracks occur in the case of long panels built tightly between RCC columns brickwork may get compressed due to thermal and moisture expansion and buckle.
Freestanding walls
Vertical cracks occur in freestanding walls at regular intervals of 5 to 8 m and a change of direction may be due to drying shrinkage combined with thermal contraction. Cracks in these walls tend to close during hot weather.
There are wider diagonal cracks at the top due to foundation settlement. Horizontal Cracks in the bed joints of free-standing walls occur two or three years after construction due to periodic wetting for long and also due to sulphate action.
Types of cracks in concrete slabs
The cracks that occur in concrete slabs are plastic shrinkage, early thermal contraction, long-term drying shrinkage, and crazing.
Plastic shrinkage occurs when the cement is plastic and it undergoes a volumetric contraction whose magnitude is of the order of one percent of the absolute volume of dry cement. This happens by the loss of water by evaporation from the surface of concrete or by suction by dry concrete below.
The contraction induced will cause tensile stress on the surface layers because are restrained by the non-shrinking inner concrete and since the concrete is weak in its plastic state, the plastic cracking at the surface occurs readily.
When large volumes of plain concrete are placed instantly and because they are restrained to contraction on cooling from a temperature peak caused by the heat of hydration of cement there is a danger of thermal cracking. These types of cracks take weeks to develop and there is a chance of early age thermal cracks happening in thinner sections unless appropriately reinforced.
Types of cracks in plastering
The cracks that occur in plasters must be examined to check if they are surface cracks or these extend to the background masonry surface or not. And these cracks on plaster on masonry occur due to shrinkage, lack of bonding with background, or due to sulphate attack.
Types of cracks in concrete columns
Plastic settlement cracking occurs in the top of columns mainly due to excessive bleeding or rapid early drying. To reduce the incidence of plastic settlement cracks we can use an air-entraining admixture to reduce bleeding and also increase the cover to the top steel. 
Plastic settlement cracks can be eliminated by revibration of concrete at a suitable time when a vibrating poker can be inserted into the concrete and withdrawn without leaving a significant trace.
Types of cracks in roads
Plastic shrinkage is one of the kinds of cracks that happen on roads. Plastic shrinkage increases with an increase in evaporation of water which depends on the air temperature, the concrete temperature, the relative humidity of the air, and wind speed.
Types of cracks in asphalt pavement
The types of cracks that occur in asphalt pavements are block cracking, edge cracking, and fatigue cracking. Linear and transverse cracking, reflection cracking, slippage cracks.
The blockchain cracks appear like squares or circles which occur when old mix or too dry is used, these cracks do not extend to the sub-layers.
Edge cracking appears along the outside edges of a pavement which are long and run in the direction of the road. These cracks occur due to the soil that is lying under the road getting dried or shrinking or due to t poor drainage, heavy vegetation along the outside edge road, and excessive traffic.
Fatigue cracking indicates a flaw in the design or installation of the asphalt surface and is of numerous small cracks in a localized area.
Linear cracking occurs along the joints of the pavement when the asphalt is laid across large surfaces.
Reflection cracking is along the surface of the pavements that mirrors sub0layer cracking. These are straight and sometimes form a grid across the surface of the pavement.
Slippage cracks look like asphalt is slipping along the surface of the pavement and are characterized by wrinkles and deep open gaps.
Types of cracks in rigid pavement
Some of the cracks that occur in rigid pavements are fatigue cracking, shrinkage cracking, linear cracking, durability cracking.
In Fatigue cracking the failure occurs due to a repetitive load which is a small load that can cause failure in a single application. The factors which contribute to the fatigue damage of pavement include heat of hydration, low thermal conductivity, shrinkage, and creep.
Shrinkage cracking is the formation of hairline cracks during the setting and hardening of pavement concrete away places away from the joints. These cracks do not found to extend throughout the slab thickness.
Linear cracking divides the individual slabs into more than two parts and extends across the entire slab. It is also called panel cracking. These cracks will affect the riding quality of the pavement.
Durability cracks are crescent-shaped closely spaces hairline cracking patterns. These cracks occur adjacent to joints, cracks, or free edges and it normally starts from slab corners.
Types of glass cracks
Cracks or fracture of glass occurs due to the separation of glass into two or more pieces under the action of stress. If the displacement develops perpendicular to the surface of displacement, it is called a normal tensile. The tangentially developed displacement to the surface is called a shear crack, slip band, or dislocation.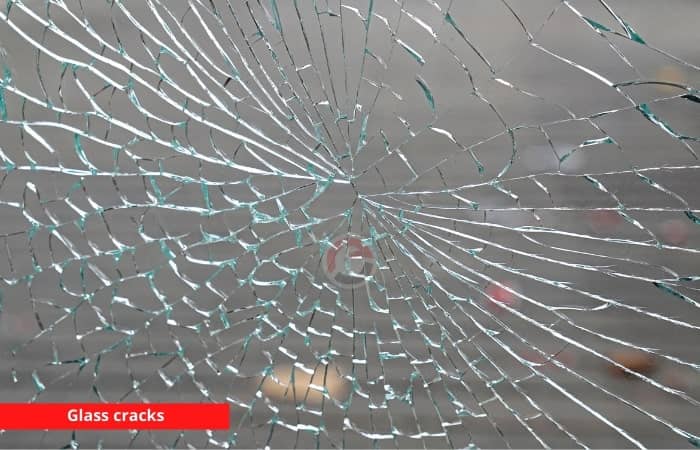 A brittle fracture occurs with no apparent deformation before fracture, ductile fractures occur when visible deformation does occur before separation.
How do you repair various types of cracks?
Cracks in structures are of common occurrence and to repair these cracks we must look into their causes. The location, shape, size, depth, behaviour, and other characteristics of cracks must be taken into consideration while repairing the cracks. Each type of crack has its kind of repair. For example, to repair cracks due to lack of bond in plastering the affected portion of plaster should be removed, joints in masonry should be raked to a depth of 10mm and replastering should be done. So as for other types of cracks.
Cracks are caused because of__________
The internal and external movement's around the structures.
We are sorry that this post was not useful for you!
Let us improve this post!
Tell us how we can improve this post?