What Is Transportation of Concrete?
Transportation of concrete means the transferring or moving of concrete from the place of mixing to the construction site. The concrete is mixed in the construction site or away from the construction site depending upon the type of the construction process as well as the amount of concrete required.
Also Read: Different Types of Concrete Mixer or Concrete Mixing Machines
Methods for Transportation of Concrete
1. Crane, Bucket, And Ropeway
This method is the right way for transporting concrete above the ground level. In high-rise construction projects, cranes can handle concrete and are also becoming familiar sites in big cities.
The ropeway buckets are available in various sizes and are used widely. The ropeway method is mainly adopted for concrete works in valleys, construction work of the pier in the river, and dam construction.
Also Read: Bleeding of Concrete
2. Conveyor Belt
This method is used for transporting concrete over a small distance and not used for large distances as this can cause segregation of the concrete. Slower moving belts are used for low-slump concrete and fast-moving belts are used for higher-slump concrete. These belt conveyors need small power but the initial setup cost is very high.
3. Truck Mixer And Dumper
These are ordinary open steel tipping Lorries that are used for large concrete works particularly for concrete to be placed at ground level. The Dumpers have a capacity of about 2 to 3 cubic meters.
4. Skip and Hoist
This method is used for transporting concrete vertically for about three to four floors. A mortar pan with staging and a human ladder is used for transporting concrete.
5. Mortar Pan
In this method the concretes are carried out in small quantities. The main drawback of this method is that a greater surface area of concrete is exposed and can cause drying conditions, which results in a great loss of water, especially during hot weather. The mortar pan must be kept clean and must be wetted to start with.
6. Chute
These are used for transporting concrete from ground level to lower level. The surface should have the same slope not flatter than 1 vertical to 2 and a ½ horizontal.
7. Transit Mixer
This is the equipment that is used for transporting concrete over a big distance, particularly ready mix concrete.
8. Pump and Pipe-Line Method
This is a universally accepted method that starts with suction to suck the concrete inside the pipe. It has a piston that moves forward and backwards to have suction and delivery of concrete. There are some factors to be considered while choosing this method like the correct type of pump, length of the horizontal pipe, length of vertical pipe, number of bends, the diameter of the pipeline, length of flexible hose, change in line diameter, and slump of concrete.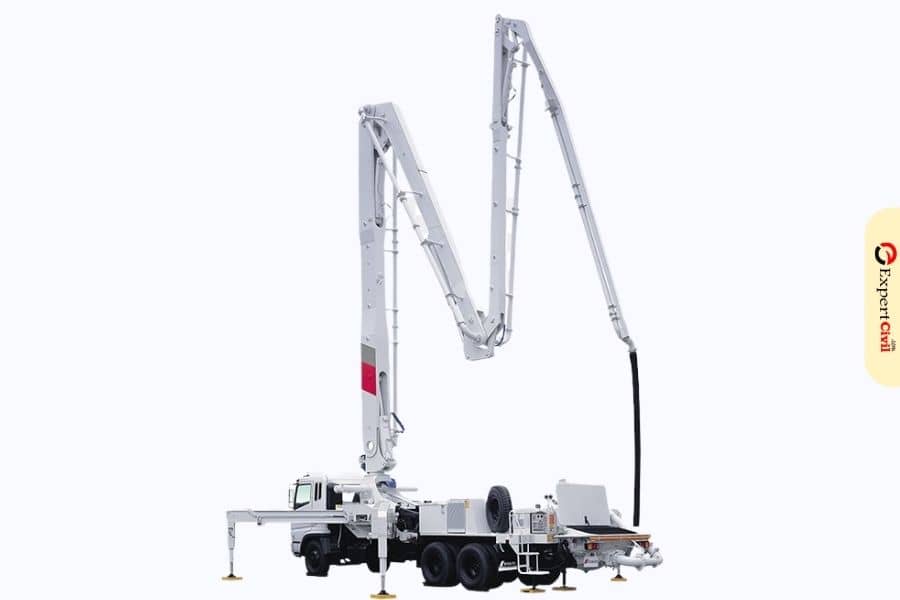 9. Wheel Barrow or Hand Cart
This method is mainly used for transporting concrete to the ground level. In the case of concrete road constructions, this method is used for hauling concrete over a longer distance. The concrete can get segregated due to the vibrations caused while carrying it through a long distance or the rough ground. So to avoid these kinds of segregation the wheelbarrows are provided with a pneumatic wheel.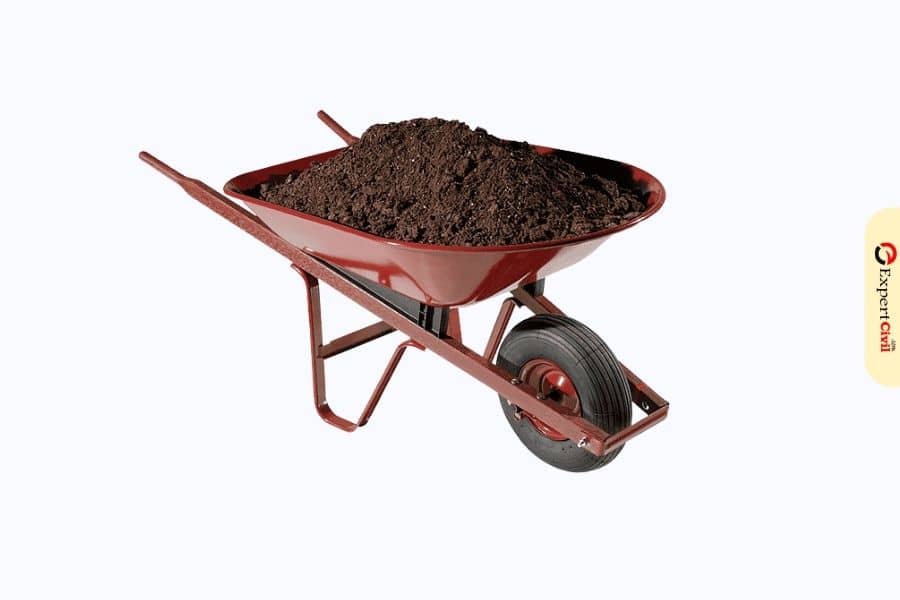 Also Read: Revibration of Concrete in Compaction
Importance of transportation of concrete
It is important to transport the concrete from the mixing place to the construction place in such a way that the homogeneity of the time of mixing is maintained. The concrete should be transported as rapidly as possible from the place of mixing to the form-work where it is to be deposited without any segregation of the ingredients.
There are different methods of transportation that are practiced in different places.
Advantages of transportation of concrete
It reduces the wastage of concrete since all materials are mixed in a separate place and are transported to the designated construction site. Construction can be done easily in unreachable areas with access difficulty.
Also Read: Compaction Factor Test of Concrete
FAQ
How to transport concrete while making tunnel lining?
To prevent segregation, withdrawal, and mixing of debris during transportation, concrete should only be transported in concrete mixer trucks.
What are the methods of transporting concrete?
The methods for transporting Concrete are Crane, Bucket, Ropeway, Belt Conveyor, Truck Mixer, Dumper, Skip and Hoist, Mortar Pan, Chute, Transit Mixer, Pump and Pipe-Line Method, Wheel Barrow or Hand Cart.