Time and Materials Template for Construction
---
So finally you're looking for " Time and Material Template for Construction"  sometimes people is also known as T&M Invoice spreadsheet.
Time & Material (T&M) Contract
Time and materials (T&M) is a standard term in a contract for construction work in which the employer agrees to pay the contractor based upon a time period which is spent by the contractor's employees and subcontractors employees to fulfill the entire work and and for materials used in the construction.
As we know that, Time and Materials is generally used in projects in which it is not possible to accurately estimate the size of the project, or when it is expected that the project requirements would most likely change.
Time and Materials (T&M) Invoice
Let us know about the Time and Materials Invoice spreadsheet, T&M Excel sheet is most important document for every construction project management,
These following data are available in the attached Document/Spreadsheet.
#1 Billing Details
Name of Customer
Address of Customer
#2 Materials Details
Materials Description
Quantity of Materials
Cost Per Item (CPI)
Total
Notes
#3 Labor Details
Labor Description
Quantity of Labors
Cost Per Labor
Total
Notes
Advantages of Time & Material (T&M)
Are you wondering what are the advantages of time and material template, so we discussed some following points below, please read carefully.
#1: Flexibility
This  agreement allows clients to change or modify the project at hand as they desire.
#2: Better Timing
Choosing time and – material agreement over fixed- price will assist you save lot of time and consider the project to be completed within the shortest time as soon as possible.
#3: Easy to maintain
This sheet is simple and clean so any one can easy to maintain this sheet.
---
Preview of T&M
Preview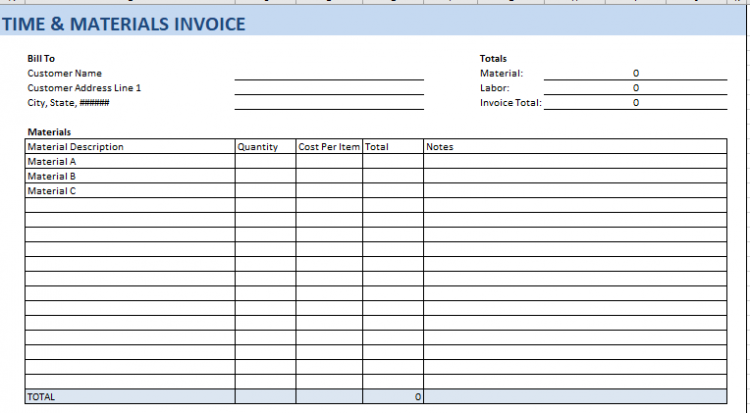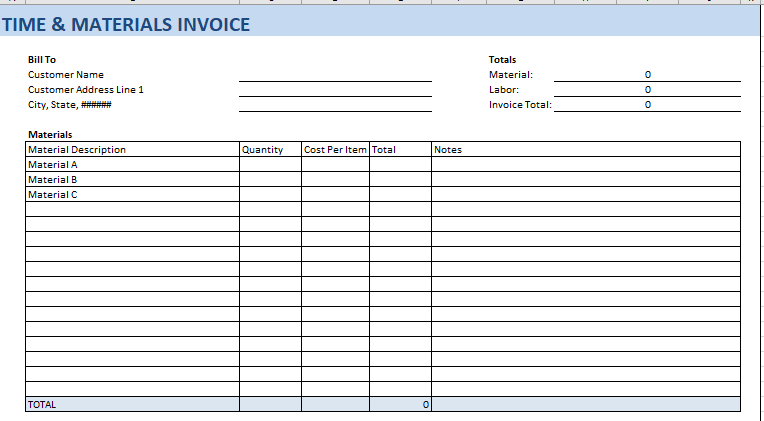 ---
How to download Time and Materials Template for Construction
T & M Template is easy to download, just click on the Download link and download it, Enjoy 🙂
Try other primium spreadsheets and construction documents 
---
Also read this,